Comics
Published August 21, 2017
Kirby 100: Rawhide Kid
The King goes west with a run on one of Marvel's iconic cowboys!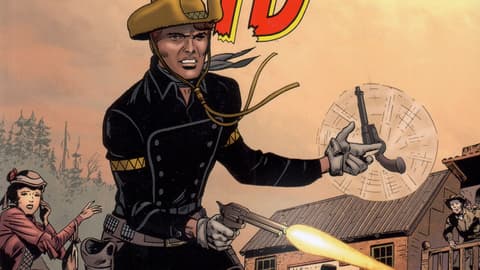 1917 to 2017: 100 years of Kirby.
Join us this month to celebrate Jack "King" Kirby's 100th birthday by learning about the characters and stories he created that changed comics forever. To commemorate Jack's centennial, we've sat down with the modern-day creators he influenced—and the decades of work he gifted us all.
Jack Kirby and Stan Lee may not have created The Rawhide Kid, but they sure made him cool in 1960. RAWHIDE KID originally launched in 1955 from Marvel progenitor Atlas Comics and ran for 16 issues before closing down the saloon in 1957.
Then came along a pair of upstart cowpokes with nicknames like "The Man" and "King" to breathe new life into the Kid and his Wild West world. Lee and Kirby spurred on the new series in 1960 with RAWHIDE KID #17, an issue that boldly asked the cover question, "Is The Rawhide Kid really a cold-blooded gunman??"
Who could resist that kind of tease? Flipping open the story, readers saw the Kid solemnly walking through the kind of outpost town seen in many a western with everyone talking about him. As eyes jumped from one word balloon to another expressing fear and worry about his arrival in town, Lee explained in a text box at the bottom that this 18-year-old used to go by Johnny Bart before he earned his nickname.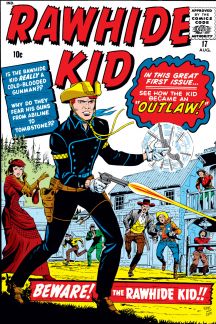 Flashing back in the mighty Marvel manner, fans found themselves transported to Rawhide, Texas where the strong bullied the weak into serving them until they killed Johnny's adoptive father figure Ben Bart. Vowing revenge on the people who killed his kin, the fledgling cowboy rode into town where the varmints had been bragging about beating ol' Ben Bart on the draw. The younger Bart challenged the killer to a duel that would cement his place in history forever.
Outside, the murderer might have drawn first on Johnny, but he still proved too slow as youngster managed to get his own guns out after that and blasted the weapons out of both men's hands, even though one stood directly behind him.
The pair of murdering thieves admitted that they had tricked Ben Bart before killing him and the Kid decided not only to send them off to jail, but also take on the name of the town as a reminder of where he came from. Thus the Rawhide Kid came by his name before moving along to other frontiers.
With the tone and style nailed down in that first issue, Kirby and Lee would team to send Rawhide Kid on any number of bullet and horse filled adventures that would thrill audiences. Eventually, Jack left drawing interiors with #32, but still did covers until #47 as he became quite busy producing many of the books that would make up the Marvel Universe. Still, RAWHIDE KID continued on until 1979's #151!
Stay tuned to Marvel.com for more throughout Kirby Month and beyond! And join the conversation on all of our social channels with the hashtag #Kirby100.
The Hype Box
Can't-miss news and updates from across the Marvel Universe!