Comics
Published November 17, 2017
Kirby 100: The Coming of…Sub-Mariner
A super-heroic love triangle like no other gets a fantastic start!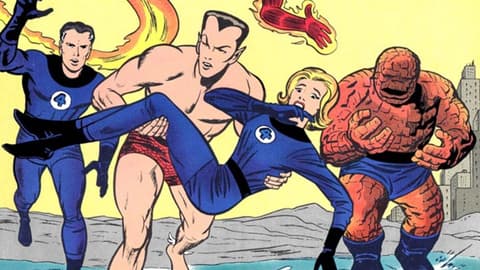 1917 to 2017: 100 years of Kirby.
Join us to celebrate Jack "King" Kirby's 100th birthday by learning about the characters and stories he created that changed comics forever. To commemorate Jack's centennial, we've sat down with the modern-day creators he influenced—and the decades of work he gifted us all.
Together, Stan Lee and Jack Kirby brought so much to the Marvel Universe, ranging from heroes and villains to iconic locales and whole races. However, they also established a great deal of relationships that remain relevant to this day. We, of course, know all about the connections between the Fantastic Four and even longtime comrades like the Avengers, but Lee and Kirby also established romantic bonds between characters, including the long and complicated one between Sue Storm and Namor!
It all began in 1962's FANTASTIC FOUR #4 when Reed and Sue blamed Ben for chasing Johnny off in the previous issue. With one of their own flying solo, the other members of the team split up to track him down. Thing found the Torch working on a car with his buddies, but they fought, Ben changed back into his human form and Johnny ran off. After renting a bed at a men's hotel in the Bowery, the youngest FF member met a man dealing with amnesia who also happened to be super-strong. After a flame-assisted shave, Johnny quickly realized the mystery man's true identity: Namor, the Sub-Mariner!
To help jog his new friend's memory, the Torch dropped Namor into the ocean, which brought all of the Golden Age stalwart'ss memories rushing back. Unfortunately for us surface-dwellers, the Sub-Mariner soon discovered that his underwater home had been ravaged by radioactivity left over from nuclear weapons testing. With that, Namor swore to have his revenge on mankind, even blaming Johnny Storm for waking him up to these atrocities. The Human Torch sent up a flare to get his partners' attention. At that same time, the displaced ruler of Atlantis plunged the ocean's depths to rouse a whale-like behemoth called Giganto!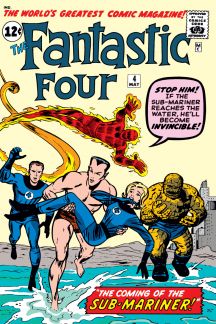 As the beast laid waste to New York City, The Thing decided to do the only thing that made sense: he strapped a nuclear bomb to his back and walked straight into Giganto's maw! The plan worked, destroying the monster in the process. Unperturbed, Namor raised his creature-calling horn to summon more when Sue Storm used her invisibility powers to sneak up and snatch the instrument away. Upon seeing the Invisible Girl's true form, the Sub-Mariner became instantly smitten. He even offered to spare humanity if Sue agreed to marry him. She quickly rebuked his ridiculous offer, which did not sit well with the arrogant king. At that point, Human Torch turned on the turbo jets, creating a cyclone that carried Namor back out to the ocean so he could cool off.
Far from the best meet cute in the history of comics, this initial meeting between Sue and Namor has led not just to further flirtations, but also more than a few alternate realities where the two actually got together and ruled the planet!
Stay tuned to Marvel.com for more throughout Kirby Month and beyond! And join the conversation on all of our social channels with the hashtag #Kirby100.
The Hype Box
Can't-miss news and updates from across the Marvel Universe!