Comics
Published September 8, 2017
Kirby 100: The Wedding of Reed and Sue
Writer Robbie Thompson RSVPs for the social event of the Silver Age!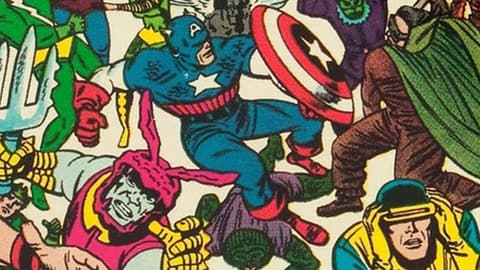 1917 to 2017: 100 years of Kirby.
Join us this month to celebrate Jack "King" Kirby's 100th birthday by learning about the characters and stories he created that changed comics forever. To commemorate Jack's centennial, we've sat down with the modern-day creators he influenced—and the decades of work he gifted us all.
Over the course of these Kirby 100 posts, we've made numerous references to Jack Kirby as co-architect of the Marvel Universe. These days the idea of a shared super hero universe in comics seems about as commonplace as the idea of heroes fighting villains, but that concept didn't just sprout up out of nowhere. For years, issues would come out month after month with very little continuity between installments or references to other characters from the same publisher.
However, when Stan Lee and Jack started working together on titles like FANTASTIC FOUR, THOR, UNCANNY X-MEN and others, they didn't just build off and reference previous stories, but also feature other heroes from even more books like Daredevil and Spider-Man. Readers of those early Marvel comics really got the sense that all of these characters lived in the same world, especially since many of them took place in New York City.
Kirby and Lee topped even themselves, though, with the publication of FANTASTIC FOUR ANNUAL #3, which featured the highly anticipated wedding of Reed Richards and Sue Storm. Considering the profile of this couple, it's easy to understand how it would take on legendary status for FF fans who came along at any time, like SPIDER-MAN/DEADPOOL writer Robbie Thompson who hopped on a few hundred issues later.
"I started reading FANTASTIC FOUR with issue #243, so I knew the Richards were married, but I was always curious to see the big day, and Kirby and Lee totally delivered on an epic Annual that brought the whole Marvel Universe together," Thompson relays. "It exceeded my expectations and remains my favorite Marvel wedding."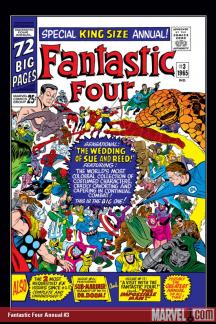 Everyone showed up from Millie the Model to the X-Men—and those were the actual guests! Doctor Doom fueled by his hated for Richards, decided to send an army of super villains to destroy the festivities, but thanks to the assembled heroes and an appearance by The Watcher, Reed and Sue made it to the alter and exchanged I dos.
"From a practical standpoint, I think it was a great way to show the cohesiveness of the Marvel Universe and illustrate how big and connected [it] was becoming," Thompson notes. "But from a personal standpoint, it also illuminates the key to why these characters work so well: the 'event' is personal. The biggest day of their lives isn't getting their powers or another invention, or even Doom trying to spoil the whole thing; the 'event' is their greatest adventure yet: marriage. Seeing the hope and [positivity] in all the characters coming together to unite for Reed and Sue on a personal level is such a signature part of that book's success and it's executed perfectly in this Annual."
Unfortunately, two well-intentioned attendees got turned away at the door by Nick Fury, Dum Dum Duggan, and Gabe Jones. The pair? None other than Stan and Jack themselves! Of course, that adds to the issue's charm as the two men head off to work on the next installment! It helps that Kirby got to draw so many amazing characters in one issue while also throwing in some of his classic tech and even a collage!
"I'd rate it pretty high on the Kirby Canon, it really does have it all—and you can see Kirby pushing the form of comic storytelling in each panel, adding to the grammar of sequential storytelling and bringing each character to life in such an elegant way," Thompson concludes.
Stay tuned to Marvel.com for more throughout Kirby Month and beyond! And join the conversation on all of our social channels with the hashtag #Kirby100.
The Hype Box
Can't-miss news and updates from across the Marvel Universe!