Comics
Published October 6, 2017
Legion: Journey into the Mind
Writer Peter Milligan returns David Heller to his own solo title!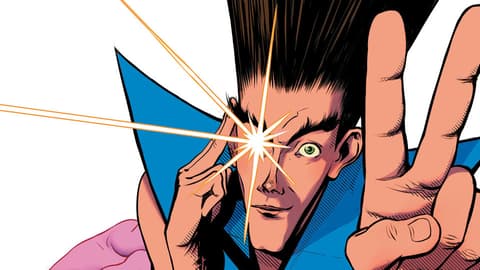 Life can be difficult when you have Dissociative Identity Disorder—especially if each of your personalities has its own super power. Thus, Legion, A.K.A. David Haller, faces some tough times ahead.
In January, writer Peter Milligan and artist Wilfredo Torres see Marvel Legacy expand its horizons as the son of Professor Charles Xavier returns to the fold in LEGION #1! Haller has coped the best he can—learning his personalities, beginning to master them—but a new, darker, even more dangerous persona seems to be emerging…and seizing control.
We asked Milligan about the story headed our way this winter.
Marvel.com: What drew you to David Haller as a character?
Peter Milligan: The biggest challenge—dramatizing an insane mind—drew me to this character. David has so many troubles. I felt really excited about how his madness and inner demons become externalized due to his "powers." That, and the idea of being able to travel into the mind of this madman—well…anyone who knows my work will probably be aware that this seems like my kind of territory.
Marvel.com: Without spoiling anything, rumor has it that Haller finds himself facing a new enemy from within. What can you tell us about this latest personality?
Peter Milligan: The best stories happen when a hero faces some kind of crisis. In this situation, you find out what the hero's made of. And what David is made of is pretty insane.
Living within the mind of this young man sit a number of alternative personalities or personas. But what happens when a new—and powerful—persona starts to think that he could be more important than all the others? Including David Haller? How does David deal with this upstart persona? Can he deal with it? Does he have the right mental condition to deal with anything?
Marvel.com: Legion might also find a new ally in the form of a Dr. Hannah Jones. Tell us a little about her and how she can help David.
Peter Milligan: Just because David's insane doesn't mean he's stupid. He knows he needs help if he's going to come through what may be the greatest threat he's ever faced.
Hannah Jones, a young psychologist from a tough part of London, has become the "psychologist to the stars" via pure grit and determination. She deals with a number of A-list actors and musicians. If anyone can help David, it's Hannah.
But maybe Hannah should come with a warning label. Yes, she's brilliant and resourceful, but she also might have a few demons of her own…and by helping David, she might be forced to confront them.
Marvel.com: What kind of research did you do to get Dissociative Identity Disorder "right"?
Peter Milligan: Books, pamphlets, internet. And I've spoken to a psychologist friend about the subject to try to get some different angles. The fact that very little consensus exists within the mental health community gives one a little license. It's very difficult to find the right way to treat this—or even to understand it.
Marvel.com: What kind of tone and setting do you establish in the book? How does artist Wilfredo Torres help you realize that vision?
Peter Milligan: The tone can be pretty dark and twisted at times—a story about insanity and a man's desperate attempts to save himself. But I also wanted the book to have heart and a little humor. Both David and Hannah have flaws in different ways, but they're both likable and, in their own ways, laudable. David's lifelong struggle with his insanity shows real guts. Hannah's rise to the top from her lowly origins also deserves praise. Wilfredo really captures these aspects—the weird mental psychedelia and the human side of the story.
Marvel.com: From readers who may be unfamiliar with Legion to those who have known him since his introduction, how does this book present a can't-miss situation?
Peter Milligan: This journey goes to the heart of darkness. A story about a journey to the last great unexplored frontier: the human mind. In this case, an exceptionally troubled human mind. It can be read as a stand-alone story—if you've never picked up a LEGION comic before and know nothing about the character, it really doesn't matter. Everything you need to enjoy the story will be in here. But if you're a Legion aficionado, you'll find this this story presents a new and surprising take on the maddest mutant of them all.
A special convention reward for Marvel Insiders!
Enter the code M5VL09N to earn 250 points in the "Marvel News Code Day 2" Activity!
Be on the lookout for codes throughout the rest of the weekend to earn even more points!
Not a Marvel Insider? Join at Marvel.com/Insider today and start earning!
Code valid through 10/11/2017 11:59PM EST. Limited to one redemption per code per Marvel Insider account. Marvel Insider Loyalty Rewards Program open to U.S. residents ages 18+ only. See marvel.com/insider for program details and terms. See marvel.com/insider/activities for details and terms on specific activities.
The Hype Box
Can't-miss news and updates from across the Marvel Universe!