Comics
Published December 28, 2017
Legion: Trauma
Peter Milligan delves into the mind of David Heller in a new limited series!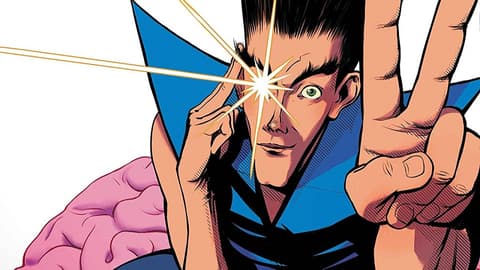 David Heller, the powerful son of Charles Xavier, has had psychological issues all his life, especially with battling multiple personalities. But now, the emergence of a dangerous new personality means Legion's newest, formidable foe is himself! Legendary scribe Peter Milligan and artist Wilfredo Torres tackle the complicated mutant in their new five issue limited series, beginning with January 24's LEGION #1.
We reached out to Peter to tease what he's got in store for David.
Marvel.com: You've already made waves in the past doing non-traditional X-books like X-STATIX, so what drew you to writing David Haller in LEGION?
Peter Milligan:  David Haller AKA Legion is, as you suggest, another non-traditional kind of hero.  It's a stretch to even call him a hero. I liked this, and I was drawn to the whole inner world of madness thing that goes on with David. I also appreciate that there is a degree of fluidity around his character.  I mean, when a man is so full of alternative personalities as Legion, it's hard to pinpoint exactly who he is and what is real about him.  And that's great for a writer because it gives you a certain degree of room and freedom to put your own stamp on the character and the story.
Marvel.com: Where is David at, mentally, when this book begins?
Peter Milligan:  Even by David's less than sane and stable standards, he's in a bad way when we first meet him…. It seems to me that anyone dealing with the levels of madness coupled with mutant power that David must continually be on the brink of some kind of a mental crisis. This story – "Trauma" – begins when one such crisis seems imminent.
Marvel.com: This used to be a more obscure corner of the X-Men mythos, but with FX's LEGION show, more people know about David than ever before. Has that heightened profile changed how you would approach the character?
Peter Milligan:  Not really.  I like characters that come from the more obscure corners of X-Men reality, they give you a bit more freedom.  The TV show – which was, particularly at the beginning, very good – hasn't necessarily changed how I approach the character. It might change how readers approach it, but they'll quickly see that the comic book David Haller differs in some vital ways from his TV iteration.
Marvel.com: Can you talk about your relationship with artist Wilfredo Torres and some of what you're both trying to accomplish stylistically?
Peter Milligan:  Wilfredo is very good at understanding what I'm trying to do in this story. The important thing with something like this, where there's a lot of craziness going on, is for the art to really ground the reader in reality.  You have to believe what you're seeing, even if what you're seeing is unbelievable. This is mainly achieved through character and Wilfredo's great at that. He also has a nice light touch which I like, as it's a counterpoint to what is in fact very serious stuff: the potential disintegration of a mind and a person.
Marvel.com: What are you most excited about readers experiencing in this book?
Peter Milligan:  Joining me on a journey into the mind of a madman.
Don't miss LEGION #1, from Peter Milligan and Wilfredo Torres, on sale January 24!
The Hype Box
Can't-miss news and updates from across the Marvel Universe!