Comics
Published September 13, 2017
Let Fly: A Falcon Sketchbook
Peek inside as artist Joshua Cassara gives Sam Wilson wings once again!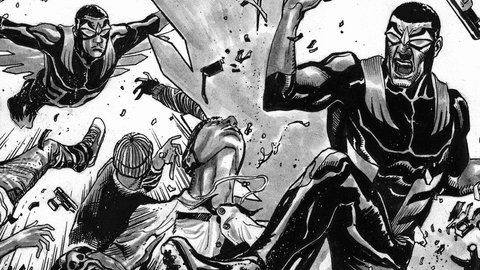 Secret Empire gave Sam Wilson a rough time—he gave up the mantle of Captain America and his best friend betrayed the country. Despite his hardships, Sam did not get deterred—and even returned to lift the shield when his allies needed him most.
On October 11, Sam enters the newest chapter of his story when Marvel Legacy takes flight with FALCON #1! Writer Rodney Barnes and artist Joshua Cassara oversee Wilson's transition back to his classic winged identity as the hero takes on the role of mentor to The Patriot.
We met up with Joshua to talk about getting Wilson back in the air, working with Rodney Barnes, and bringing Patriot into the fold!
Marvel.com: Did working on Secret Empire give you a sense of Sam Wilson and where he might be after the event?
Joshua Cassara: Absolutely. I didn't actually get to draw him in my chapters, but I followed the series very closely. The whole event took its toll on his psyche, and Secret Empire primed the pump for where we find Sam as he takes back the mantle as Falcon.
Marvel.com: Sam's had a rough go of it ever since he took over as Captain America. How does that affect him in the pages of FALCON?
Joshua Cassara: As we start FALCON, we see Sam struggle with the fallout from Secret Empire. His foundations are still shaken as he reflects on his time as Captain America and his relationship with Steve Rogers—the person he trusted the most and would loyally follow into battle…only to find out he'd been lied to the entire time. It shattered his trust and he's trying to make sense of it all while heading to the streets of Chicago to deal with some burgeoning chaos.
Marvel.com: What are the key elements to drawing this new Falcon costume? How do you balance the old and new?
Joshua Cassara: My favorite part about Alex Ross' new design for Falcon was making the costume black with splashes of red. I think it reflects the darker tone of Sam's headspace and where this series turns. I made sure to stock up on extra ink!
The wings are attached from his back and follow along his arms like the original costume, but they can also retract and be much shorter when he's not flying or finds himself in tight quarters.
I love how Alex used the original designs and patterns on the shoulders, abdomen, and eye shield. He incorporated them so well into the new look, but kept that retro feel.
Marvel.com: The book also finds Sam training the new Patriot. How has it been putting your spin on this new character?
Joshua Cassara: I look at Patriot, A.K.A. Rayshaun Lucas, as the younger, idealistic version of Sam Wilson. While Sam seems disillusioned over the trials and tribulations he's been through, the young Patriot acts as the beacon of optimism that keeps Sam from succumbing to his own demons.
It's no accident that I drew Rayshaun like he could be Sam's son.
Marvel.com: Falcon and Patriot will face off against Blackheart. What's it like pitting these heroes against such a mystic threat?
Joshua Cassara: It's what sold me on joining this series. I'm so excited to draw the mystical elements of this universe. I've never really been able to explore that before art-wise, so I look forward to the challenge.
I love the juxtaposition of the streets and violence of Chicago and then being whisked away to the dark, astral, celestial corners of the universe. Blackheart will be such a great villain; unlike anything Sam has ever faced. I'm really pumped to give my take on him.
Marvel.com: How has it been collaborating with Rodney on this project?
Joshua Cassara: Awesome. I love the direction Rodney's taking this series—and again, that's why I wanted to come aboard. He's more than happy to incorporate some of the ideas or notes I have and he appreciates my contribution as I bring his script to life. He's a true collaborator in every sense of the word. He comes from the world of film and TV, and while you see that influence in his style, he is one hell of a comic book writer. He's legit.
Writer Rodney Barnes and artist Joshua Cassara's FALCON #1 soars on October 11!
The Hype Box
Can't-miss news and updates from across the Marvel Universe!