Comics
Published September 2, 2022
Letterer Appreciation Spotlight: Chris Eliopoulos
Meet Chris Eliopoulos, one of Marvel's most prolific letterers and the head of Virtual Calligraphy (VC) lettering studio.
In honor of Letterer Appreciation Day, which occurs every September 1, Marvel is celebrating our mighty letterers all month long. As part of the festivities, we sat down with each member of Virtual Calligraphy (VC), Chris Eliopoulos' lettering studio, to learn more about the people behind the sound effects. Welcome to the September 2022 Letterer Spotlight series!
To get us started, we'd like to introduce Eliopoulos himself. Although he doesn't letter as often these days, he has a sweeping history of lettering Marvel comics, starting with an issue of UNCANNY X-MEN in 1990 and continuing through to MARVEL COMICS (2019) #1001 and beyond. He has left an indelible mark on Marvel throughout his tenure; in fact, one of Marvel's go-to types, VCJustinSays, is based on Eliopoulos' hand-lettering style! Read on to learn a little more about Eliopoulos in his own words.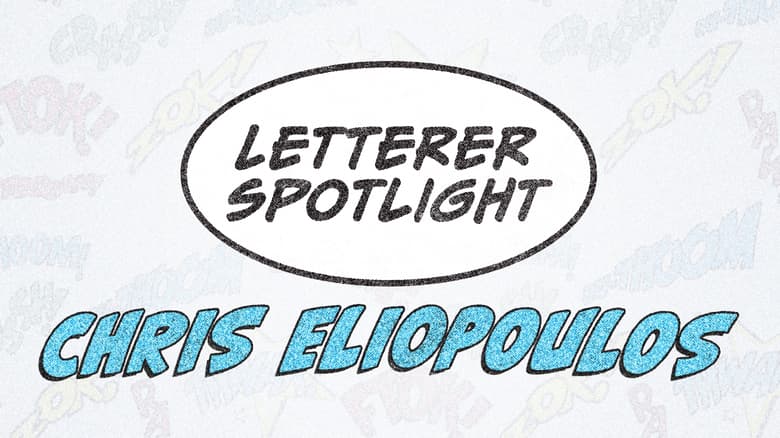 MARVEL.COM: Where did you grow up? 
CHRIS ELIOPOULOS: Northern New Jersey.
MARVEL.COM: Favorite Marvel character?
CHRIS ELIOPOULOS: Puck. Being a short guy, I relate.
MARVEL.COM: What was the first Marvel comic you ever read?
CHRIS ELIOPOULOS: I believe an X-MEN comic at my friend Mike's house.
MARVEL.COM: How did you decide to become a letterer?
CHRIS ELIOPOULOS: I was interning at Marvel and was going for a degree in graphic design. I was told I had a good eye for type, so they started training me. I wanted to do a comic strip, so I thought learning lettering would be great training for that.
MARVEL.COM: How do you unwind after a long day of lettering?
CHRIS ELIOPOULOS: I don't letter much anymore these days. But back in the day, there wasn't much time. So, being with my family and sleeping.
MARVEL.COM: Do you listen to anything while you work? If so, share your playlist!
CHRIS ELIOPOULOS: When I was lettering, I would listen to a lot of movie soundtracks. I'd also put on podcasts or audiobooks so that I didn't have to look up to watch anything.
MARVEL.COM: If you could go anywhere in the world for vacation, where would it be?
CHRIS ELIOPOULOS: It used to be a Disney park, but these days, I'd love to visit a tropical island.
MARVEL.COM: Which TV show character would you want as your best friend?
CHRIS ELIOPOULOS: Ted Lasso.
MARVEL.COM: Favorite food?
CHRIS ELIOPOULOS: Buffalo wings.
MARVEL.COM: Do you have any pets? Tell us their names and something special about them!
CHRIS ELIOPOULOS: My son has a pet hedgehog named Mocha and my wife has one named Poppi.
MARVEL.COM: What is the first thing you obsessed over as a kid?
CHRIS ELIOPOULOS: Kind of a tie between Star Wars and the Peanuts comic strip.
MARVEL.COM: What is the best advice you've ever received?
CHRIS ELIOPOULOS: In order to succeed in business, you need to be two of these three things: fast, good, pleasant to work with. With two, you'll continue to work; all three, you'll have a career.
 
MARVEL.COM: What's your superpower?
CHRIS ELIOPOULOS: Working hard. The only reason I have a career isn't because I'm all that good, it's because I work harder than most.
MARVEL.COM: What inspires you?
CHRIS ELIOPOULOS: So much. I just get jazzed by craftspeople who are at the top of their game, whatever that game is.
We're celebrating our letterers all month long! Stay tuned for more Letterer Spotlights throughout the month, and don't miss our Letterer Appreciation Day 2022 post, which collects all our lettering coverage so far.
You can grab these comics and more digitally or at your favorite local comic book shop. Be sure to ask your local shop about their current business policies to observe social distancing or other services they may offer, including holding or creating pull lists, curbside pick-ups, special deliveries, and other options to accommodate. Find and support your local comic book shop at ComicShopLocator.com or by visiting Marvel.com/LoveComicShops.
For digital comics, all purchases in the Marvel Comics app can be read on iPhone®, iPad® and select Android™ devices! Our smart-paneling feature provides an intuitive reader experience, ideal for all types of mobile device and tablet users! Download the app on iOS and Android now!
The Hype Box
Can't-miss news and updates from across the Marvel Universe!