Comics
Published September 19, 2022
Letterer Appreciation Spotlight: Joe Caramagna
Meet letterer Joe Caramagna, who has worked on fan-favorite titles including 'Ms. Marvel,' 'Uncanny X-Men,' 'Amazing Spider-Man,' and so much more.
In honor of Letterer Appreciation Day, which occurs every September 1, Marvel is celebrating our mighty letterers all month long. As part of the festivities, we sat down with each member of Virtual Calligraphy (VC), Chris Eliopoulos' lettering studio, to learn more about the people behind the sound effects. Welcome to the September 2022 Letterer Spotlight series!
Meet Joe Caramagna, who became a letterer at Marvel starting with GIANT-SIZE X-MEN (2005) #4. Since then, his letters have touched just about every corner of the Marvel Universe, including UNCANNY X-MEN (1963), THE AMAZING SPIDER-MAN (2017), and NEW AVENGERS (2010), as well as fan-favorite characters like CAPTAIN AMERICA (2011), PUNISHER (2009), MS. MARVEL (2015), and SHE-HULK (2022). Speaking to Marvel.com, he explained how the Spider-Man and His Amazing Friends cartoon inspired his love of comics and why structure is so important to his success as a letterer. He also shared his love of Spider-Man, the Fonz, donuts, Yacht Rock, and so much more.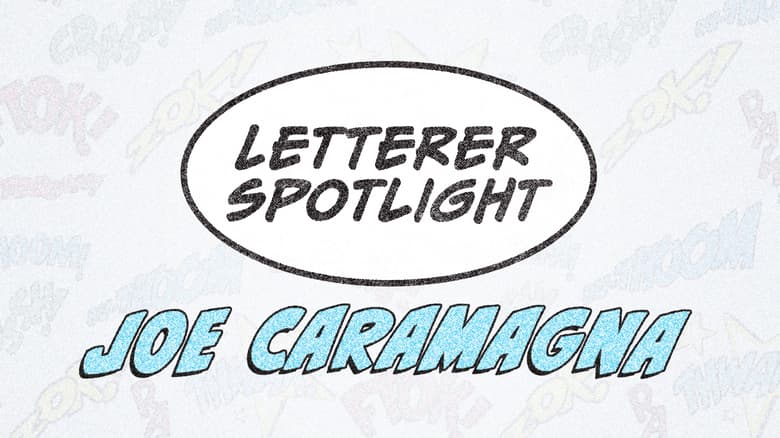 MARVEL.COM: Where did you grow up?
JOE CARAMAGNA: I'm from the place that gave us Pizzatown USA, River View East, and the Smackdown Women's Champion WWE superstar Liv Morgan: Elmwood Park, NJ!
MARVEL.COM: Favorite Marvel character?
JOE CARAMAGNA: Peter Parker, the Sensational (and Amazing) Spider-Man! My first and forever favorite character. But in recent years, Ms. Marvel has been a close second, which makes a lot of sense if you think about the early days of AMAZING SPIDER-MAN.
MARVEL.COM: What was the first Marvel comic you ever read?
JOE CARAMAGNA: The first one I remember reading is AMAZING SPIDER-MAN (1963) #278. A friend gave me a copy. I was already a fan of the cartoon Spider-Man and His Amazing Friends, so I was excited to read it. I had never seen a Marvel comic before that.
MARVEL.COM: How did you decide to become a letterer?
JOE CARAMAGNA: It's more like lettering decided on me. When I was a student at the Kubert School, Marvel came looking for candidates for a lettering internship and my name came up. I interviewed for the job, and luckily, I got it! I learned so much working with Dave Sharpe in the Bullpen for a year, but after I left, I spent five years begging people for a job until Chris Eliopoulos took a chance on me and brought me into VC.
MARVEL.COM: How do you unwind after a long day of lettering?
JOE CARAMAGNA: I'm also a working writer, so a lot of my "free" time is spent working. I've written a bunch of comics and graphic novels for Marvel, Disney Comics, and others. But when I'm not writing and lettering, I'm usually playing the EASports NHL series (and playing badly), so hit me up on XBox Live if you like to win bigly.
MARVEL.COM: Do you listen to anything while you work? If so, share your playlist!
JOE CARAMAGNA: I wish I were cool, but it's actually a lot of Yacht Rock and '70s pop. Motown. Soul. Classic R&B. Elvis. The Beatles. Film Scores. Disney World Area Music loops make me happy. I do have a great playlist called "Songs I'm Embarrassed To Admit I Like" (two words: Billy Ocean) and one playlist I'm particularly proud to have put together that has almost every song ever played in the original The Wonder Years TV series.
MARVEL.COM: If you could go anywhere in the world for vacation, where would it be?
JOE CARAMAGNA: My lifelong dream had been to drive cross country and see all the sights and taste all the foods that this country has to offer. I regret not doing it when I had the time. Now, between work and my family, I can't afford the time needed to make it really great. Maybe someday.
MARVEL.COM: Which TV show character would you want as your best friend?
JOE CARAMAGNA: Ayyyy! The Fonz, of course! Not only is he cool, but he's especially cool to his friends who happen to be the nerds.
MARVEL.COM: Favorite food?
JOE CARAMAGNA: Come on! I ate 202 Krispy Kreme Original Glazed donuts between April 11 and December 31 of 2021 (see my appearance on The Drew Barrymore Show). You don't eat that many doughnuts if you don't love them. 
MARVEL.COM: Do you have any pets? Tell us their names and something special about them!
JOE CARAMAGNA: My dog Mae Belle is a rescue dog. She's a beagle/hound mix and loves to swim in the bay at the Jersey Shore. She's also a serial groundhog murderer. I've had to hide many a body.
MARVEL.COM: What is the first thing you obsessed over as a kid?
JOE CARAMAGNA: The Fonz! I had the bedsheets, the Happy Days albums (Look up "The Fonzarelli Slide") and gave everyone I met the thumbs up. Ayyyyyy!
MARVEL.COM: What is the best advice you've ever received?
JOE CARAMAGNA: I was taught at the Kubert School that being a freelance comic book creator is a job and has to be taken as seriously as any other job. There's this misconception that when you work in comics, you can work whenever you feel like it, eat whenever you feel like it, sleep whenever you feel like it. All without pants. The reality is that's a great way to miss your deadlines. 
The most productive people in this business are those with structure. There are some who insist the chaos feeds the creativity, but those people are depriving themselves, their fans, and their collaborators of their best work. I tried the chaos thing for a while and all it did was take me away from my wife and kids and take me more time to do less work. 
I found out that what I learned was true: structure is the key to efficiency and productivity. Wake up early, take a shower – for God's sake, put on pants. Have respect for the job and the job will respect you.
MARVEL.COM: What's your superpower?
JOE CARAMAGNA: I can be very competitive, so I actually thrive when I'm challenged. No, collaborators, that's not an invitation to challenge me! It's hard to maintain a high level of competition all the time! But when called upon to take on a difficult task, a big part of me is excited. And some of me is also annoyed, of course. We would all rather have things come easily, wouldn't we?
MARVEL.COM: What inspires you?
JOE CARAMAGNA: Years ago, before C.B. [Cebulski] was our Editor-in-Chief, he was a talent scout. One time back then, I heard him say something about how Marvel is the major leagues; it's not AAA ball. How you need to be the best of the best to make it here. I never forgot that and I really take that to heart. I don't have a lot of patience for when I feel people aren't giving their best effort or settling – and I'm just as hard on myself, believe me. We're MARVEL. THAT is what inspires me. I love waking up to work on Marvel books every day. And that ties back in to what I said earlier about respecting the job.
We're celebrating our letterers all month long! Stay tuned for more Letterer Spotlights throughout the month, and don't miss our Letterer Appreciation Day 2022 post, which collects all our lettering coverage so far.
You can grab these comics and more digitally or at your favorite local comic book shop. Be sure to ask your local shop about their current business policies to observe social distancing or other services they may offer, including holding or creating pull lists, curbside pick-ups, special deliveries, and other options to accommodate. Find and support your local comic book shop at ComicShopLocator.com or by visiting Marvel.com/LoveComicShops.
For digital comics, all purchases in the Marvel Comics app can be read on iPhone®, iPad® and select Android™ devices! Our smart-paneling feature provides an intuitive reader experience, ideal for all types of mobile device and tablet users! Download the app on iOS and Android now!
The Hype Box
Can't-miss news and updates from across the Marvel Universe!