Comics
Published September 21, 2022
Letterer Appreciation Spotlight: Joe Sabino
Meet letterer Joe Sabino, whose previous work includes beloved series like 'Thor: God of Thunder' and 'Spider-Man/Deadpool.'
In honor of Letterer Appreciation Day, which occurs every September 1, Marvel is celebrating our mighty letterers all month long. As part of the festivities, we sat down with each member of Virtual Calligraphy (VC), Chris Eliopoulos' lettering studio, to learn more about the people behind the sound effects. Welcome to the September 2022 Letterer Spotlight series!
Meet Joe Sabino, who became a letterer at Marvel starting with RUNAWAYS (2008) #12. Since then, he has gone on to work on such series and events as THUNDERBOLTS (2022), INFERNO (2021), SPIDER-FORCE (2018), SPIDER-MAN/DEADPOOL (2016), HAWKEYE (2016), and THOR: GOD OF THUNDER (2012). Speaking to Marvel.com, he shared his affection for Spider-Man and the Fantastic Four, as well as his journey to becoming a letterer. He also discussed his love of ice hockey, his cats Sir Wallace III and Mr. Pickles, and more.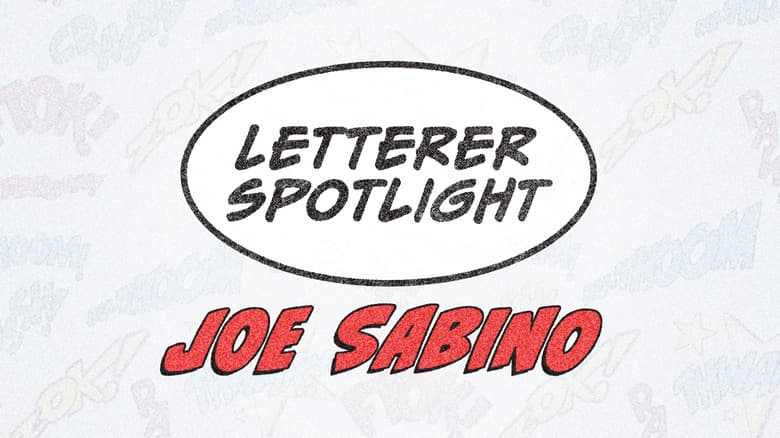 MARVEL.COM: Where did you grow up?
JOE SABINO: In the suburbs of New Jersey, born and raised.
MARVEL.COM: Favorite Marvel character? 
JOE SABINO: Always a Spider-Man fan. 
MARVEL.COM: What was the first Marvel comic you ever read? 
JOE SABINO: My mom's cousin bought me a FANTASTIC FOUR comic when I was a kid. I've been hooked on Marvel since.
MARVEL.COM: How did you decide to become a letterer?
JOE SABINO: I was a temp in the Bullpen for two years and I hopped on the opportunity to learn and work under Chris Eliopoulos for his group, Virtual Calligraphy.
MARVEL.COM: How do you unwind after a long day of lettering?
JOE SABINO: Wait – days of lettering end?! I both coach and play ice hockey. I also enjoy going for drives on open roads.
MARVEL.COM: Do you listen to anything while you work? If so, share your playlist! 
JOE SABINO: Not much music. Mostly podcasts like Joe Rogan Experience, or lectures on history and economics. Audiobooks from time to time.
MARVEL.COM: If you could go anywhere in the world for vacation, where would it be? 
JOE SABINO: Back to Sicily to see my family over there again.
MARVEL.COM: Which TV show character would you want as your best friend? 
JOE SABINO: Tim "The Tool Man" Taylor. Dude has a tool for everything and can fix anything.
MARVEL.COM: Favorite food? 
JOE SABINO: Chicken Francese.
MARVEL.COM: Do you have any pets? Tell us their names and something special about them!
JOE SABINO: I have two cats, brothers named Sir Wallace III and Mr. Pickles. Sir Wallace plays fetch and can be seen in SPIDER-MAN/DEADPOOL (2016) #50. Mr. Pickles wakes me up in the morning by pulling the covers off of me.
MARVEL.COM: What is the first thing you obsessed over as a kid?
JOE SABINO: I think it was He-Man. I have all the figures, Castle Grayskull, etc.
MARVEL.COM: What is the best advice you've ever received? 
JOE SABINO: Be pleasant to work with, be good at what you do, and work in a timely fashion.
MARVEL.COM: What's your superpower? 
JOE SABINO: So far: it's not dying.
MARVEL.COM: What inspires you?
JOE SABINO: The fact that people really love and are invested in the projects I get to work on. Comics are so engrained in culture. It's always fun when I get the "So what do you do?" question in social situations.
We're celebrating our letterers all month long! Stay tuned for more Letterer Spotlights throughout the month, and don't miss our Letterer Appreciation Day 2022 post, which collects all our lettering coverage so far.
You can grab these comics and more digitally or at your favorite local comic book shop. Be sure to ask your local shop about their current business policies to observe social distancing or other services they may offer, including holding or creating pull lists, curbside pick-ups, special deliveries, and other options to accommodate. Find and support your local comic book shop at ComicShopLocator.com or by visiting Marvel.com/LoveComicShops.
For digital comics, all purchases in the Marvel Comics app can be read on iPhone®, iPad® and select Android™ devices! Our smart-paneling feature provides an intuitive reader experience, ideal for all types of mobile device and tablet users! Download the app on iOS and Android now!
The Hype Box
Can't-miss news and updates from across the Marvel Universe!