Comics
Published September 23, 2022
Letterer Appreciation Spotlight: Travis Lanham
Meet 'New Mutants' and 'Ghost Rider' letterer Travis Lanham, who shares the joy of adding 'Kraks, Booms, Bams, and Pows' to all his favorite Marvel characters.
In honor of Letterer Appreciation Day, which occurs every September 1, Marvel is celebrating our mighty letterers all month long. As part of the festivities, we sat down with each member of Virtual Calligraphy (VC), Chris Eliopoulos' lettering studio, to learn more about the people behind the sound effects. Welcome to the September 2022 Letterer Spotlight series!
Meet Travis Lanham, who became a letterer at Marvel starting with I AM AN AVENGER (2010) #2. Since then, he has worked on fan-favorite characters like SPIDER-WOMAN (2014), JEAN GREY (2017), GHOST RIDER (2022), and MOON GIRL AND DEVIL DINOSAUR (2015), as well as major series like NEW MUTANTS (2019), FANTASTIC FOUR (2018), and THE UNBEATABLE SQUIRREL GIRL (2015). Speaking to Marvel.com, he explained how he got "lost in comicsland" and why family time is critical to his process. He also shared the joy of adding "Kraks, Booms, Bams and Pows" to all his favorite Marvel characters, his fascination with numbers, and more.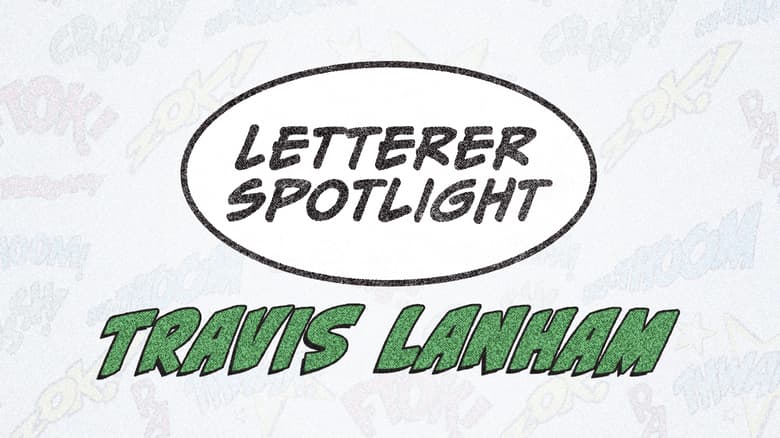 MARVEL.COM: Where did you grow up? 
TRAVIS LANHAM: I was born "where the Pony Express started and Jesse James ended" in St. Joseph, Missouri. When I was 12, we packed up and moved 2 states over to Ft. Collins, Colorado. When I was 20, I moved to Savannah, GA to attend the Savannah College of Art and Design. After graduation, my girlfriend (now my wife) and I moved to Brooklyn, NY, where we remain today.
MARVEL.COM: Favorite Marvel character?
TRAVIS LANHAM: It's a close tie between Spider-Man and Squirrel Girl, with Doreen maybe just a little bit ahead. 
MARVEL.COM: What was the first Marvel comic you ever read?
TRAVIS LANHAM: AMAZING SPIDER-MAN (1963) #249. The superb cover art by Erik Larsen really pulled me in, and I was lost in comicsland from there on out, never to return to normal life. 
MARVEL.COM: How did you decide to become a letterer?
TRAVIS LANHAM: I was working at DC Comics when they were still in NYC as a Pre-Press Services Artist, and the newly formed lettering department there asked me if I could help with some corrections and little odds and ends for them. Over time, that relationship grew and developed and, when a position opened up there, I eagerly applied and was hired soon after as a Staff Letterer. 
I did that for another three years and then, in 2008, I decided to go freelance. This meant I could still work for DC, but I was also free to pursue other clients, which was great. I got to work for Boom Studios, Oni Press, Dynamite, and others. In 2014, I started lettering comics for Marvel with the amazing crew of VC. Every day, I wake up and I get to add my "Kraks, Booms, Bams and Pows" to all my favorite Marvel characters and it's been a blast so far!
MARVEL.COM: How do you unwind after a long day of lettering?
TRAVIS LANHAM: Family time! The most important thing for me is spending time with my wife and daughter. We play games or make art or just hang out. I need to have that time with them where I'm disconnected from work or else the floating balloons and tails and fonts will infect my dreams.
MARVEL.COM: Do you listen to anything while you work? If so, share your playlist!
TRAVIS LANHAM: Over the years, I've listened to it all while working: podcasts, music, YouTube, audiobooks, movies and TV, etc.
MARVEL.COM: If you could go anywhere in the world for vacation, where would it be?
TRAVIS LANHAM: I've travelled around the U.S. a lot, but I've only done a little international travel, so my "Places to See" list is pretty long: France, Japan, Australia, Hong Kong, lots more.
MARVEL.COM: Which TV show character would you want as your best friend?
TRAVIS LANHAM: The Doctor. 
MARVEL.COM: Favorite food?
TRAVIS LANHAM: Pizza? I like it as much as a ninja turtle does.
MARVEL.COM: Do you have any pets? Tell us their names and something special about them!
TRAVIS LANHAM: We have a Cheech! He is a wrinkly pug and he is the best dog. He is a Velcro cuddler who follows me all around my apartment and just wants love and to be with his people.
MARVEL.COM: What is the first thing you obsessed over as a kid?
TRAVIS LANHAM: The first thing I remember obsessing about was numbers. I would run around my home counting loudly for long periods of time, and I was really curious about how numbers and math function. I made a series of hundreds of drawings I called the "number people." These were my childlike drawings of people, each with a number on their tummy. Each had a job. #1 was the mayor, #2 was a policeman, etc., etc. So, I was obsessed with numbers, but also incorporating a comic-like art element into it as well.
MARVEL.COM: What is the best advice you've ever received?
TRAVIS LANHAM: Never cruel nor cowardly. Never give up. Never give in.
MARVEL.COM: What's your superpower?
TRAVIS LANHAM: The superpower I wish I had the most is super-intelligence – like, vast, overwhelming, crazy super-intelligence. If you have enough intelligence, you can just smart-brain your way into having any other superpower you want through tech or whatever anyway.
MARVEL.COM: What inspires you?
TRAVIS LANHAM: Always and endlessly my wife and daughter. Also running. If it's through NYC or elsewhere, I take a lot of value and meditative quality from just absorbing the world as I pass it by on my own two legs. No headphones or anything – just me and the road.
We're celebrating our letterers all month long! Don't miss our Letterer Appreciation Day 2022 post, which collects all our lettering coverage so far.
You can grab these comics and more digitally or at your favorite local comic book shop. Be sure to ask your local shop about their current business policies to observe social distancing or other services they may offer, including holding or creating pull lists, curbside pick-ups, special deliveries, and other options to accommodate. Find and support your local comic book shop at ComicShopLocator.com or by visiting Marvel.com/LoveComicShops.
For digital comics, all purchases in the Marvel Comics app can be read on iPhone®, iPad® and select Android™ devices! Our smart-paneling feature provides an intuitive reader experience, ideal for all types of mobile device and tablet users! Download the app on iOS and Android now!
The Hype Box
Can't-miss news and updates from across the Marvel Universe!