Comics
Published October 11, 2017
Listen to This Week in Marvel Live from NYCC 2017
Hear from your favorite Marvel creators and more in quick hit episodes!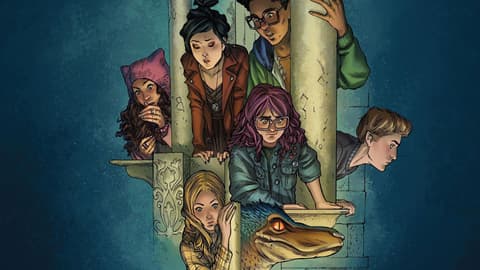 The stars of comics, games, and more came out this year at New York Comic Con 2017, and we made sure to talk to them all! The illustrious digital editorial team of Ben Morse, Eric Goldman, Christine Dinh, and Tucker Markus asked the tough questions and got the fun answers in over a dozen special episodes of This Week in Marvel.
Listen now and get the inside track!
Gerry Duggan
The writer of DEADPOOL and GUARDIANS OF THE GALAXY comments on the return of Adam Warlock, what's next for Wade Wilson, and more!
Listen here!
Artists Alley
Peter David, Chris Eliopoulos, Erik Larsen, and Declan Shalvey share stories from the convention floor!
Listen here!
Matthew Rosenberg
One of Marvel's up and coming writers gives us the scoop on PHOENIX RESURRECTION, PUNISHER, and SECRET WARRIORS!
Listen here!
Robbie Thompson
Learn all about what went into the Marvel Legacy primer pages, plus find out what's in store for SPIDER-MAN/DEADPOOL!
Listen here!
Christopher Hastings
Exploring the world of UNBELIEVABLE GWENPOOL and getting to the bottom of I AM GROOT!
Listen here!
Aaron Kuder
The GUARDIANS OF THE GALAXY artist joins us for a chat about all things cosmic!
Listen here!
Brandon Montclare
What does Marvel Legacy have in store for MOON GIRL AND DEVIL DINOSAUR? Find out!
Listen here!
Ed Brisson
The versatile writer talks CABLE, IRON FIST, and OLD MAN LOGAN!
Listen here!
Marvel Puzzle Quest
The team from D3 Go! celebrates the anniversary of their mobile game with Marvel!
Listen here!
Dan Slott
One of our favorite writers wraps up SILVER SURFER and readies AMAZING SPIDER-MAN for Marvel Legacy!
Listen here!
Marvel Contest of Champions
Gabriel Frizzera discusses the genesis of Morningstar and much more!
Listen here!
Camp Lo
The hip hop duo speaks out on their Marvel connections, their musical origins, and more!
Listen here!
Donny Cates
The newly-minted Marvel writer previews his plans for DOCTOR STRANGE and THANOS!
Listen here!
Gabby Rivera
We speak with the woman behind America Chavez's ongoing adventures!
Listen here!
Charles Soule
The hardest working man in comics talks DARTH VADER, ASTONISHING X-MEN, DAREDEVIL, and more!
Listen here!
Wrap-Up
The last word from the gang on all things New York Comic Con 2017!
Listen here!
The Hype Box
Can't-miss news and updates from across the Marvel Universe!