Comics
Published June 8, 2021
Start Your Loki Reading with These Comic Stories
Save up to 72% off on digital trades and issues starring the God of Mischief in the Marvel Comics App.
Now on sale in the Marvel Comics app for iOS and Android!
Save up to 72% off on digital collections and issues starring the God of Mischief and the Prince of Lies—Loki.
Loki's sorcery and deceptions have long been legend in Asgard, where he lives as a reigning immortal in Odin's court. The lost son of a Frost Giant king, Loki was raised by the All-Father yet still lashes out as a black sheep. Dangerous and mirthful, he wears many faces. Read a few of our favorites below, all intro comic stories to help get you acquainted.
Enjoy your new digital comics and trades in the cutting-edge reader of the Marvel Comics App, available on iPhone®, iPad® and select Android™ devices. Once purchased, all of your stories are accessible through your personal library, and can be read anytime, anywhere.
Sale ends June 20, so act now!
Loki is—Earth's Mightiest Hero?! After dying a grisly death in WAR OF THE REALMS, the reborn Trickster learned a valuable lesson in warmongering: Don't get caught. But now Loki has a whole new set of responsibilities—and his brother Thor isn't about to let him walk away from them. Restless with his new duties, Loki seeks out the advice of the closest thing Midgard has to a king—Tony Stark, the Invincible Iron Man! Close enough, right? But it turns out that Shellhead isn't too happy to see Loki on account of all that stuff he did in the past. Now the God of Mischief/Stories/Evil/Chaos has to outsmart the cleverest man on Earth—or die (again) trying. Meanwhile, could Thor be hatching a mischievous plot of his own?
Collects LOKI (2019) #1-5, material from WAR OF THE REALMS: OMEGA (2019) #1.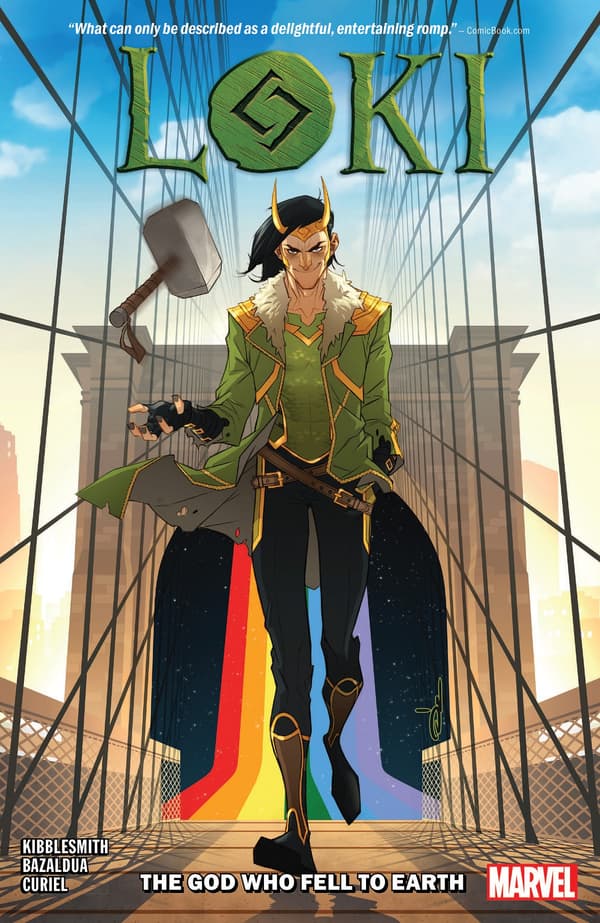 Evil is everywhere, and the world needs the Sorcerer Supreme more than ever. But the Sorcerer Supreme is now… Loki?! Say hello to the Master of the Mischief Arts! The Norse lord of lies has the cloak, the spells—he's even got Zelma Stanton as his assistant. (And possibly more?) Is this the chance Loki needed to become a hero at last, or is the trickster god dangerously close to unlimited power? And what happened to Stephen Strange, the former Sorcerer Supreme? Down but not out, Stephen may just have one last play left in him—one that could shake the Marvel Universe to its core! But will it be enough to take back his title, with the life of someone he loves hanging in the balance?
Collects DOCTOR STRANGE (2015) #381-385.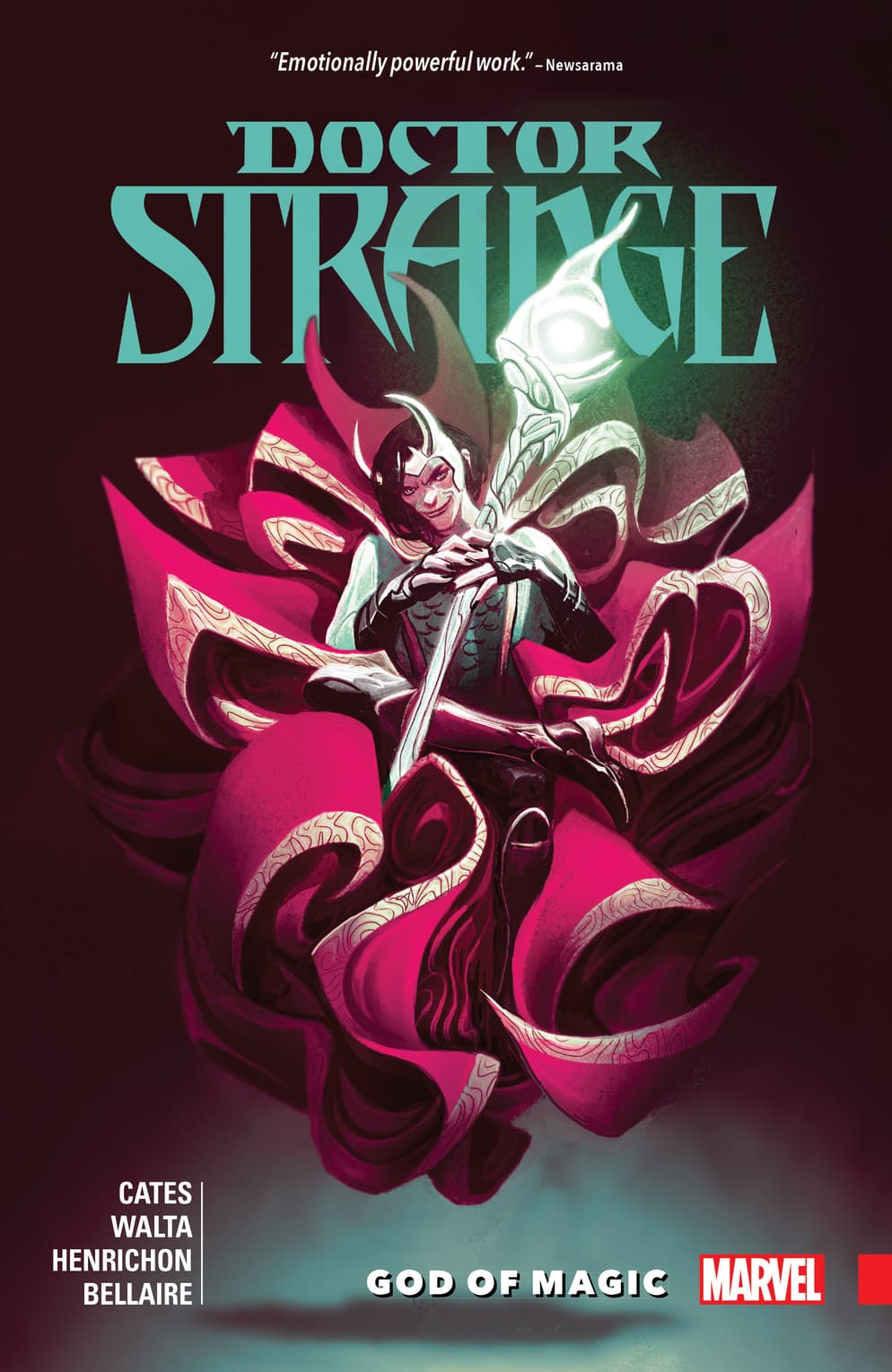 Loki is many things: god, trickster, brother, son, villain, even hero. Now he wants to add one more title to the list: President of the United States! That's right, the God of Lies wants to be ruler of the free world! But is this just another scheme? One fact is certain: With Loki's winning smile and silver tongue on the campaign trail, this election just got a lot more interesting! He'll soon have the American people eating out of the palm of his hand, but can would-be President Laufeyson sway the media? And what will be his response when the heroes of Earth launch their attack ad? A crisis in Latveria offers Loki the chance to demonstrate his foreign policy... but surely he wouldn't cause a national catastrophe just for a little good press? Would he?
Collects VOTE LOKI (2016) #1-4, material from JOURNEY INTO MYSTERY (1952) #85, AVENGERS (1963) #300.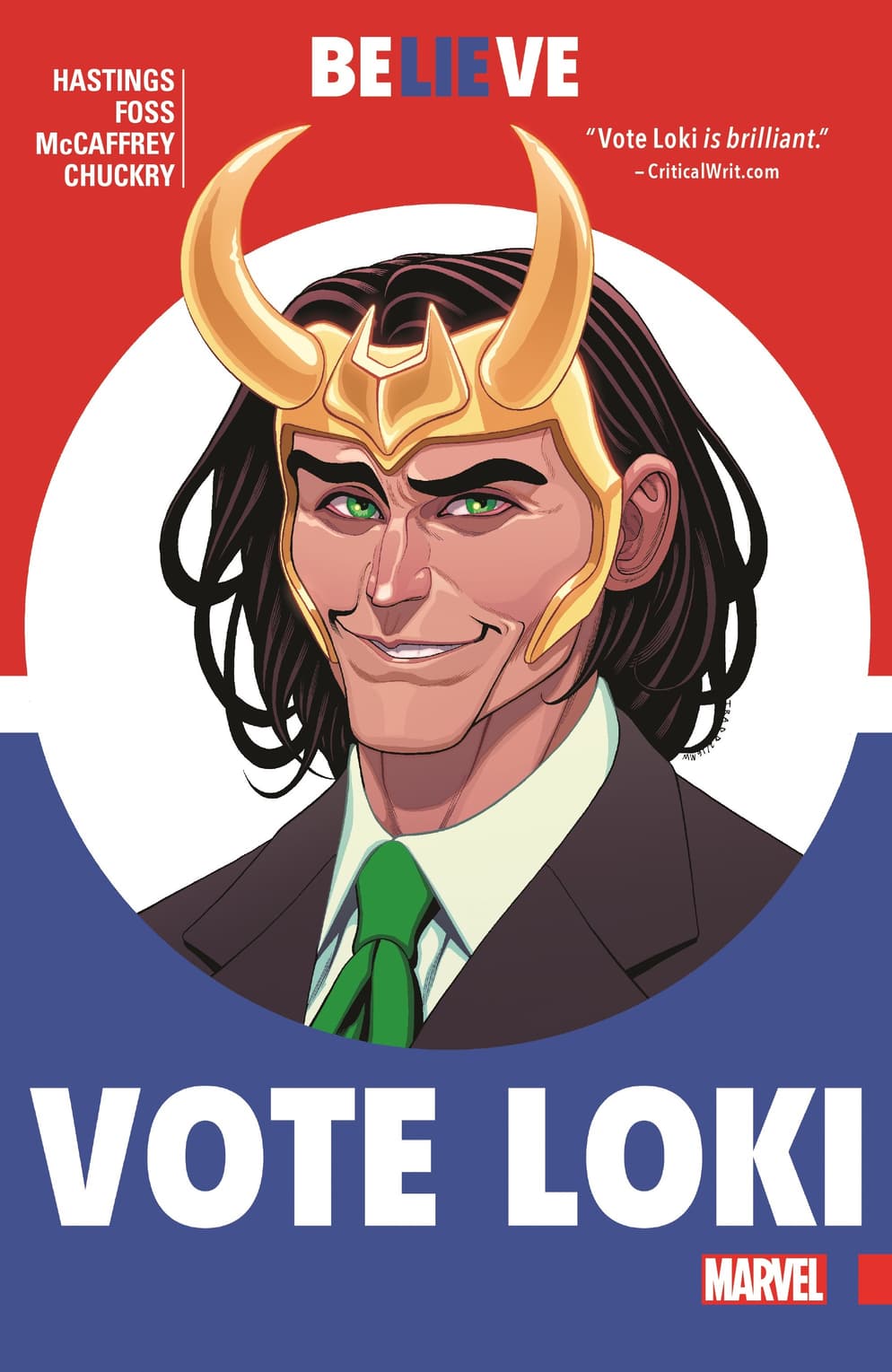 One last ride with the almighty lord of Asgard! Jason Aaron reunites with Esad Ribić to conclude the epic saga they began in THOR: GOD OF THUNDER! Seven years ago, Aaron and Ribić introduced the Thor of the far future—All-Father of a broken realm and a dying universe—as he stood in battle against Gorr, the Butcher of Gods, wielder of All-Black the Necrosword. But now that nefarious blade has returned, in the hands of Thor's all-time-greatest enemy: his adopted brother, Loki! It's time for one final, cataclysmic showdown—but even worse is still to come as the ultimate end of all things grows near! A who's who of Aaron's past THOR collaborators, along with a few surprise guests, stop by to bring down the curtain on a glorious era in thunderous style!
Collects KING THOR (2019) #1-4.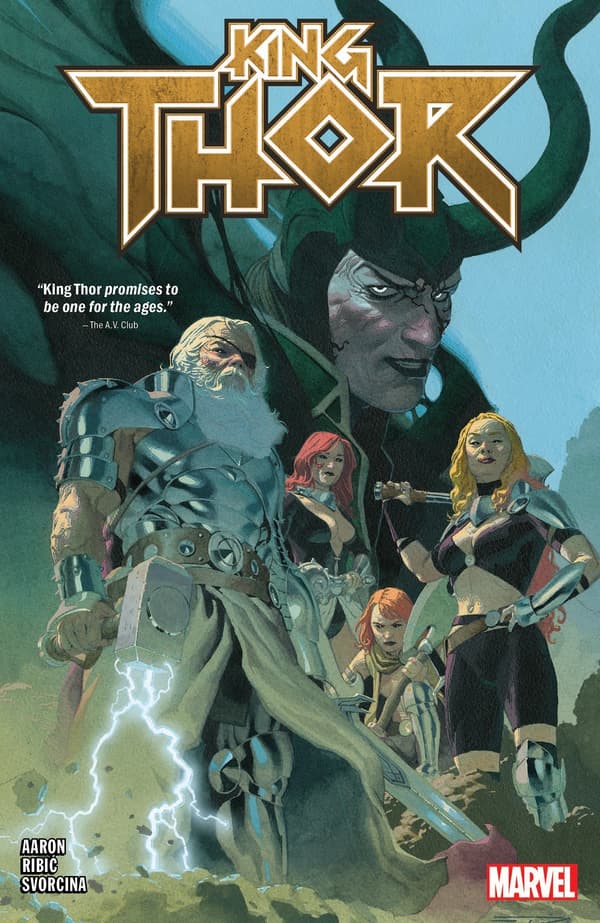 Plus, grab the full list of sale titles here!
ACTS OF VENGEANCE: MARVEL UNIVERSE
AMAZING SPIDER-MAN VOL. 7: THE BOOK OF EZEKIEL
ANGELA: ASGARD'S ASSASSIN VOL. 1: PRICELESS
ASGARDIANS OF THE GALAXY VOL. 1: THE INFINITY ARMADA
ASGARDIANS OF THE GALAXY VOL. 2: WAR OF THE REALMS
AVENGERS EPIC COLLECTION: EARTH'S MIGHTIEST HEROES
AVENGERS/DEFENDERS WAR
AVENGERS: TALES TO ASTONISH
DOCTOR STRANGE BY DONNY CATES
HEROES REBORN: AVENGERS
INFINITY WARS
JOURNEY INTO MYSTERY: FEAR ITSELF
JOURNEY INTO MYSTERY: FEAR ITSELF FALLOUT
JOURNEY INTO MYSTERY: MANCHESTER GODS
JOURNEY INTO MYSTERY: TERRORISM MYTH
KING THOR
LOKI: AGENT OF ASGARD VOL. 1: TRUST ME
LOKI: AGENT OF ASGARD VOL. 2: I CANNOT TELL A LIE
LOKI: AGENT OF ASGARD VOL. 3: LAST DAYS
LOKI: THE GOD WHO FELL TO EARTH
MIGHTY AVENGERS BY DAN SLOTT: THE COMPLETE COLLECTION
MIGHTY THOR VOL. 1: THUNDER IN HER VEINS
MIGHTY THOR VOL. 2: LORDS OF MIDGARD
MIGHTY THOR VOL. 3: ASGARD/SHI'AR WAR
MIGHTY THOR/JOURNEY INTO MYSTERY: EVERYTHING BURNS
MS. MARVEL VOL. 3: CRUSHED
ORIGINAL SIN: THOR & LOKI - THE TENTH REALM
SIEGE: BATTLEFIELD
SIEGE: THOR
THE UNBEATABLE SQUIRREL GIRL VOL. 11: CALL YOUR SQUIRRELFRIEND
THE UNBEATABLE SQUIRREL GIRL VOL. 8: MY BEST FRIEND'S SQUIRREL
THOR & LOKI: BLOOD BROTHERS
THOR BY J. MICHAEL STRACZYNSKI VOL. 3
THOR BY JASON AARON VOL. 4
THOR BY JURGENS & ROMITA JR. VOL. 4
THOR BY KIERON GILLEN: THE COMPLETE COLLECTION
THOR EPIC COLLECTION: A KINGDOM LOST
THOR EPIC COLLECTION: INTO THE DARK NEBULA
THOR EPIC COLLECTION: RUNEQUEST
THOR EPIC COLLECTION: THE BLACK GALAXY
THOR EPIC COLLECTION: THE FALL OF ASGARD
THOR EPIC COLLECTION: THE THOR WAR
THOR EPIC COLLECTION: THE WRATH OF ODIN
THOR EPIC COLLECTION: WHEN TITANS CLASH
THOR VISIONARIES VOL. 5: WALTER SIMONSON
THOR VOL. 1: GOD OF THUNDER REBORN
THOR VOL. 2: ROAD TO WAR OF THE REALMS
THOR VOL. 3: WAR'S END
THOR: GODS & DEVIANTS
THOR: GODSTORM
THOR: HEAVEN AND EARTH
THOR: LATVERIAN PROMETHEUS
THOR: RAGNAROK
THOR: SIEGE AFTERMATH
THOR: TALES OF ASGARD
THOR: THE LOST GODS
THOR: THE MIGHTY AVENGER - THE COMPLETE COLLECTION
THOR: THE QUEST FOR ODIN
THOR: THE TRIALS OF LOKI
THOR: THE WARRIORS THREE UNLEASHED
THOR: THUNDERSTRIKE
VOTE LOKI
X-MEN: ASGARDIAN WARS
YOUNG AVENGERS BY GILLEN & MCKELVIE: THE COMPLETE COLLECTION
Read these stories now by heading to the Marvel Comics App and enjoy the amazing adventure that is the Marvel Universe.
All purchases in the Marvel Comics App are added to your personal library, and can be read on iPhone®, iPad® and select Android™ devices! Our smart-paneling feature provides an intuitive reader experience, ideal for all types of mobile device and tablet users!
The Hype Box
Can't-miss news and updates from across the Marvel Universe!