Comics
Published June 9, 2022
New to Infinity Comics: Romance Anthology 'Love Unlimited' Features Marvel's Most Swoon-Worthy Couples in Weekly Stories
And it all begins with Ms. Marvel and Red Dagger! We spoke to creators Nadia Shammas and Natacha Bustos about what readers can expect from the series' inaugural arc.
New on the Marvel Unlimited app in the exclusive Infinity Comics format: As announced exclusively by The Beat, Marvel Unlimited app readers will fall head over heels for LOVE UNLIMITED! This new, weekly anthology series will dive deep into the lives and loves of some of Marvel's most swoon-worthy characters and relationships. From the delightfully dreamy to the spectacularly sultry, LOVE UNLIMITED has a story for everyone. And it all begins with a six-part arc starring the magnificent Ms. Marvel and Pakistan's #1 hero Red Dagger!
Ms. Marvel and Red Dagger have shared a kiss…but not their secret identities. When they team up to investigate a series of relic thefts, the chemistry is off the scale. Will they find the courage to take off the masks and give love a chance?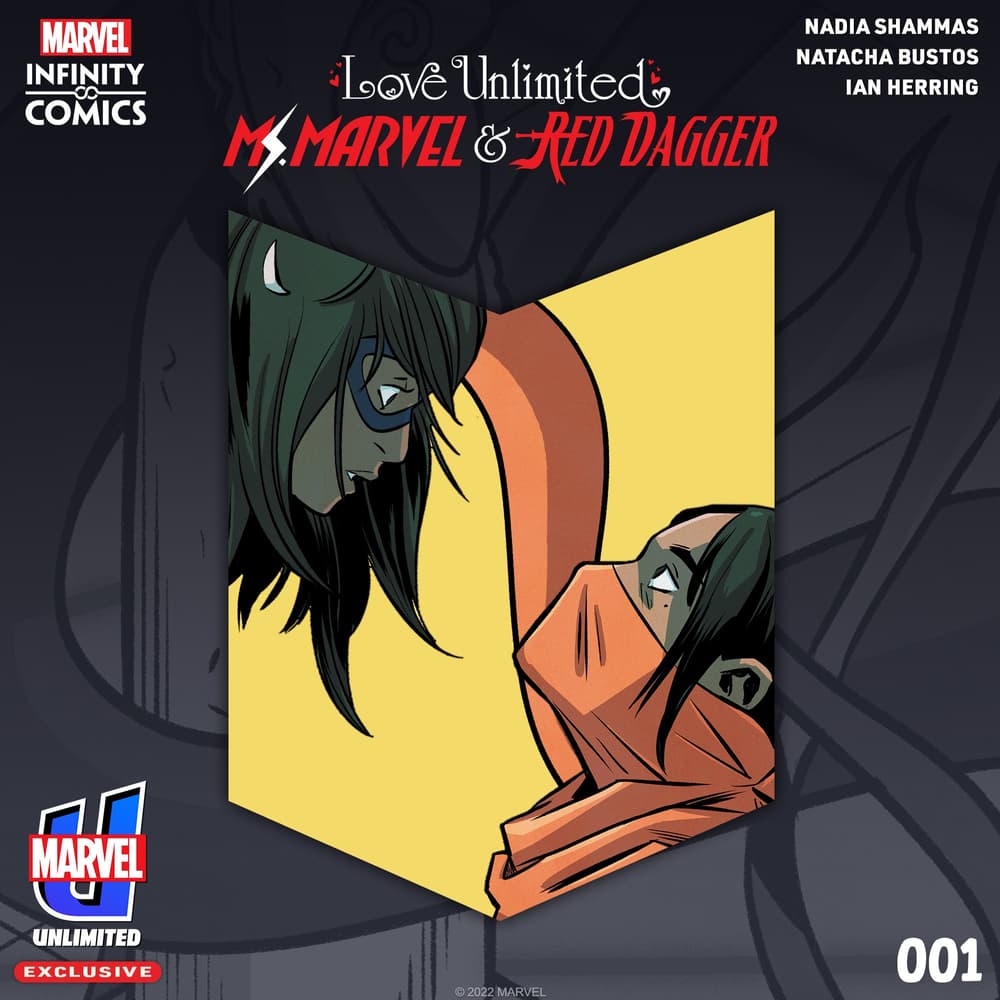 Marvel.com spoke with writer Nadia Shammas and artist Natacha Bustos about their inaugural LOVE UNLIMITED story, who they're shipping, and favorite Ms. Marvel runs. Get your first look at LOVE UNLIMITED: MS. MARVEL & RED DAGGER here!
This is the first story arc in LOVE UNLIMITED! What can readers expect from this teenage love story?
NADIA SHAMMAS: A lot of yearning! This [arc] puts Ms. Marvel and Red Dagger in each other's paths while trying to chase down the same villain. The last time they saw each other, things ended awkwardly and were unresolved. That tension, that push-pull, is totally the heart of this dynamic. Will they deny the feelings that are already there? Can they make that final leap? Read to find out.
NATACHA BUSTOS: I hope readers find the reunion of Red Dagger and Ms. Marvel exciting! The plot will make them have to be together on numerous occasions and sparks could fly.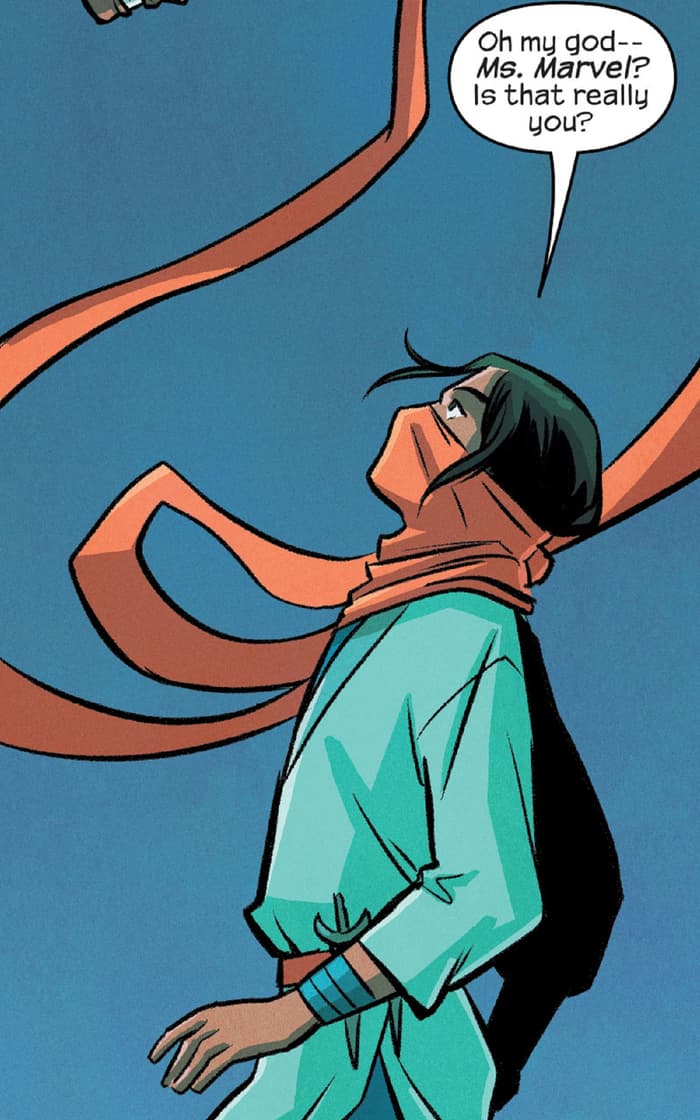 What do you both think is so unique about Ms. Marvel and Red Dagger's story?
NADIA SHAMMAS: I love that they have this history of just kind of flitting in and out of each other's lives, and each time it's so instantly intense. It makes sense though—they share this connection, this innate understanding of each other's position. It's what makes their dynamic so uncertain and exciting.
NATACHA BUSTOS: I think of them as that kind of love relationship that some teenagers have in the summer, when they meet that person they like only once a year and everything is new and different from their usual routine.
What is your Ms. Marvel fandom? Any comic runs or creators you especially love?
NADIA SHAMMAS: Personally, I am a Kamala/Miles Morales fan, although I might be tempted to change teams after working on this project! G. Willow Wilson got me into Marvel Comics, so I will always admire what G. Willow did with Ms. Marvel forever. That first run from 2014-2015 was just groundbreaking.
NATACHA BUSTOS: That first run from G. Willow, Adrian Alphona, and Jake Wyatt was groundbreaking for me too. I hadn't read anything that fresh before, and I'm glad to see that the series has grown so much over the years. I also loved what Minkyu Jung and Saladin Ahmed were doing in MAGNIFICENT MS. MARVEL (2019). As an artist, I find Minkyu's drawings wonderful.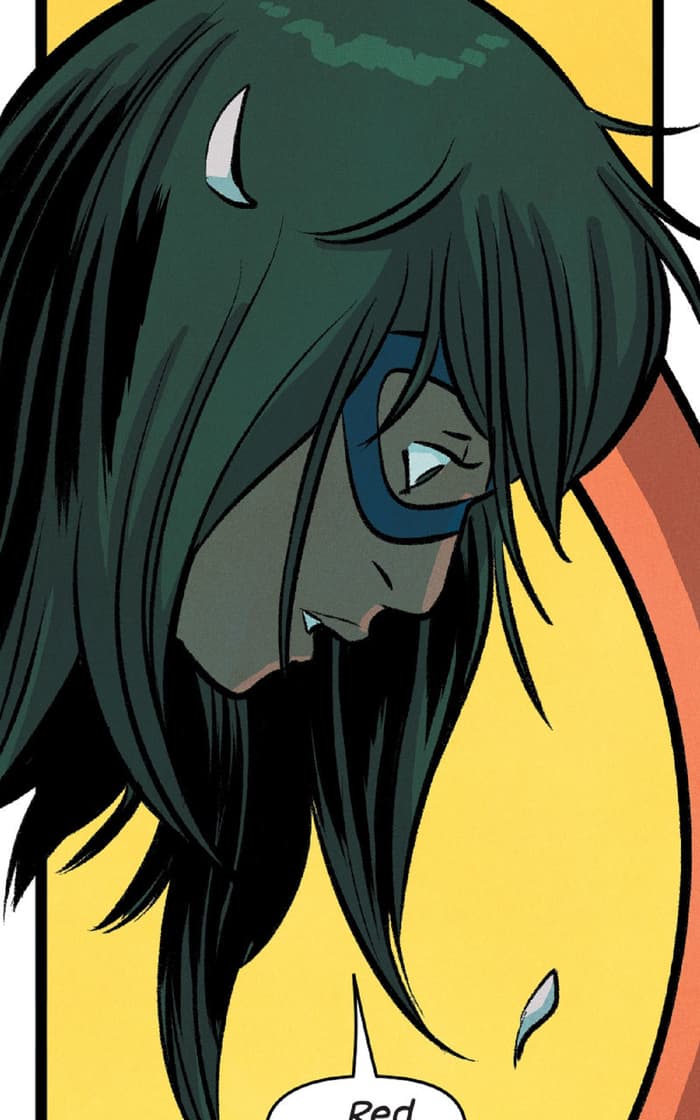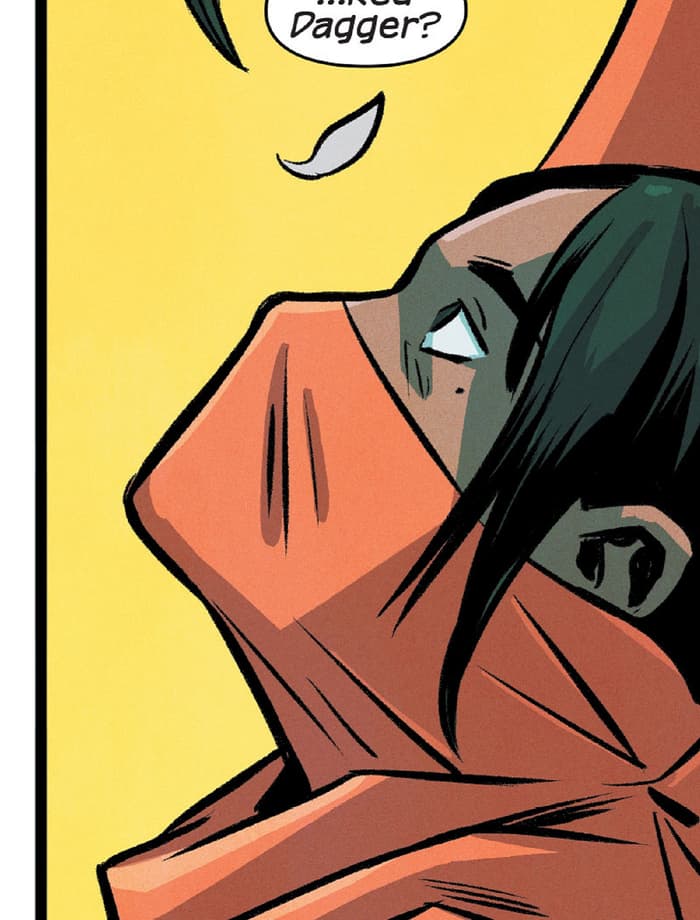 Check out the first issue of LOVE UNLIMITED: MS. MARVEL & RED DAGGER on the Marvel Unlimited app, and come back for new issues each Thursday!
Download the Marvel Unlimited app for iOS or Android devices now for more vertical comics starring favorite Marvel characters. You'll also gain instant access to 29,000+ digital issues spanning 80 years of Marvel Comics.
Follow Marvel Unlimited on Twitter and Facebook to stay tuned in to weekly announcements, articles, and more, all at @MarvelUnlimited. Follow us today to join the conversation with thousands of fellow fans, and let us know what you're reading!
The Hype Box
Can't-miss news and updates from across the Marvel Universe!