Comics
Published May 16, 2017
Luke Cage: Down on the Bayou
David F. Walker maps out the former Power Man's trip to New Orleans!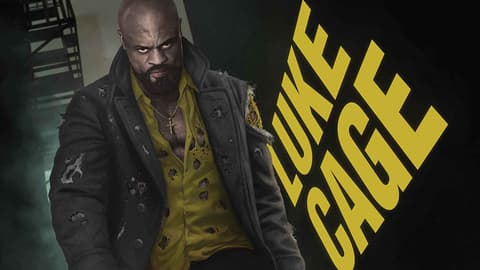 Luke Cage's mentor, Dr. Noah Burstein, has died in New Orleans. When Luke leaves Harlem to pay his respects in The Big Easy, a mystery unravels around the good Doctor, his past, and everything Luke thought he once knew about his father-figure.
Players emerge and puzzles present themselves in a secretive city still contending with its own past—and this time, Luke won't be able to simply fight his way out. On May 17, join the one-time Power Man as he journeys south in his new series with LUKE CAGE #1!
Fresh off his run with POWER MAN & IRON FIST, writer David F. Walker joins artist Nelson Blake II to take Luke Cage to America's most unique city. We sat down with Walker to speak about the trip from NYC to NOLA and the new kind of obstacles standing in Luke's way.
Marvel.com: Why New Orleans? What kind of new texture does this idiosyncratic setting bring to the story?
David F. Walker: In part, because of that idiosyncratic atmosphere. I wanted to place Luke in an environment that carries with it a certain amount of preconceptions and New Orleans is one of those cities that sparks the imagination, even if someone has never been there. I also wanted to take Luke out of his element, and drop him in a place where his reputation doesn't cast as big a shadow.
Marvel.com: How does New Orleans influence the story in a different way than Harlem and New York would? How does it influence Luke?
David F. Walker: New York and Harlem are Luke's home—it is where he feels most comfortable, and it is where he is accepted. You take a character out of their home, and place them somewhere that they don't know the lay of the land, and things become uncertain, maybe even dangerous. Dorothy left Kansas, Frodo left the Shire, Luke Skywalker left Tattooine, and in the process they faced great dangers, and learned something new about themselves. I wanted to take Luke Cage on a journey of discovery that forces him to rethink his own ideas of himself, and the best way to do that for a character is to take them out of their element.
Marvel.com: You've mentioned before that a big inspiration for this new series was being able to position Luke in a challenging moral grey area. As an artist, what makes that such an exciting concept? Why does that always feel so modern and relevant?
David F. Walker: Most people live in a moral grey area, even if they think their moral code is clear and absolute. Luke Cage, for me, has always been a character that has his own moral code, but it is firmly rooted in his own personal experiences, which places this code in an ambiguous state. Here you have a guy who started out as a petty criminal, ended up in prison for a crime he didn't commit, and then ended up becoming a super hero. He has lived on either end of the moral spectrum, and in the middle. He knows that innocent people go to prison, but he's also been friends with people who were cold-blooded criminals. For me, that is a bit more interesting—and true to life—than a simplified code of ethics and morality we see a bit too often in popular culture, notions of good and bad, period.
The reason it is an exciting concept to explore, and the reason it feels modern [and] relevant is because it is actually what real life is like. In real life we all know people that do questionable things, but we give them something of a pass, or look the other way, because they are our friends or family members. And that is part of that moral grey area, which is tied to the complexity of what it means to be a human.
Marvel.com: This is your first time working with artist Nelson Blake II; what's your process like for starting a project alongside a new collaborator?
David F. Walker: Whenever possible, I like to talk to the artist. Sometimes communication is limited to emails, and sometimes there is no communication at all. But with Nelson, we got on the phone a few times, and talked through what my goals were, and what his goals were, and worked on establishing frames of reference. By "frames of reference," I mean influences and inspiration. Often these frames of reference are abstract: "This scene feels like an Eric B and Rakim song, as opposed to a Kendrick Lamar song," or I might say something crazy like, "Imagine if 'Goodfellas' were a graphic novel drawn by Alex Toth." But because we have established a connection—talked about our influences, and the things we enjoy—it makes this kind of communication possible.
Nelson and I had a conversation at one point about a specific character that I hadn't done the best job of describing in the script. I was really struggling with how to describe this character, because it was more about personality than appearance. Nelson and I are talking, and he's asking me all these questions, and finally he says to me, "You're talking about Tupac Shakur." And I was like, "Exactly," even though it never occurred to me to describe the character that way, especially in terms of their personality; that was one of those moments you look for in comics, when the collaborative nature moves to the next level.
Kick off the brand-new series with LUKE CAGE #1, by David F. Walker and artist Nelson Blake II, on May 17, and then continue the action into LUKE CAGE #2 ON June 21!
The Hype Box
Can't-miss news and updates from across the Marvel Universe!