Comics
Published April 19, 2017
Luke Cage: Unbreakable Bonds
Writer David Walker gets into the head of the original Hero for Hire!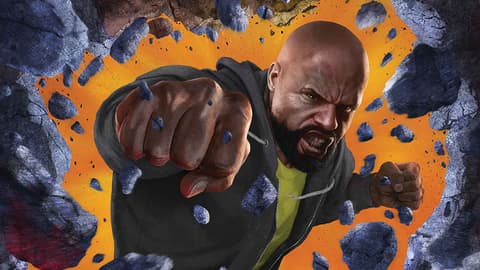 Can't get enough Luke Cage? The man with unbreakable skin heads down south to the bayou in his own self-titled solo series starting May 17.
Hot off his run on POWER MAN AND IRON FIST, writer David F. Walker teams with artist Nelson Blake II to take a deeper look into the toughened Hero for Hire as he revisits his past in the form of the scientist who gave him his powers.
But not everything remains as Luke remembers it, according to Walker, who spoke with us about his old school influences for this comic, using super hero action to its fullest potential, and the significance of tax season on Luke's story.
Marvel.com: When thinking about writing your take of Luke Cage did you go back to the drawing board so-to-speak? What parts of his origin did you consider most important when crafting the story?
David F. Walker: That's a good question. I mean, the most well-known version of his origin is, I think, the most important. The fact that there's a guy who's in prison for a crime he didn't commit and then he got experimented on while he was in prison and it's that basic nuts and bolts of it. And obviously that story itself hasn't been told nearly as many times as Peter Parker getting bit by the radioactive spider or Bruce Banner being exposed to gamma rays, but now, with the Netflix show, his origin has become more ingrained in the public consciousness, but there's so many details that you can fill in because it hasn't been told a thousand times, over and over again. And so yeah, it's that very basic nuts and bolts that I'm playing with and that I draw from and then I just start building upon that.
Marvel.com: How did you want to tell his origin story in a way that caught up newcomers to the character while keeping it fresh for longtime fans?
David F. Walker: Stuff like this has become trickier now with films and TV because someone will watch all [13] episodes of the show on Netflix or they'll watch a movie and suddenly they're an expert in the character, even though that character may have been around for 40 or 50 years and then you have the hardcore fans and you have the new fans or the new readers who might not be familiar in either capacity so it's about trying to find that balance and for me, that balance lies really in the core of his character and making his personality interesting enough that people will engage with him, you know? Like if there's people who are upset that he's not wearing the metal headband—and it's a headband, it's not a tiara—then [they] didn't really like the character. It's like when people argue over "Who's the best James Bond?" Is it Sean Connery? Is it Daniel Craig? Is it…most people don't say Roger Moore, but it's like, well, James Bond is James Bond and it's not so much the actor who's playing him as it's the stories in the movies themselves. And so, it's always about playing with that character and making sure that there's enough to that character, to his personality that, whether someone is a long term fan going back 40 years, whether it's someone who discovered him during NEW AVENGERS very recently, whether it's someone who only knows him from the show—you take all of those into consideration, you throw em' into a big pot, you make a stew, but you add just the right spices so that the flavor works for as many people as possible. But for some people, they'll go, "Oh, there's too much pepper" or "There's too much salt" or whatever it is and those are the people you just kinda go, "Huh, well we tried! Maybe next issue!"
Marvel.com: Luke was very much a product of his time when he first debuted back in the early '70s at the height of the Blaxploitation era. Will we be getting some of these groovy old school vibes in your series?
David F. Walker: Yeah there's some—I tried to play with some of that with POWER MAN AND IRON FIST. [There have been] a couple of interviews over the years with different creators, including, I seem to recall reading something about Archie Goodwin and what his influences were with creating Luke Cage and to me, what's interesting is that I'm a huge Blaxploitation fan. Honestly, you're not gonna find anyone who's a bigger Blaxploitation fan than me; I've written a book about it and I made a documentary about it and I've given college lectures on it. I know more about that than I know about comics, actually and so the interesting [thing] to me is that Luke Cage is actually more a product of the writing of Chester Himes whose work predates Blaxploitation by 10-20 years and I've read enough Chester Himes that when I'm going back and re-reading the early issues of [LUKE CAGE, HERO FOR HIRE] from the '70s, [I say], "Oh yeah, this is total Chester Himes more than anything out of Blaxploitation" because Chester Himes created this very stylized and surreal world that almost looked like the real world, but it wasn't like the real world and so you go back to one of the driving ideologies behind Marvel is, "The world right outside your window," but it really isn't the world right outside your window, right? That's what Chester Himes did in his writing and to me, it's so clear and it's so obvious and in Chester Himes books, "Blind Man with a Pistol" and "A Rage in Harlem" and "For Love of Imabelle" and books like that—and his "Harlem Detective" series—they're this weird mix of hardboiled noir thrillers and just also a dash of the surreal and comedy. That's really what I wanted to go for with LUKE CAGE and sure, there's some Blaxploitation elements in it.
Marvel.com: You've gone on record as saying the Netflix series was one of your influences for this comic. What elements of this version of Luke's story, in terms of the show, really caught your attention?
David F. Walker: Well, the thing I like about the Netflix show a lot was that it went a long way to humanize Luke and I give all credit to the writers and the producers of that show. The original LUKE CAGE comics read like they were written by a white man who had very little experience or relationships with black folks, it's a fact. And the thing about the TV show, as I was watching it, there were scenes where I was like, "Yeah, yeah a black person wrote this scene" or "It was written by a white person who has spent every waking moment of their life with black people" [Laughs]. And so there was obviously a huge element of the fantastic and there's a lot of "over-the-topness" to the show and there was aspects of the show that were very much entrenched in the super hero tropes, but there's a humanity to Luke Cage on the TV show, but honestly he didn't start getting [humanized] in comics until sometime around the time he showed up in ALIAS or NEW AVENGERS and that's the biggest influence that the show's had on me and what a lot of people don't realize is that we were developing the POWER MAN AND IRON FIST comic series before the Netflix show debuted; the Netflix show debuted October 2016 and by that point I think we were like maybe six or seven issues into our run on the comic and there was no back and forth between us and the show so how I developed that character for POWER MAN AND IRON FIST, a lot of it was just obvious like "It's obvious!" like [show runner] Cheo Hodari Coker and the rest of the writing staff [for the TV show] had read the same books I'd read and watched the same movies I'd watched and listened to the same music that I listen to and there was a very serendipitous amount of coincidences in how that version of the character turned out and how the comic book of that character turned out and so when I saw the show, more than anything, it validated a lot of the beliefs and a lot of what I was pushing for with the comic and with the character in that [I said], "Yeah, this is gonna work, we can show him this way and that he shouldn't be a guy who's just about getting into fist fights" because as much as I love those original books from the '70s, every issue it's, Oh, here's in a fist fight with a D-level villain that hardly anybody knows or a Z-level villain [Laughs] specific to his world and that's [how] we [got] like Cockroach Hamilton and Piranha Jones and people like that.
Marvel.com: You also said you want to show a Luke who's not punching the stuffing out of people all the time. Can you talk a little more about that?
David F. Walker: Yeah, I mean I'm just old, you know? [Laughs] I grew up watching action movies before Michael Bay movies were considered action movies. So to me, an action movie is like something from the '70s like "The Taking of Pelham One Two Three," the original version from 1974, or even "The French Connection" or "Bullit," going back to the '60s. These are movies that I grew up on, that I love and if you were to sit down and clock out the number of minutes that are actual car chases and fights, they're fairly brief. If you had a two-hour movie, there might've been 15 minutes of hardcore action whereas now, you watch a movie like "John Wick," which I love, don't get me wrong, but it's mostly action and I'm more of a story guy so to me, when I read a comic, I don't need to see, whether it's Spider-Man or Daredevil or Hulk, I don't need any of these characters fighting for six and seven pages out of an issue that's only 20 pages of content. With the exception of, I'm thinking of one or two action sequences that really stand out in my mind—I'm in my late forties, so I've been reading comics for over 40 years and the one action sequence that stands out in my mind more than any other is [DAREDEVIL #181] where Bullseye kills Elektra. That's the most powerful action sequence and that stands out in my mind, but when I think of all the other moments that stand out in my mind in the history of comics with all the comics that I've read, absolutely none of them are action moments, they're all character-defining moments. There's the issue of FANTASTIC FOUR where Sue Storm is pregnant and she loses the baby. There's the trial of Galactus. A lot of that stuff was really compelling and I think for a lot of us, we think of super heroes when we think of men or women in these weird suits beating the crap out of each other and that's cool for a little bit, but even with the movies, some of the best moments in the movies aren't the action. And so to me, it's like I know my dream comic would actually be boring because I've written my dream comic and reading over it I was like, "Well this is boring" and that was just some character sitting around talking, but it is tough, finding that balance, that right ratio of action to moving the story forward and a fight doesn't necessarily move the story forward. Mayhem and destruction does not move the story forward.
Marvel.com: The first issue of this ongoing series revolves around the death of the scientist who helped give Luke his unbreakable skin, Doctor Noah Burstein. How does Luke feel about revisiting his past? 
David F. Walker: Obviously it's a difficult time for him because he's resisting his past while mourning this person who was really pivotal to him, but the story's also about him realizing that his past isn't exactly what he thought it was and that he isn't exactly who he thought he was. He isn't who he thinks he is and Burstein isn't who [Luke] thought he was. It's playing with the notions of what happens when, as an adult, you start to see your parents in a very different way, you start to look at them through the eyes of an adult, as opposed to the eyes of a child, which is how you saw them growing up and so it's playing with that in a much more exaggerated, super heroic sort of way, but it's like that moment you first get a bill from the IRS and you're like, "Oh, this is what my mom was always freaking out about every March and April. Now I get it! Now that I'm paying the taxes I understand." It's all that sort of stuff; it's what it's like the first time that you go grocery shopping on your own with your own money or the first time you get a pay check and you look and you see how much the taxes have been taken out—I'm going back to taxes because it's tax time right now and that's part of what this is about for me. It's really [Luke] looking at his own past through the eyes of an adult as an adult. What so many of us do is look at our past and we get caught up in the nostalgia. There's no nostalgia. This is Luke having his nostalgia ripped away from him.
Marvel.com: And how does changing the setting from New York to New Orleans change that dynamic of who he is and what he does fighting or otherwise?
David F. Walker: It just puts him in a really uncomfortable, foreign environment where he doesn't know anybody and he doesn't necessarily know who to turn to. If I had set the story in New York, the moment something bad goes down, he can get on the phone and he can call his wife [Jessica Jones] or he can call Iron Fist or he can call Spider-Man or Daredevil or, you know, he was a member of the Avengers [Laughs], but you put him in a place that's completely foreign to him and it throws his game off. One of my favorite movies of all time is a movie called "The Third Man," directed by Carol Reed based on a book by Graham Greene and it's all about a guy who's completely out of his element and then on top of that, there's something sinister going on and so, he shows up in Vienna for one reason and everything goes wrong and there's nowhere to turn and even where he turns he doesn't know, can I trust this person? Can I trust this person? I would have to say that my two single biggest influences in this first story arc of LUKE CAGE is "The Third Man" followed closely by Robert Altman's "The Long Goodbye," which is an adaptation of a Raymond Chandler novel so it's really "The Third Man" and "The Long Goodbye," those two movies, I watch them regularly anyway, and I was like, "Ok, I love the themes that they're playing with," the past is not exactly [as] we remember and people aren't exactly who we think they are and if the past isn't exactly how we remember it, then the people that we care about aren't exactly who we think they are, then what does that say about who we are?
Marvel.com: How will this solo Luke differ from the one you portrayed in your POWER MAN AND IRON FIST run?
David F. Walker: After 17 issues of stories [with] him teamed with Iron Fist, which [had] a lot of serious stuff, but was also very light-hearted I was like, "Well, you did that. Now let's try something different" and [Marvel] Editorial was in agreement with me and we talked about it and it was like, I don't wanna be known as the guy who only wrote Luke Cage stories that were a little more comedic and light-hearted; I wanted to explore something different and I knew going in that what I wanted to explore with this character wasn't gonna lend itself to a lot of the humor that we had in POWER MAN AND IRON FIST.
Marvel.com: I can't wait to read the first issue next month!
David F. Walker: Yeah. Less than a month…I just saw a bunch of the art for issue #2 and yeah, it's comin' together. I'm having a fun time writing it and I hope people enjoy it. You give it your all and to me, the greatest part of writing comics is the moment you see what you've written translated into art. There's nothing better than that and if that's all I had to do, I would actually be the happiest guy in the world [Laughs].
David Walker and Nelson Blake II revisit the past and forge the future in LUKE CAGE #1 on May 17!
The Hype Box
Can't-miss news and updates from across the Marvel Universe!