Comics
Published January 17, 2019
'Man Without Fear': The High Cost of Loving Daredevil
Dating Matt Murdock may be exciting. It's also perilous.
When it comes to dating the Man Without Fear, he might as well be called the Man With Significant Consequences, if not for the fact that would not read nearly as well on a cover.
As the various, still-living, loves of Matt Murdock's life prepare to come together to help him (whether he wants it or not) in the pages of MAN WITHOUT FEAR #3 -- available now -- we crack open Daredevil's little black book and see how the women who have known him best have paid for that association.
Elektra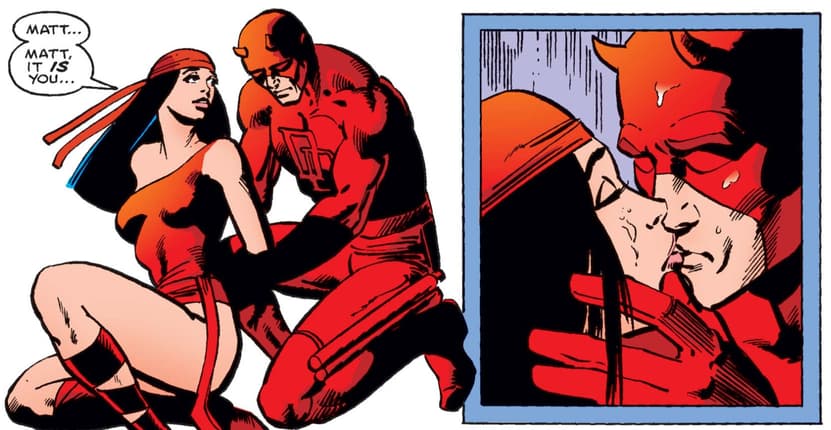 Who Is She?
Murdock's first serious girlfriend, perhaps first girlfriend period. If there exists such a thing as an original love would for DD, Elektra would be it. They had an intense relationship that took him far beyond his comfort zone and it ended abruptly with the death of her father. Since then, Elektra and the Man Without Fear have teamed up and clashed in equal measure. Regardless of being in opposition to each other or on the same side, they often still find ways to hurt one another.
What Did It Cost Her?
Her father (when Matt's attempt to rescue him went awry), her life, nearly her soul, and a fully integrated person, briefly, when she was split into literally two separate people.
Karen Page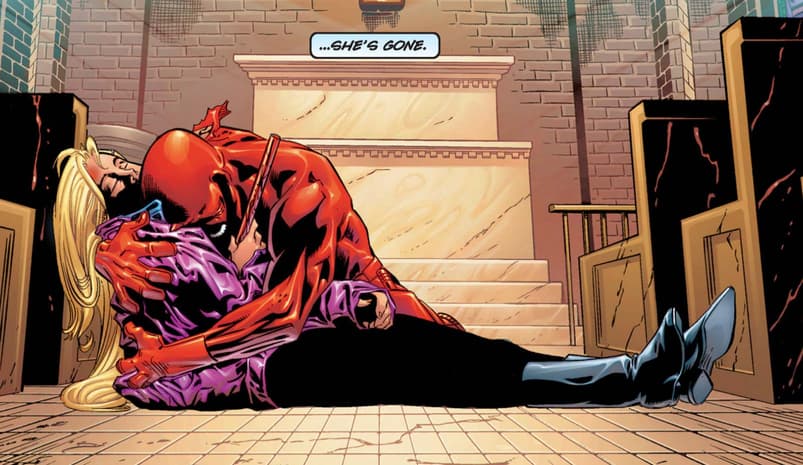 Who Is She?
If any one person can be said to be the love of Matt's life, full stop, it would have to be Karen Page. At first an administrative assistant to Nelson & Murdock, in time she and Matt confessed their mutual attraction. However, his vigilante work kept her at an arm's length and eventually she felt she had to leave for herself. She would return, however, with initially devastating consequences for Murdock. In time, they grew back together, but then Matt cheated and the fell apart again. This kind of pattern repeated itself multiple times.
What Did It Cost Her?
Her trust in him when he cheated on her with a woman who turned out to be Typhoid Mary. Her life when she leapt in front of a billy club thrown by Bullseye that was intended for Daredevil. Additionally, she was targeted by Daredevil's enemies several times, including Mr. Fear, who tried to drive her mad, and Mysterio, who convinced her she had HIV.
Black Widow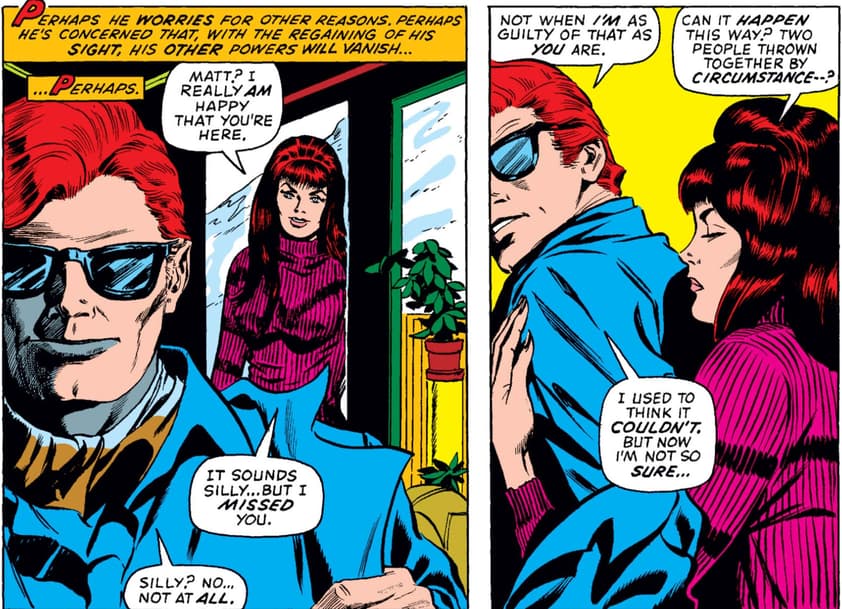 Who Is She?
She's Black Widow. Come on now.
What Did it Cost Her?
A briefly broken heart?
The exception, largely, to the rule. They worked and loved together in San Francisco for a time and she remains a close friend.
As a Super Hero, she has been targeted by villains including Bullseye, whose aim is always to hurt DD. However, given her career as an Avenger, a solo hero, a spy, and so on, the chances of her ending up in such situation regardless of her love life must be very high.
Heather Glenn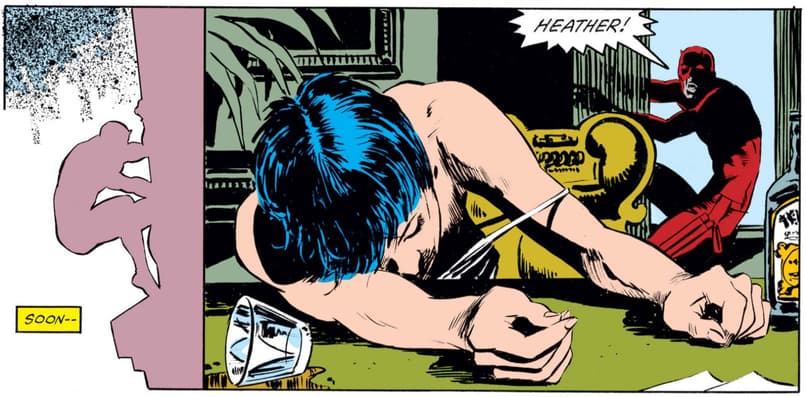 Who Is She?
A rich young woman with a love of fun and frivolity who's devil-may-care attitude hid deep dark issues.
What It Cost Her?
Her father, when Daredevil's exposure of his shady business dealings ended up sparking Mr. Glenn's suicidal behavior.
Her freedom, because she felt obligated to run the company after her father's death.
Her sobriety, stemming from the pressure to meet expectations.
Finally, her own life when, intoxicated and emotionally isolated after Matt distanced himself from her, she took her own life, possibly accidentally.
Glorianna O'Breen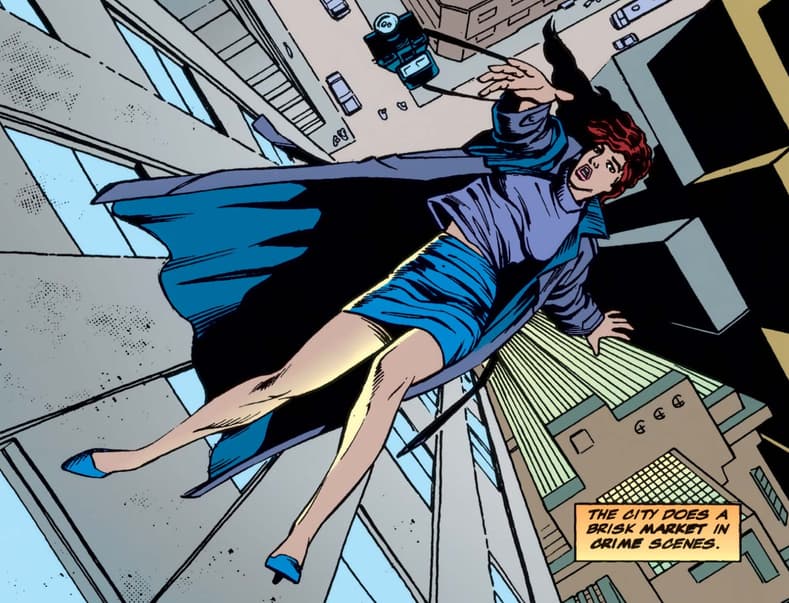 Who Is She?
After her arrival to the United States to escape the Troubles, she ended up staying with Matt and their romance blossomed in short order. However, Matt's absence due to being Daredevil and his emotional unavailability due to being, well, Matt quickly derailed their young romance.
What It Cost Her?
She seemingly escaped the curse, even after dating Foggy as well. However, years later, she briefly returned to New York and Murdock's life only to be thrown out a window to her death by the Daredevil villain Kruel.
Typhoid Mary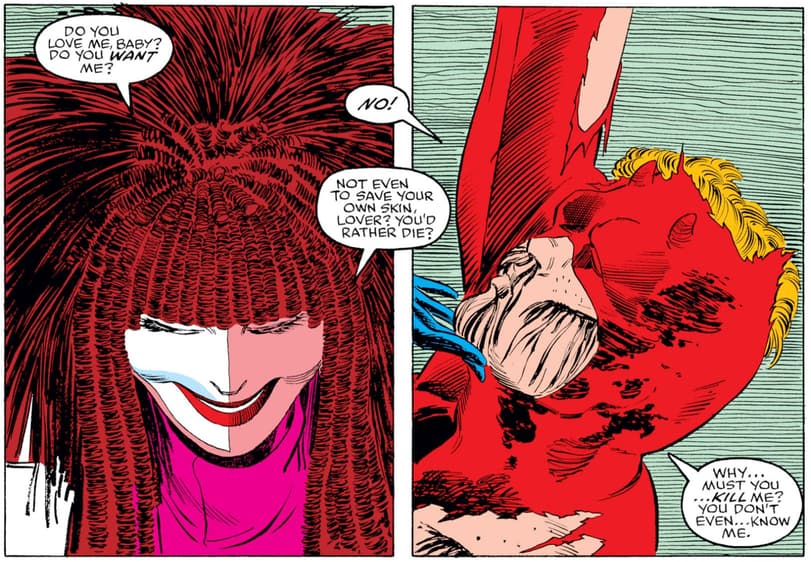 Who Is She?
Mary Walker, a kind, meek soap opera actress, who had been living with Dissociative Identity Disorder for years when Kingpin picked her as his latest lieutenant, giving her darkest personality, Typhoid, a chance to run wild. Walker seduced Matt Murdock while Typhoid battered him, eventually wrecking his personal and heroic lives.
What It Cost Her?
From the above description, you would think Daredevil ended up on the losing side of this one and he did – at first. Months later, however, Hornhead used his knowledge of Typhoid's other personality to "break" her and get her committed, all in the name of beating her boss Wilson Fisk for good.
Echo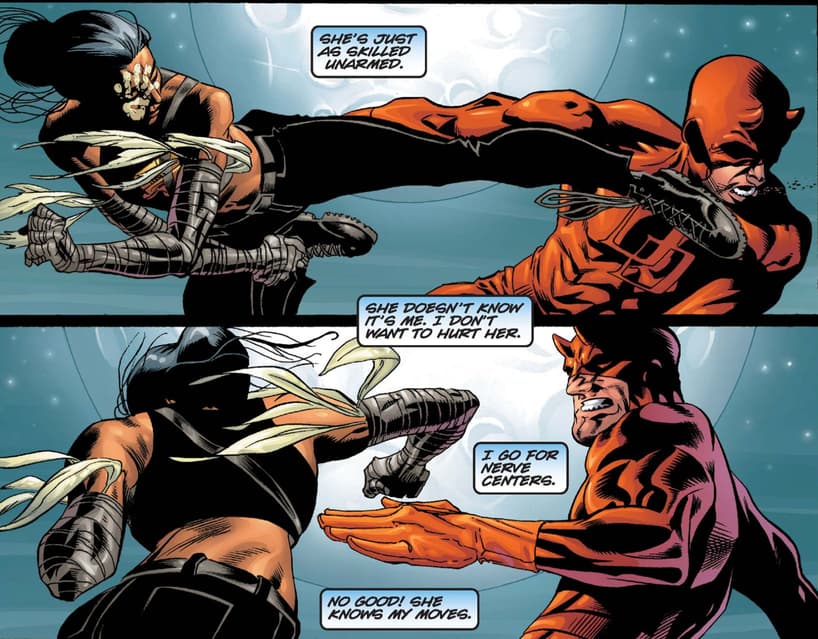 Who Is She?
Gifted with the ability to match the physical activities of nearly anyone, Maya Lopez became a physical dynamo and incredible concert pianist. She also captured Matt Murdock's heart—and gave him hers—with the quickness.
What It Cost Her?
Her innocence and her father figure. Right or wrong, she had lived through her teens and beyond believing Wilson Fisk to be a kind man who stepped in to help her when her life had been at its lowest point. In order to stop her from killing him, Murdock had to bring that falsehood crashing down.
Milla Donovan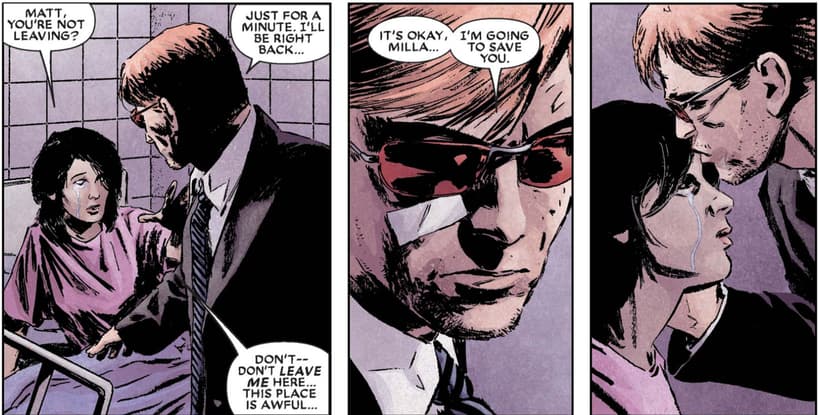 Who Is She?
Despite her lack of super powers, Donovan presented as nearly as fearless as Murdock in his costumed identity. Additionally, she had tremendous amounts of compassion, a quick mind, and could still crack a joke. They fell hard for one another and married quickly.
What It Cost Her?
Alas, her very sanity. Targeted by Mr. Fear, Donovan received a massive dose of his latest chemical compound. In the panic that followed, she accidentally killed a woman whom Matt hired to protect her and Donovan's mind cracked under the strain. She has been institutionalized ever since.
Dakota North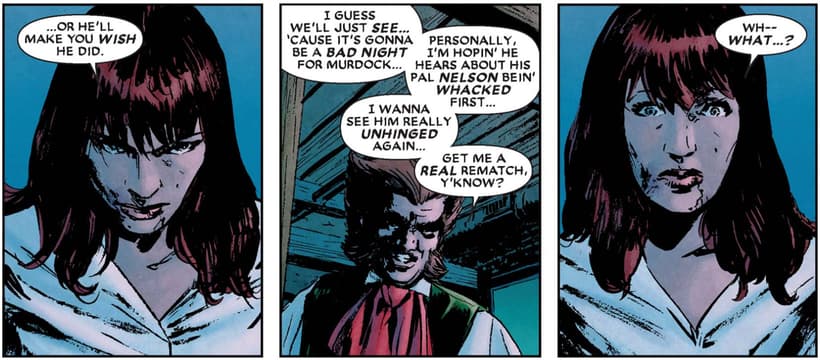 Who Is She?
A private investigator, the former fashion model had proven to be one of the best in the business. While working as part of Nelson & Murdock, Dakota North provided Matt with tremendous support through a very difficult time. As a result, the two briefly fell in bed together while Murdock had been still considered legally married. Despite the understandable nature of the "affair," the press loved the photos leaked by Kingpin and plastered them all over front pages everywhere.
What It Cost Her?
Her reputation, at least for a time, and her friendship with Murdock.
Kirsten McDuffie

Who Is She?
More than Matt's equal in the courtroom, McDuffie delighted in using his not-so-secret identity against him to prevent his ability to practice law effectively. Somewhere along the way, the love of parrying him in court became an enjoyment of one-upping flirtation became a full-blown relationship. She even followed him to San Francisco to help him practice law and get Foggy the cancer treatment he needed.
What It Cost Her?
Her memories. In an attempt to "replay" Daredevil for his help, the Purple Children made his secret desire a reality, that his identity be concealed once more. Unfortunately, this was a sledgehammer situation when Murdock imagined more of a scalpel. Not only did villains and civilians "forget" Daredevil and Matt Murdock were one in the same, so did Murdock's friends and allies – including McDuffie. While others have been enlightened since, Matt decided to leave Kirsten unaware, ostensibly for her own safety.
MAN WITHOUT FEAR #3, written by Jed McKay with art by Iban Coello, is available now, online and at your local comic shop!
The Hype Box
Can't-miss news and updates from across the Marvel Universe!