Comics
Published March 29, 2019
Marvel Exclusive Writer Tini Howard Dishes on 'the Worst Day of Gamora's Life' in 'Thanos'
What brought Gamora and the Mad Titan up to the point of patricide?
Yes, Thanos is dead and Gamora, the deadliest assassin in the galaxy, is responsible. But where did this bloody end begin? Writer Tini Howard takes on this story in THANOS, a whole new miniseries with artist Ariel Olivetti, to explore just that: Thanos and Gamora's beginning. What childhood traumas and relationship conflicts did Gamora face to lead her to patricide?
We chatted with Tini, a recently inducted Marvel exclusive writer, to find out where the titular character is headed in THANOS #1, on sale Wednesday, April 24!
Marvel.com: We know from INFINITY WARS and INFINITY WARS PRIME that Gamora kills Thanos. What did you first think when you read about his death and his assassin?
Tini Howard: I think it's awesome, but I also really love the fallout of it. The whole intro to INFINITY WARS, where Thanos's death becomes its own kind of murder mystery—I dug that. I love death and suspicion. Good times.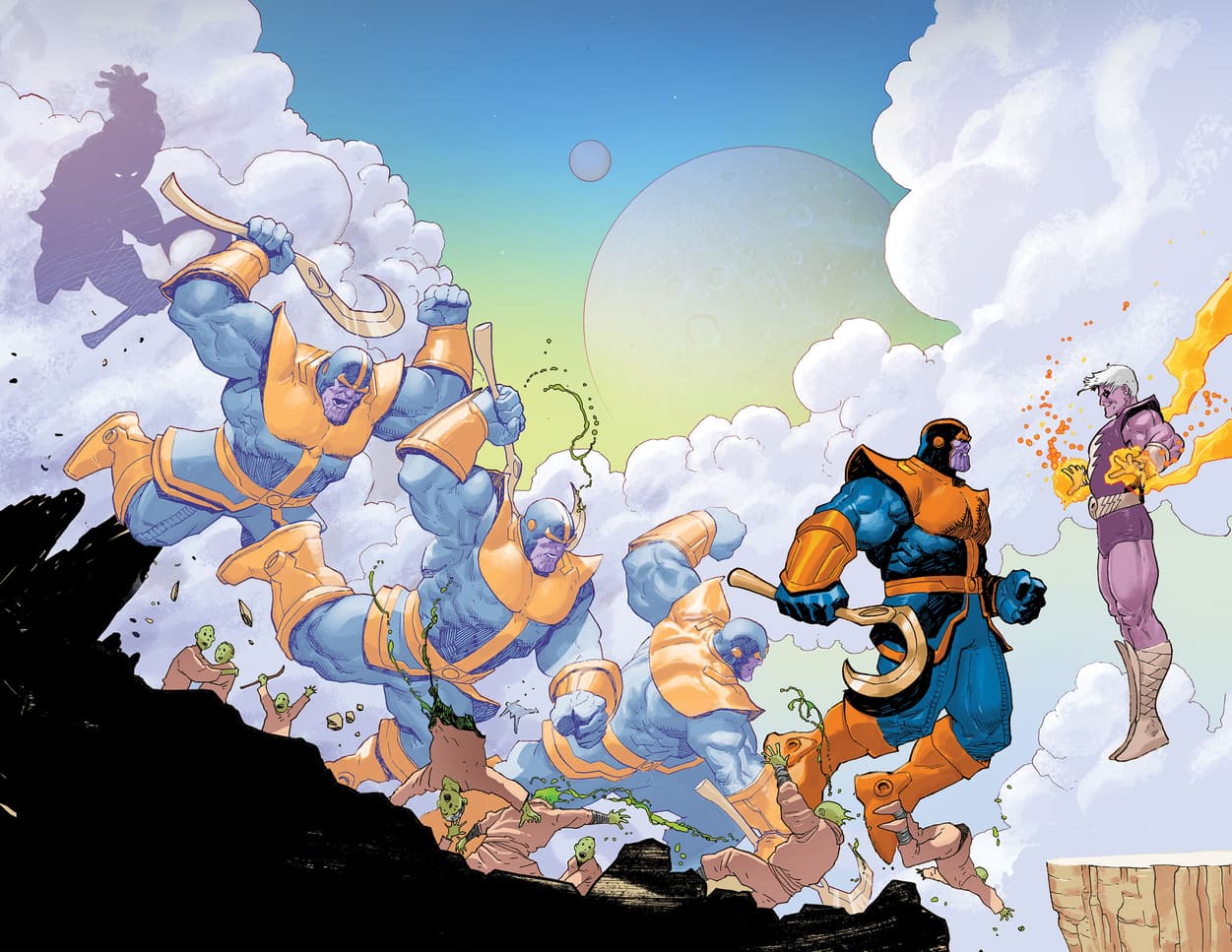 Marvel.com: THANOS #1 will explore Gamora and Thanos's relationship starting at the beginning. How far back are we going, and will we get to see any familiar faces?
Tini Howard: We meet Gamora when Thanos does, what I like to call "the worst day of Gamora's life." As for familiar faces, definitely. We'll see some of the Black Order back when they were assistant managers, more or less, and we'll also see some new faces.
Marvel.com: The cover by Jeff Dekal is super evocative, depicting Gamora as an adult with her eyes closed while Thanos stands behind a much younger Gamora in a commanding position. It tells me we might be getting a glimpse into Gamora's perspective on the past, but whose eyes will we be looking through in this miniseries?
Tini Howard: We're getting a side of a story that both Thanos and Gamora know, but only Thanos ever talks about. Gamora's telling us some truths and secrets about the Mad Titan that he doesn't' share for good reason.
Marvel.com: What kind of aesthetic and tone can we expect from artist Ariel Olivetti for THANOS #1?
Tini Howard: Oh, Ariel is incredible. He gets the wide desolation of space butting up against the cramped madness of spaceships really well. The world of this series is all space-junk and brutality, but Ariel also always nails a tight expression with a subtle mood.
Marvel.com: How did the two of you bounce ideas off of each other when spinning this yarn? What's your rhythm like?
Tini Howard: Ariel and I are fast and furious—I'm often on the phone with my editor, Darren Shan, as well. I love to pack in heavy, weird concepts alongside plenty of gorgeous alien battles and tons of intense brutality.
Marvel.com: Who is on colors, and what about their work helps tell this story?
Tini Howard: Our colorist is Antonio Fabela, and he's been blowing us away. He takes us from the dark places of Thanos' chambers to the bright light of the battlefield while never missing a beat. On top of all that, a guy who can keep colors looking sharp when your main characters are green and purple is a force to be reckoned with.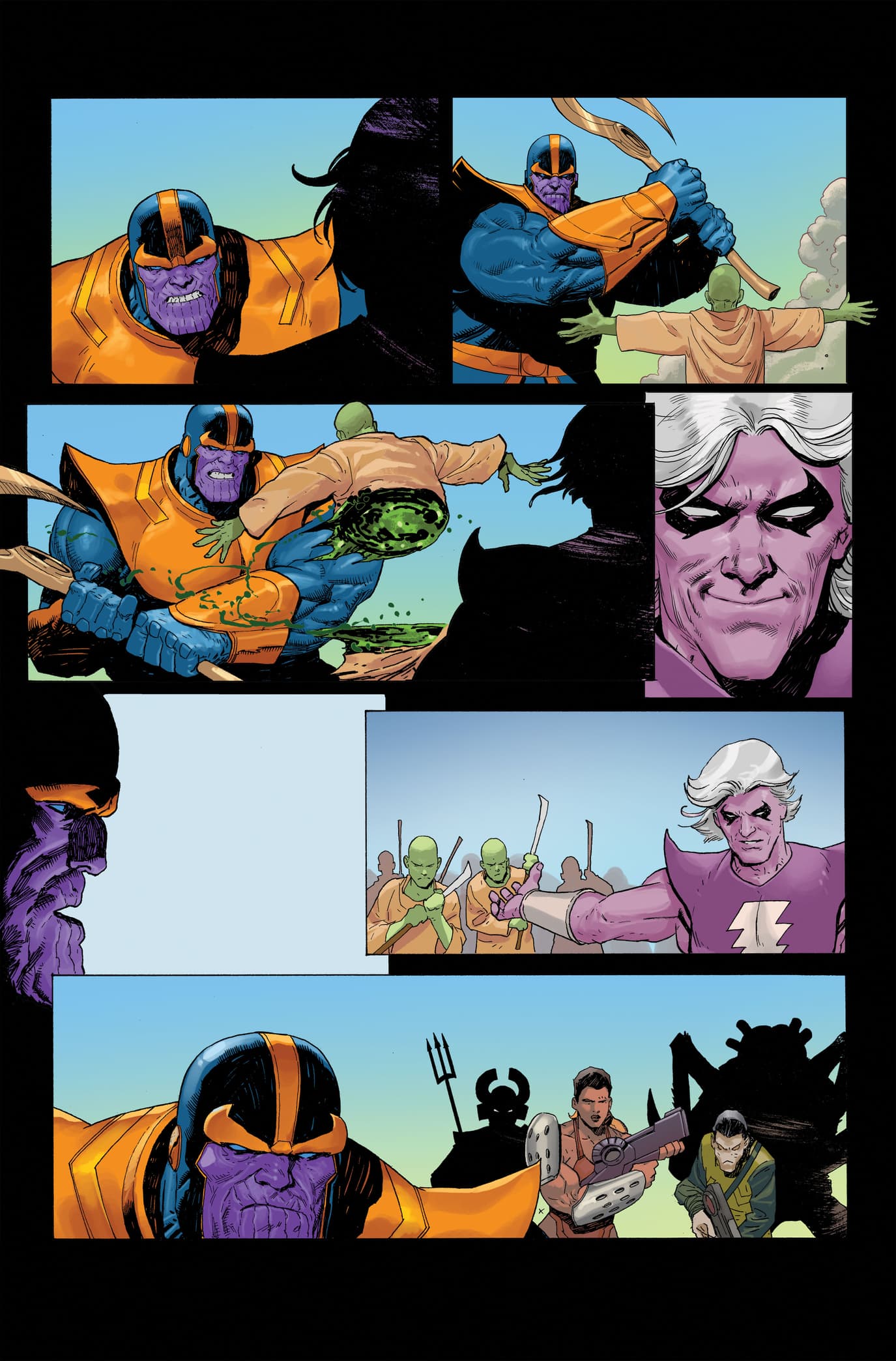 Marvel.com: What kinds of things did you have to consider when depicting a fierce and deadly warrior like Gamora, but as a child?
Tini Howard: I love writing kids when they don't have to be role models for other kids. Kids are cunning and honest and a little mean. Gamora's lost everything, and she's not scared of Thanos, because of that. She catches on pretty quickly that he must need her, too.
Marvel.com: When it comes to crafting a father-daughter storyline, especially that of Gamora and Thanos who have a complicated relationship involving death and destruction, what stereotypes or tropes did you want to incorporate or upend?
Tini Howard: Oh, I'm all about the Big Dude and Little Kid team-up. The best part of the story is when the kid impresses the big dude with their resourcefulness, strength, and cunning.
Marvel.com: When drafting this miniseries, what other father-daughter relationships were largely influential for you in and outside the Marvel Universe?
Tini Howard: Haha, oh man. They're not always fathers and daughters, but like — Rooster Cogburn and Mattie Ross in "True Grit." Arya Stark and Sandor Clegane in "Game of Thrones." My own dad is kind of grouchy and I'm kind of smart-mouthed, does that count too?
Marvel.com: What do you want readers to know about THANOS #1?
Tini Howard: The bigger they are, the harder they fall.
THANOS #1, written by Tini Howard with art by Ariel Olivetti, goes on sale Wednesday, April 24! You can still pre-order your copy online or at your local comic shop!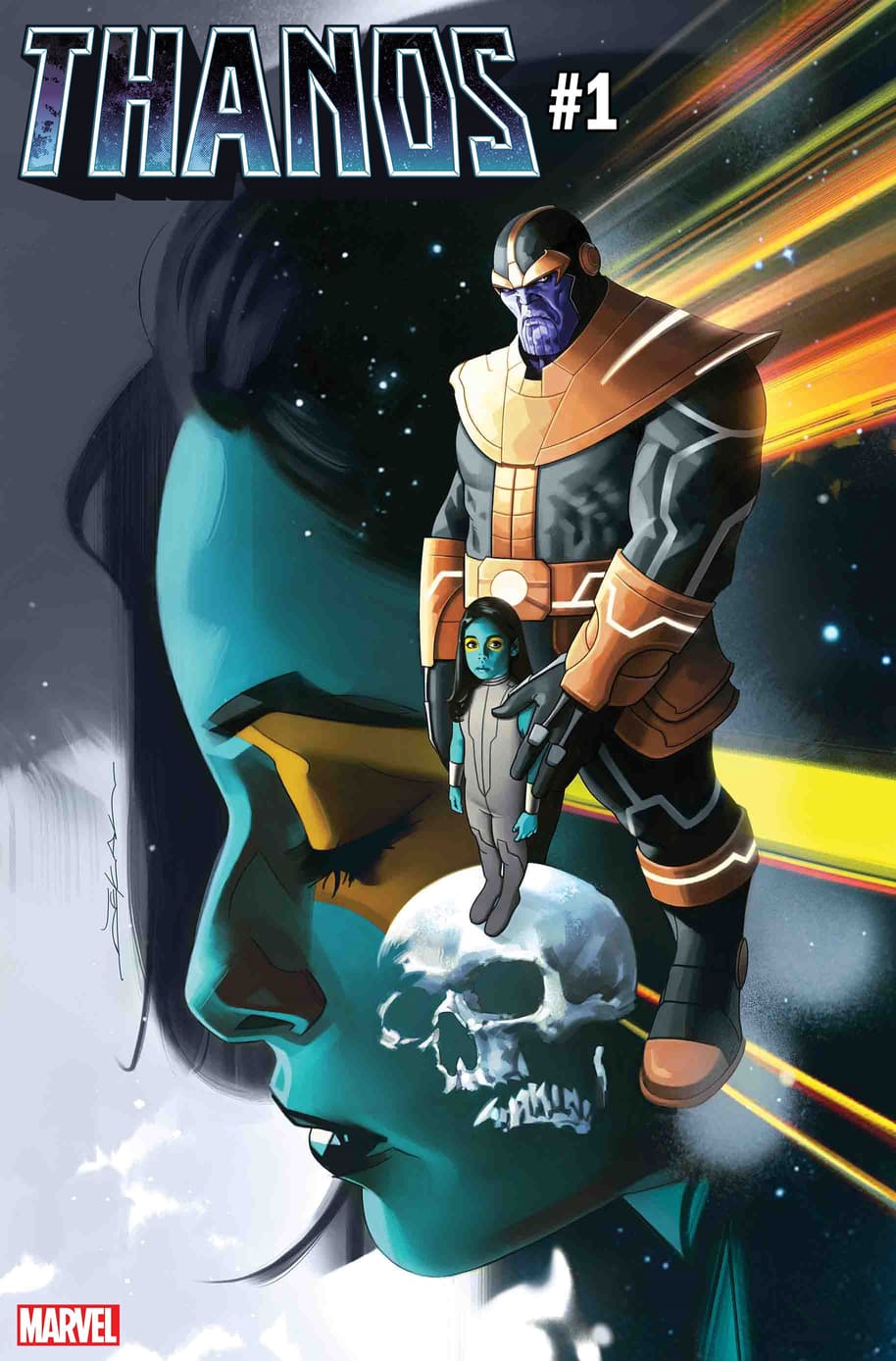 The Hype Box
Can't-miss news and updates from across the Marvel Universe!