Comics
Published May 4, 2023
Marvel's Free Comic Book Day Titles Kick off 'Fall of X,' 'G.O.D.S.,' 'Ultimate Invasion,' and More This Saturday
Visit your local comic shop this Saturday, May 6, for exciting entry points into Marvel's most highly-anticipated titles and stories.
This year's FREE COMIC BOOK DAY will be packed with new beginnings, including a prelude to the X-Men's next era, FALL OF X; an introduction to Jonathan Hickman's bold upcoming projects, G.O.D.S. with Valerio Schiti and ULTIMATE INVASION with Bryan Hitch; the debut of a new Venom villain; and so much more.
In addition to these exciting lead-in stories for fans and newcomers alike, Marvel Comics will also spotlight creators and characters from different cultures and communities in a special installment of the MARVEL'S VOICES program, FREE COMIC BOOK DAY: MARVEL'S VOICES, and deliver all-ages Spider-Man adventures in FREE COMIC BOOK DAY 2023: SPIDEY & HIS AMAZING FRIENDS #1 so that even the youngest readers won't go home empty handed!
 
It's one of the biggest days for the comic book industry, and this year promises to be the greatest one yet! Here's what fans can looking forward to.
FREE COMIC BOOK DAY 2023: AVENGERS/X-MEN #1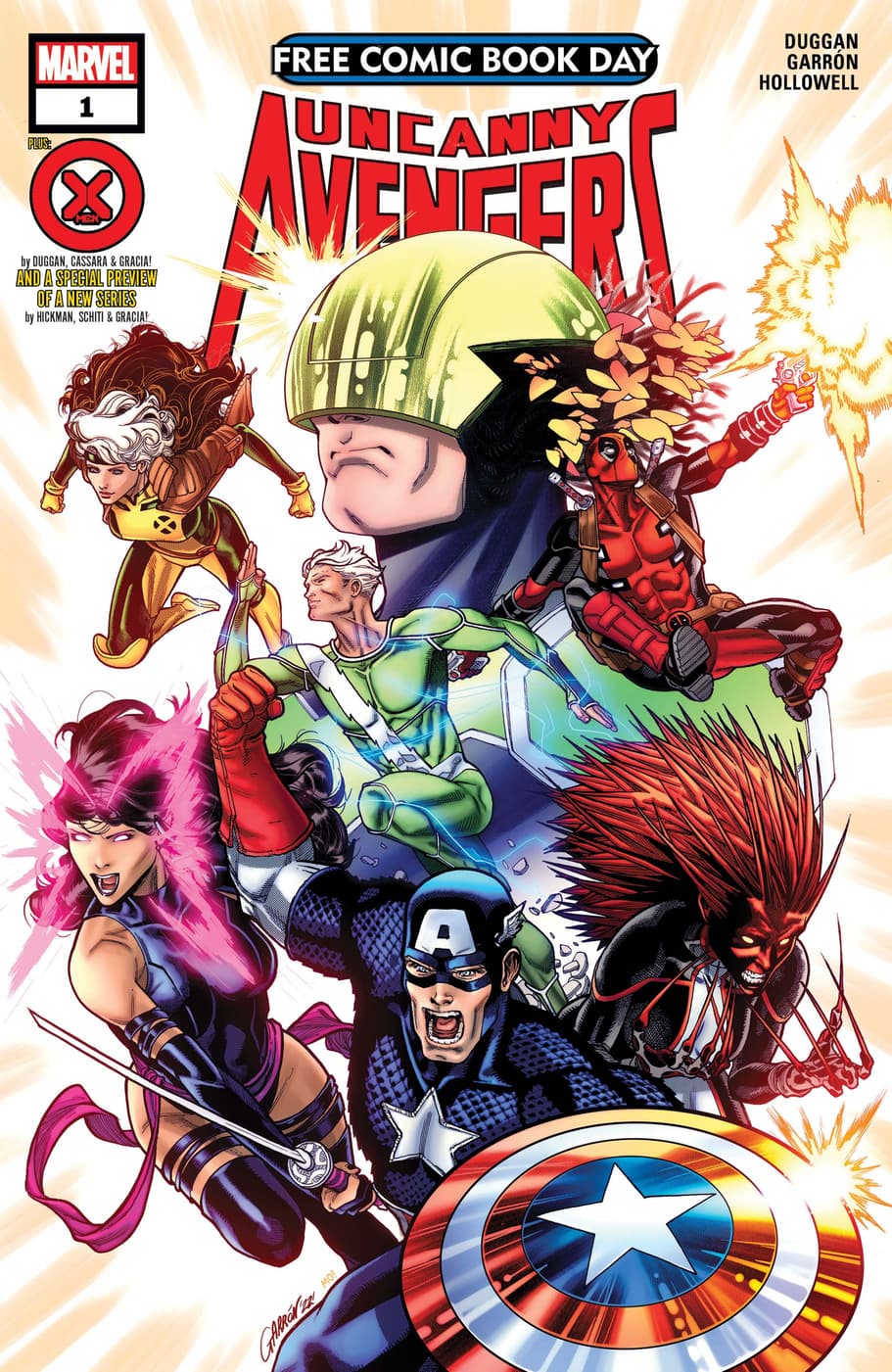 FREE COMIC BOOK DAY 2023: AVENGERS/X-MEN #1 [GOLD TITLE]
Written by GERRY DUGGAN & JONATHAN HICKMAN
Art by JOSHUA CASSARA, JAVIER GARRÓN, & VALERIO SCHITI
Colors by MARTE GRACIA & MORRY HOLLOWELL
Cover by JAVIER GARRÓN & MORRY HOLLOWELL
Be the first to arrive at this year's game-changing Hellfire Gala in a story by the current X-MEN creative team: writer Gerry Duggan and artist Joshua Cassara. This year's HELLFIRE GALA will be more dramatic than ever, and the tragic events of the night will lead mutantkind directly into FALL OF X. 
Then join Duggan and superstar artist Javier Garrón as they reassemble the Avengers Unity Squad to navigate the dangers of FALL OF X and solve the mystery of the new Captain Krakoa in a prelude story to their upcoming run of UNCANNY AVENGERS. This action-packed story will also feature the debut of the Stark Sentinels, a new line of mutant hunters who cause major havoc on the night of the Gala and in the pages of Duggan's INVINCIBLE IRON MAN.
And score a sneak peek at one of the most talked about launches of the year, Jonathan Hickman and Valerio Schiti's G.O.D.S., an extraordinary epic at the crossroads of magic and science where Marvel's cosmic pantheon will be boldly reimagined.
FREE COMIC BOOK DAY 2023: SPIDER-MAN/VENOM #1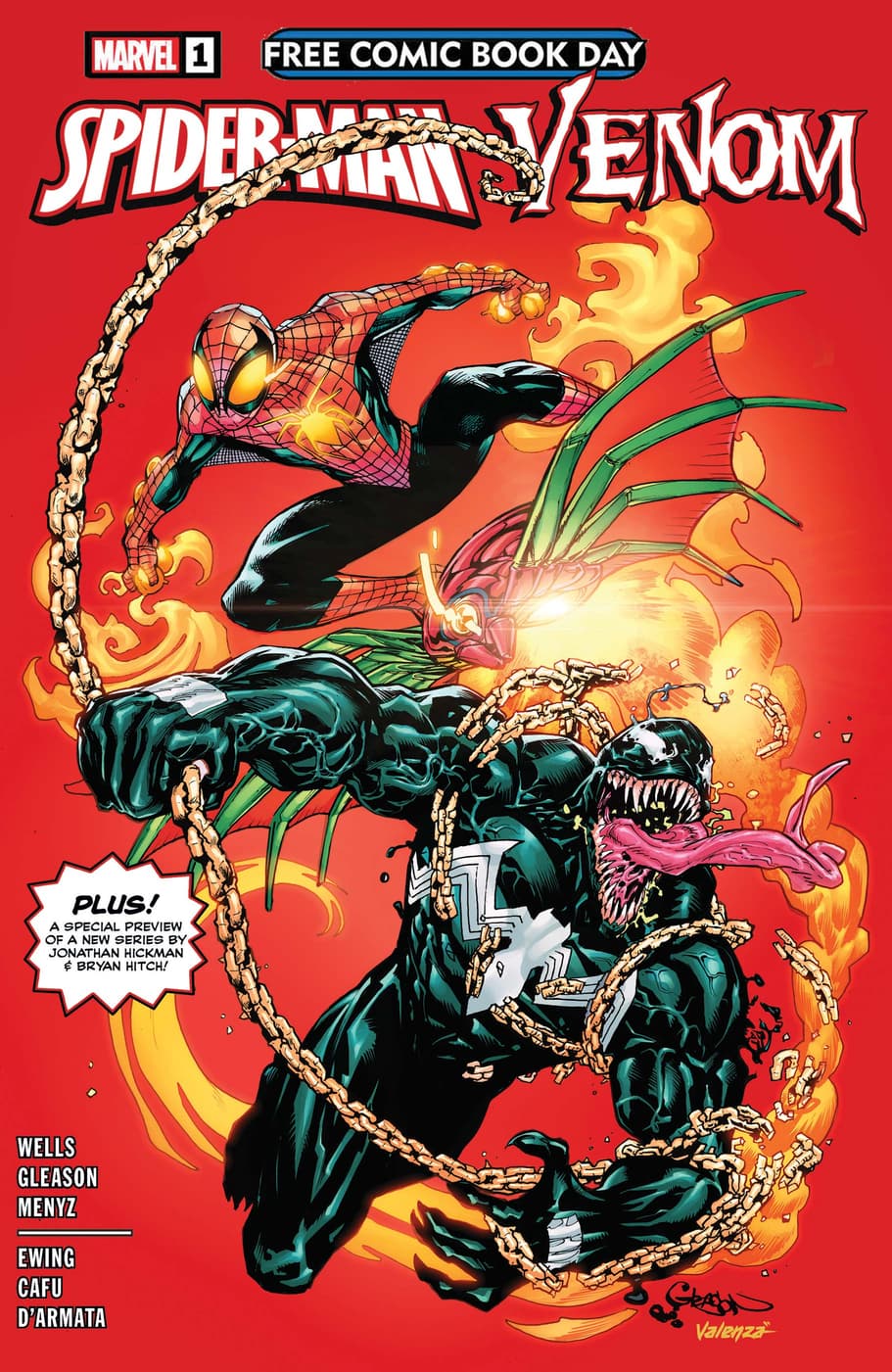 FREE COMIC BOOK DAY 2023: SPIDER-MAN/VENOM #1 [GOLD TITLE]
Written by ZEB WELLS, AL EWING, & JONATHAN HICKMAN
Art by PATRICK GLEASON, CAFU, BRYAN HITCH, & ANDREW CURRIE
Colors by MARCIO MENYZ, FRANK D'ARMATA, & ALEX SINCLAIR
Cover by PATRICK GLEASON & BRYAN VALENZA
Dive into the next story arc of Zeb Wells' run of AMAZING SPIDER-MAN with a story that sees the return of two classic Spidey villains! Featuring incredible art by Patrick Gleason, this thrilling story also unleashes the full potential Spider-Man's new suit!
Then, web-swing over to the symbiote side of things with current VENOM masterminds, Al Ewing and Cafu! The pair will pull back the curtain on a secret chapter in symbiote history where an experiment went horribly wrong…. Say hello to new Venom villain, FLEXO!
And get a glimpse into Jonathan Hickman and Bryan Hitch's ULTIMATE INVASION, a saga that begins with a daring mission to revive the Ultimate Universe but ends with the promise of something all-new and vastly different than anything that's come before…
FREE COMIC BOOK DAY 2023: MARVEL'S VOICES #1
FREE COMIC BOOK DAY 2023: MARVEL'S VOICES #1 [SILVER TITLE]
Written by JOHN JENNINGS, NYLA INNUKSUK, SABIR PIRZADA, ALYSSA WONG, & CODY ZIGLAR
Art by PARIS ALLEYNE, NATASHA DONOVAN, ERIC KODA, STEPHEN BYRNE, DIÓGENES NEVES, & EDER MESSIAS
Colors by ERICK ARCINIEGA, RACHELLE ROSENBERG, BRIAN REBER, FRANK WILLIAM, & DIJJO LIMA
Cover by CHRIS ALLEN & PARIS ALLEYNE
Spotlighting creators and characters across Marvel's diverse and ever-evolving universe, this book will include a range of stories from previous MARVEL'S VOICES issues that star Ms. Marvel, Luke Cage, Wave, and more! Plus a brand-new Ironheart adventure by writer John Jennings and Paris Alleyne that debuts her deadly new nemesis, Khem!
FREE COMIC BOOK DAY 2023: SPIDEY & HIS AMAZING FRIENDS #1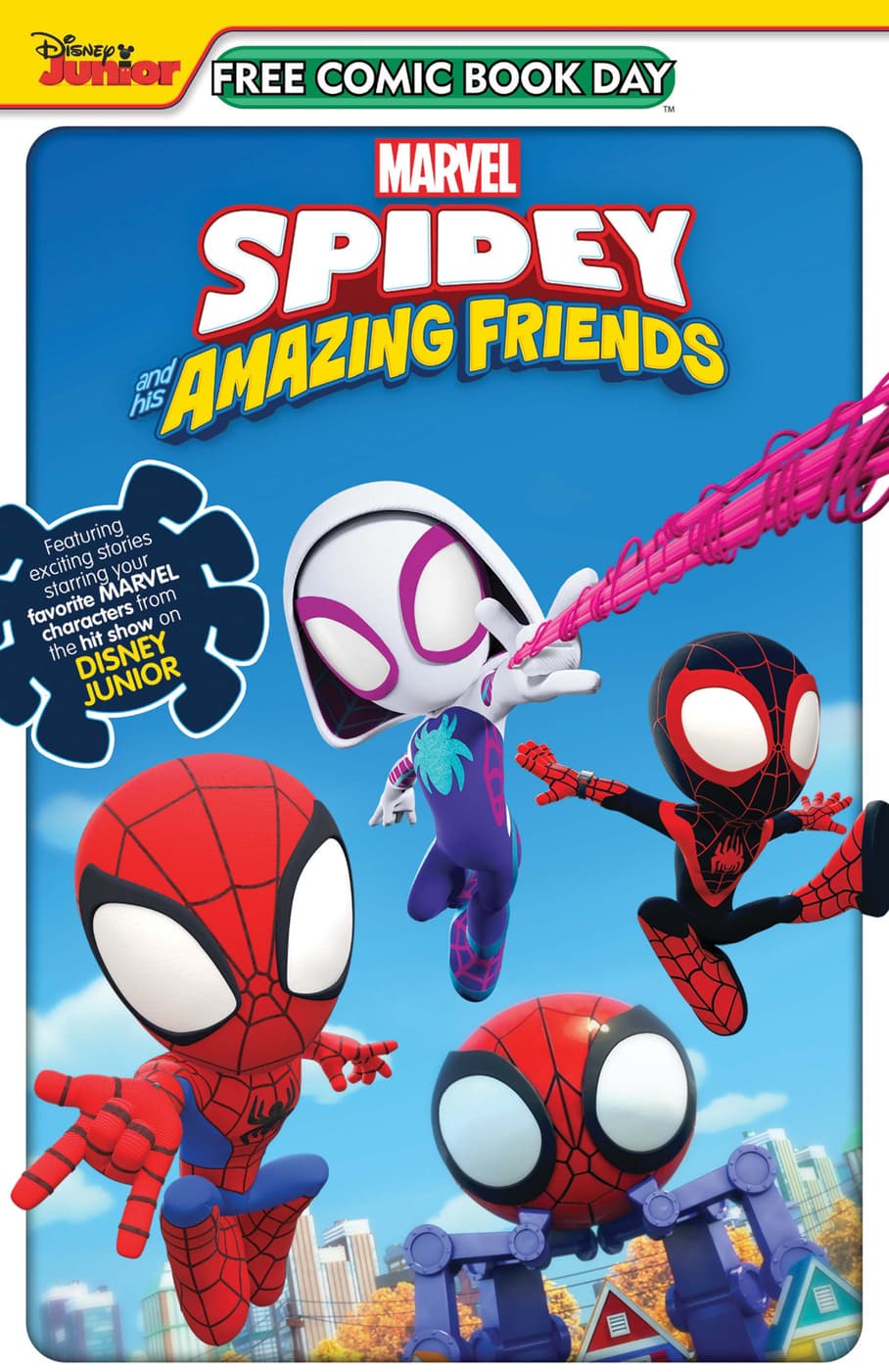 FREE COMIC BOOK DAY 2023: SPIDEY & HIS AMAZING FRIENDS #1 [SILVER TITLE]
Swing into adventure with Spidey, Ghost-Spider, and Miles as they face off against Green Goblin, Doc Ock, and more in this spectacular special. Filled with easy-to-read comic stories based on the hit Disney Junior show, this book is perfect for the youngest readers aged 5-7. Young fans will even be able to test their wall-crawling skills with thrilling interactive activity pages! Kids will love this not-to-be-missed comic: the perfect primer for the newest generation of Spider-Fans!
And that's not all! Additionally, participating comic shops will be giving away MARVEL'S SPIDER-MAN 2 #1, in stores now! Check with your local comic shop now to ensure they'll have copies on hand, and catch more information about this special Marvel's Spider-Man 2 prequel comic below.
MARVEL'S SPIDER-MAN 2 #1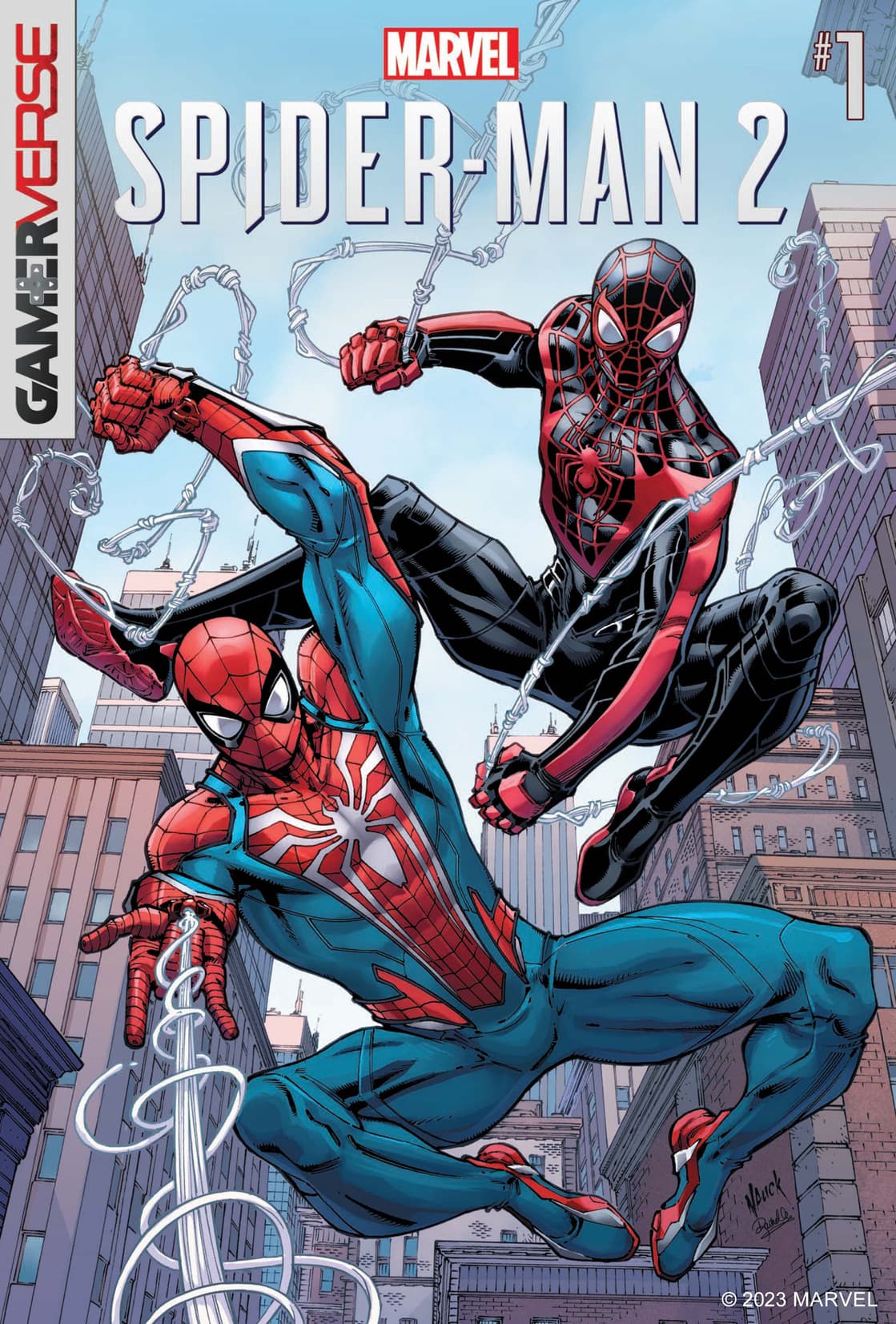 MARVEL'S SPIDER-MAN 2 #1
When the story opens, MJ and Peter are back from Symkaria, and MJ has just finished her first book, "Perilous: A Journey Into War-Torn Symkaria." But unfortunately, sales aren't going well, and she's been forced to go on J. Jonah Jameson's "Just The Facts" podcast to try and drum up support for her book. As their ideologies clash and the interview starts to go south, the Spider-Men literally crash the interview while fighting The Tarantula (a familiar face from Spider-Geddon #0). Miles and Peter wrap up the Tarantula, which also wraps up MJ's disastrous interview.
As the story continues, we see several worlds colliding in the lives of Miles, Peter, and MJ. Miles, a student at Brooklyn Visions Academy, sees all of his friends solidifying their plans for college—but he is feeling left out. He's been so focused on other things; he hasn't had time to think about the future. There are plenty of directions he could go but trying to pick the 'right' one is overwhelming and paralyzing.
Meanwhile, Peter is back in Queens, living in the house he grew up in. But he's drowning in bills. May had mortgaged the house to keep F.E.A.S.T. running during the events of Marvel's Spider-Man, and now Peter is left with the responsibility of finding a new job in order to make the payments. MJ would make a perfect housemate to help with the mortgage, but she needs to stay in the city for her job as an associate editor at the Daily Bugle. At least that's what she tells Peter. There is unspoken tension between them, as both struggle to take the next step in their relationship.
On top of all that, there's a new gang in town, and they appear to be using…magic? Our heroes work together to track down and confront members of this gang, using their super powers to uncover the gang's leader: The Hood! This new Super Villain appears to have supernatural abilities that defy mere webs and fists. While Miles, Peter, and MJ attempt to balance their responsibilities to the city, and each other, they keep coming back to one of the main themes of this action-packed issue: is magic real?
Stop by your local comic shop this Saturday for these can't-miss stories and more!
Grab these comics and more at your local comic book shop! Or redeem then read your digital copy on the Marvel Unlimited app by using the code found in your print comic. Find and support your local comic book shop at ComicShopLocator.com.

To read your Marvel comics digitally, download the Marvel Unlimited app for iOS and Android devices. Gain an expansive catalog of 30,000+ comics spanning Marvel Comics history, plus access your entire digital library including comics redeemed from print. 
The Hype Box
Can't-miss news and updates from across the Marvel Universe!