Comics
Published October 26, 2018
Marvel Memories: The Avengers, the Rutland Halloween Parade and the Original Cosplay
Comics and real life collide as the earliest cosplayers in Rutland, Vermont get a very special surprise
It ranks as one of those rare moments in comics history when the real world intruded upon the four-color flights of fancy among the pages to create something magical, as well as enrich fandom, cosplaying, and conventions for decades to come.
Given the time of year, we're of course talking about the Rutland, Vermont Halloween parade and 1970's classic AVENGERS #83.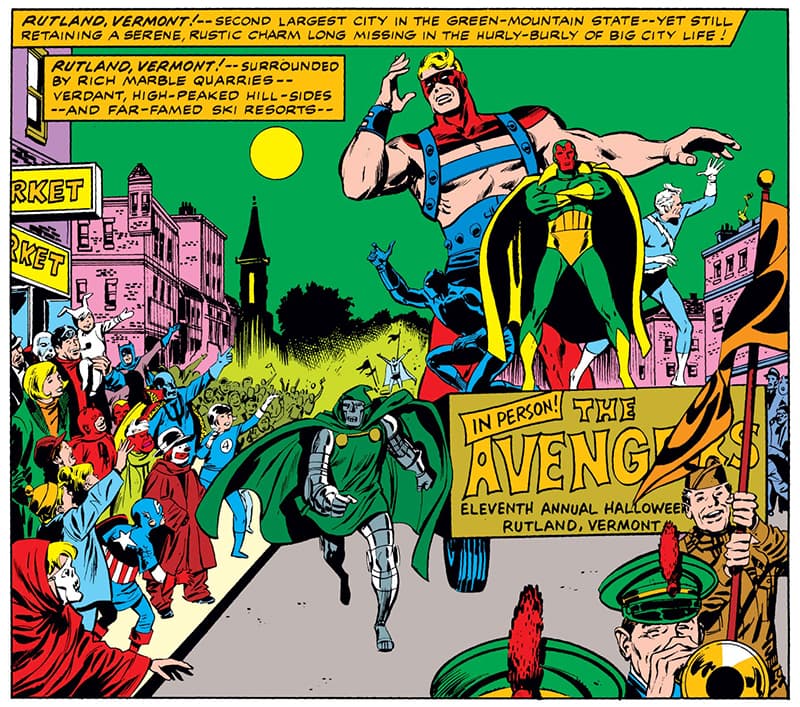 The heroes—Vision, Black Panther, Quicksilver, and Goliath—hit the out-of-the-way city on Halloween evening to chase down reports of a kidnapping plot, and were welcomed enthusiastically by the parade's organizer, Tom Fagan, who'd invited them to ride on one of the many colorful floats being readied for the event. The Avengers smiled and played along, keeping vigilant watch on the throngs of the costumed attendees who lined the Rutland streets.
Then, danger reared four ugly heads in the form of the Masters of Evil—Klaw, Melter, Radioactive Man, Whirlwind! They'd invaded New England not to sample the city's Halloween treats or even to take in the eleventh annual edition of the famous parade, but to kidnap Dr. T.W. Erwin, a scientist from a nearby college who'd been developing a device he called his "parallel-time projector." Heroes squared off against villains, and as these things will, a frenzied battle broke out.
Well, things went from basic comic book crazy to just plain gonzo as quick as you could say "Avengers Assemble" and Earth's Mightiest Heroes took their lumps and the Lady Liberators appeared and…we could go on, but you should look this one up for yourself. It's Mighty Marvel at its most gloriously nuts.
So, you may ask, what about the Rutland parade? Who was Tom Fagan? Why did everybody in town dress up like super heroes and villains?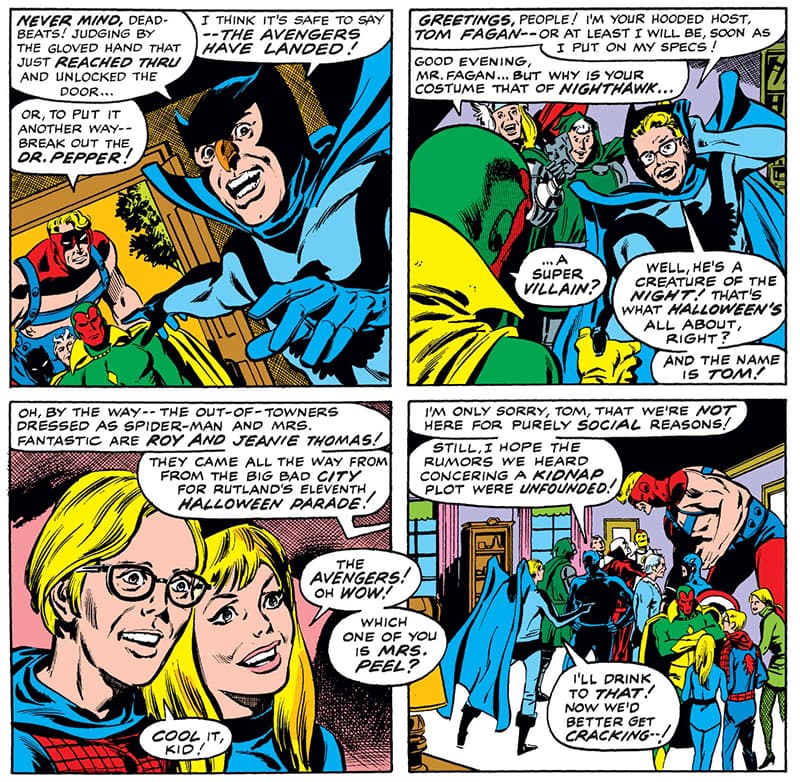 It began nearly sixty years ago when Rutland organized a Halloween parade and a young comic book fan named, yep, Tom Fagan looked upon the event as the perfect way to bring comics into everyone's lives, or at least every October 31st. Tom's fame among other fans spread due to the letters he'd write to Marvel and other companies, missives in which he'd promote the parade and invite the world to Rutland's doorstep.
He also encouraged dressing up in costume. And not just any costume, but preferably one to emulate your favorite hero, heroine, villain, or villainess.
By 1970, Marvel's writers knew and loved the annual event and began to hatch plans to promote it in a very special way. Rascally Roy Thomas went so far as to pen an issue of AVENGERS as a visit to Rutland seen through the eyes of the heroes themselves, and mischievously placed both himself and his wife Jeanie in a scene. How else would they ever meet the "real" Avengers, but to be guests of Tom Fagan's at his Mansion in Rutland when the heroes arrive in AVENGERS #83?
Thomas used Fagan to great effect in the story, not only dressing him up to play host as Marvel's Nighthawk—then a bad guy—but also having him interact to hilarious effect with the Masters of Evil. Thankfully, he escaped the worst of the battle and lived to plan the next year's parade. Presumably, the Thomases also escaped the destruction.
Once the dust cleared and readers reacted favorably to the story, other Marvel writers such as Steve Englehart, Marv Wolfman, and Len Wein didn't care to be left out of the fun and so followed suit, insuring Rutland's parade would turn up in other titles in successive years. The Beast fought Juggernaut in Rutland in AMAZING ADVENTURES #16, Thor clashed with the Absorbing Man there in THOR #207, and the Avengers returned to shake Tom Fagan's hand once more in AVENGERS #119, although Tom seemed different somehow in that one…
Today, the annual Rutland, Vermont Halloween parade's still going strong, though sadly Fagan himself passed away in 2008. Nonetheless, his drive to infuse the haunted hills of Rutland with super heroes can be seen as a foundation stone for later cosplaying, as well as such events as Dragon*Con's famous costume parade, and the amazing fan network that grew exponentially from those days.
In short, he leaves behind an incredible legacy, a meshing of realities that brought the real world onto the comics pages and created a legend among comic readers talked about and fondly remembered to this very day.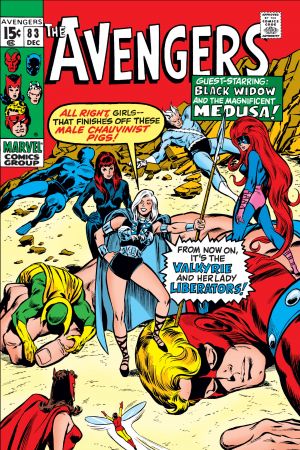 The Hype Box
Can't-miss news and updates from across the Marvel Universe!