Comics
Published January 10, 2020
Marvel's Young Heroes Fight Back in Three New Series Spinning Out of 'Outlawed'
How are the teen heroes of the Marvel Universe operating after Kamala's Law?
Marvel's young heroes are facing a new threat – being OUTLAWED! In the upcoming one-shot by Eve L. Ewing and Kim Jacinto, Super Heroes under the age of 21 are now forbidden from being heroes. But Kamala Khan, Miles Morales, and more young heroes still have people to help. The impact of "Kamala's Law" is reaching far and wide, which means that the OUTLAWED story will spin off into three new series after it makes its April debut: CHAMPIONS #1, NEW WARRIORS #1, and POWER PACK #1 will all reveal new aspects of OUTLAWED while bringing some older and newer teams back together to reunite for the teens' cause!
Find out more about all three new series below!
CHAMPIONS #1
Written by Eve L. Ewing with art by Simone Di Meo, cover by Toni Infante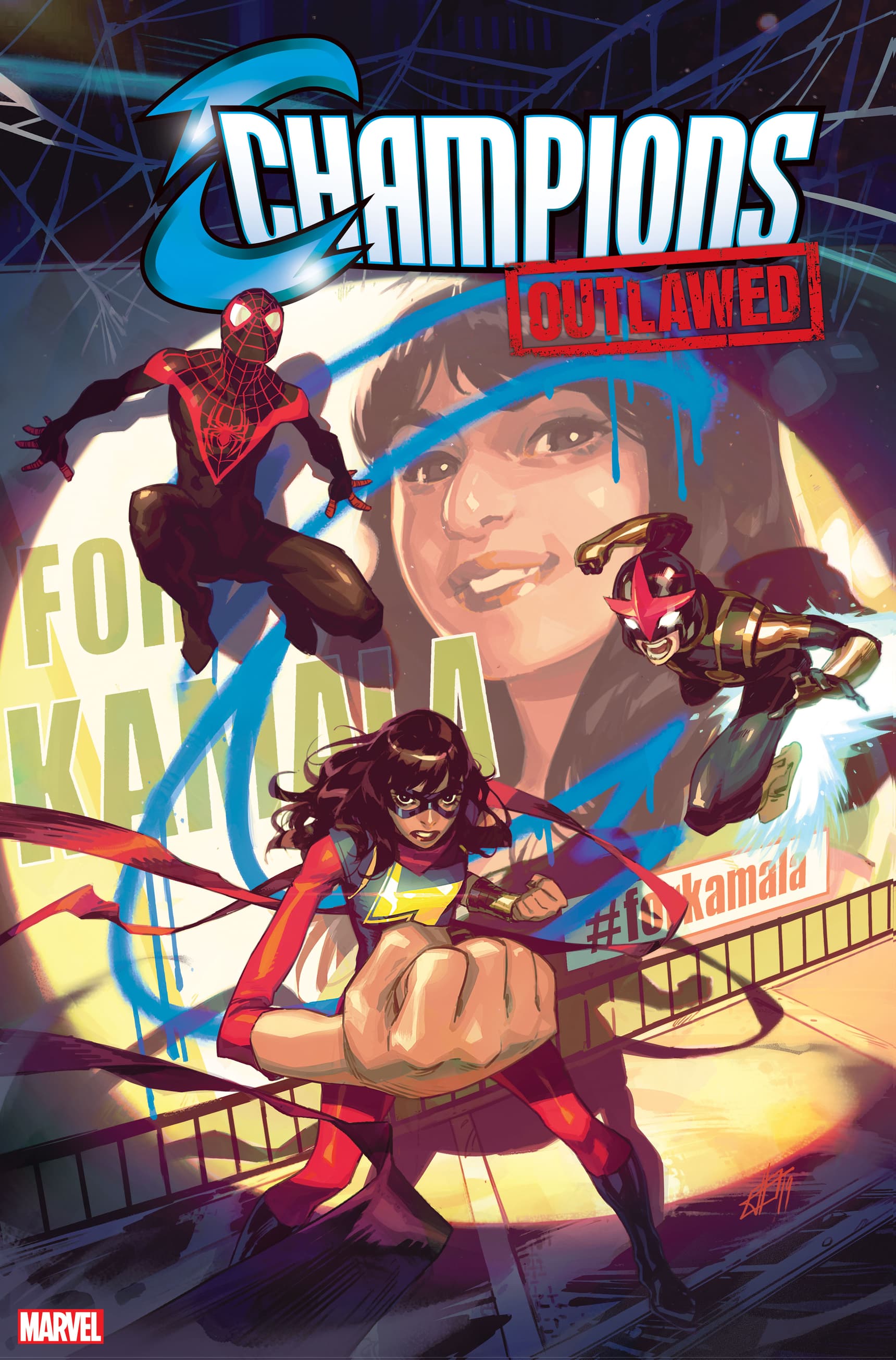 Ewing will carry OUTLAWED into a brand new ongoing series for the Champions and bring Kamala Khan AKA Ms. Marvel, Miles Morales AKA Spider-Man, and Sam Alexander AKA Nova back together as a trio. But even more young heroes will be by their side before too long.
In an interview with ScreenRant, Ewing expressed her joy about being able to write the next chapter of CHAMPIONS:
"I'm excited and I hope readers are excited! I'm a huge fan of the Champions and I love everything Jim Zub and the team did with them on their last go round, so I'm so geeked that I get to tell a story with so many of my faves in one title."
Have a look at the variant cover by interior artist Simone Di Meo:
After Ms. Marvel makes an unexpected and emotional announcement that her team won't go down without a fight, a group of teen vigilantes gathers to plan their next move. But the C.R.A.D.L.E. task force is hot on their trail, and there's a spy in their midst…
Here's a preview of CHAMPIONS #1!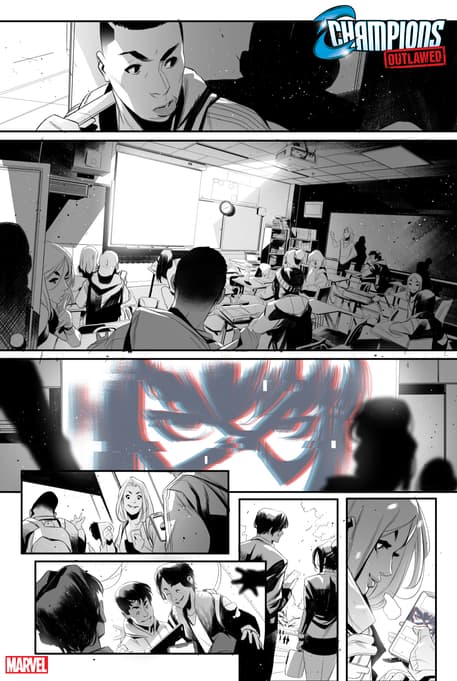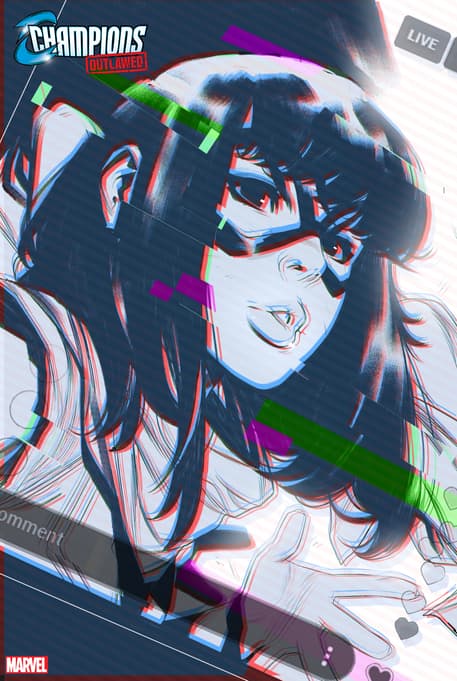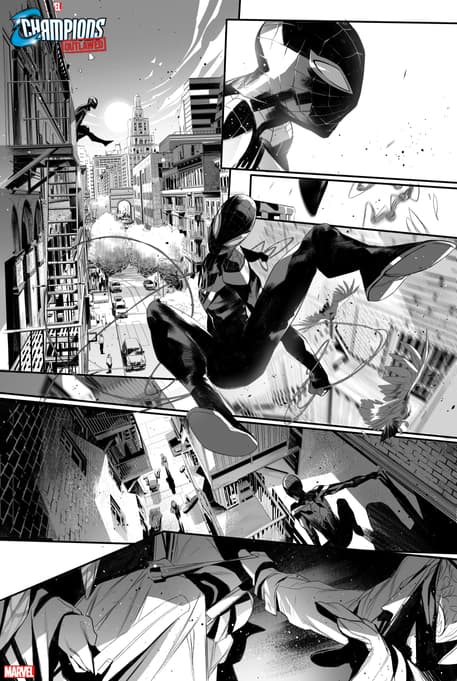 NEW WARRIORS #1
Written by Daniel Kibblesmith with art by Luciano Vecchio, cover by R.B. Silva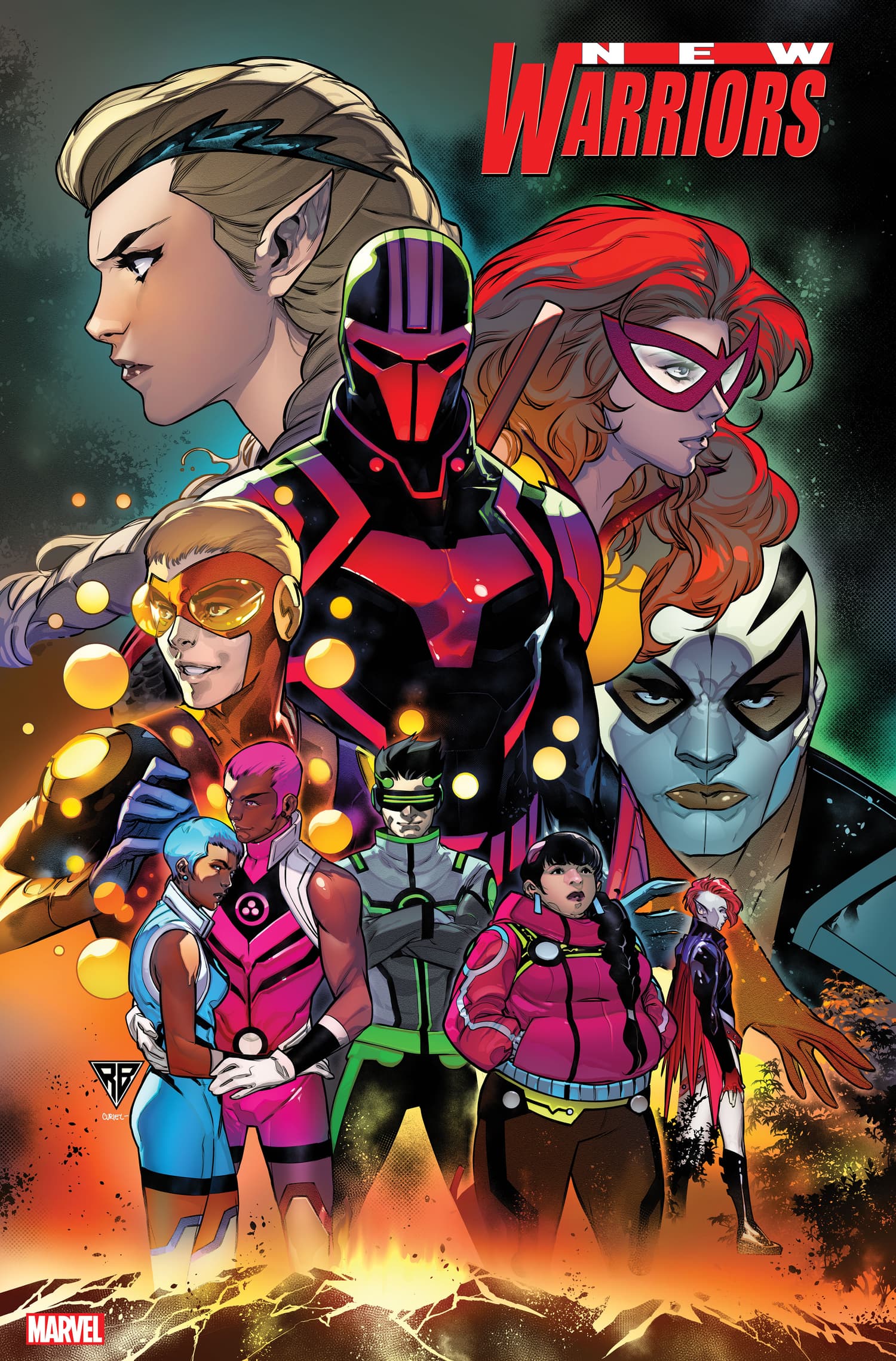 The Champions aren't the only Marvel super team coming back together – the New Warriors are also reuniting! Talking to Syfy, Daniel Kibblesmith shared how he approached reassembling the New Warriors:
"It was important to me to have moments of Justice and Night Thrasher counterbalancing each other as the two sometimes-leaders of the New Warriors. And our artist, Luciano Vecchio, has such a great take on Silhouette, and so much love for that character, that we made sure to make her an official part of the team. I think the exception to our classic roster might be Nova, 'cuz he's usually off in space doing Nova stuff. Such is the nature of the Marvel Universe being an actual, uh, universe."
For his part, Vecchio is equally eager: "So excited to provide art on this volume of NEW WARRIORS. After exploring some NW themes and characters on IRONHEART this feels like a natural progression and even connects with Eve L. Ewing's OUTLAWED. I can't wait for everyone to see our take on classic New Warriors and get to meet the brand new characters we're introducing!"
Here's a look at Vecchio's variant cover!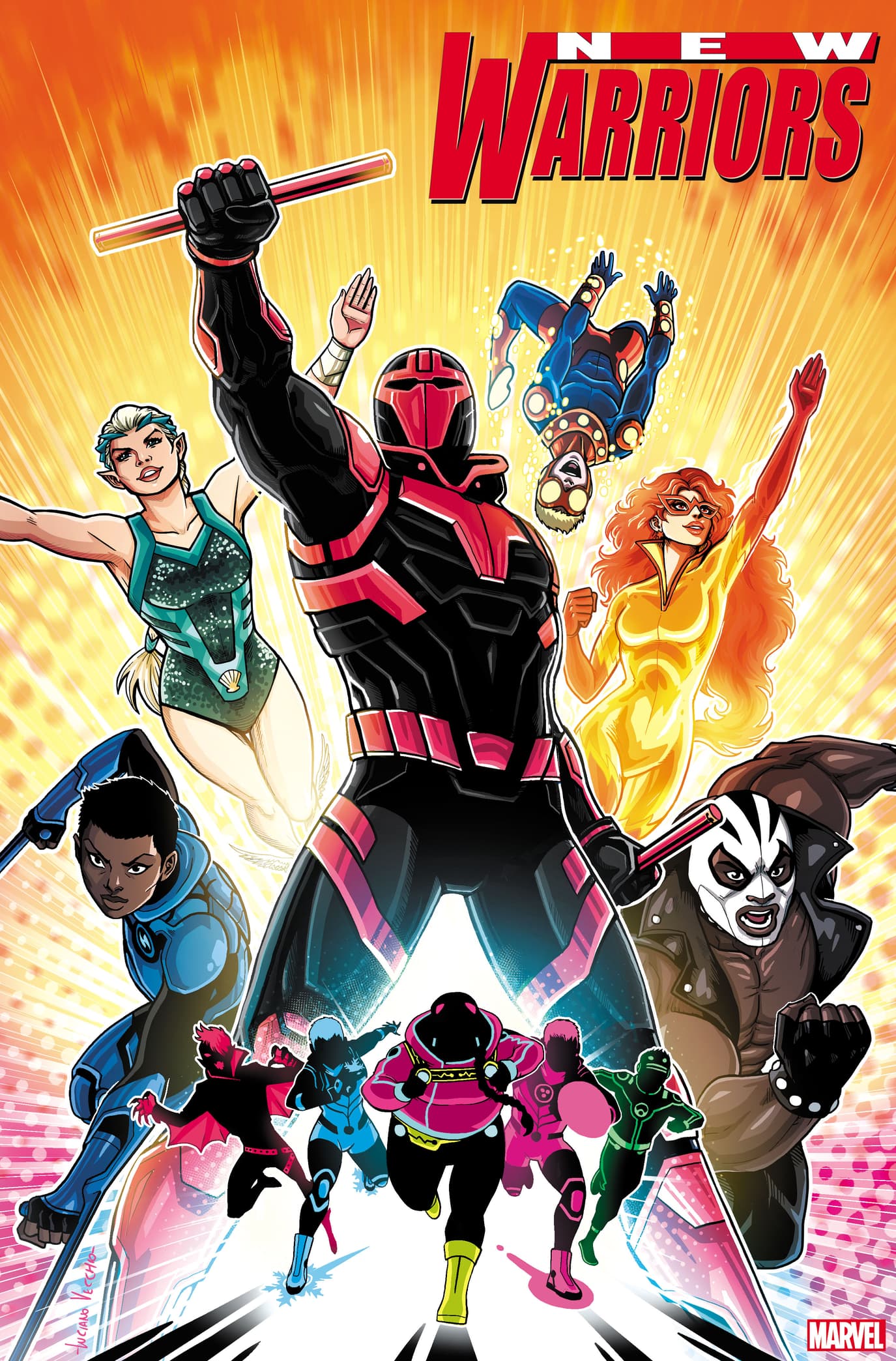 The five-issue limited series will reunite Thrasher with Firestar, Rage, Speedball, Namorita and Silhouette to mentor a whole new generation of heroes… whether they like it or not.
POWER PACK #1
Written by Ryan North with art by Nico Leon, cover by Ryan Stegman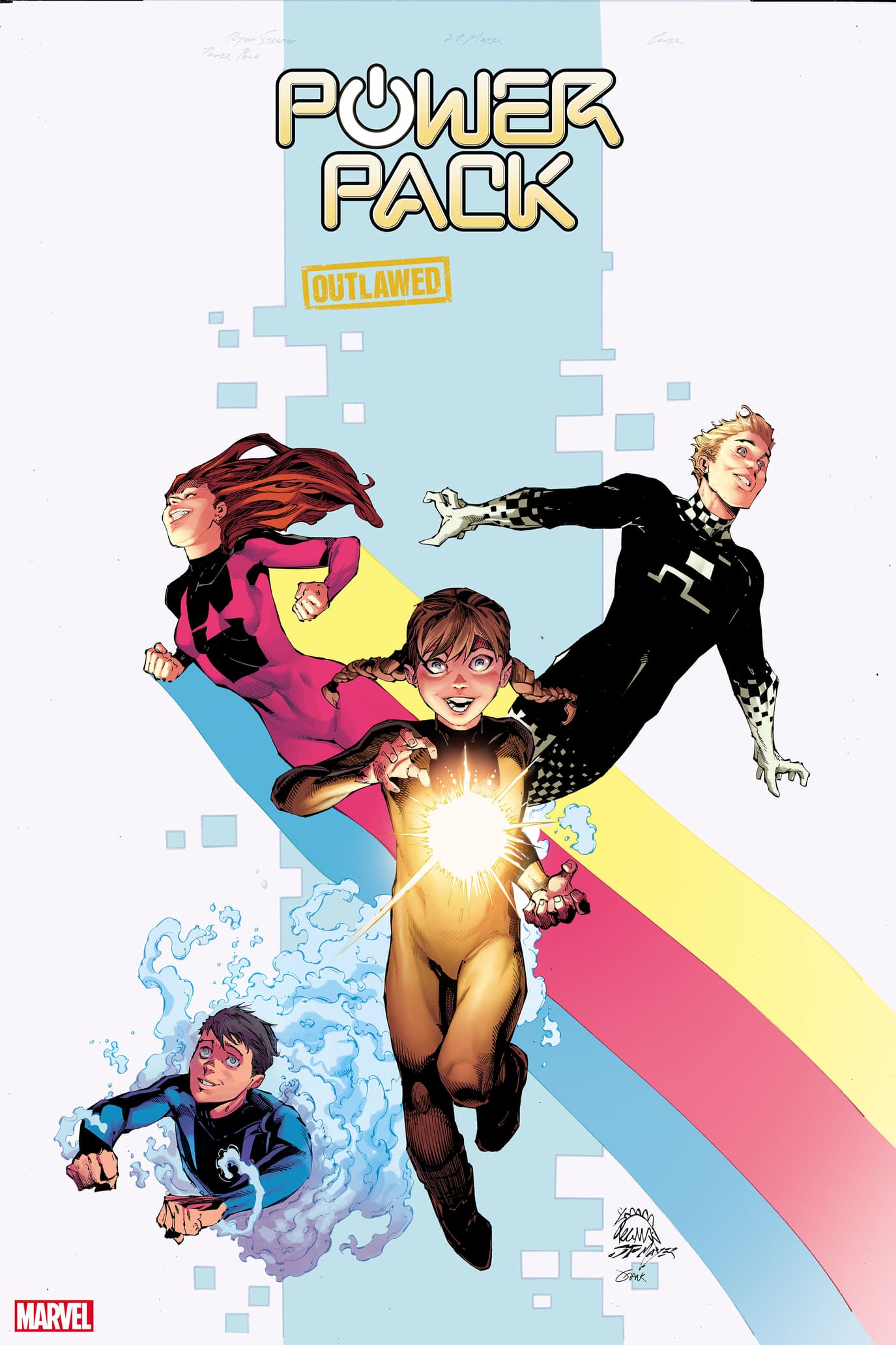 Finally, the Power Pack will get a new five-issue limited series spinning out of OUTLAWED too! What's a group of kid heroes to do when they've been Super Heroes for almost their whole lives – and now that's illegal?
Here's a look at Nico Leon's character designs for Katie, Julie, Jack, and Alex Power in the new POWER PACK #1:
If that's not enough art, check out Leon's variant cover!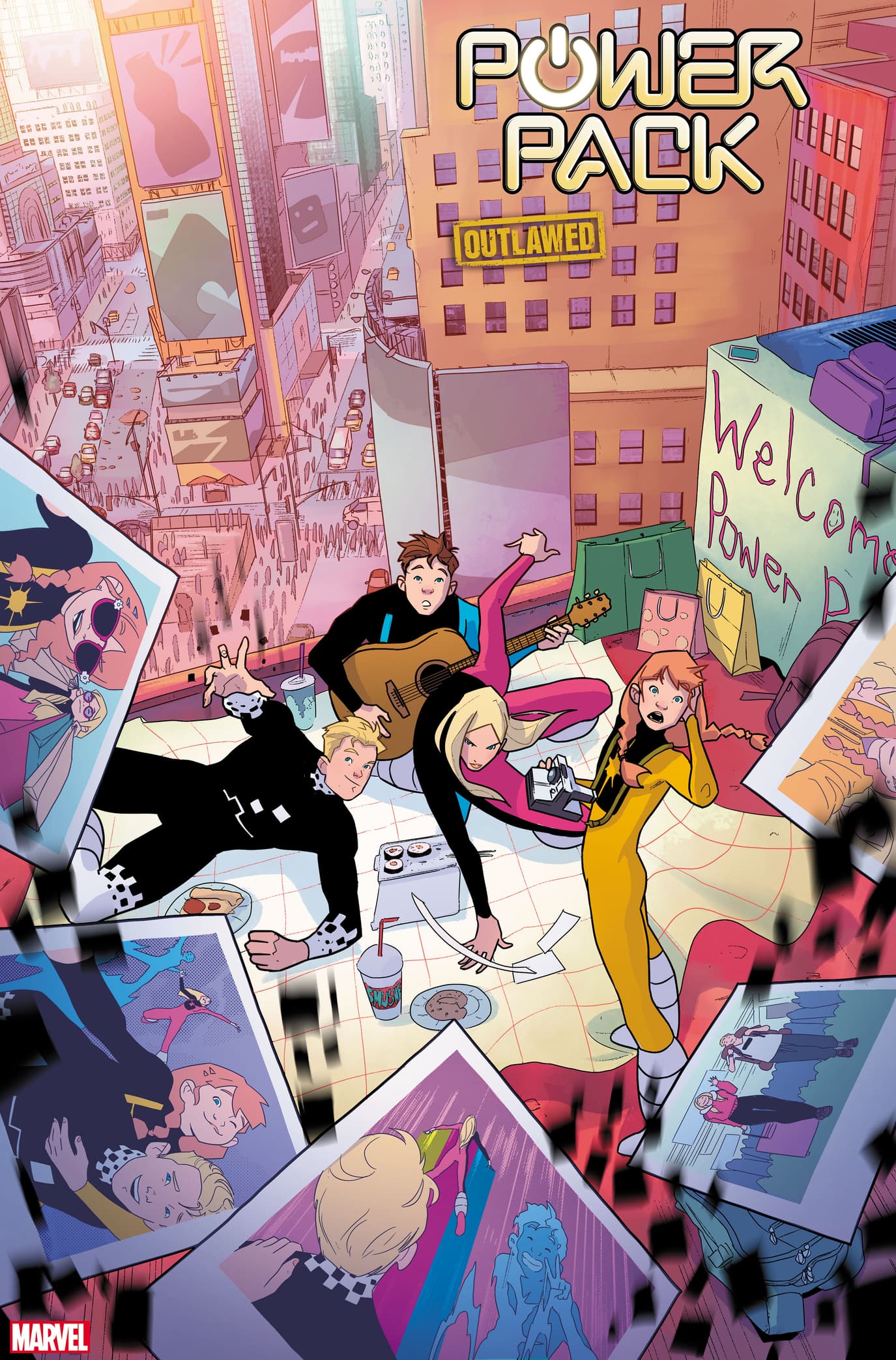 It's been ages since they fought side by side as a family, but a special occasion — and an old grudge — is about to put the gang back together. There's just one teeny tiny hiccup: a brand new law restricting underage Super Heroes! But surely, if the fate of all New York City is at stake, the powers that be will make an exception? Keep your fingers crossed as the Power siblings fight for their right to save the world!
North told Comicbook.com a bit more about the background of the Power Pack: "They're a group of four siblings who get superpowers but still keep all the issues you get when you're in a group of four siblings, people you love and sometimes hate and have known in some cases your entire life. It's hard! But it's also a lot of fun, and that's what we're hoping to capture in this story, along with an examination of what being a Super Hero actually means."
Check out a preview of POWER PACK #1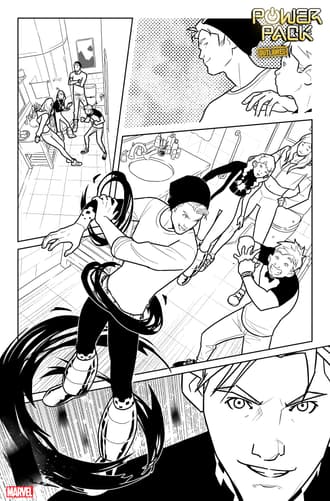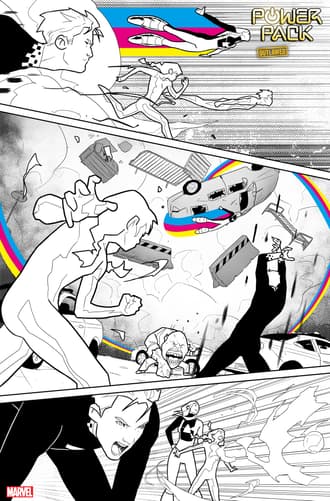 It's going to be a big turning point for Marvel's young heroes when OUTLAWED and its spinoffs arrive this April! Stay tuned to Marvel.com for all the news coming out about OUTLAWED and all upcoming comic releases!
Hey Marvel Insiders – did you know reading this article could earn you 250 points?  All you need to do is sign in or join now before you keep reading!
The Hype Box
Can't-miss news and updates from across the Marvel Universe!