Comics
Published September 29, 2017
Marvel Two-In-One: Running in the Family
Chip Zdarsky charts the course as Ben and Johnny reunite!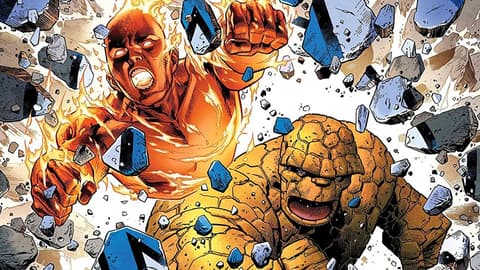 The bond of family can't be broken easily.
Since Secret Wars, Johnny "The Human Torch" Storm and Ben "The Thing" Grimm have largely been working alone. They have, at times, teamed up with others, thrown their lot in with different super hero teams—but in terms of their true family, they've been isolated for a long time.
Until now.
On December 16, Marvel Legacy begins as writer Chip Zdarsky and artist Jim Cheung see the duo together again in MARVEL TWO-IN-ONE #1! Johnny needs help and Ben rushes to his aid—as Doctor Doom holds onto a secret that'll change both their lives forever.
Zdarsky stepped away from organizing this family reunion to answer a few questions about the upcoming story.
Marvel.com: How does it feel to be the first writer to handle the first step towards—maybe—rebuilding the Fantastic Four post-Secret Wars? Has it been a tremendous honor? A horrifying burden? A bit of both?
Chip Zdarsky: It's strange. There's definitely some fear on my part. FANTASTIC FOUR has always been a book that means a lot to me, and to a lot of other people, so getting to even do a close approximation of it with Ben and Johnny feels very daunting. Dealing with that Secret Wars fallout has been something everyone's looking for, so, yeah, I'm a bit nervous.
But, that being said, no script I've ever worked on has come together as smoothly as issue #1 [of MARVEL TWO-IN-ONE]. Getting into the heads of Ben and Johnny—knowing what they have to do—just clicked right away. So, I'm nervous, yeah. But strangely calm about it because it feels right to me as a writer.
Marvel.com: What can you tell us about Johnny's problems at the beginning of this story? Why does The Human Torch need The Thing?
Chip Zdarsky: Both Ben and Johnny have been bouncing around to various teams and situations since Secret Wars, rarely seeing each other. It reminds them too much of what they've lost. But that pain bubbles up, especially in Johnny, and Ben has to step in to help his family, and—whether he knows it or not—himself.
Marvel.com: In MARVEL TWO-IN-ONE, you handle (at least) three icons of the Marvel Universe: Ben Grimm, Johnny Storm, and Doctor Doom. In your eyes, what's the key to getting each one "right"?
Chip Zdarsky: Ben and Johnny can be played for laughs, but they're both deeper than they let on. To get them right you have to be conscious of writing a Ben and Johnny story—not just a Thing and Human Torch one. Ben can be a bit of a hardened tough-guy, but he's a softie. Johnny can be slightly irresponsible, but he cares deeply.
Doom seems especially interesting to write now, given what [writer] Brian Michael Bendis and [artist] Alex Maleev have been doing with him in INFAMOUS IRON MAN. He's still a thorn in the sides of our heroes, but now with the ultimate goal of doing what he feels might just be "right."
Marvel.com: Describe the tone and setting of TWO-IN-ONE. Can fans expect any special supporting cast?
Chip Zdarsky: The tone feels a little bit sad, a little bit tortured, and a little bit fun! We're building up to some big adventures for the guys, and this will be the place where you'll get to see a lot of FF supporting cast and villains pop up! As for setting, these are explorers, so the setting will always change.
Marvel.com: How does working with Jim Cheung help you "build" the world of the book? Does he make it easier for you to do certain things as a writer?
Chip Zdarsky: He's…amazing. Getting pages from Jim just blows my mind. He elevates every scene, nails the emotion of the characters, and there's no other artist working today who gets The Thing like he does.
Marvel.com: Speaking directly to fans who might consider snagging TWO-IN-ONE, how would you convince them that this is a can't-miss?
Chip Zdarsky: Besides Jim Cheung!? I think, out of the books I've worked on so far, this feels the most like a classic Marvel book. Moral quandaries, big adventure, fun conflict. And it's Ben and Johnny! They're the heart of the Marvel Universe in a lot of ways, so I hope everyone enjoys seeing them together, going on adventures again.
MARVEL TWO-IN-ONE #1, by Chip Zdarsky and artist Jim Cheung, reawakens on December 16!
The Hype Box
Can't-miss news and updates from across the Marvel Universe!