Comics
Published February 17, 2021
Who Is Monica Rambeau?
Learn all about this hero of many aliases through her decades of stellar stories.
Have you tried Marvel Unlimited yet? It's your all-access pass to over 28,000 Marvel comics, available at your fingertips. Sign up now to get 50% off your first month.
READ MONICA'S DEFINING STORIES ON MARVEL UNLIMITED!
Captain Marvel, Pulsar the Sun Goddess, Photon, Daystar, Sceptre, Lady-of-Light or Spectrum if ya Nasty, Monica Rambeau is a woman of many names. This variety takes after her vast and robust powerset. She's been a leader to Earth's Mightiest Heroes and is a formidable Super Hero with or without her powers. For nearly four decades, Monica has proven time and again that no matter which codename she goes by or what team she's leading, there can only be one Monica Rambeau. And she gets the job done.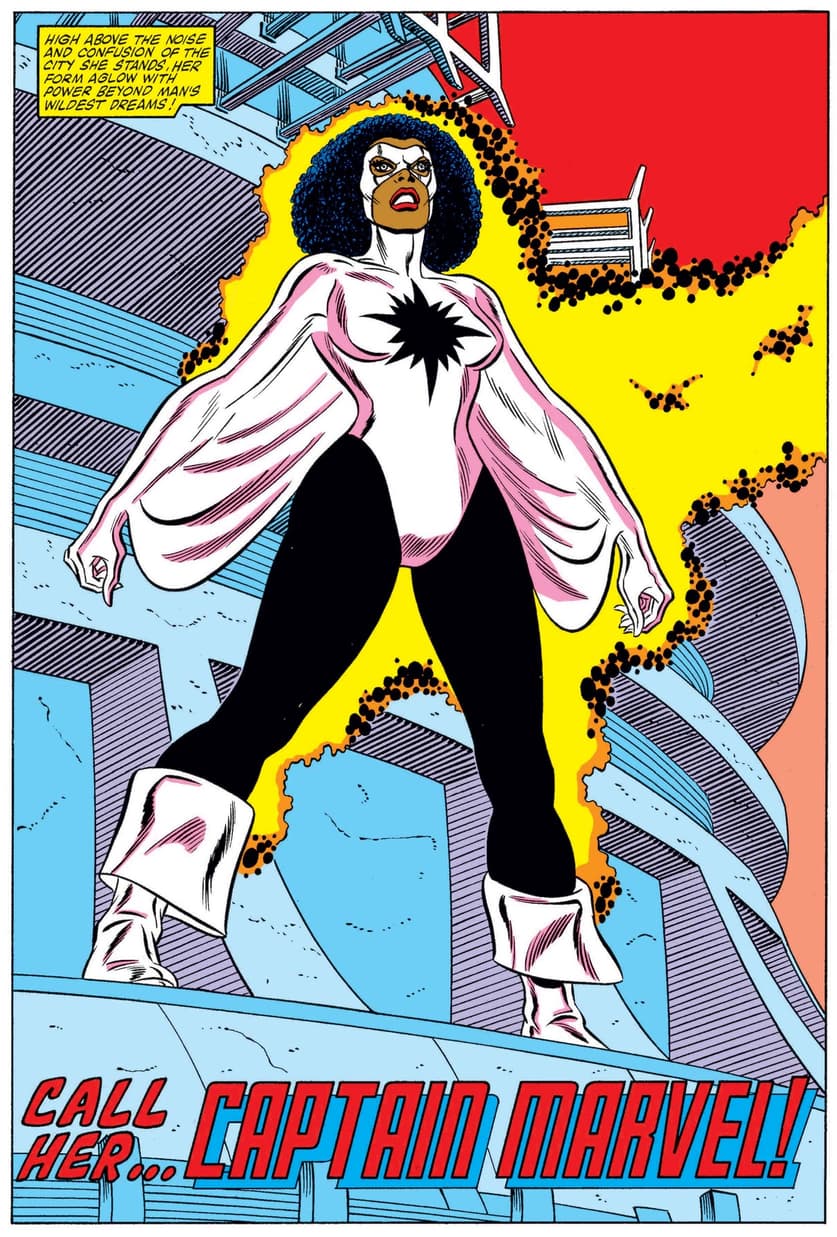 A SUPER-POWERED ORIGIN
Monica also has one of the greatest origin stories within the Marvel Universe. It's quite poetic, actually. She first appears in AMAZING SPIDER-MAN ANNUAL #16, and don't be mistaken—this issue is all about Monica. She even bested the guy whose name is on the cover. Peter Parker gets sent through a few cans of trash for not realizing he isn't the only one who can sense a sneak attack. But before Monica started taking out nosy neighborhood spiders, she was a New Orleans-based harbor patrol officer who was unfairly denied a promotion to "Captain." It doesn't matter, though. It's the harbor police's loss because Monica soon became a captain anyway.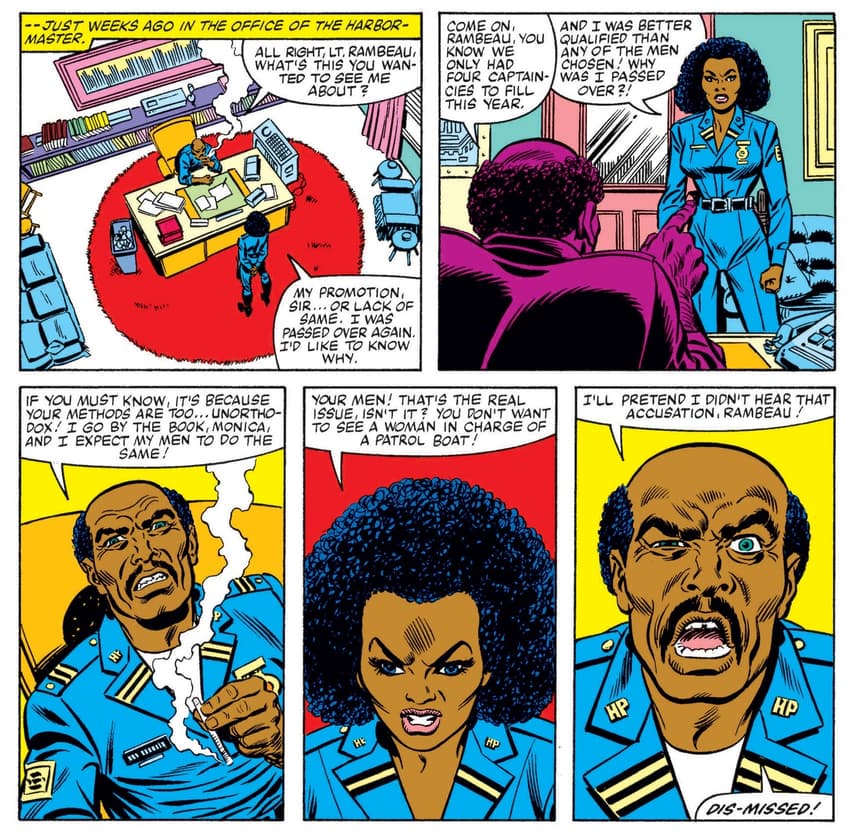 In the same Annual, Monica agrees to help an old friend of her grandfather, Dr. Andre LeClare, get aboard a ship carrying a potent energy disruptor that ends up in the wrong hands (as these things often do in the Marvel-616). Monica, understanding this dire situation, smashes the machine with her hands, thus destroying it and changing her life forever from that point on. The consequences of her bravery granted her the power to change her body into any form of electromagnetic energy. She essentially becomes a sentient packet of whatever type of fuel you may need. Best of all, she didn't need a promotion to captain by some misogynistic boss. Instead, she quit the job that never deserved her and became Captain Marvel instead. (Yes, before Carol Danvers.)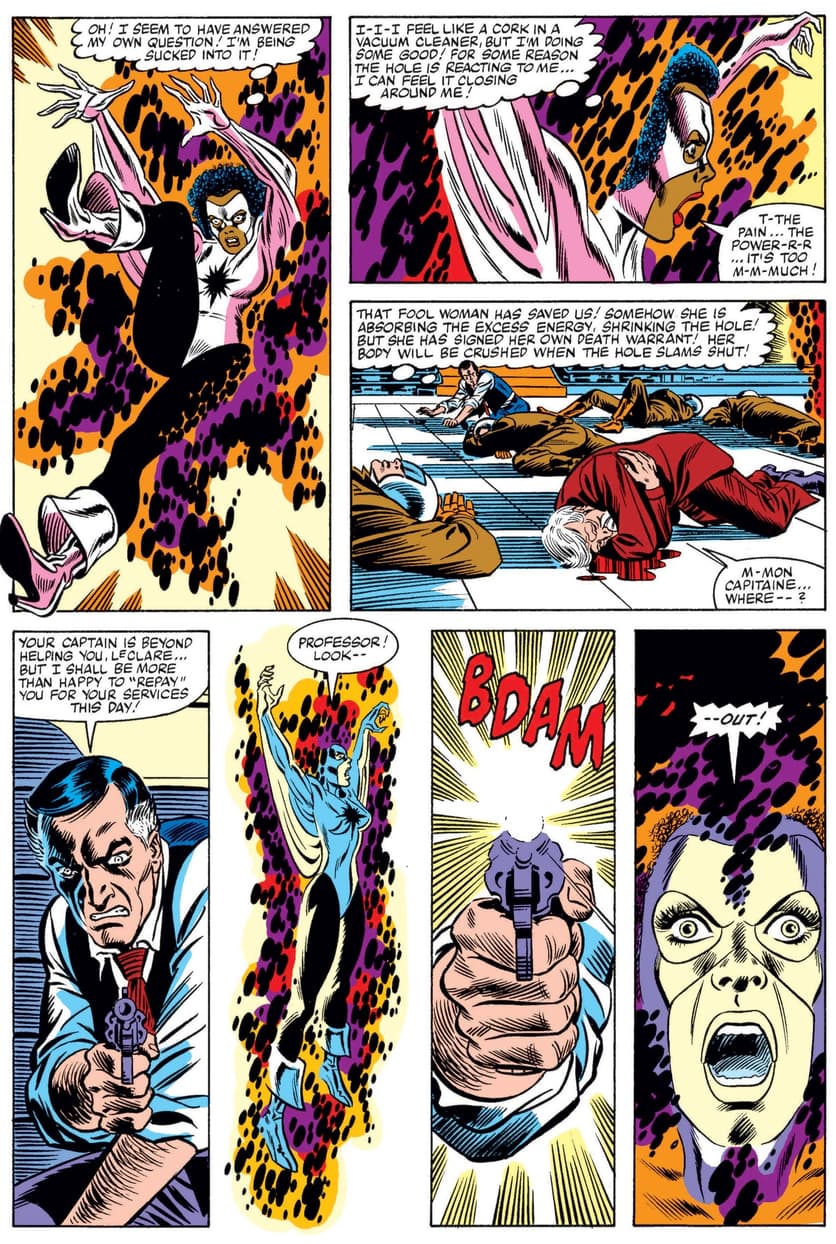 JOINING THE AVENGERS
Monica Rambeau may have been an Avenger-in-training but let's get it straight, she was no rookie. The Avengers quickly learned what a great addition the dedicated Captain was to their changing roster. She impressed several of her teammates on multiple occasions, including Thor. Any why shouldn't she wow a God of Thunder? Monica's powers make her as fast as the speed of light. She can sneak aboard the Blackbird without the X-Men even knowing, and is as strong as the Hulk. No, seriously. Once the Vision was left unconscious after phasing through a force field, and no one else could get through except Captain Marvel. She shattered it by slingshotting herself around the sun and turning it into a gamma-ray laser beam.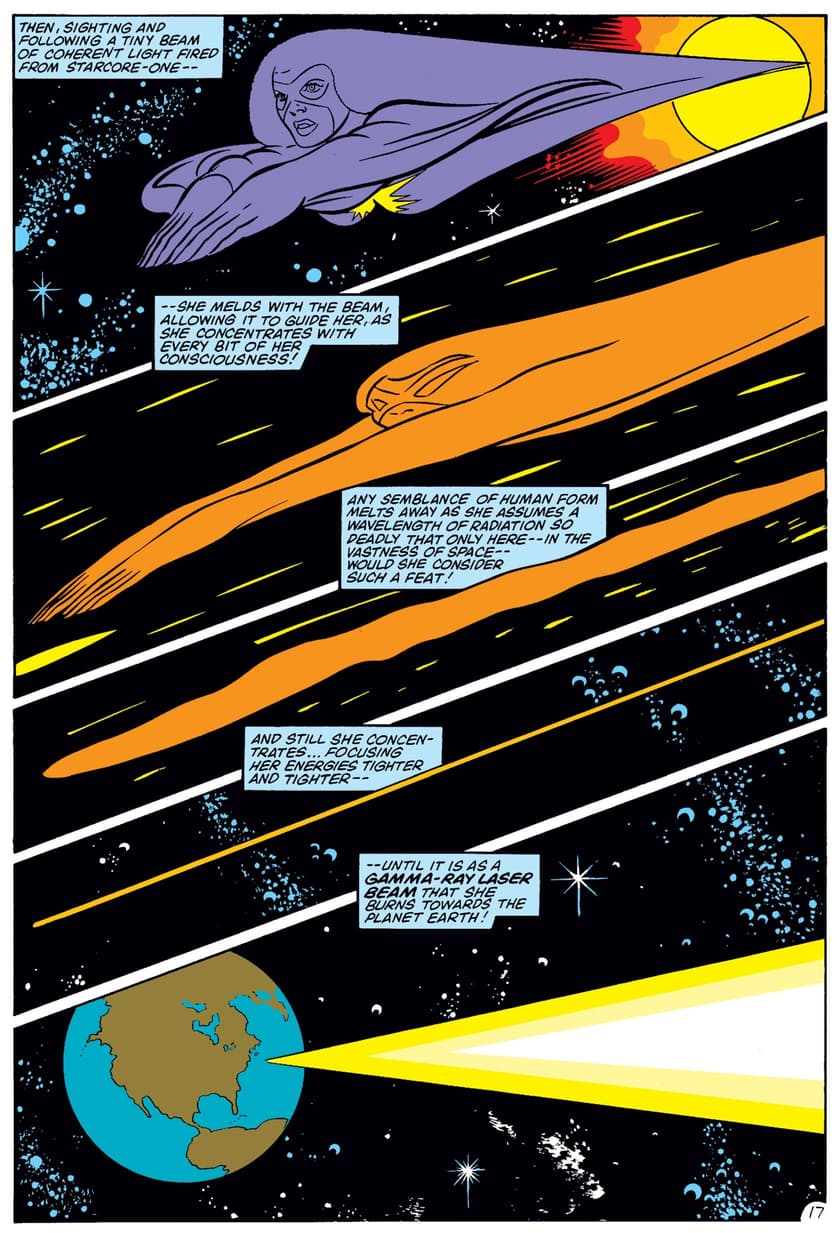 Formidable doesn't begin to do her powerset justice. When the Olympian god Zeus put the rest of the Avengers down with a thunderbolt, only Monica was left standing. Not because she was powerful enough to withstand the hit, but because she was aware enough to phase shift her body to avoid the attack. She truly left Captain America no choice but to ask her if she'd like to take Janet Van Dyne's spot as co-leader of the Avengers. Strength aside, Monica knows how to be there for her teammates. Whether that's standing through a fight or offering support when life gets the best of them. It's no wonder that Monica made a phenomenal leader up until she lost her powers after battling Namor's love, Marrina, who had turned herself into a Leviathan.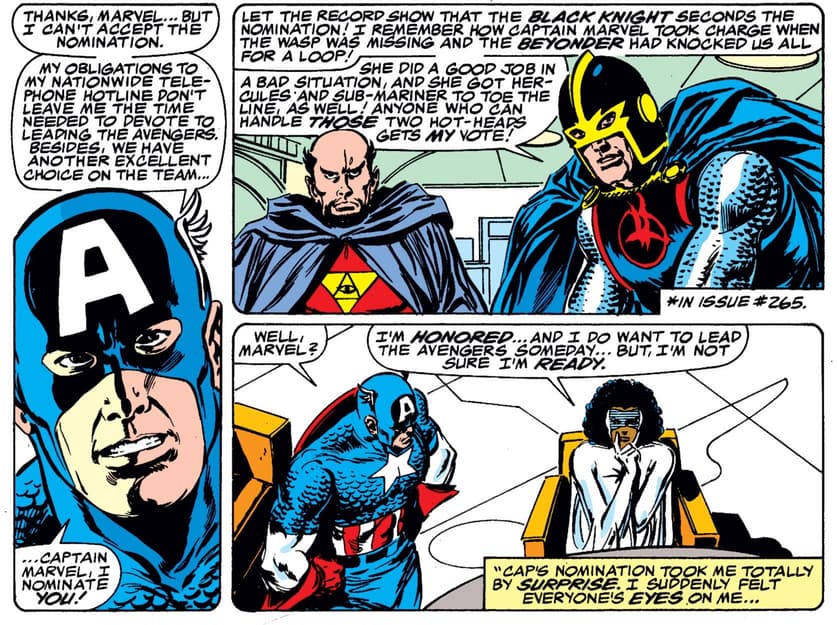 BORN TO LEAD
As mentioned before, powers or no powers, Monica Rambeau can hold her own. 1989's CAPTAIN MARVEL one-shot picks up with Monica semi-adjusting back into civilian life. Her parents, the most incredible support system a Super Hero could ever have, nursed her back to health. But before she regained her powers in this issue, she successfully defeated Powderkeg and saved the remaining passengers of a compromised cruise ship. If you train with the likes of Captain America, your hand-to-hand combat skills would be that good. After getting her powers back, Monica rejoined the Avengers, and the name change games begin.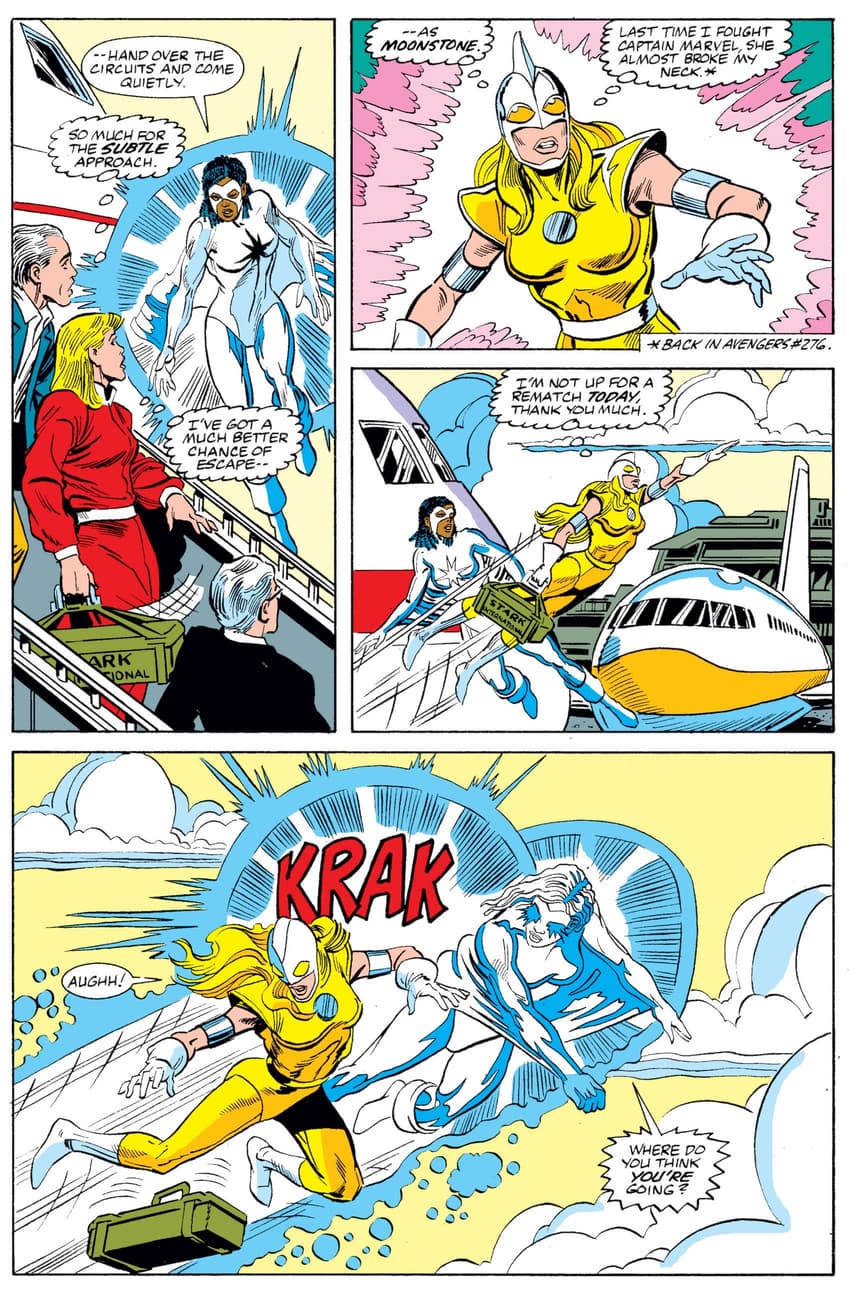 SO, JUST "MONICA"?
It's no secret that Monica wasn't the first Captain Marvel, but she is the first human ever to go by the name. The original Captain Marvel was Kree: His name was Mar-vell, and he has a son, Genis-Vell, who is actually the one Monica gives the name Captain Marvel back to when she subsequently decided to go by Photon. Monica soon goes from Photon to Pulsar because Genis-Vell decides on the name Photon a time later after deciding to live a life separate from his father. It's all very confusing, but titles don't make or break Ms. Rambeau.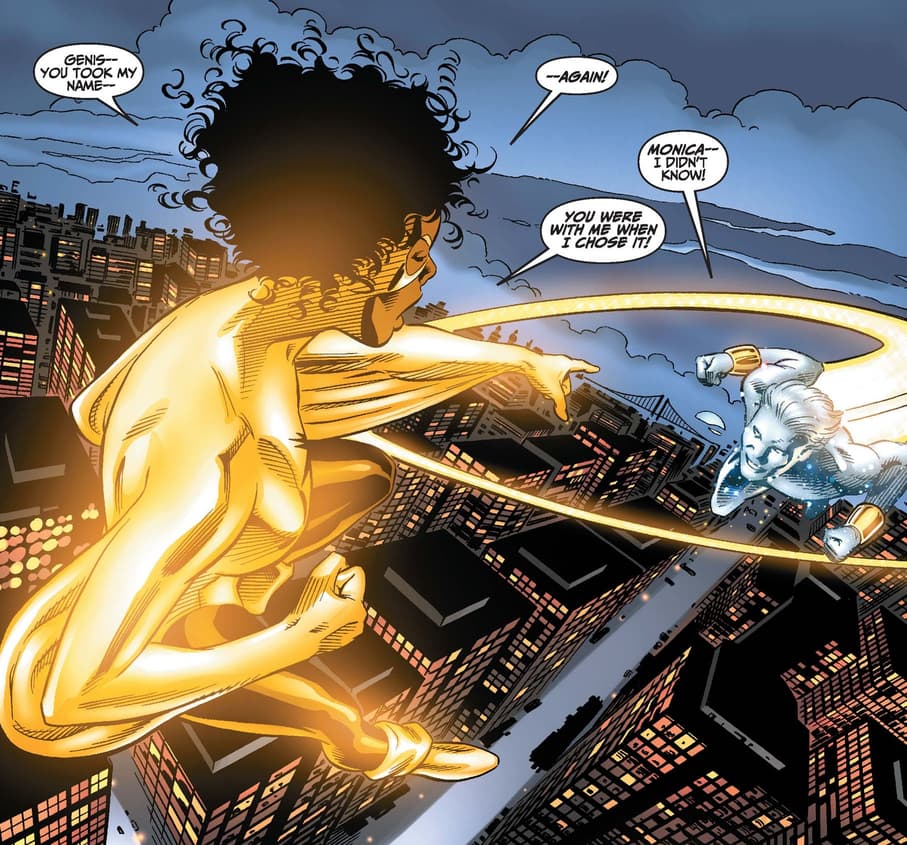 As "Pulsar" or mainly just "Monica," she next led a band of misfits heroes who made up the Nextwave team, part of the Highest Anti-Terrorism Effort (H.A.T.E.) against Unusual Weapons of Mass Destruction. An odd time in Monica's life that left some baggage she later unpacks after becoming an Avenger again and claiming a name that works as a phenomenal descriptor of her powers: Spectrum. (2013's MIGHTY AVENGERS #1) And who else has the range? Monica can singlehandedly take out hordes of vampires and has while dealing with a mansplaining T'Challa within earshot. Managing not to microwave his brain is an excellent test of strength alone! She eventually joined a team with him on it, too, the Ultimates.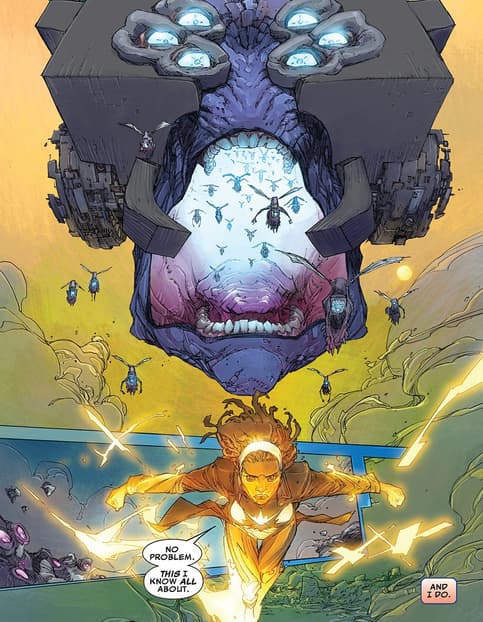 Since working as Spectrum, Monica has been booked and busy. She has recently led the Avengers, again, in AVENGERS NO ROAD HOME. Soon after, she became a member of the Strikeforce team. The bottom line: Monica Rambeau is going to Monica Rambeau no matter the name. And she's someone you always want on your side.
Read Monica's complete comic history on Marvel Unlimited today, and find even more character entry points here!
Follow Marvel Unlimited on Twitter and Facebook to stay tuned in to weekly announcements, articles, and more, all at @MarvelUnlimited. Follow us today to join the conversation with thousands of fellow fans, and let us know what you're reading!
The Hype Box
Can't-miss news and updates from across the Marvel Universe!