Comics
Published August 22, 2017
Moon Girl and Devil Dinosaur: Growling at the Moon
Writer Brandon Montclare dives into Marvel Legacy with Lunella Lafayette!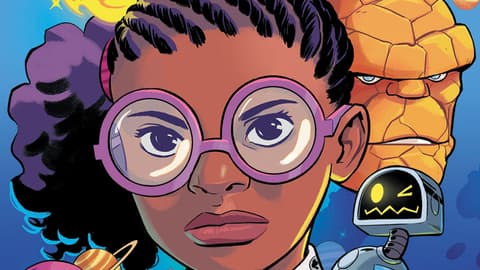 Lunella Lafayette, A.K.A. Moon Girl, holds a special place in the Marvel Universe. Having joined classic character Devil Dinosaur back in the action, she consistently conspires to challenge tradition—specifically in her unlikely role as the smartest person on the planet.
As Marvel Legacy gears up, we find Lunella poised to make some big moves in writer Brandon Montclare and artist Natacha Bustos's MOON GIRL AND DEVIL DINOSAUR #25 on November 22!
In preparation for the Legacy initiative, we sat down with Brandon to hear a little more about what to expect from Moon Girl and her prehistoric pal.
Marvel.com: The cover for issue #25 references the classic cover of FANTASTIC FOUR #49—and the story arc is called The Fantastic Three. What can you tell us about the link between Moon Girl and the Fantastic Four?
Brandon Montclare: There's a whole lot of background connecting Moon Girl to the Fantastic Four. It was always important to have her fit right into the Marvel Universe…and whenever you do that, you're going to touch upon the Fantastic Four. Lunella Lafayette lives on Yancy Street—the neighborhood has changed, but it's still the home turf of The Thing. Lunella is also the smartest person in the world, having surpassed even Mr. Fantastic.
For Legacy, we didn't really have an older book to connect to. DEVIL DINOSAUR from the 1970s only lasted nine issues, so we can't go back and re-do issue #10!
And as for the story: Moon Girl, The Thing, and Human Torch are not used to being alone. They're missing "family" members, so they are going to try to fill the gaps.
Marvel.com: We've seen Lunella working with the SECRET WARRIORS, and now MOON GIRL AND DEVIL DINOSAUR jumps into Marvel Legacy. Lunella's world continues to grow as she becomes a more significant part of the Marvel Universe—what's that like to write?
Brandon Montclare: When Marvel approached me to do some writing, getting to be a part of the Marvel Universe appealed to me more than anything. So even though Moon Girl was only recently created, the whole point is to have her make an impact on that broader picture. Very few things make me happier than seeing her appear outside of MOON GIRL AND DEVIL DINOSAUR. It's fun to see [writer] Matthew Rosenberg and [artist] Javier Garron play with her in SECRET WARRIORS because she'll do things there that Natacha Bustos and I never dreamed of.
As for Legacy: yeah, it's going to be fun. It's about all the characters I loved as I grew up—and now it includes a character I created. The story will be awesome—but just seeing her on the promo poster is a blast.
Marvel.com: By positioning Lunella—a young girl—as the smartest person in the Universe, the book both honors Marvel's traditions and moves them forward. Naturally, the book has a really interesting part to play in Marvel Legacy—what can you tell us about that?
Brandon Montclare: Marvel Comics have always been Marvel Legacy. The characters reflect the changing world around them—but they also maintain core concepts that never change. Thousands of characters and thousands of creators over decades of stories. It's modern myth-making; it's as much about new ideas as it's about keeping up tradition.
So it makes sense to have a classic character give a boost to something new. But I'm very proud our book shows how the opposite can also be true; I think Moon Girl gave a big boost to Devil Dinosaur. It re-introduced him to new readers and gave him a role to play in the current continuity.
I think a character like Moon Girl brings some needed balance to the mix; when you have the opportunity to create a new character, you're likely to think about what's underrepresented.
Marvel.com: What else can you mention ahead of issue #25?
Brandon Montclare: In addition to being a part of Marvel Legacy, The Fantastic Three is the fifth arc of MOON GIRL AND DEVIL DINOSAUR. I'm lucky to work with Natacha Bustos, [colorist] Tamra Bonvillain, [letterer] Travis Lanham, [Editors] Mark Paniccia and Chris Robinson, and many others—all of us give our best to the book.
The Legacy story arc, beginning with an anniversary of sorts in issue #25, evidences that our attention to awesome storytelling has found an audience. The support and enthusiasm for readers is, in my view, the most impressive part of contributing to this comic.
Brandon Montclare and artist Natacha Bustos light up Marvel Legacy with MOON GIRL AND DEVIL DINOSAUR #25 on November 22!
The Hype Box
Can't-miss news and updates from across the Marvel Universe!