Comics
Published June 3, 2022
Ms. Marvel Comics to Read Right Now
Learn all about Jersey City's hometown hero with these comic entry points and critical favorites!
Now on sale in the Marvel Comics app for iOS and Android!
Save up to a whopping 91% off on digital collections and issues starring the Champion, the Avenger, and the next generation's hero—Kamala Khan, AKA the magnificent Ms. Marvel!
A Pakistani-American growing up in Jersey City, Kamala Khan idolized Super Heroes like Captain Marvel, never dreaming she'd have the opportunity to join her role models in safeguarding society from the forces of evil. With an Inhuman ability to alter shape and size, the newest Ms. Marvel employs an idealistic attitude as much as any power to make the world a better place.
Now, dive into Ms. Marvel stories with 25 top-selling collections featuring the breakout star. Enjoy critically acclaimed runs, including new digital comics and trades, in the cutting-edge reader of the Marvel Comics App, available on iPhone®, iPad® and select Android™ devices. Once purchased, all your stories are accessible through your personal library, and can be read anytime, anywhere.
Sale ends June 20! Grab the full list of sale titles, then dive into our recommended picks for new readers.
MS. MARVEL BY SALADIN AHMED VOL. 1: DESTINED
MS. MARVEL BY SALADIN AHMED VOL. 2: STORMRANGER
MS. MARVEL BY SALADIN AHMED VOL. 3: OUTLAWED
MS. MARVEL MEETS THE MARVEL UNIVERSE
MS. MARVEL TEAM-UP
MS. MARVEL VOL. 1: NO NORMAL
MS. MARVEL VOL. 10: TIME AND AGAIN
MS. MARVEL VOL. 2: GENERATION WHY
MS. MARVEL VOL. 3: CRUSHED
MS. MARVEL VOL. 4: LAST DAYS
MS. MARVEL VOL. 5: SUPER FAMOUS
MS. MARVEL VOL. 6: CIVIL WAR II
MS. MARVEL VOL. 7: DAMAGE PER SECOND
MS. MARVEL VOL. 8: MECCA
MS. MARVEL VOL. 9: TEENAGE WASTELAND
AVENGERS & CHAMPIONS: WORLDS COLLIDE
CHAMPIONS BY JIM ZUB VOL. 2: GIVE AND TAKE
CHAMPIONS BY JIM ZUB VOL.1: BEAT THE DEVIL
CHAMPIONS VOL. 1: CHANGE THE WORLD
CHAMPIONS VOL. 1: OUTLAWED
CHAMPIONS VOL. 2: KILLER APP
CHAMPIONS VOL. 2: THE FREELANCER LIFESTYLE
CHAMPIONS VOL. 3: CHAMPION FOR A DAY
CHAMPIONS VOL. 4: NORTHERN LIGHTS
CHAMPIONS VOL. 5: WEIRD WAR ONE
Kamala Khan's first-ever solo series. Marvel Comics presents the new Ms. Marvel, the groundbreaking heroine that has become an international sensation. Kamala Khan is an ordinary girl from Jersey City—until she's suddenly empowered with extraordinary gifts. But who truly is the new Ms. Marvel? Teenager? Muslim? Inhuman? Find out as she takes the Marvel Universe by storm. When Kamala discovers the dangers of her newfound powers, she unlocks a secret behind them, as well. Is Kamala ready to wield these immense new gifts? Or will the weight of the legacy before her be too much to bear? Kamala has no idea, either. But she's comin' for you, New York! It's history in the making from acclaimed writer G. Willow Wilson and beloved artist Adrian Alphona.
Collects MS. MARVEL (2014) #1-5 and material from ALL-NEW MARVEL NOW! POINT ONE #1.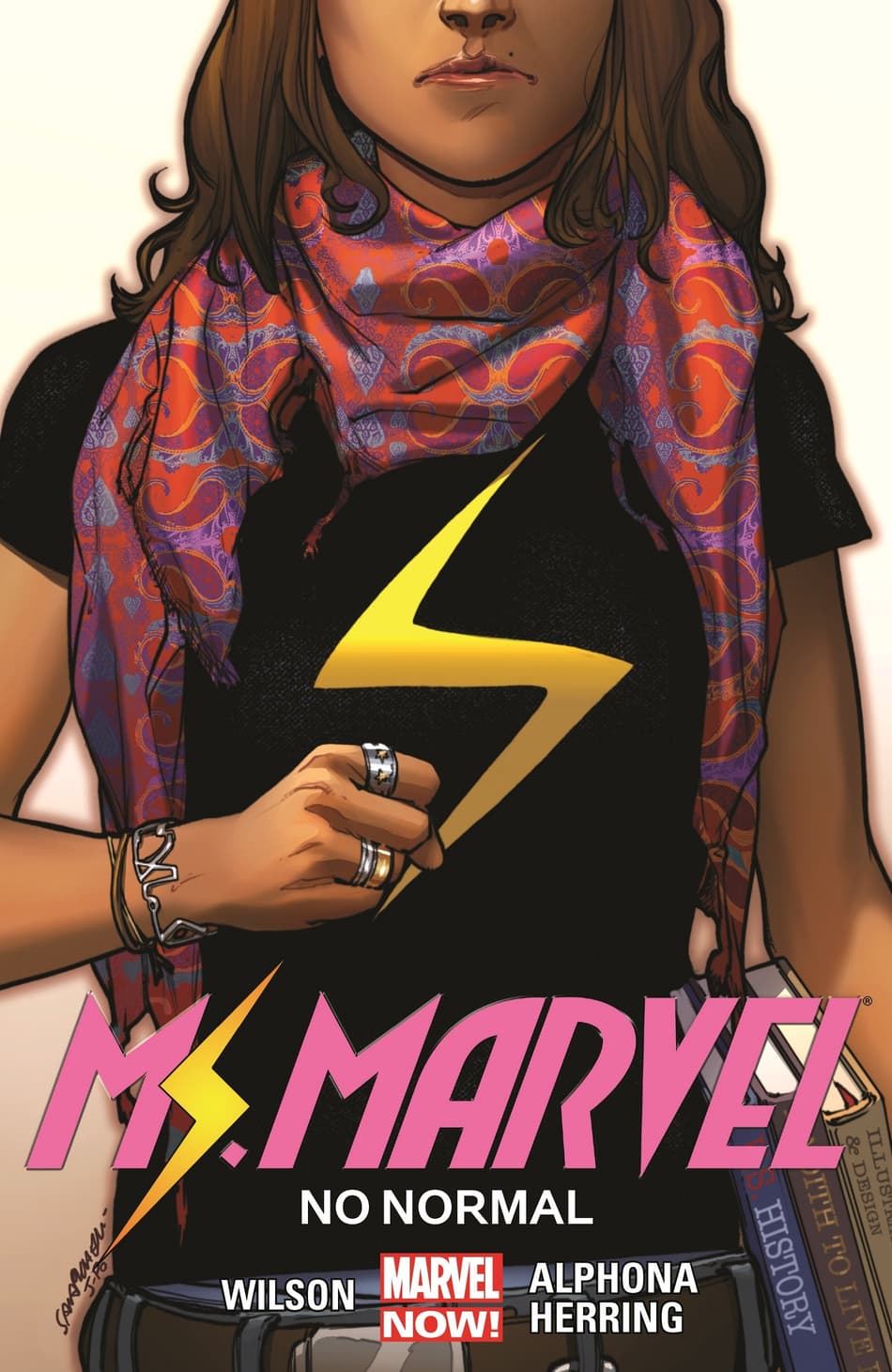 Ms. Marvel is back—and she's magnificent! But there's no such thing as business as usual in Jersey City. Aliens are wreaking havoc in Kamala's corner of the world, and they seem weirdly interested in Ms. Marvel...and her family! Kamala is about to face a devastating loss—but with an alien invasion ravaging her neighborhood, she won't have much time to grieve. Even if Kamala saves her hometown, will her life ever be the same? And what's all this business about a "Chosen One"? Eisner Award winner Saladin Ahmed and rising star Minkyu Jung take the reins of one of Marvel's most beloved young characters for the shocking start of an all-new era! Guest-starring the Invincible Iron Man!
Collects MAGNIFICENT MS. MARVEL (2019) #1-6.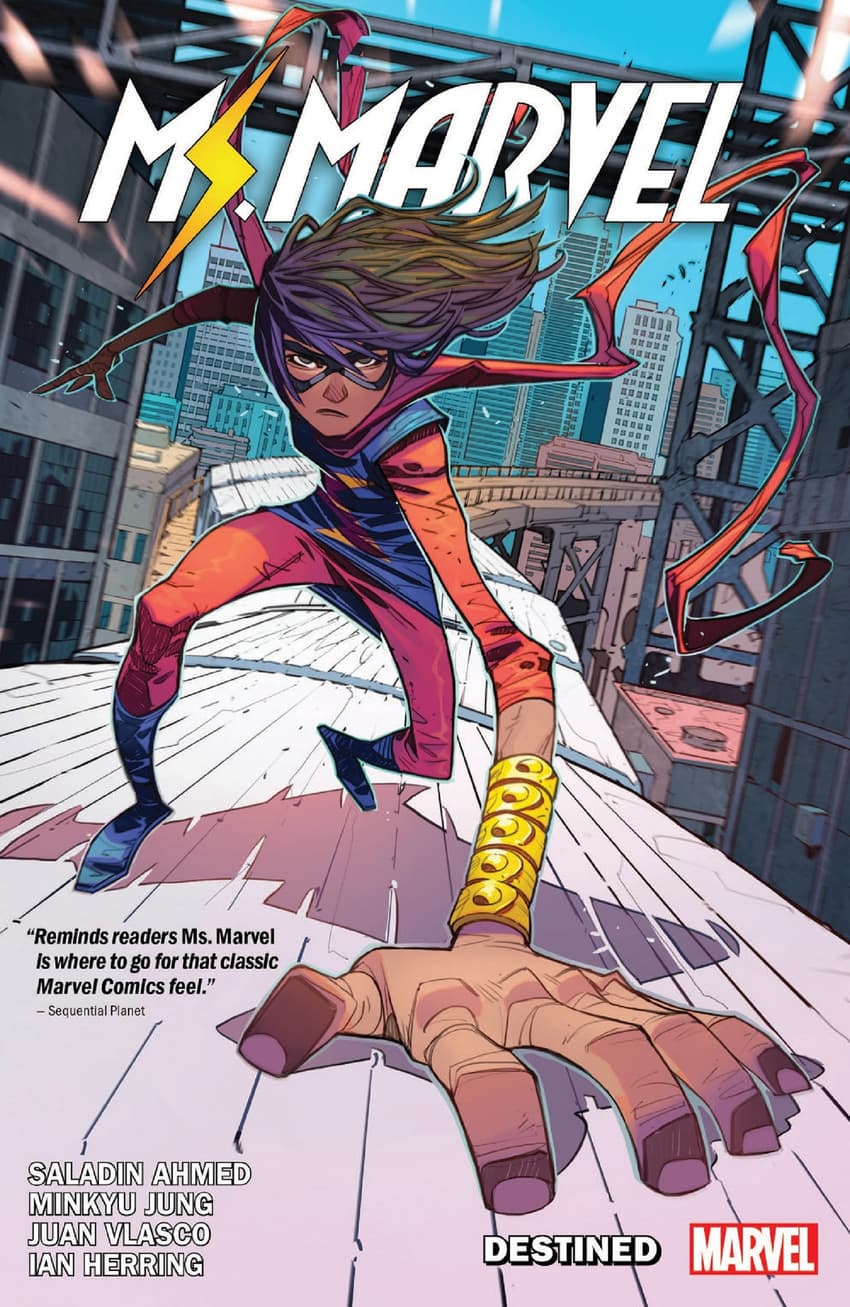 One of the great team names in Marvel history returns, in incredible new fashion! During the fallout of CIVIL WAR II, Ms. Marvel, Nova and Spider-Man: Miles Morales quit the Avengers and strike out on their own! With Viv Vision and the Totally Awesome Hulk by their side, these young heroes are determined to change the world their own way—and they're only the beginning! It starts as an idea. It becomes an ideal. But what happens when it turns into a movement—one so big even the Hulk can't stop it? And will one of the greatest X-Men of all forge a new future by their side? Welcome to the Champions, Cyclops! Unfortunately, not all of your new would-be teammates are glad to see you!
Collects CHAMPIONS (2016) #1-5.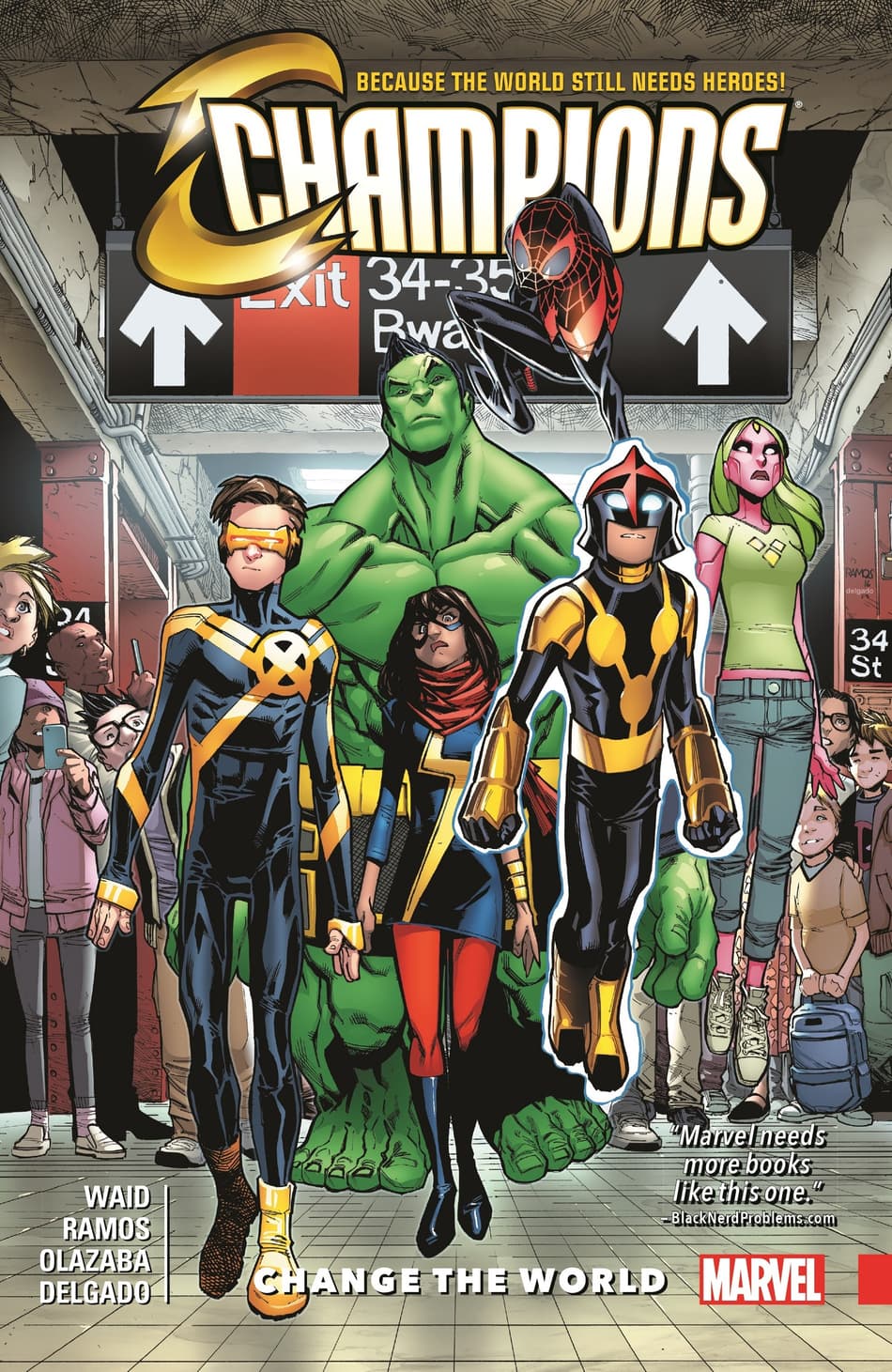 Kamala Khan puts the "Ms." into Marvel Team-Up! Ms. Marvel steps into the starring role of one of Marvel's all-time classic titles—and fittingly, the ever-sociable Spider-Man swings by to hand over the mantle! After a science demonstration at Empire State University goes awry, Ms. Marvel and Spidey find themselves tangled up in the same chaotic adventure. Is it destiny? Or disaster?! And can the two heroes put their heads together and find a way to save the day? Next, the sudden reappearance of Mar-Vell, the first Captain Marvel, draws Carol Danvers and Kamala Khan back together for an out-of-this-world adventure! But is the man behind the mask who he claims to be? And can Ms. Marvel and Captain Marvel stay on the same page long enough to find out?
Collects MARVEL TEAM-UP (2019) #1-6.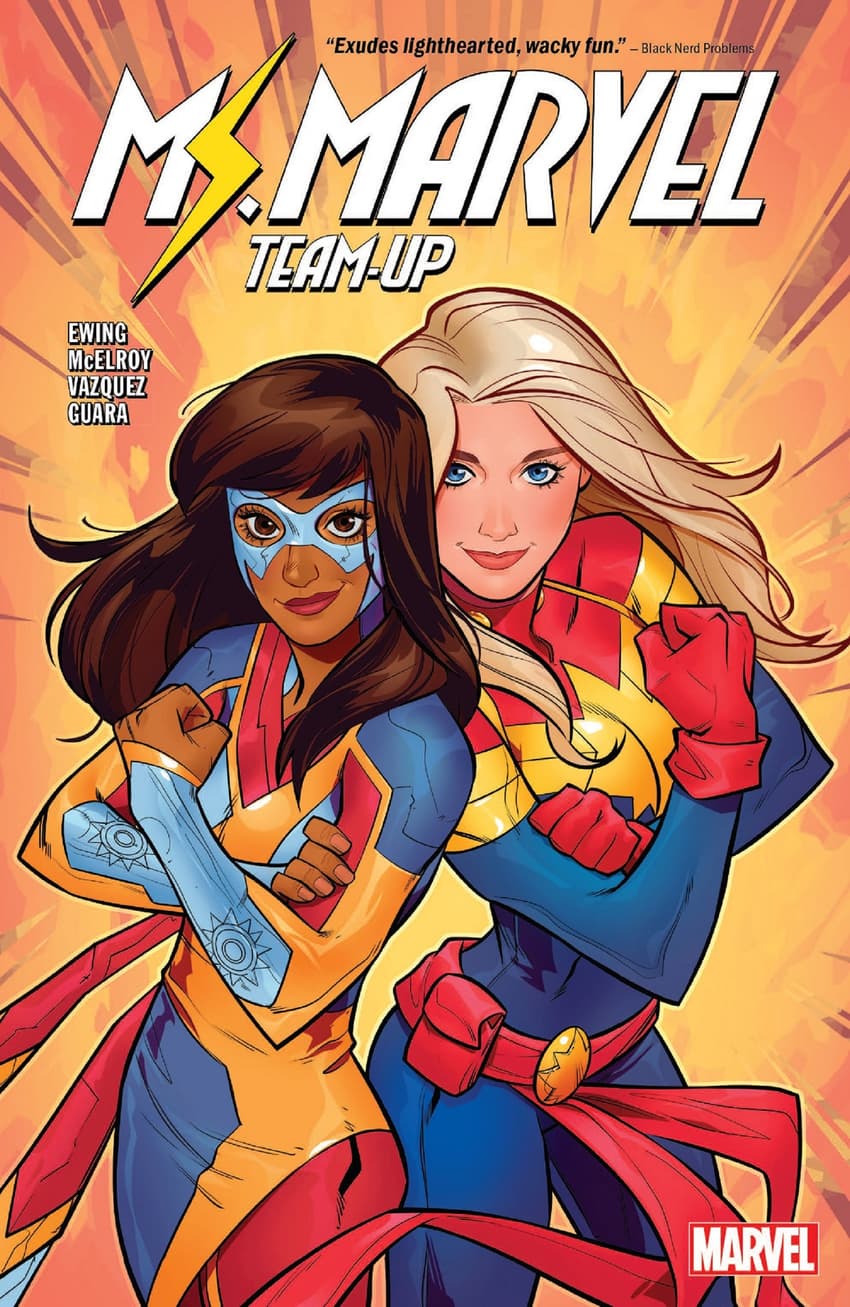 Sale ends June 20, so head over to the Marvel Comics App and read these stories now! 
All purchases in the Marvel Comics App are added to your personal library, and can be read on iPhone®, iPad® and select Android™ devices! Our smart-paneling feature provides an intuitive reader experience, ideal for all types of mobile device and tablet users! 
The Hype Box
Can't-miss news and updates from across the Marvel Universe!