Comics
Published May 26, 2020
How to Tell if You're Now A Super Hero, According to Ms. Marvel
Embiggen!
Kamala Khan knows all about the Avengers — not because she is one, but because she writes a lot of Avengers fan fiction. It's a good thing she's got this handy knowledge because after she finds herself in a very misty situation (Terrigen mist, to be exact) she winds up with powers herself. Even though she loves following the lives of Captain Marvel, Captain America, and Iron Man, she didn't ask to fight crime, stop bad guys, and save the popular kids at school! 
This is a lot for a 16-year old girl from Jersey City to process, and at first Kamala doesn't even believe it herself. All she wanted was to be a "normal" teenager, but now her new normal looks completely different. Oh my embiggen! 
MS. MARVEL VOL. 1: NO NORMAL is currently available to read for free on Marvel Unlimited right this very second! Before you dive into the five-issue arc, here are some handy ways to figure out if you, too, might suddenly be a Super Hero.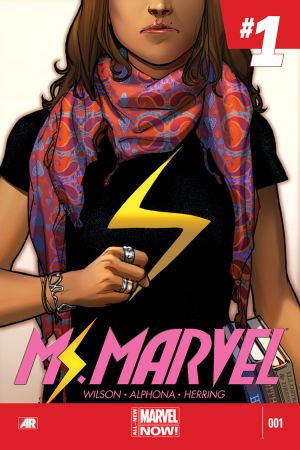 Did you recently go through Terrigen Mist?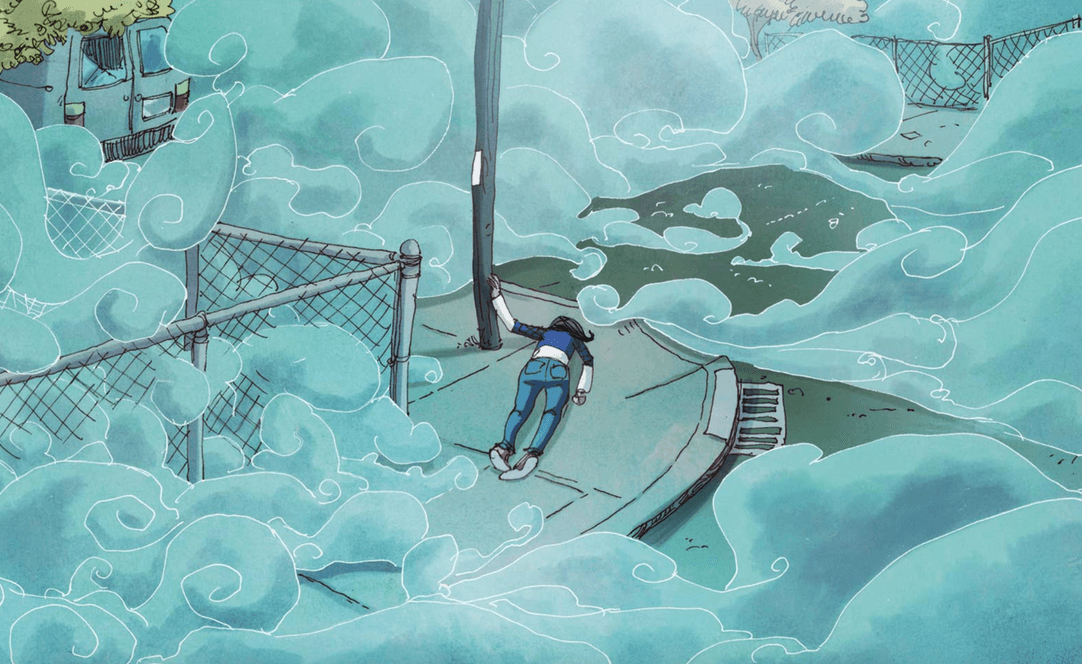 After a leaving a party (which she snuck out to attend...shhh….) Kamala heads home but suddenly feels like she's extremely disoriented. A mysterious mist engulfs her, and believing that she's simply exhausted, she starts to hallucinate the likes of Captain Marvel, Captain America, and Iron Man who have come to talk to her. Little does she realize what's actually happening. 
Do you now look like Captain Marvel?
Kamala complains that she wants to actually look like Captain Marvel, but with giant wedge heels. Well, be careful what you wish for because suddenly that's the exact situation Kamala finds herself in.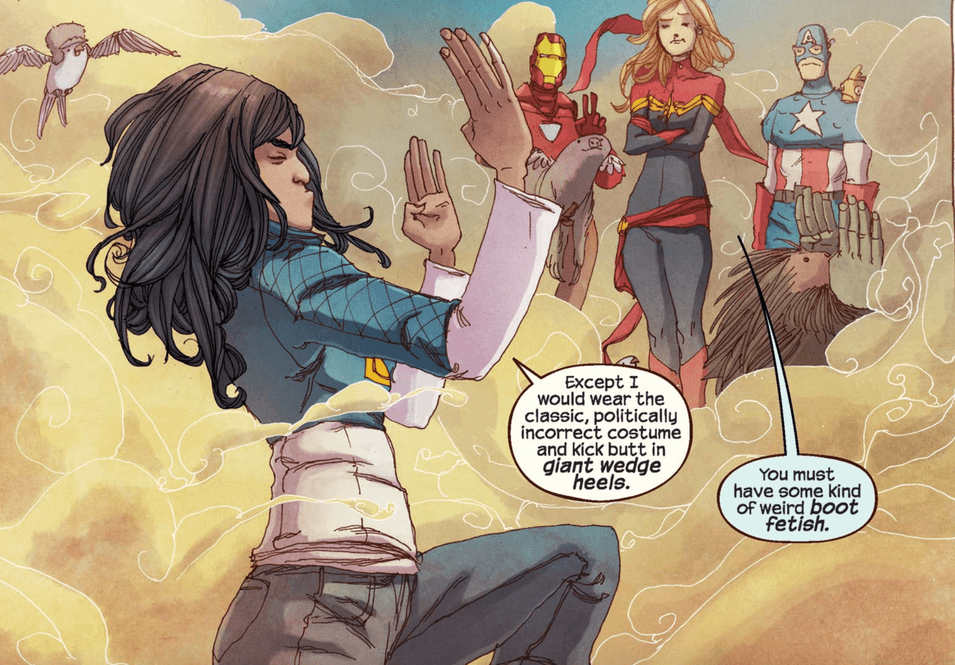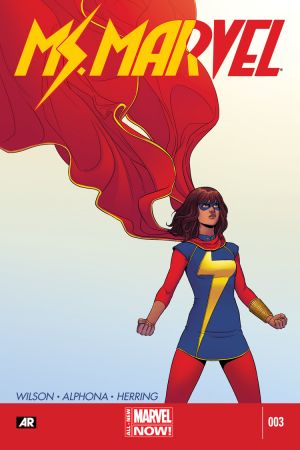 Are you growing and shrinking at an alarming rate?
Before Kamala can really process what's happening, her hands start growing. Then, she starts shrinking! Realizing she can control this with a simple, "embiggen," she uses this newfound ability to save a popular girl at school who has accidentally fallen into the water.
Are you on the local news?
After Kamala saves her classmate, she ends up on the local news, with reports claiming she's Captain Marvel. After Kamala stops a (fake) robbery at her favorite Circle Q while once again bearing a striking resemblance to Captain Marvel, the police shrug off the incident. 
Have you turned your burkini into a disguise?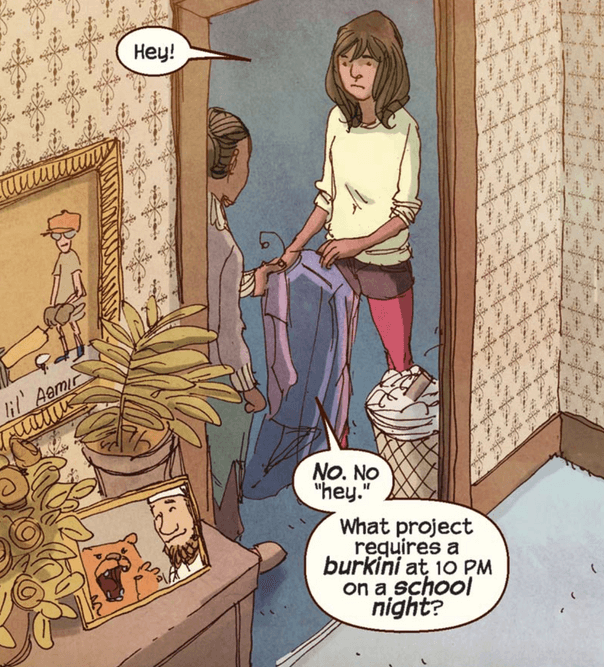 Needing a look all her own, Kamala enlists the help of her friend Bruno to create an outfit that will both shrink and grow with her as she does. Obviously, that requires Kamala to ask her mom for her burkini, a long swimsuit that covers her whole upper body. She uses this to help take on the mysterious (and bird-like) The Inventor.
Have you saved the day? 
Kamala might still be figuring out her powers (and her overbearing parents), but that's not going to stop her from doing what she knows is right to help those in need.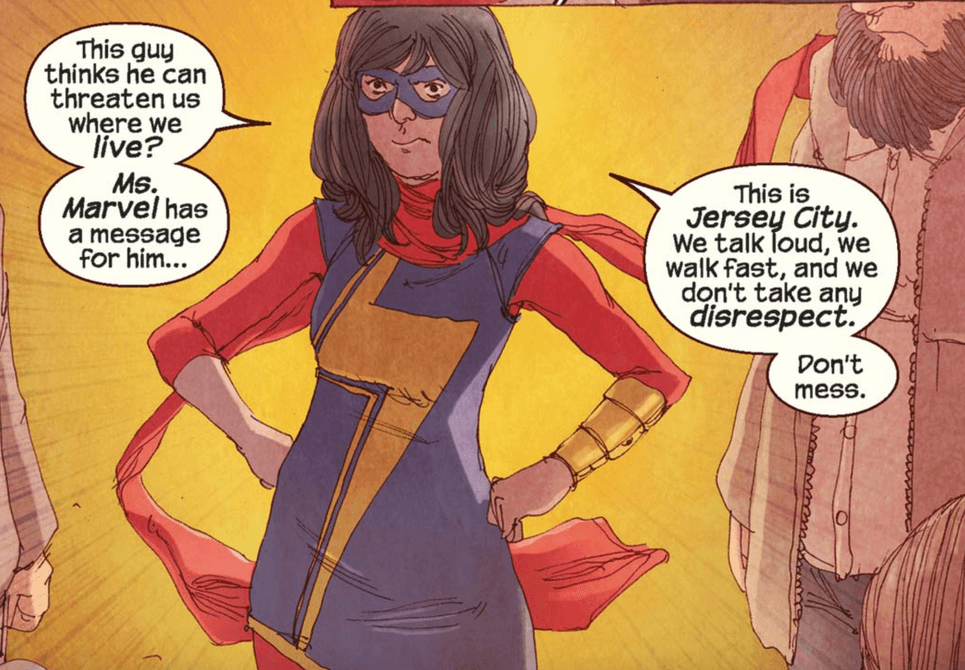 Looking for more iconic arcs, complete events, and Marvel must-reads you can read for free? Read online here, or download or update the Marvel Unlimited app for iOS or Android at the Apple or Google Play app stores today.
For more of Marvel's greatest comic books in print, please reach out to your local comic book shop to ask about services they may offer, including holding or creating pull lists, curbside pick-ups, special deliveries and other options to accommodate. Find and support your local comic book shop at http://comicshoplocator.com.
The Hype Box
Can't-miss news and updates from across the Marvel Universe!