Comics
Published November 16, 2022
Is Namor a Mutant?
Plus all your burning questions about the underwater monarch. (Yes, including those ankle wings.)
Have you tried Marvel Unlimited yet? It's your all-access pass to over 30,000 Marvel comics at your fingertips. Get your first year of Marvel Unlimited for just $60! Use code MUSAVE60 at checkout.
Half-human and half-Atlantean, the mutant Namor the Sub-Mariner has fought both with and against mankind.
This sometimes-Avenger, Defender, X-Man, and even member of the Illuminati fits into quite a few places in the Marvel Universe—which makes sense given that he rules over 70% of Earth's surface.
But many questions remain about this underwater monarch and his famous ego. That's why we've plumbed the depths of comics history to tell you the complete story of the antiheroic Sea King and Golden Age mainstay.
FIRST OFF, HOW OLD IS HE?
Namor is, in fact, quite old. He is a Golden Age wartime hero from the Timely Comics era, the publishing house that preceded Marvel Comics. In our timeline, Namor debuted nearly 85 years ago in MOTION PICTURES FUNNIES WEEKLY #1. This issue from 1939 featured the very first Namor story from his creator, writer/artist Bill Everett. In the timeline of the Marvel Universe, it is believed that Namor was born around the year 1920 making him over a hundred years old. Read one of his pivotal appearances (alongside original Human Torch Jim Hammond) in MARVEL MYSTERY COMICS (1939) #8.
WHEN DID HE FIRST SURFACE?
After first appearing in MOTION PICTURES FUNNIES WEEKLY, Namor shifted over into MARVEL MYSTERY COMICS (1939) (née MARVEL COMICS) which he co-starred in with the likes of the original Human Torch, Angel, and Ka-Zar, before headlining SUB-MARINER COMICS (1941) and appearing in plenty of crossovers. Though he was mistrustful of the surface world, the Sub-Mariner went on to join forces with Captain America, Bucky Barnes, and other heroes to fight against the Axis during World War II. Namor carried on this solo title until 1955, yet didn't show up again in Marvel Comics until FANTASTIC FOUR #4 in 1962. What happened between those adventures? Namor's memories were tampered with, he forgot who he was, and he lived on the streets of New York City until Johnny Storm recognized him. With the help of the Fantastic Four, Namor was able to recover his true identity.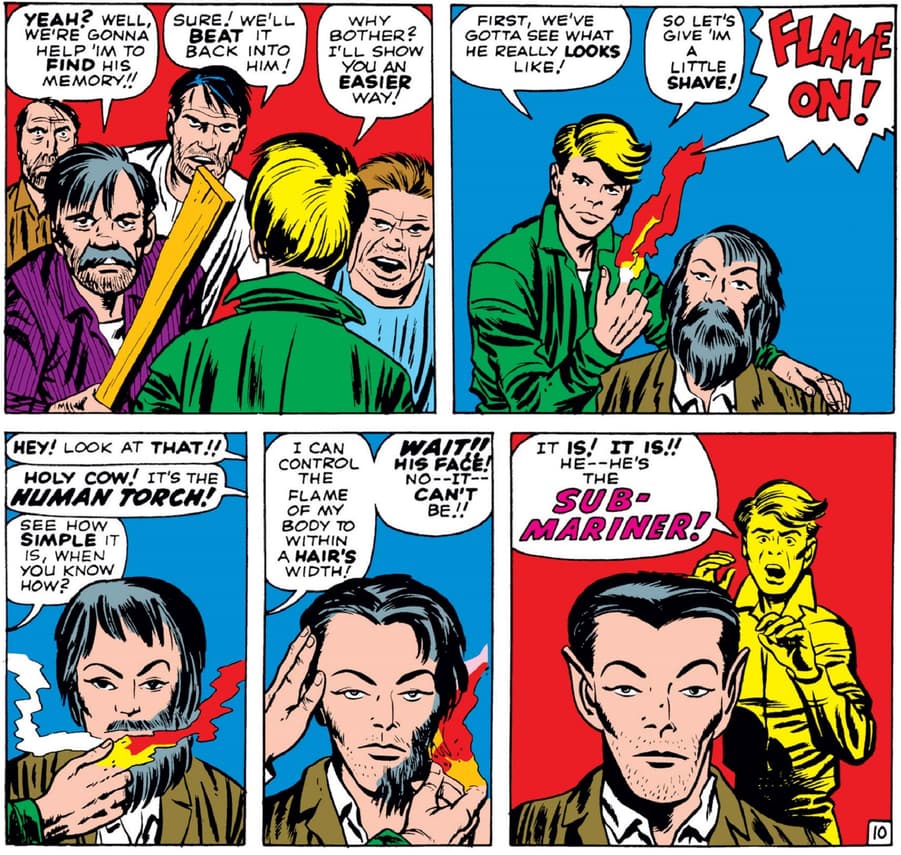 WHERE DOES HE COME FROM?
In 1920 Captain Leonard McKenzie lead a naval expedition to the Antarctic Circle that went sideways and also drew the attention of a far-reaching underwater people, the Atlanteans. This led to a meeting between McKenzie and Atlantis' Princess Fen. Despite his outsider status, the two fell in love and had a surface marriage (as recalled in series SAGA OF THE SUB-MARINER). However, Leonard died in an attack from Fen's father who did not know what had happened to his daughter. In the aftermath, a heartbroken Fen returned to Atlantis pregnant with baby Namor—a half-human child destined to be born in her father's underwater kingdom.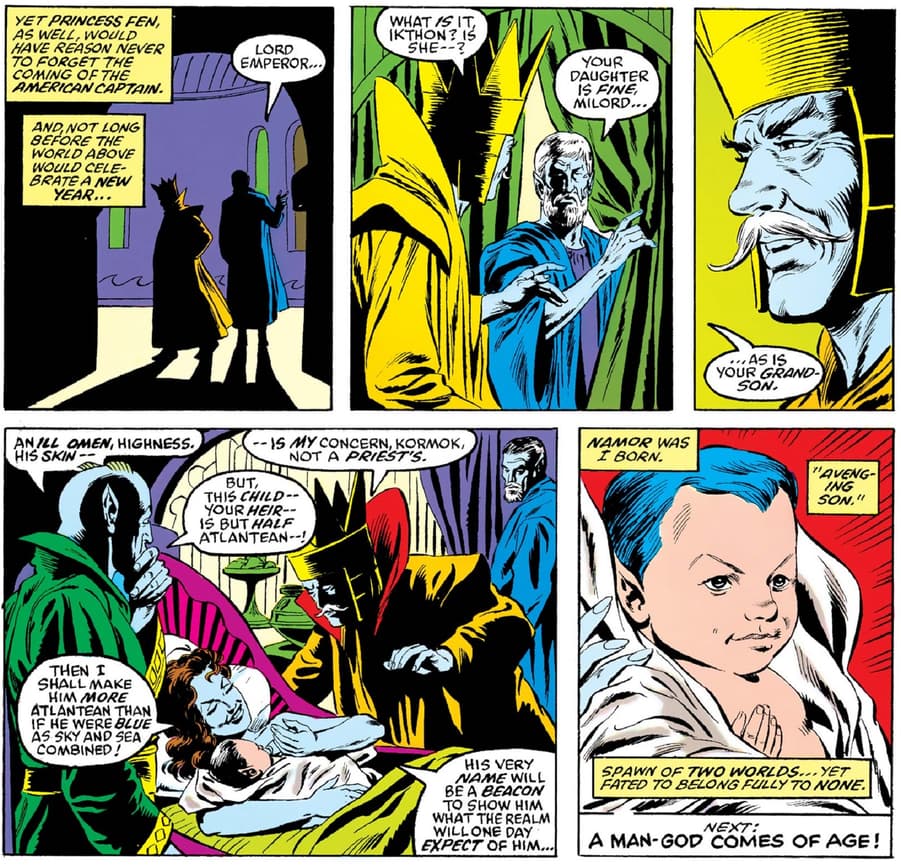 WHAT'S THE DEAL WITH ATLANTIS?
In the Marvel Universe, the undersea kingdom of Atlantis started out as an important continent floating in the ocean, rivaled by the mighty Lemuria. Around 10,000 BC, a Celestials-powered earthquake dubbed the Great Cataclysm sent it underwater. Atlantis grew and thrived on its own path until more modern times when interactions with the surface world led to ongoing conflict (fueled by the rampant polluting of the oceans). As a member of the Royal Family, Namor has been a prince and king of Atlantis, though it has not been an unbroken reign.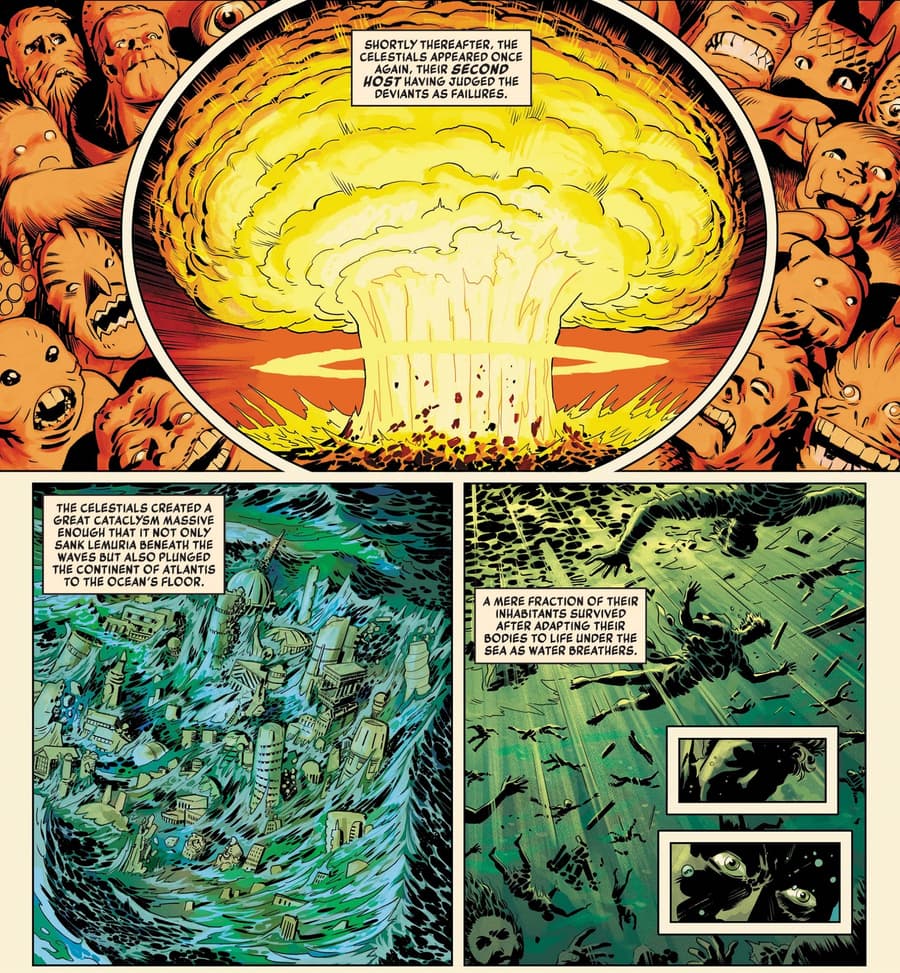 IS HE A MUTANT?
Yes, Namor is a mutant. During his period of memory loss, Namor actually met Charles Xavier and the two searched the globe for more of their kind as revealed in INVADERS (2019) #4. However, this wound up breaking Namor's mind even more and he returned to New York City to reset. Later, after Professor X founded the X-Men and Namor had resurfaced, Magneto sought out the sea lord as a potential member of the Brotherhood of Mutants (UNCANNY X-MEN #6). Namor was not interested in an alliance at that point, but did officially join forces with the X-Men years later after his people had suffered a great deal and the mutants had built their own island nation, Utopia. Though Namor is still occasionally allied with the X-Men, he and the Atlanteans went their separate ways after Utopia was destroyed.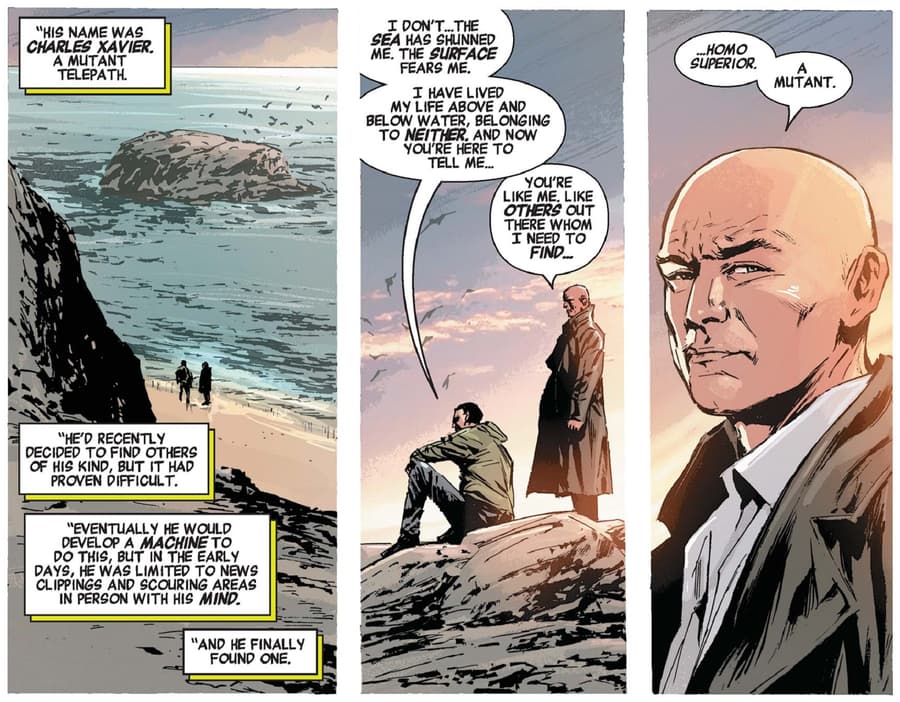 HE CAN FLY?!
Not only a mutant—but an Atlantean-human hybrid—Namor has a very unique physical make-up. He exhibits the long life and increased strength, stamina and durability of an Atlantean, though all of those attributes seem enhanced due to his genealogy. On top of everything else, he can also fly with the aid of fins on his ankles that look very much like avian feathers. (And, was one of the first heroes to fly on his own in Super Hero comics!). This mix of powers have made him a formidable being and a mighty frenemy, equipped for battle just about anywhere.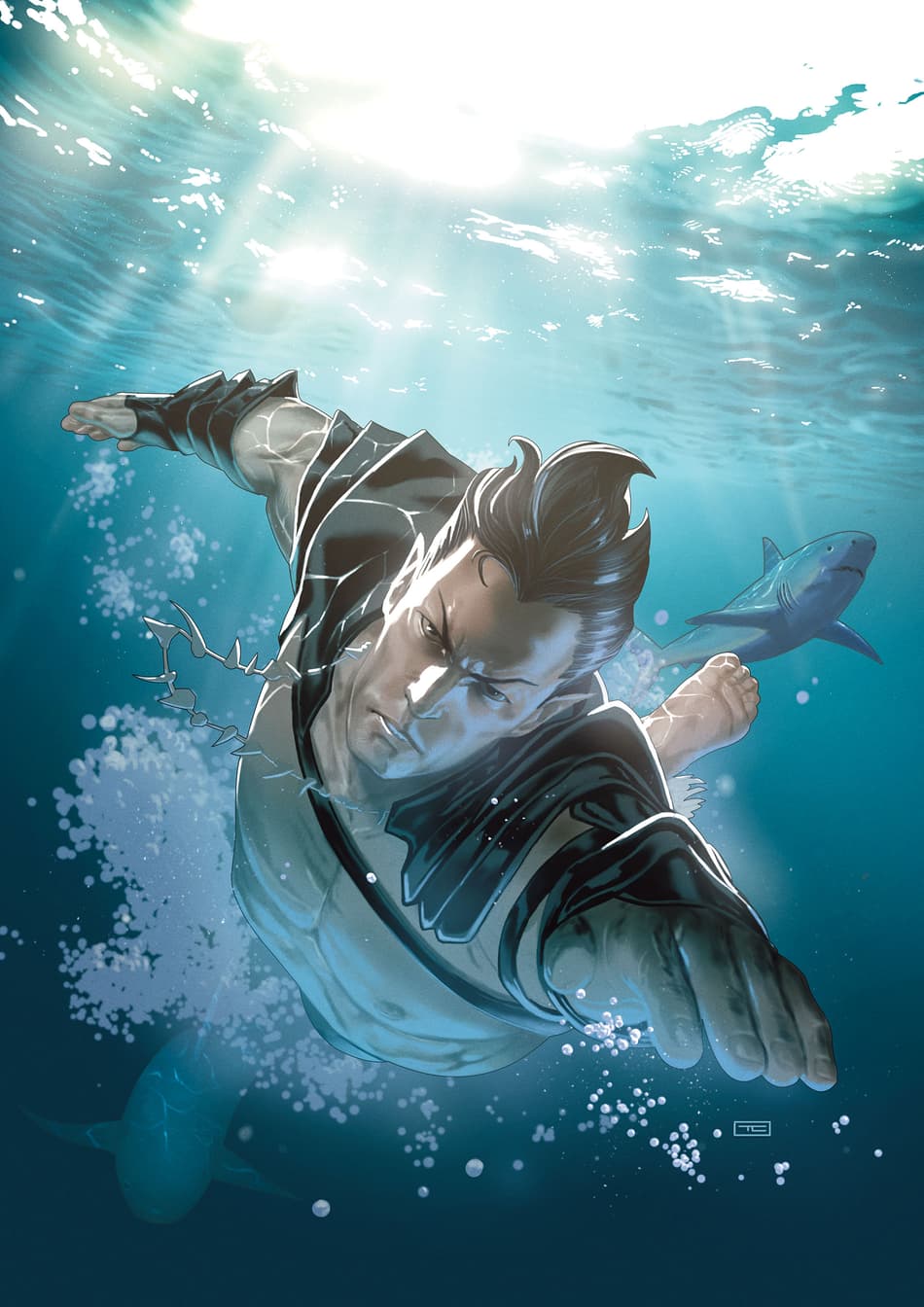 IS HE A HERO OR A VILLAIN?
Depends on who you're asking! And even his Atlantean subjects might differ in opinion. On the one hand, Namor fought alongside the wartime hero Invaders, but has also teamed up with Doctor Doom on more than one occasion. (Yes, that overlord ruler of Latveria.) He's been a member of the Avengers, the Defenders, the X-Men and the Illuminati, but has joined forces with Thanos. Then again, without his efforts, Doctor Doom might still be in control of what was left of reality as seen in SECRET WARS (2015)! So, the real answer to the question is: Yes.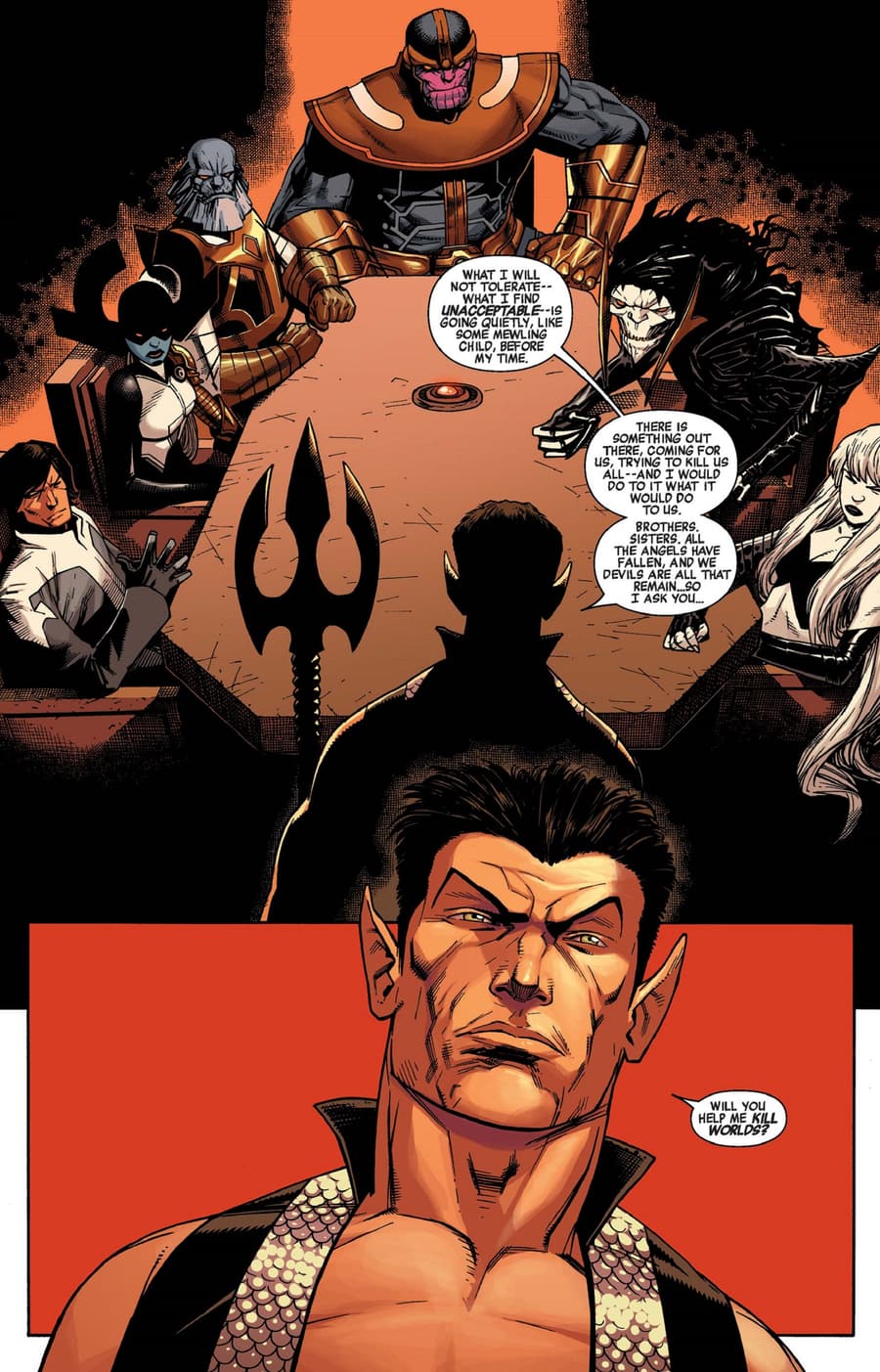 WHO'S HE MAD AT NOW?
Never one to back down from a slight whether real or perceived, Namor has mixed it up a bit lately including against his former teammates in the Invaders and the Avengers. However, after something of a change of heart and important assistance from Earth's Mightiest Heroes, the Sub-Mariner has been reinstated as an Avengers ally against the Multiversal Masters of Evil, Mephisto's Council of Red, and the Progenitors as seen in recent issues of AVENGERS (2018) and A.X.E.: JUDGEMENT DAY! But given his temperamental nature, don't expect any good feelings to last for long when it comes to Namor!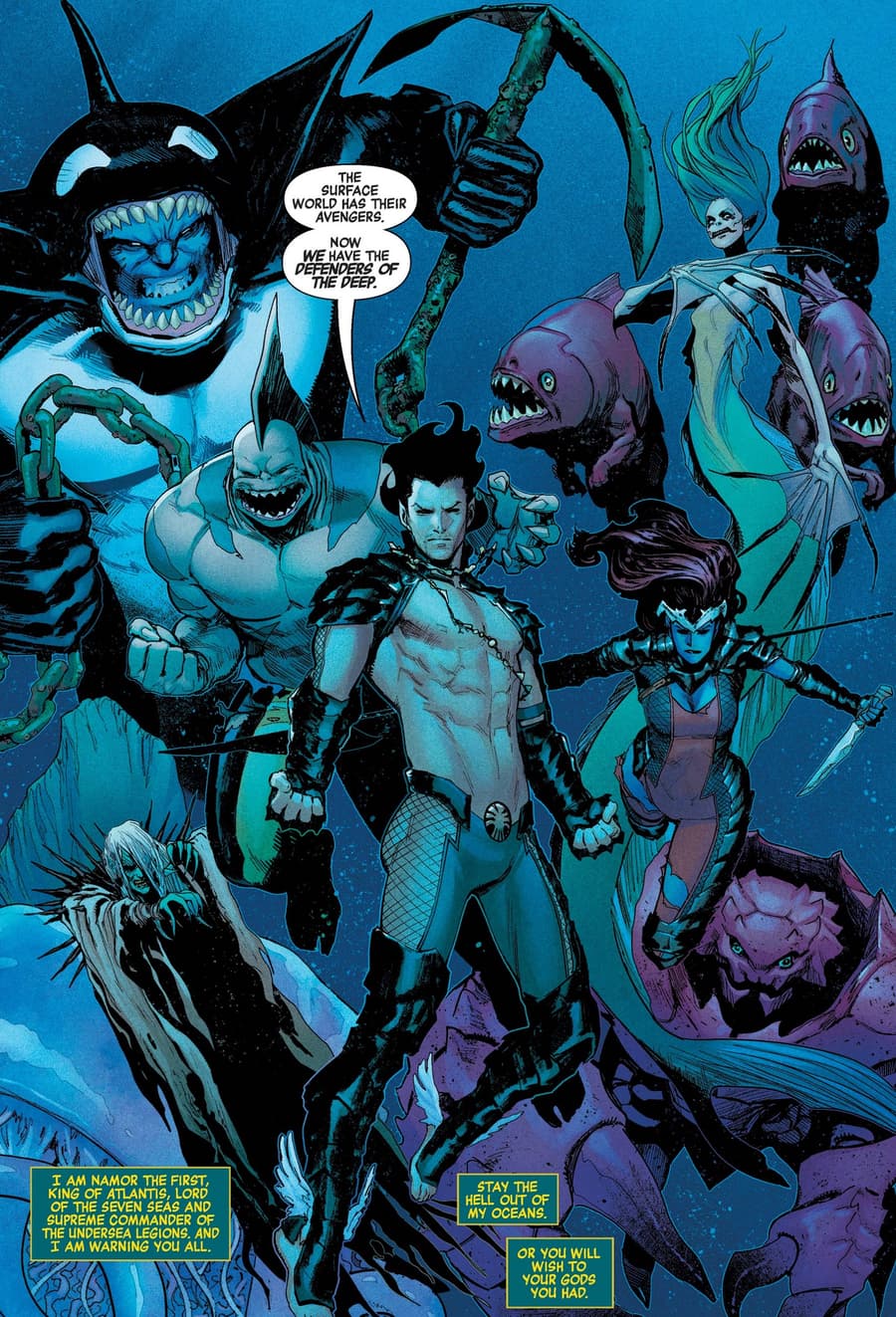 The Hype Box
Can't-miss news and updates from across the Marvel Universe!