Comics
Published April 12, 2021
The Eternals Rebooted
Never Die. Never Win. Who are the Eternals? Find out now on Marvel Unlimited.
Have you tried Marvel Unlimited yet? It's your all-access pass to over 28,000 Marvel comics, all available at your fingertips. Sign up now and get your first year for $60!*
WARNING! FORBUSH FORGIVE US, BUT THIS ABSORBING ARTICLE CONTAINS SPOILERS FOR TODAY'S ETERNALS #1—READ ON AT YOUR OWN RISK!
New on Marvel Unlimited: A long, long time ago, alien space gods came to Earth. They made 100 Eternals. They made 100 Deviants. Then they left.
From the expansive minds of Kieron Gillen and artistic powerhouse Esad Ribić comes an iconic new vision of the classic Marvel mythology. ETERNALS (2021) ushers in a bold chapter for this immortal race of super-beings, plus an inside look at their clandestine, forgotten world(s).
What would you do if your very purpose—your intelligent design—was called into question? Following their mass death in the pages of AVENGERS (2018) #4, the Eternals face resurrection on the orders of their Eternal Prime. And, since Ikaris was the last to die, he is also the last to return. Because only death is Eternal.
Read our top takeaways from ETERNALS #1 today, and continue this spacey saga of gods and the god-beings who worship them on Marvel Unlimited.
1. THE MISSION STATEMENT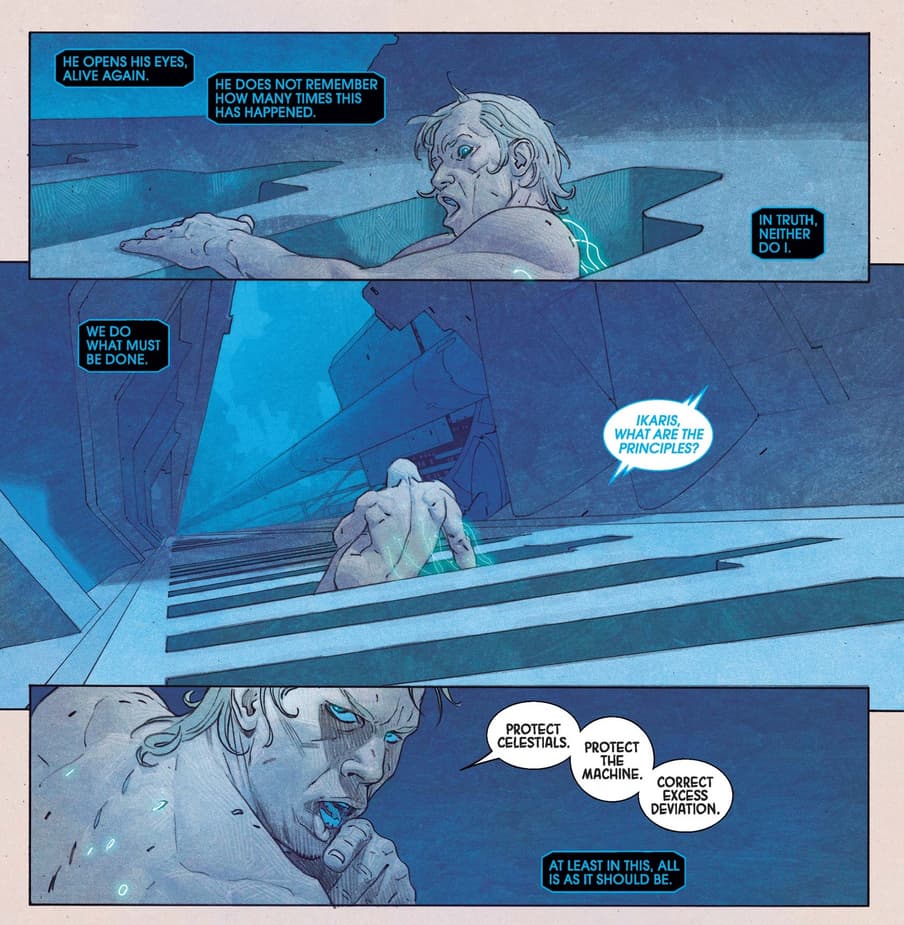 Protect Celestials
Protect the Machine
Correct Excess Deviation
The hot-headed Ikaris is taken off ice for what may be the hundredth time to "do what must be done." And while the Eternals' resident warrior may remember how he died, he must now remember how to live. Like all Eternals, his order of business is hardwired into his being. Step One: Ensure that the Celestials,  the Eternals' master architects, remain free from harm. Step Two: Keep "the Machine" operating at all costs. Step Three: Wipe out the Deviants.
And Step Four: release Sprite?!
2. RESURRECTION OF SPRITE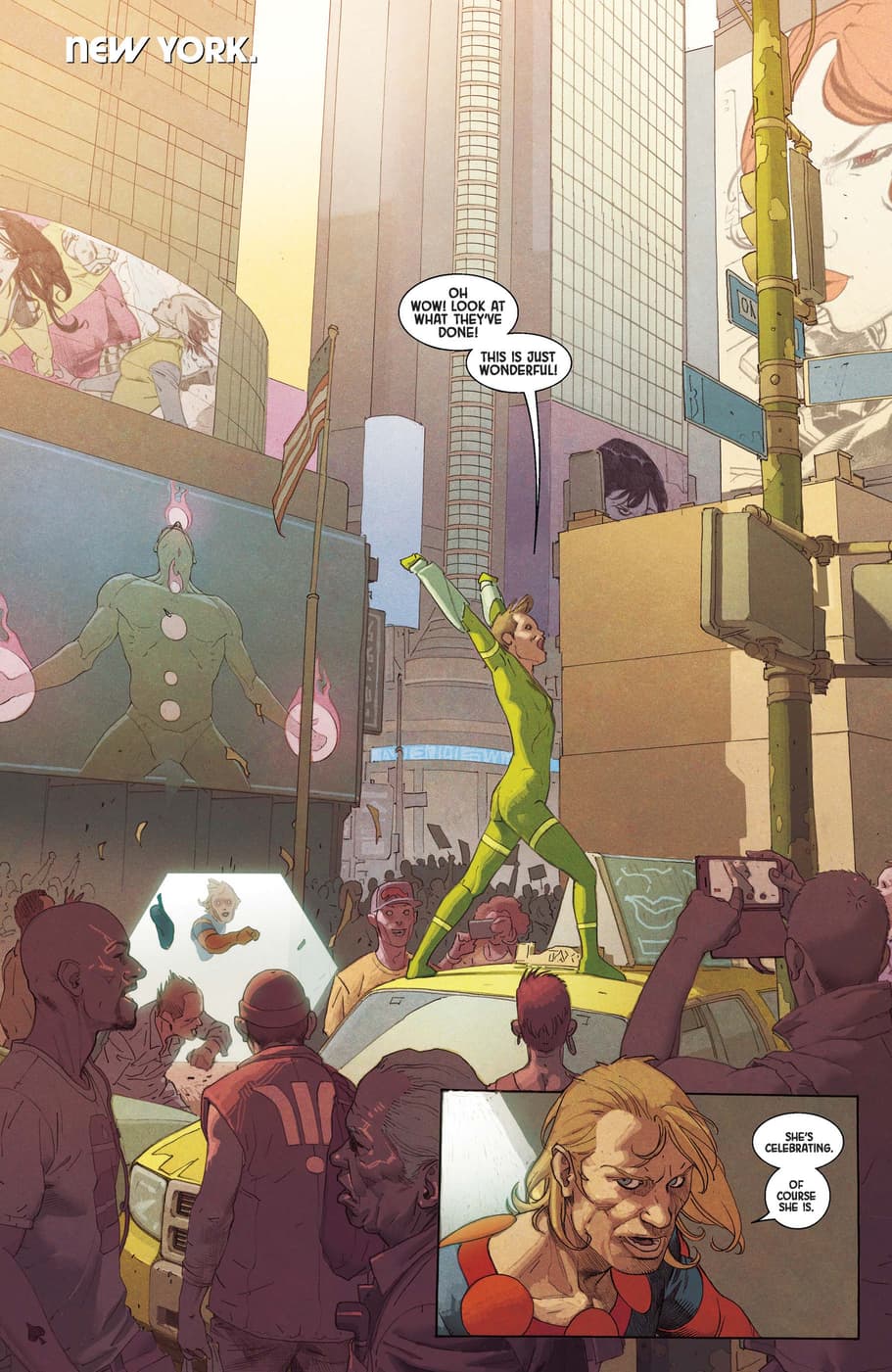 She's back! The eternally-youthful Sprite is taken out of "Exclusion" despite being a really naughty kid. In a past backup, Sprite grew bored of her eternal station, and sought to destroy "the Machine." An essential mode of transport and the source of the Eternals' molecular transfiguration, the Machine's near destruction threatened their entire way of life. But Eternal Prime Zuras believes that Sprite is ready for a reckoning. At least he hopes...
3. EARTH IS WATCHING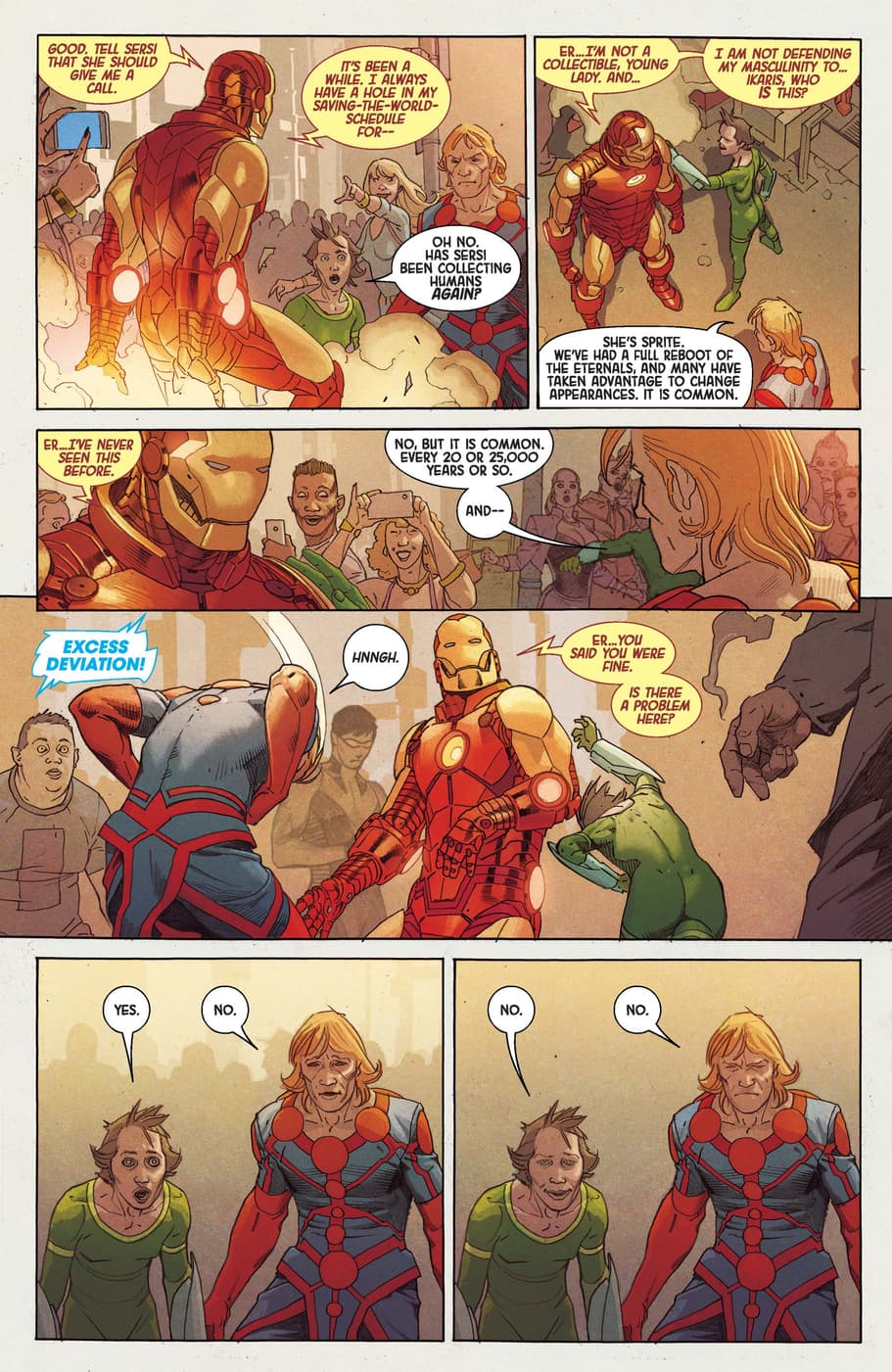 Especially Tony Stark. After her escape and reckless frolic through New York City, Sprite gains the attention of the Armored Avenger. And Stark has questions! After all, the last time he saw the Eternals, their dead bodies were piled high following a battle against the "Final Host." But since the "Eternals gotta Eternal," Stark lets Ikaris and Sprite go their own way to fight some monstrous foes.
As for why Sprite is wearing a new face and body? Turns out that the Eternals can change their appearance every 20,000-25,000 years. A common occurrence.
4. EXCESS DEVIATION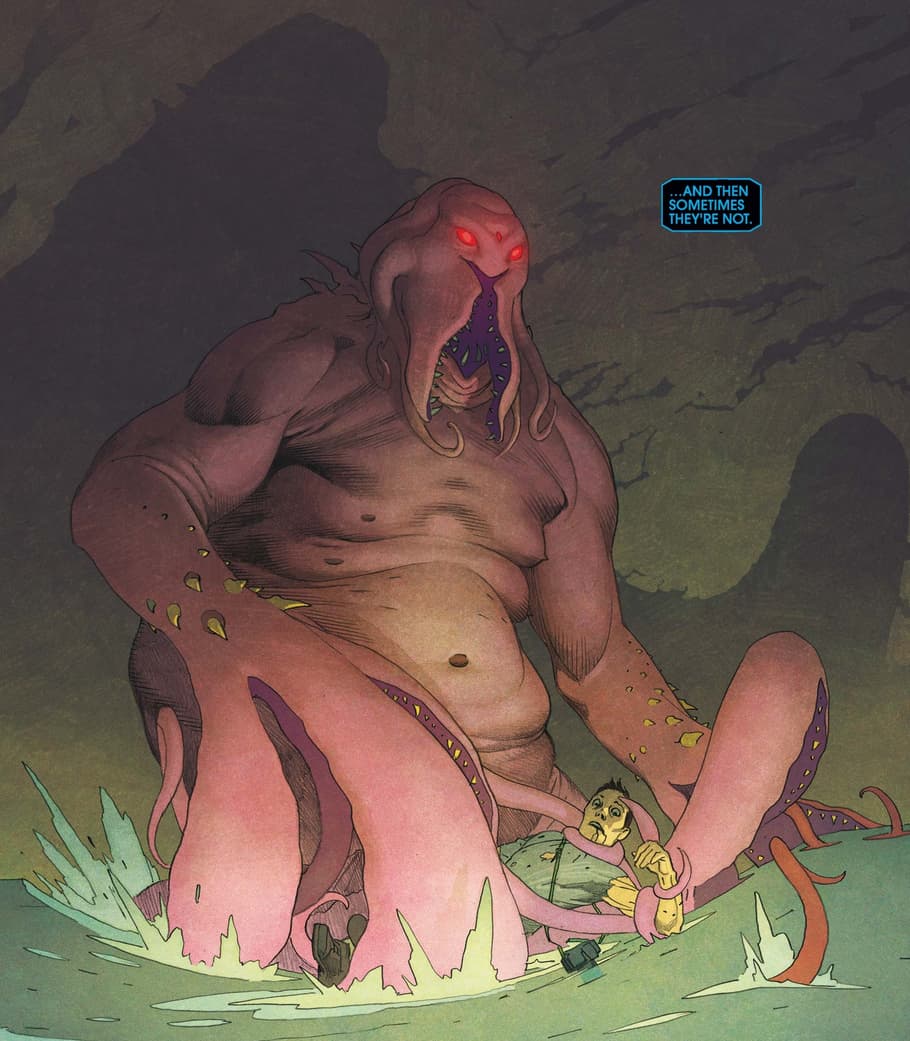 Fulfilling one of their three prime directives, Ikaris and Sprite waste no time at all wasting a Deviant in New York's underground. It's still unknown how many of these shambling, primordial beasties roam the Earth, but the Eternals are committed to making sure that they don't spread.
The byproduct of the Celestials' genetic tampering all those millions of years ago, the Deviants represent what is "lesser" in the Eternals. Trapped in a perpetual war between their originators and their "superiors," the Deviants continue to confound and evolve with new deviations... including the ability to survive off human flesh.
5. DEATH OF ETERNAL PRIME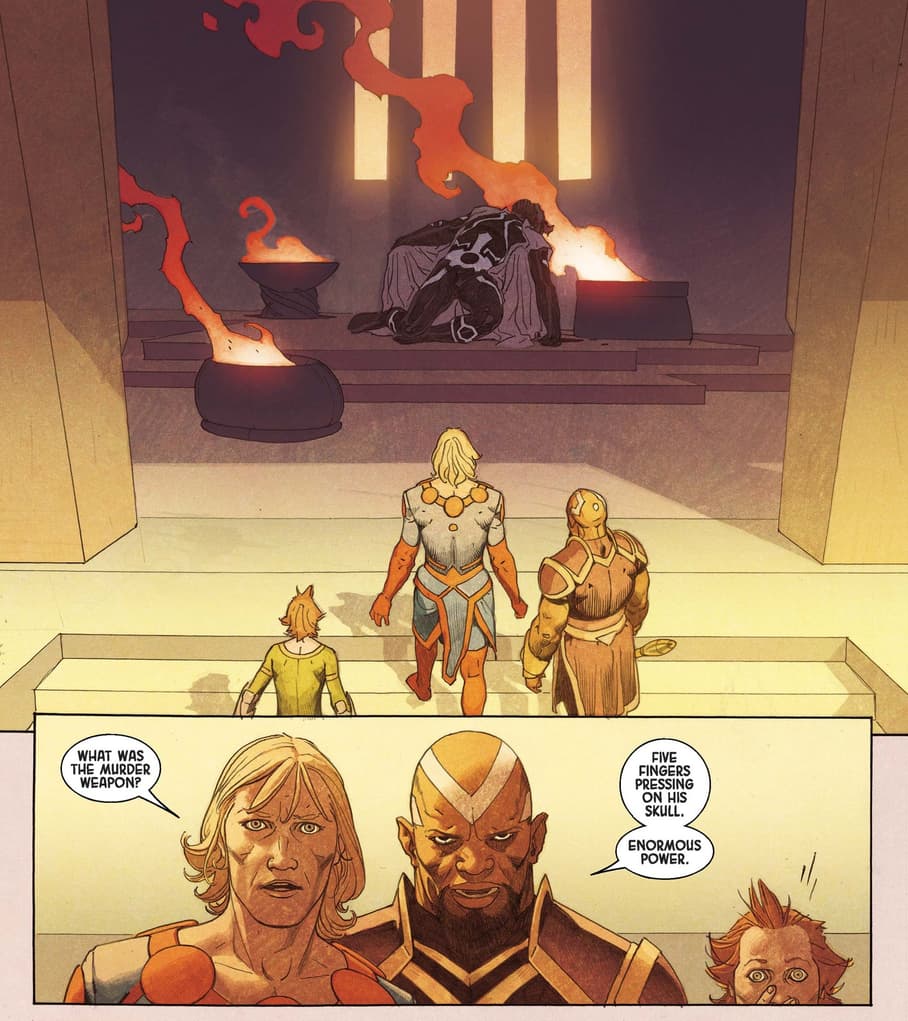 A timely return... and an untimely end! Soon after he issues the order for Sprite's resurrection, Zuras is taken out by an unknown assailant. It's all very disturbing for Phastos and the Eternals of Olympia, now leaderless and seeking answers. And, while Zuras' backup can be brought back online, a greater mystery looms. Whoever killed him made their escape via the "Displacement Network," meaning that the murderer must have some trace of Eternal lineage. But who in all the cosmos would be such a cold, calculating turncoat to their own kind?
6. THANOS!
Following a distorted energy signature from the Machine, Ikaris and Sprite  trail Zuras' assassin to the Eternals' fallen capital—Titanos. And who should be lying in wait but "cousin Thanos."
The Mad Titan shares a genetic link to the Eternals via his paternal bloodline, since his father, A'Lars, was the brother of Zuras. By issue's end it is revealed that Thanos is behind his uncle's demise, setting up Ikaris for the fight he's been waiting on for a millennia. But wait, isn't Thanos supposed to be dead?
[RELATED: The Heady History of the Eternals, the Deviants, and the Celestials]
Continue ETERNALS (2021) monthly on MU, and get a sneak peek at what's right around in the corner in issue #2.
Follow Marvel Unlimited on Twitter and Facebook to stay tuned in to weekly announcements, articles, and more, all at @MarvelUnlimited. Follow us today to join the conversation with thousands of fellow fans, and let us know what you're reading!
*(plus tax where applicable) All prices in US dollars. Offer valid 4/12/2021 12:00 AM ET to 5/15/2021 11:59 PM ET on annual memberships only. First year billed upfront at a one-time payment of $60.00; subsequent years billed annually to the payment card on file at the then-current annual subscription fee (currently $69 per year) unless and until cancelled. Offer is open to new and former (now-cancelled) Marvel Unlimited members. Valid payment card required to redeem offer. Auto-renewal and others terms and conditions apply. See here for additional terms.
The Hype Box
Can't-miss news and updates from across the Marvel Universe!