Comics
Published December 12, 2017
Psych Ward: Maniac
Who is spreading symbiotes through NYC? Marvel.com's resident therapist hypothesizes.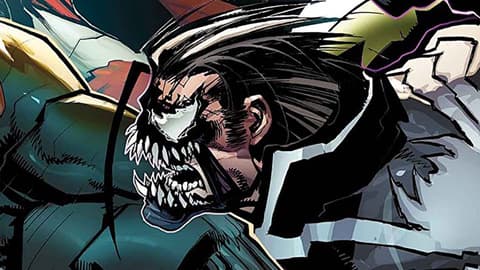 After being contacted by the S.H.I.E.L.D. agent Bobbie Morse, aka Mockingbird, this profile of the super powered criminal known as Maniac was prepared. As details are scant, this summary relies on a significant amount of conjecture and hypothesis in lieu of an in-person intake or other therapists' notes. Please account for this in reviewing it.
The subject, the criminal — colloquially, a super villain — Maniac is most likely Lee Price. Price had recently been identified as a criminal associate of Felica Hardy, aka the recently regressed criminal Black Cat, and a former host of the symbiote that creates the Venom identity (former hosts include Eddie Brock and Flash Thompson).
The subject's childhood was marked by chaos and trauma. His parents frequently fought with one another and abused him in multiple ways including verbal, physical, and via neglect. To make matters worse, Price did not connect well with others his own age — either because of difficulties in his home or other personality factors — and as a result had a limited social support network. The one friend this writer was able to locate mention of in old New York State Office of Children and Family Services (OCFS) records reacted violently when authorities attempted either contact or arrest — depending on accounts — of said child because he was a mutant.
Maniac's apparent attempts to spread symbiotes to others, when viewed through the lens of his past, thus makes a kind of sense. He is creating a network of friends/families on whom he can rely for companionship, comfort, support, and shared goals. However, he is unable, seemingly, to trust others to be with him because they wish to – he does not trust them to do it of their own free will. Thus, the bits of symbiote he ensnares them with eliminate their free will and, essentially, force others to become his friends/partners in crime.
Previous to now, the only place that Price seemed to feel mastery and find a sense of camaraderie with others is as a member of the US Rangers. This also offers some explanation for why he'd desire to build his own team. However, ultimately, the Rangers cost him three fingers and medically discharged him, leaving him once more alone. Therefore, once again, he is seeking to control his environment by refusing to allow others the free will to "ruin" his group.
The subject is definitely fueled by a desire to achieve mastery once more. This is held up by testimony from Eddie Brock via his connection to the Venom symbiote. When Brock helped separate the symbiote from Price and successfully rejoined it, he claims the symbiote provided him information about the previous host. In this case, the alien "told" Brock that the subject refused to merge with the creature and "work together" and instead sought to bend the symbiote to his will. Rather than fully tap into what the alien could offer the subject, Price made it more of a tool, choosing control over increased power and/or efficiency. Again, this speaks to a lack of trust in others to stick with him.
What this does not do is offer much insight into what Maniac's end goals might be. Does he seek to infect everyone and thus, in essence, make everyone his family? Is he looking to strike out at old resentments, a possibility reinforced by rumors about those he has recently converted? Is this a limited time thing or would he prefer to maintain it as long as possible? This writer hesitates to guess at this time with the resources available to me.
For a more in-depth exploration of symbiotes and how they can influence behaviors, I have referred S.H.I.E.L.D. to Doctors Mike Costa and Gerardo Sandoval who are experts in the field. Even though Lee Price has sought to dominate his alien "companion" it may still be influencing his thoughts, feelings, and behaviors and any thorough profiling should account for that. The report will be available on January 10 in the file marked VENOM #160.
Psy D. Candidate Tim Stevens is a Staff Therapist who is only influenced in his thoughts, feelings, and behaviors by the union of chocolate and peanut butter.
The Hype Box
Can't-miss news and updates from across the Marvel Universe!