Comics
Published September 11, 2017
Psych Ward: The Wizard
Getting inside the brilliant but troubled mind who guides the Frightful Four.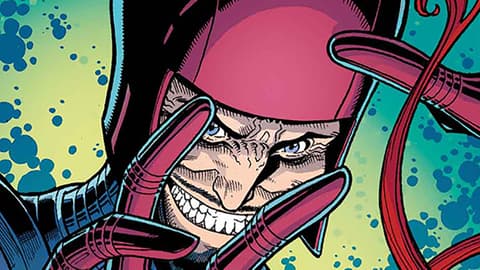 This file is nearing its digitize and destruction date as we have had it in storage for the required length of time. Just sending it on to you to make sure there are no existing legal concerns or outstanding issues with the client that would necessitate us not to moving forward. Please review and get back to me immediately.
Bentley Wittman is an adult male who appears to be in average physical health. He admits to being a career super criminal who goes by the alias of The Wizard. He recently became known as the leader of the Frightful Four, a villainous team that includes Medusa, one of the so-called "Inhumans" who news reports indicate have arrived in New York City and begun to sow chaos. While the Wizard refused to indicate his involvement or lack thereof in their presence, his presentation bordered on prideful delight.
The client has been required to attend sessions as part of a super villain deferment program the current administration is pilot testing. He arrives on time and is well dressed for each appointment and indicates his displeasure if previous clients run long or anything occurs that pulls focus from him during the course of session. He clearly enjoys talking about himself to this therapist although he rarely says anything of substance unless it is to set up a story about he triumphed over adversity.
Between the requirement he attend therapy and his own barely hidden contempt for anyone and everyone around him, it is hard to see helpful results coming from these sessions. He believes all are inferior to him, therefore almost no insight or observation is taken in or pondered. On the rare occasion something does manage to pierce his inflated sense of self, he often reintroduces it moments later as though he had thought of it, without any stated recognition of where the idea had come from.
His diagnosis of Narcissistic Personality Disorder seems without question. He does possesses qualities associated with Antisocial Personality Disorder but most of his criminal activities seem to extend from a sense of superiority, not a lack of morality. However, given the scope of the incidents he has been involved in, it does feel important to continue to monitor for the possibility of anti-sociability.
In accordance with the court and government's request this writer will continue to work with this client, but does urge his placement is reconsidered. The program itself may still well prove useful but it is my assertion that Bentley is a uniquely bad choice for it.
In deciding whether or not to move forward with the process of digitizing and destruction of this record, please refer also to Doctors Christopher Priest and Phil Noto's work with him. Those records are available in the file INHUMANS: ONCE FUTURE KINGS #3 which will also be up for similar review on October 11.
Psy D. Candidate Tim Stevens is a Staff Therapist and likes flashing back to earlier days because oh how pretty he used to be.
The Hype Box
Can't-miss news and updates from across the Marvel Universe!