Comics
Published December 1, 2016
ResurrXion Files: Jean Grey
Dennis Hopeless helps the psychic powerhouse strike out for her first ongoing series!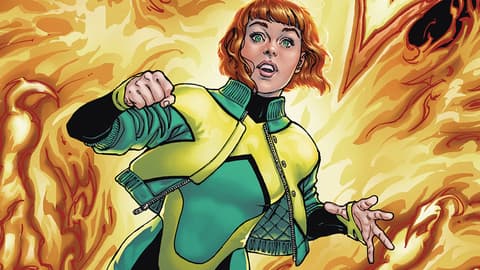 X-Men fans have followed the adventures of Jean Grey over the years, and for many readers, she has become a favorite character. Soon, she'll have her own series for the very first time. We'll get to see a time-displaced Jean battling some of her classic demons—but will things play out differently this time?
We caught up with series writer Denis Hopeless about what we can expect from him and artist Victor Ibanez.
Marvel.com: ResurrXion will shake things up across the X-Men titles—have you enjoyed taking part in and helping to shape that?
Dennis Hopeless: Because I've done ALL-NEW X-MEN for over a year and I contributed to the initial planning of everything leading up to Inhumans Vs. X-Men, I've seen it on the horizon for a while now. I knew it was coming, and I could plan into it. Because I'm going from writing all the time-displaced X-Men except Jean Grey, to writing just Jean, I've had to make a transition, but I've had fun with it. It feels sort of like starting over fresh.
Marvel.com: Jean will be going up against the Phoenix, a classic conflict for her. Can you tell us your experience with writing a story that's familiar in some ways but also new?
Dennis Hopeless: We wanted to do a couple different things with this, because Jean has never had a solo series before. We wanted to do something that's new and unique, but that also gives readers that classic Jean Grey feel that they love.
Now, we have a teenaged Jean Grey who hasn't had all the experiences that the adult Jean did.
I spent over a year on ALL-NEW X-MEN delving into the other time-displaced X-Men and exploring how they live in the shadows of their older selves. In Jean's case, her older self has died. Still, when you say the name "Jean Grey" or "Phoenix," people already have an idea of what that represents—but that isn't her. I wanted to take teenaged Jean and put her up against this massive, monolithic thing that the other Jean had to deal with and see how she'd handle it differently. I wanted to write something brand new that still takes advantage of this classic, beloved character.
Marvel.com: As you mentioned, we'll see a time-displaced Jean, trying to avoid the fate of her predecessor. How will things go differently this time around?
Dennis Hopeless: Very early in our series, we see her confronted with the idea of the Phoenix coming, and the reality that they need Jean Grey to stop it. But she's not the Jean Grey they need, and the older Jean Grey has died. So she needs to level up. She needs to become a prepared Jean Grey by the time the Phoenix arrives. So she puts herself through a lot of things to try to get ready for something she can't really prepare for. And I think a lot of people can relate to that—especially readers around her age. During those post-high school, early college years, you want to figure out the adult you're going to become, but you largely base that on the experiences you had growing up and the expectations others have put on you.
Marvel.com: Jean seems like a complicated person with a lot of nuances that you'd want to get across. How did you approach developing and conveying her character?
Dennis Hopeless: In 2011, I worked on X-MEN SEASON ONE. We took the original five X-Men during the Stan Lee/Jack Kirby era and kind of updated them, adding a little more character. Jean posed a challenge because the writers hadn't developed her as much in those early issues. We leaned into that with that book and made Jean the protagonist. So I put a lot of energy years ago into figuring this out. And in a lot of ways, [Brian Michael] Bendis and company brought that updated version of the character to the initial ALL-NEW X-MEN run—the more fleshed out, well-rounded, teenaged version of Jean. And she has had some crazy experiences lately, but she remains distinct from the adult Jean. In regular continuity, she becomes a really interesting character much later. So now we see her kind of in between those points, living in the shadow of all of the crazy events that never actually happened to her. That's where the nuance comes in for me: taking that early Jean I figured out years ago and adding to that the weight of Dark Phoenix and Scott and Emma and all of these experiences that she didn't have but everyone else remembers.
Marvel.com: Would you like to tease anything else?
Dennis Hopeless: Sort of similar to what I did in ALL-NEW X-MEN, the book will give us a road trip across the Marvel Universe, but very focused on Jean. She'll have to fight and experience things in order to grow as a person for a very specific reason. So we'll see a lot of guest stars, a lot of crazy Marvel Universe locales. And of course we'll focus on Jean, whom we've traditionally seen in team books. Fans of hers will love this book!
Follow Marvel.com and our social channels for the latest on JEAN GREY and the rest of ResurrXion!
The Hype Box
Can't-miss news and updates from across the Marvel Universe!