Comics
Published December 2, 2016
ResurrXion Files: Weapon X
Greg Pak revives the infamous program, whether the X-Men like it or not!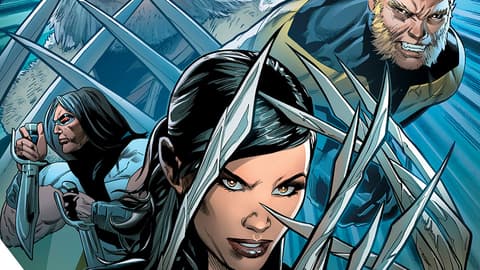 Weapon X has returned with a new leader and a new mission. But they won't be around much longer if Old Man Logan and Sabretooth have their way. The deadly duo has gathered Lady Deathstrike, Domino, and Warpath and formed a new team to combat the revived Weapon X before they can get too far off the ground.
WEAPON X writer Greg Pak, who will launch the series next year with artist Greg Land, sat down with us to tell how this team comes together and what kind of threats they will face in the battle against this new enemy.
Marvel.com: Weapon X is back; what's this new reformed program's goal?
Greg Pak: The Weapon X program is back, and it's more deadly than ever—but this time its objective isn't just to use mutants. Now it wants to exterminate them. And the powers and abilities of this new Weapon X threat are so terrifying that you need both heroes and villains teaming up to handle it. So get ready for a blockbuster thriller of a comic book with a brutal group of heroes and anti-heroes stretched to their limits in a battle for the survival of mutantkind. And of course, we're going to have tons of fun as our heroes drive each other crazy along the way.
Marvel.com: Wolverine and Sabretooth have a history, but this particular Logan hasn't really seen much of this Sabretooth. What has it been like writing these two together?
Greg Pak: It's a blast. You've got an older Logan, who's been through a whole different set of experiences teaming up with this Sabretooth he doesn't really know. It's always fun to have these two characters tangle with each other, particularly when they have to team up for any amount of time. But this time, you have the added dynamic of an older, wiser—well, potentially wiser, anyway—Wolverine teaming up with a younger Sabretooth. They're a blast to write together; you can put those two characters together and fun things will just happen. They're so similar, and yet have different ways for dealing with the world and totally different sets of morals and ethics. So for them to find common ground and fight alongside each other instead of against each other, it's a fun challenge. And, of course, you get the chance for hugely fun conflicts of all kinds. As a writer, one of the most fun things to write is characters who behave badly. And seeing characters who hate each other be forced to work together, it's classic!
Marvel.com: How do Logan and Sabretooth end up pulling this team together to take on Weapon X?

Greg Pak: The question is whether these heroes and anti-heroes can come together at all and work together, and whether they can handle what's coming. This new Weapon X is bigger and badder than it's ever been and will unleash its attacks in ways we've never seen before. Logan's pulling this particular team together is because he needs a team that's the best at what they do, and are willing to go the distance. And yet you create huge problems for yourself when you get people this dangerous in the same room together. So the stakes and potential for disaster are pretty sky high.
Marvel.com: Logan and Sabretooth have clear stakes in this as products of the previous Weapon X program, but what motivations do Domino, Warpath, and Lady Deathstrike have to join the battle?
Greg Pak: Some of these characters are more strictly heroic than others, they're always going to stick their necks out when someone's in danger, that's just who they are and what they do. But Lady Deathstrike, for instance, she's not been like that, traditionally. But Weapon X is out to exterminate everyone, so there are certain points where you set aside your qualms about the people you're working with to fight the thing that has to be fought. These folks are going to be at that stage, but as the story goes on, you'll see who's willing to do what when it needs to happen, and who's not. There will be points where the job at hand requires genuine heroism, and there may be points where the job requires something else altogether. This is a story that will test how villainous our villains are, and how heroic our heroes are. And on the flip side, it will show us how heroic these villains can be, and how villainous our heroes could become. It will push both sides to their breaking points. Our characters are going to find things out about themselves that they may not like, and that may be good or that may be terrible.
And I'll also say, I'm thinking of this book as a series of big, blockbuster action-thrillers. It's going to be a big satisfying series of huge emotional and physical explosions. It's the kind of thing that I love to do, which is combine big genre action with genuine emotional story. And we've got great, smart, terrifying villains, so it's going to be very satisfying to see our team take them on.
Marvel.com: Will the team come up against any familiar foes or team up with any friendly faces?
Greg Pak: I'm not quite at liberty to disclose anything beyond our team just yet, but I can say for sure there will be some familiar faces and some totally new surprises. That's always the most fun way for me to tackle: drawing some fun stuff from classic continuity while creating new threats from new angles. But who exactly is the figure behind this new Weapon X program? That's a big part of the ongoing mystery of the book. Dontcha dare miss a single issue!
Marvel.com: What has it been like to work with Greg Land on art again?
Greg Pak: It's great to get to work together again; this is the first time we've worked together since X-MEN: PHOENIX – ENDSONG almost 11 years ago now. Greg did a tremendous job on that, and we've talked over the years about trying to work together again, so I'm excited to be back with him again on another X-book. He's been working on character designs and covers, and you can just look at Old Man Logan snarling on that cover and see we're in for some fun action already. I think he'll bring his great energy to this project, what I loved about working together on ENDSONG was that we had a lot of quiet, intimate moments between characters, and we had a lot of big, crazy action moments, and Greg's good at delivering on all that. I've promised to give him lots of nice splash pages where he can go nuts. He's capable of all kinds of stuff, and I'm hoping we can work all his artistic muscles on this book.
Marvel.com: What about this new project that has you most excited?
Greg Pak: I've done a ton of X-Men books over the years, but mostly limited series and short runs on some ongoing titles. So this is a chance to really dig into an ongoing series, and I'm really excited for that. It also harkens back to the themes of my favorite X-Men books growing up, and, in a way, this might be the most classic X-Men book that I've had the opportunity to work on; what's more classic X-Men than heroes and anti-heroes teaming up to battle against genocidal monsters? And even just doing a book called "Weapon X" is pretty tremendous. Back in the day, that original Weapon X series [in MARVEL COMICS PRESENTS] was huge for me. It was up there with "Daredevil: Born Again" for me as this modern classic. So I'm happy to play in all these different sandboxes, and I really love this particular group of heroes and villains we're working with.
I've inherited a lot of teams on different books over the years, and the best thing is when you can get to the point where you put any two members of a team in a room together and the scene practically writes itself, just by the virtue of the dynamics of those characters, little points of sympathy and conflict just present themselves naturally. I feel like we've got a really fun, focused group with these five characters. Each one of them makes total sense in the team, given the mission, but they all have their own distinct ethical codes and backgrounds, even speech patterns, that are all different in very fun ways. Jeff Lemire did great stuff with Lady Deathstrike in OLD MAN LOGAN that's going to be incredibly fun to build on. We've already talked about Logan and Sabretooth, but then you think about Sabretooth and Domino, or Sabretooth and Warpath, or Warpath and Domino, and the different kinds of relationships these heroes are going to have. Warpath and Sabretooth are going to have a very different dynamic than Warpath and Old Man Logan. It's figuring out who's going to be friends, who's going to even feel comfortable around each other, who's going to be watching whose back, and who might be secretly sharpening the knives. It's going to be a blast playing with all those dynamics.
Follow Marvel.com and our social channels for the latest on WEAPON X and the rest of ResurrXion!
The Hype Box
Can't-miss news and updates from across the Marvel Universe!