Comics
Published November 28, 2016
ResurrXion Files: X-Men Blue
Cullen Bunn and Jorge Molina mix the original X-Men with Magneto!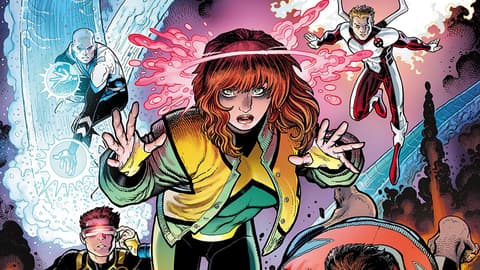 Inhumans Vs. X-Men promises to bring big changes for both sets of characters, one being the return of the color-coded X-Men teams—X-MEN BLUE and X-MEN GOLD!
The former will bring together five young time-displaced mutants—Cyclops, Jean Grey, Iceman, Beast and Angel—and their greatest enemy, Magneto, as they attempt to create a world where humanity no longer fears mutants. It's a long way from the Magneto these X-Men encountered in their past, but can they trust him? Only writer Cullen Bunn and artist Jorge Molina know for sure.
We caught up with the two creators to find out more about this team's new focus and what to expect when the original X-Men team up with the Master of Magnetism!
Marvel.com: The original X-Men are now working with a man they see as one of their greatest enemies. What could possibly go wrong? But seriously, given where they are in their careers and relationship with Magneto, what brings them together with their greatest enemy?
Cullen Bunn: You're absolutely right! It feels like this "alliance" is just waiting to blow up in the faces of this team! They need a good reason to work with Magneto. But I'm not telling you what that reason is just yet. Magneto has some interesting reasons for relying on the original five. And he has some challenges in store for them. The X-Men, on the other hand, will have an agenda that sounds a lot like "keep your friends close, and your enemies closer."
Marvel.com: That being said, these aren't exactly the original X-Men we know from the stories by Stan Lee and Jack Kirby anymore; they've gone through a lot of changes since arriving in the present day. What's your take on each of them as they come into the story?
Cullen Bunn: This team has changed so much since coming to our time. That causes them a bit of concern, actually. In theory, they have to go back to their own time at some point, right? Otherwise, doesn't everything fall apart? But they are no longer the same people. They can't return the way they are. What's more, they've adjusted to this world. Some of them—like Iceman—[don't] want to return to their original timeline. He's built a life for himself in this time. Beast hasn't abandoned science completely, but he's started dabbling in magic. Scott has started branching out away from the X-Men, playing the role of super hero with groups like the Champions. Angel has embraced his warrior spirit—and cosmic powers. And Jean is now taking on a role many think she should have held all along: She's leading the team.
Marvel.com: Cullen, you've been writing Magneto for quite a while now, through some pretty dark times for mutantkind and the character himself. What's his mindset as this story begins?
Cullen Bunn: Without giving too much away, Magneto has come to realize that his way doesn't work. Mutants are heading into what could be a new golden era for them, and they don't need terrifying guys like Magneto running around. The original X-Men, though, represent the best of the best, Xavier's original dream in the here and now. So he's going to help guide them to greater heights. Of course, he has other items on his agenda, but those will have to wait to be revealed.
This is definitely not a gloomy or dark series like some of my X-books. It's much more of a classic X-adventure tale. But Magneto provides an edge and hint of danger lingering in the background.
Marvel.com: Besides the original five X-Men and Magneto, are there any other mutants the two of you would like to use in the book?
Cullen Bunn: So many mutants! If you've read my UNCANNY X-MEN run, you'll know that I love the mutants of the Marvel Universe, and I enjoy bringing in characters you haven't seen in a while. That will continue. I've got some exciting guest stars and villains coming up in this book. This book provides the opportunity to see some mutant encounters you would never, ever expect.
Jorge Molina: Personally I'm a big fan of Gambit since I was a kid, so any chance I get to draw him is always welcome. Plus redesigning him would be fun.
Marvel.com: What sorts of threats can we expect in the comic? I can't imagine Magneto's recent associates, like Mystique and the Hellfire Club, not having an opinion about him allying with the X-Men like this.
Cullen Bunn: Magneto's actions and former alliances definitely create the groundwork for some of the threats the X-Men will face. In the first issue, you'll see one of the greatest super villain duos of all time, and there's more to come! Classic X-villains! New adversaries! The X-Men will not have a lot of time to sit on their laurels.
Jorge Molina: Having read the first issue, all that I can say is that some old classic villains are back giving the X-Men a hard time, just like the old days.
Marvel.com: Finally, what sort of relationship will this book have with its "sister" title, X-MEN GOLD? Can we expect to see Kitty Pryde and company sooner or later?
Cullen Bunn: The Gold and Blue teams are out there in the same universe, so there's every possibility of them meeting. It's not in the works for the immediate future, but it's bound to happen!
Follow Marvel.com and our social channels for the latest on X-MEN BLUE and the rest of ResurrXion!
The Hype Box
Can't-miss news and updates from across the Marvel Universe!