Comics
Published March 2, 2017
ResurrXion: Prime Cuts
Marc Guggenheim and Al Ewing offer tantalizing teases for the X-Men and Inhumans!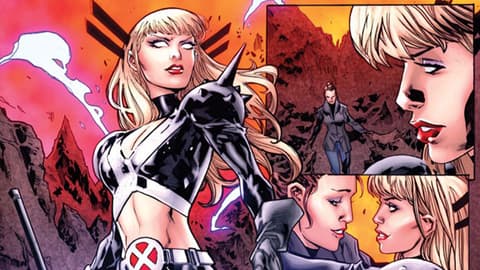 As the dust settles from Inhumans Vs. X-Men, writers Al Ewing and Marc Guggenheim step into the aftermath with INHUMANS PRIME and X-MEN PRIME respectively, both arriving March 29.
With the ending of IvX promising to rock the world of readers everywhere, we do not dare give it away here. However, both writers proved kind enough to provide us some non-spoiler-y teases from each title to wet your proverbial whistle.
INHUMANS PRIME
Black Bolt
"Black Bolt is always silent," Ewing points out. "But now there's something he's not saying. Could his secrets be more destructive than his voice?"
Medusa
"Yesterday she was Queen of the Inhumans," reveals the writer. "Who will she—and her people—be tomorrow?"
Maximus
"Black Bolt's mad brother makes a desperate last stand…or is it only his first move?" Ewing wonders aloud.
Karnak
"Karnak knows how to fight and how to kill," contends the writer. "But there's one Inhuman who could still break him…even if he wins."
Marvel Boy
"He's not even an Inhuman," acknowledges Ewing. "But what he knows is going to change the Inhumans forever."
X-MEN PRIME
First Exposure
"This is going to be people's first look at a lot of the different books in the ResurrXion line," asserts Guggenheim. "It's really your first preview of WEAPON X, X-MEN BLUE. [PRIME] sets up [X-MEN GOLD] being in New York City in Central Park. It sets up [the] X-MEN BLUE mission statement of operating separately from the rest of the X-Men. It introduces you to the membership and mission of WEAPON X."
Kitty as Leader
"In X-MEN PRIME, we learn not only how Kitty returns to the X-Men but how she becomes [their] new leader," he explains.
A Bit of Old, A Bit of New
"You're going to see some familiar faces," the writer promises, "You're going to see some long missed faces."
Peter and Kitty Meet Again
"[Artist] Ken Lashley is a big fan of Colossus and there is a scene [with] Peter and Kitty that he just drew absolutely beautifully," reveals Guggenheim. "If you're a fan of the Kitty-Peter relationship, you will really, really enjoy X-MEN PRIME."
The Future of Xavier's Dream
"After years of just fighting for their very survival, Kitty has returned to position the X-Men to pursue the latest iteration of Xavier's dream," states the writer.
Join the ResurrXion on March 29 with INHUMANS PRIME and X-MEN PRIME!
The Hype Box
Can't-miss news and updates from across the Marvel Universe!