Comics
Published April 2, 2019
Rob Liefeld Returns to the 1990s X-Men to Introduce 'Major X'
The legendary creator goes back to his roots with a story almost 30 years in the making!
This Wednesday, April 3, one of the minds behind the creation of Deadpool, Cable, Domino, and more during the x-ploding years of Marvel's mighty mutants returns to the House of Ideas with a brand-new creation: MAJOR X!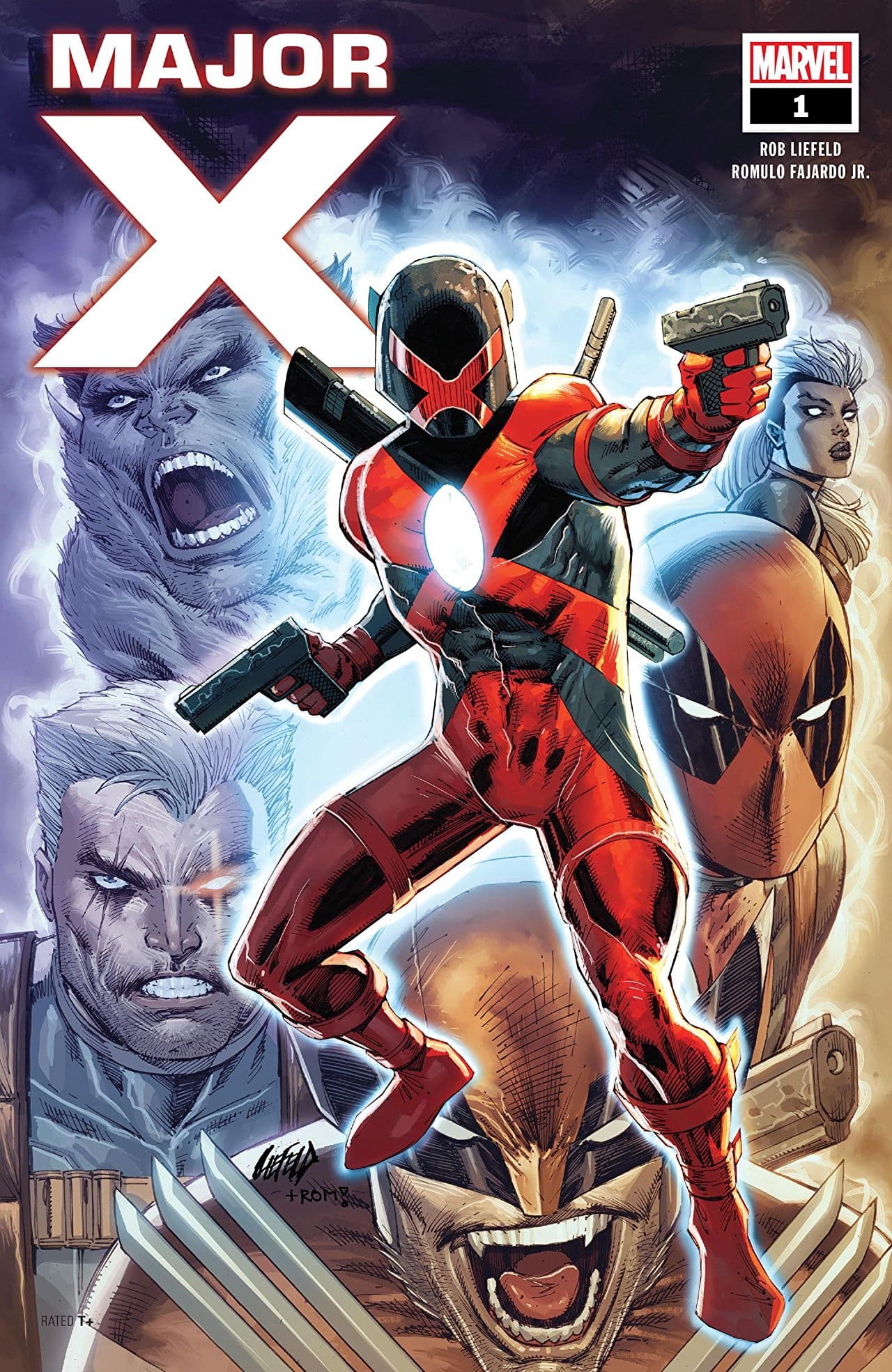 Well...brand-new to us.
Rob Liefeld first conceptualized the character back in the early 1990s as he was writing NEW MUTANTS and X-FORCE. And now he's returning to that fabled era with a story that takes place, in continuity, in the middle of the mutants' most famous time.
So, who is Major X? The mysterious new player enters the Marvel Universe this week, and we caught up with Liefeld himself to get the scoop on his legendary past, the new creations of the present, what to expect for the future, and how Major X jumps between all three...
Marvel.com: The lore behind MAJOR X is that it comes from an idea that you've had for a really long time. Where exactly did this all originate?
Rob Liefeld: Oh yeah. So, I did I think two-and-a-half years on the NEW MUTANTS and X-FORCE, and we had a great time. But like anybody, you've got tons of stories that you didn't get to tell... This is a pretty big one.
[Marvel Comics Editor in Chief] C.B. Cebulski reached out to me asking if I was interested in doing some X-stuff. I can tell as a fan of Marvel comics that the X-Men have a renewed vigor. It feels like a renaissance of ideas and energy in the X-Men office. So being asked to contribute in this kind of new energy and help fuel it is exciting. So I pitched this to C.B. and I was like, "Well, I need you to sit down. This is kind of like a big deal." And I was literally thinking, "He's gonna say no."
But he said, "Yeah, bro! Let's do it!"
Marvel.com: With that green light, what came next? How did you find the right way to introduce Major X to the Universe?
Liefeld: From there, I had to write the six issues. And each time I'm like, "Can I do this?" But everybody has been really accommodating, and it's exciting because Major X is a pretty big disrupter in the scheme of the storylines and my whole thing was to throw a new wrench in the works—the works being the X-Men universe.
[Major X comes] from literally a different plane of existence, which is called the X-istence, which is a safe haven for mutants. Suddenly, its threatened and terrorized, and Major X's home is taken from him. And he makes the jump, in a last ditch effort, to try and save his home and the world that he knows, and he arrives in the Marvel X-Men continuity. But the first jump didn't quite land him where he needed to go...
So it's pretty exciting to put him in 1991 somewhere between NEW MUTANTS #100 and X-FORCE #1.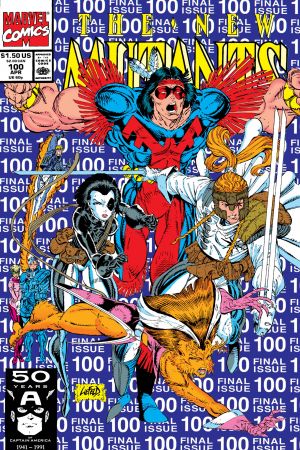 Marvel.com: Wow. Can you expand a little more on what the X-istence is?
Liefeld: The entire reason I wanted to introduce the X-istence was to give something other than time travel as a portal of new ideas or new possibilities. Time travel has been so great to the X-Men and the X-Men have been great to time travel. I've used it myself, obviously to launch an entire franchise, but this time around I was like, "Hey, what of we did something even weirder? And what's weirder than another dimension?" We're gonna answer what fueled the X-istence. How does it exist? Where does it exist? We will take you through all those questions, and you will find out how devoted and loyal Major X and these other characters who lived there are.
Major X and the X-istence are equal in importance. One is a character, one is a place, but they serve each other. And the mission is to restore the X-istence and all that it stood for. But again, in 1991, Major X has to convince Cable and the gang that he's not a hostile like he is perceived to be. And he's a pretty bad ass and capable guy, so it takes him on a great journey.
Marvel.com: You've built a reputation on delightfully shocking and unexpected storytelling, and it seems like there's going to be plenty of that in MAJOR X. Why do you think fans see that as a hallmark of your work?
Liefeld: Twists and turns were something that I excelled at when I was writing NEW MUTANTS and X-FORCE. I grew up loving [Chris] Claremont's X-Men stuff; I felt that he knew his way around a great soup opera—my mom and my sister were raised on soap operas, and I watched them in the summer. They were riveting.
When people like Jeff Jones say, as he did 12 or 15 years ago, "Rob, that big reveal with Stryfe in NEW MUTANTS #100, that just blew me away! And the reveal that Domino wasn't Domino but was some doppelganger named Vanessa, and you had Domino hanging in some lair!"
I was like, "Yep, that's a boy raised on soap operas right there!"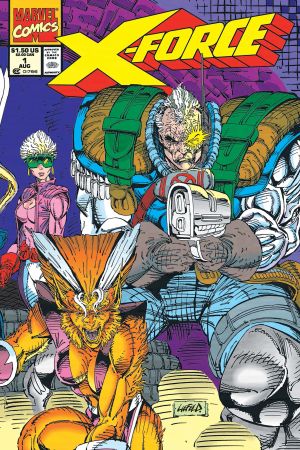 X-Force (1991) #1
published

added to marvel unlimited

editor

letterer

penciler

penciller (cover)

writer

colorist
What is Marvel Unlimited?
Marvel.com: In addition to writing, you're also penciling issues #1 and #6. Then artist Brent Peeples is illustrating issues #2, #4, and #5. And legendary X-Men artist Whilce Portacio is on the critical issue #3. What was it like collaborating with Whilce on an X-Men story again?
Liefeld: I've got my partner-in-crime from 1990s X-plosion; Whilce Portacio is X-Men royalty. And the fact that he agreed to participate in this... I made sure he had a crucial chapter. Bringing Whilce in, I felt, brought that extra spice. And the pages he turned in...I fell off my seat.
I've got to be honest: I can't believe all the stuff I was able to do. I was able to do every ambitious thing that I proposed. There's not one thing that [the X-Men editors] were like, "No, you've got to turn that around." So it's a great time to be doing this at Marvel. I'm not sure if Major X would've worked last year or next year, but it's 2019 and I think the time is right. People are ready for Major X.
But I gotta tell you, I've had as much fun doing this as when I was womping it up back in 1990.
Marvel.com: And how would you sum up the experience of revisiting such a momentous era for both you and the Children of the Atom?
Liefeld: The funny thing is, when I started writing the first couple of issues, in which Major X lands in 1991, I am literally writing the Cable, the Deadpool, the Shatterstar of my youth. And there may be some commentary you see mixed in there, going back in time. It's almost like, ''What would you say to your younger self?" Well, I get to say that here.
It's very exciting to interact with these old friends of mine.
Begin the journey this Wednesday, April 3, at your local comic shop with MAJOR X #1!
The Hype Box
Can't-miss news and updates from across the Marvel Universe!