Comics
Published September 19, 2017
Rocket: A Bite Out of Crime
Writer Al Ewing illuminates the raccoon's dark past!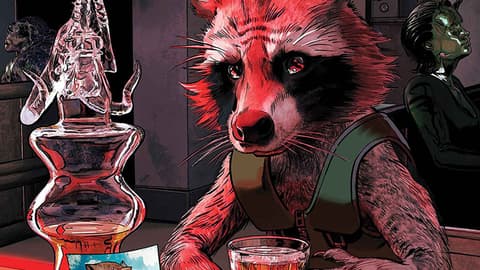 The Marvel Universe can barely contain the story of Rocket Raccoon.
He's done it all—from his adventures with the Guardians of the Galaxy, to finding love, to pulling heists with his own crew of ne'er-do-wells. And on October 11, writer Al Ewing and artist Adam Gorham present ROCKET #6, in which the smart-talkin' hero continues his (not-so-successful) fight against rival rodent Castor Gnawbarque III!
We spoke with Al to break down Rocket's past, present, and tenuous future in issue #6.
Marvel.com: Rocket's changed a lot in recent times. How do you plan to reconcile his past with his current mentality?
Al Ewing: Well, I've hinted in interviews and in the actual text—in the "prose gutter" where we keep most of the narration—that Rocket remembers a little more of the old days than he lets on. We've actually seen him bump up against his past on Halfworld before, so this isn't such a new development. But Adam and I add a little noir tinge to that—Halfworld feels explicitly like the Good Old Days in our book; the days that were lost and can never come again.
We're leaning into the meta-knowledge that the once innocent, playful, fun character has become a hard-bitten sci-fi thief—we move forward, and that's for the best, but at the same time Rocket's lost something that he can't quite define or put his finger on, and the knowledge eats at him.
Marvel.com: How much of Rocket's old life will we witness as the series continues?
Al Ewing: We get deep into it in issue #6…I won't get too spoiler-y about how the memories come up, but they provide quite a contrast between how Rocket used to be and how he acts now. Fans of the old Bill Mantlo and Mike Mignola series will hopefully be happy with the glimpse they get of some of the old gang—and our superstar artist Adam Gorham puts his all into bringing them back to life.
Marvel.com: What made you originally decide to tell a crime noir story in this series?
Al Ewing: When I got the call to do ROCKET, I'd been reading a lot of Richard Stark and that sat heavy on my mind. I knew Rocket had become a little shadier since the early days—and obviously in the films he's a much more criminal character—so the idea of putting this little Raccoon guy in a suit and having him pull off stylish sixties-influenced heists really tickled me. And when the initial absurdity of the situation wore off, I started thinking about how interesting it'd be to get into the deep-down melancholy of this character.
Marvel.com: What traits did you feel were integral to bringing Rocket to life in this storyline?
Al Ewing: Well, they're more Raccoon-centric than Rocket-centric, but I found out raccoons have excellent senses of touch and hearing, which pretty much instantly made me think of safecracking. But, as we've seen, he also applies that to listening to people.
In terms of specifically Rocket-centric traits, he projects a lot of confidence in this two-parter. Rocket knowing how to wear a suit becomes bizarrely integral to the plot. And his ability to take a good thing and screw it up also jumps to the front and center.
Marvel.com: How does Rocket handle the difficulties of his tragic past while simultaneously dealing with the Technet?
Al Ewing: The Technet are a fun addition to the book. You can thank [Editor] Jordan White for that, since he asked me to bring them back, which I was more than happy to do…in fact, my one regret is not thinking of it myself.
We've set up a will-they-won't-they, flirtatious thing between Rocket and the Technet's leader, Gatecrasher, but whether it's all going to end well…well, we'll have to see. Somehow I doubt it.
Marvel.com: What inspired the "prose gutter" format of this comic?
Al Ewing: The "prose gutter" became part of the plan from pretty much the very beginning. I'd done it once before in an old issue of MIGHTY AVENGERS, but, full disclosure, it's not a new idea—it shares some DNA with a few comics that came before. ROCKET presented me with an opportunity to use the noir voice, but I'm sure I'll break it out of storage in the future, as well—it can be so fun to write in that sparse, gritty style.
Marvel.com: With Otta Spice now in the picture, what happened to Rocket's romance with Lylla?
Al Ewing: We set up Otta as the rebound fling from Lylla—Rocket has a "type," essentially, and while there may be a height difference, we made them visually very similar on purpose. How much like Lylla Otta actually acts…well, we'll find out. But Rocket's certainly projected an awful lot of Lylla onto Otta in a way that absolutely can't be healthy or smart. And I doubt I'm giving out any big spoilers when I say it all comes back to bite him.
Writer Al Ewing and artist Adam Gorham's ROCKET #6 drops on October 11!
The Hype Box
Can't-miss news and updates from across the Marvel Universe!