Comics
Published October 9, 2017
Royals: Backs Against the Wall
Al Ewing tasks the Inhumans with a fight for survival!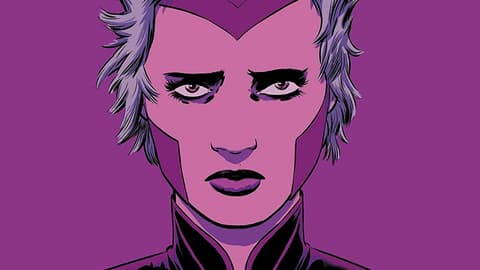 Meeting your creator can't be easy. And meeting your creator in space with no ship, no weapons, and no back up may be an impossible task.
Unfortunately, the Royals find themselves in that exact position. Fortunately, they thrive on long odds.
On November 8, writer Al Ewing and artist Javier Rodriguez present ROYALS #10! The team, stuck inside the endless city-mind guiding the World Farm, meet a Progenitor—one of the members of the Inhumans' parent race.
We spoke with Ewing about the Inhumans meeting their maker, losing hope, and why things can always get worse.
Marvel.com: Where exactly do we find the Royals at the start of issue #10?
Al Ewing: Well, they no longer have a ship. At the end of issue #9, the Astarion blew up. I won't spoil how, or if, they get out of that one—except to say that ROYALS #10 won't be 20 pages of seven frozen corpses floating in the intergalactic void—but it does leave them marooned in a dangerous and alien environment, with impossibly powerful beings who want them dead.
And that doesn't even touch on Flint's condition—he contracted something from an alien Skyspear and his flesh has slowly been becoming crystalline—or the unfolding events 5,000 years in the future, where a very aged Maximus and Marvel Boy deal with the fallout of the First Progenitor War…which suggests things don't end well in the present.
Marvel.com: This mission takes them face-to-face with a Progenitor—their creator race. Do the Progenitors have an awareness of the Inhumans' existence? What do they think of the Royals?
Al Ewing: The Progenitors also created the Kree, so they're aware of that. And they've been monitoring the Inhumans—and their equivalents on other worlds—through the Skyspears, so they're obviously keeping an eye on how their experiment has branched out.
As for positive or negative feelings…we'll find out a little more about the Progenitors and how they work, but one thing that's obvious from the start will be that these are deeply alien beings…so positive and negative feelings might not apply.
When they try to wipe the Royals out at a molecular level, it's probably not personal. Probably.
Marvel.com: Given the scale of their mission and their lack of resources, the Royals seem really up against a wall in this book. But does this team become more dangerous the more they stare down their potential destruction?
Al Ewing: The Inhumans exist outside of the human world. Sometimes that makes them morally dubious—to put it mildly—and sometimes that makes them highly adaptable. If their backs get pushed against a wall and the gods of their gods are getting ready to slaughter them like roaches, the Royals will fight back in ways even they can't predict…yet.
Marvel.com: Medusa, in particular, serves as a source of hope and guidance for the rest of the team. What makes her the potential key to the Royals' survival?
Al Ewing: Even without her powers—her trademark hair—Medusa's established her command of the mission. She's gone from being Queen to being Commander; when she gives the orders, the crew jumps. That's going to end up forcing her into some dark decisions as the ongoing struggle against the Progenitors wraps up, but the Inhumans have never been all sweetness and light.
Marvel.com: The World Farm seems like a massive, mind-blowing kind of place. How would you attempt to describe it?
Al Ewing: I'd describe it as a machine made of worlds—each with its own separate but interlinked task. We caught a glimpse of the garden-world, where Primagen gets grown, but now we're going to see the "brain" of the operation—the city-mind. We'll also take a journey to the power source: the sun-engine it all revolves around.
Marvel.com: How does Javier Rodriguez bring this otherworldly place to life?
Al Ewing: Javier—along with Alvaro Lopez on inks and Jordie Bellaire on colors—has been a wonder. I can provide him with a few short sentences of description, some bare ideas, and he'll parlay that into a gorgeous vista that's exactly what I wanted and then some. It all flows out of his amazing designs for the Progenitors—again, a short sentence or two extrapolated into something visually dazzling—which inspired me to go bigger and further with the concept.
Marvel.com: Considering all the factors in play, what would you estimate the Royal's prognosis of coming out of #10 in anything near good shape is?
Al Ewing: Not great. We're going to get injuries, mysterious maladies, ongoing health problems, Maximus acting up even more than usual, and of course, by the end of issue #11, our crew of seven will be down to six. It's a dark time to be a Royal.
Witness the impossible task ahead in ROYALS #10, by Al Ewing and artist Javier Rodriguez, on November 8!
The Hype Box
Can't-miss news and updates from across the Marvel Universe!