Comics
Published March 7, 2017
Royals: Meet the Family
Al Ewing runs down the regal cast of his new comic!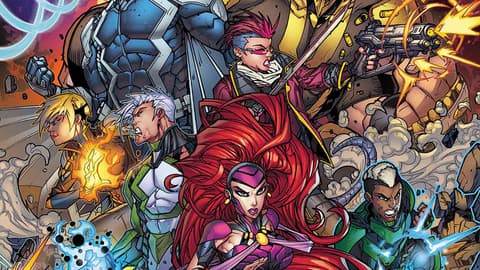 In the upcoming ROYALS #1 on April 5, we'll see the Inhuman royal family embarking on an epic journey, along with Marvel Boy, to save their people. They'll travel through galaxies and dimensions, maybe even changing the course of Inhuman destiny.
With stakes this high, what does each of these characters bring to the table? We sat down with writer Al Ewing, who gave us a little background on each member of the family.
MEDUSA
"The Queen of the Inhumans, with living, super-strong hair that she can control and direct to perform some frankly astonishing feats," recaps Ewing. "But the end of IvX will take a toll on her, and she'll go through some more changes from the very first issue of ROYALS. Will she still be the same person—and the same leader—on the other side?
BLACK BOLT
"[He] is the ex-King, and Medusa's husband—a marriage now somewhat on the rocks," the writer cautions. "Black Bolt's powers complicate matters; the slightest sound out of his mouth, whether a shout, a quiet word or even a cough, could level mountains. Also complicating things: his mad brother Maximus, the constant thorn in the Inhumans' sides. What secret do the brothers share—and where will it lead Black Bolt?"
CRYSTAL
"Medusa's sister and second-in-command; one of the more powerful Inhumans, with a measure of control over all four of the classical elements, earth, air, fire and water," lists Ewing. "She has also displayed a powerful talent for diplomacy, which could serve the Royals well on their travels. Except that they'll first stop on the dead world Hala, overseen by her ex-husband, cosmic powerhouse Ronan the Accuser. They've got bad blood and lost love between them, and it won't end well."
GORGON
"[He] has served as a faithful man-at-arms for both Medusa and Black Bolt since his youth—and with his hooves that can shatter concrete and cause earthquakes with every stomp, he has done his job well," the writer affirms. "But he's getting older, and recent injuries have left him unable to use his gift—and some days, even move—without severe pain. But as a widower with an estranged daughter and a son in a coma—after he failed them both—he has become used to hiding the pain he feels."
SWAIN
"Swain is one of the 'NuHumans,' an Inhuman bloodline that spread out among the human world, until the release of the Terrigen mists into the atmosphere triggered their Inhuman genes," explains Ewing. "In Swain's case, she gained a subtle control over the emotions of people around her. She hates her power, as she can never feel sure of any relationship—except with her literally emotionless girlfriend, Ash. But she also serves as the Inhumans' top pilot, and a staunch royalist, making her the perfect choice to fly the Royals to the stars.
FLINT
"Flint's life has been full of trauma: his adopted family were of a branch of Inhumanity that couldn't survive contact with Terrigen, and they died en masse after the Terrigen cloud passed, leaving him as the only survivor, with power over rock and stone," the writer recounts. "After that, he tracked down his biological family in a far-flung Inhuman colony, only to find he couldn't belong. Flint is searching for something he can't fully articulate, something that drives him into deep space—something that might make him the most powerful Inhuman of all."
MARVEL BOY
"A Kree from an alternate universe of peace and plenty, who strayed into our reality, whereupon our reality shot him down and murdered his friends and family," sums up Ewing. "Blessed with insect-gene enhancements and alien weaponry, Noh-Varr has tried to find his place with the heroes of our world before, but has always failed them, and himself; now he's taking the Inhumans on a quest into space to find the secrets of their people, and his motives aren't entirely selfless. Will he fail himself again?"
Attend the coronation in ROYALS #1 by Al Ewing and Jonboy Meyers, coming April 5!
The Hype Box
Can't-miss news and updates from across the Marvel Universe!