Comics
Published April 27, 2017
Royals: The Case for Maximus
Al Ewing talks about the recently revealed truth behind 'Black Bolt'!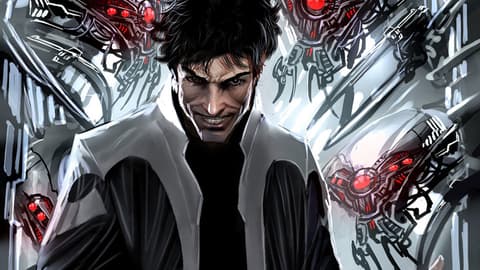 Never one to stand on ceremony, Mad Maximus saw a problem and decided to solve it. The dilemma? His brother, the near sainted Black Bolt had gone too far and not for the first time.
So, as revealed in ROYALS #2, Maximus seized the moment and impersonated his sibling as the Royal Family launched itself into space.
With the real Black Bolt trapped in some remote location, the family seems stuck with Maximus amongst them. However, what if he really did make the right decision for the good of the Inhumans? In advance of May 17's ROYALS #3, Ewing helpfully dropped in on us to present the case for Maximus seizing his brother's identity at an even earlier date.
"Yeah, this was just your basic autocratic stuff," Ewing comments. "Just a king, chilling out with his fellow kings, deciding the fate of the rest of the planet, nothing to see there."
"The world had to actually be ending before T'Challa got involved with that, but Black Bolt was there from the get-go," he elaborates. "And he didn't consult the Inhumans, either. How can we trust the king not to sell Attilan down the river to the super-celebrities? Why is he talking to known jerk Professor Charles Xavier before consulting his own Queen? It's not a good look. If Maximus had swapped places with him, the Illuminati would have been dancing to Attilan's tune, not vice versa."
Declares war on the United States over the crystals used in Terrigen Mist
"Well, getting the crystals back from the U.S. government was a priority for the Inhumans, but the way Black Bolt went about it wasn't exactly ideal," argues the writer. "A lot of humans and Inhumans died, Gorgon was mutated for a while, and while Maximus was able to use the situation to his advantage, who can say he wouldn't have done even better if he'd been in charge? He might have gone about it in a less obvious way. Or he might have built a giant ray gun that didn't work properly, because [sometimes] he rolls that way too."
Overthrowing the Kree government and seizing power for himself
"It's not much of a spoiler that there are people who don't remember this move fondly," Ewing reveals. "Ronan is out there, remembering every detail of how he put his trust in the Inhumans—indeed, he put all his weight and power in Kree society behind their new regime—and then they just left without warning the moment Black Bolt decided they had better things to do. And after that, of course, Hala was blown to pieces and everyone on Hala died."
"And now Ronan's about to come face to face with the Royals as their quest takes them to the dead planet," he continues. "Looking at it that way, maybe Maximus was wrong to swap places with Black Bolt; it might have been better to let his older brother face the music…"
The release of Terrigen Mists across the Earth that started IvX and forcibly changed many people's lives without their consent
"Well, Maximus actually helped with that one," admits Ewing. "And he'd probably have done the same thing himself. But the important thing is that it was Black Bolt's idea, which means Maximus is completely blameless and it's entirely right that Black Bolt is being shot off to a space prison in his place."
Causing the accidental death of his parents and his brother's traumatic brain injury through the use of his sonic voice
"And this is the big one," insists the writer. "As we'll see in issue #3, there was a little more going on that day than we've seen before; we're going to be getting deep into the secrets of the family Boltagon, the secret origin of Maximus the Mad, and why exactly Maximus betrayed the Inhumans to the Kree that time—which was why Black Bolt used his super-voice in the first place. It's all going to come out and once you know the full story, maybe you'll agree with Maximus that he was right all along to do what he did. Or maybe he'll be scarier than ever."
Sit down with the family Boltagon for some quality time in ROYALS #3, available May 17 from Al Ewing and Jonboy Meyers!
The Hype Box
Can't-miss news and updates from across the Marvel Universe!