Comics
Published May 18, 2017
Royals: Visiting Hala
The Inhumans set course for the Kree's shattered planet for a reunion with Ronan!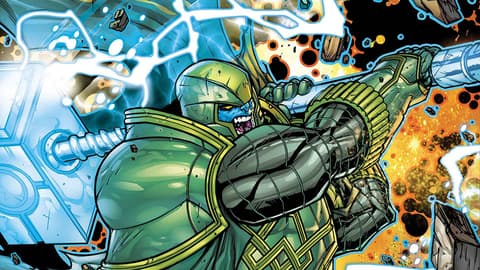 Hala has been visited by much tragedy over the years. Most recently, the planet became basically uninhabitable leaving only Ronan the Accuser to keep silent watch over his shattered former sphere of residence.
For many that survived Hala's recent destruction, one group stands out amongst all others as being key in the world's destruction: the Inhumans. Ronan certainly would count himself amongst those with that opinion.
So just imagine the awkwardness that will ensue when ROYALS #4 hits this June 21, bringing the Inhuman ruling family back to the desolate globe that formerly served as Kree homeworld. And if that might be galling enough to Ronan all on its own, wouldn't you just know that they have come to ask for a favor?
We found writer Al Ewing hiding in the game room upstairs looking to avoid the squabbles and asked him for the latest Kree-Inhuman gossip.
Marvel.com: The connection between the Inhumans and the Kree is a long-standing "fact" of the Marvel Universe. However, there hasn't been much of that story told. What is your take on their historic relationship? How are things between them before this issue?
Al Ewing: Things are not great. A short and simple version of the history is that Black Bolt and company came to the Kree Empire, took it over, and then later went off to pursue their own projects, leaving Ronan and Crystal in charge. Ronan resurrected a version of the Supreme Intelligence, The Supremor, who promptly declared war on the Inhumans and the Earth, whereupon Ronan quit to be with Crystal.
Unfortunately, a peace treaty between the Kree and the Inhumans required Ronan to separate from Crystal and go back into the Supremor's service. Crystal basically agreed to that, out of a sense of duty to both races and over Ronan's objections. And after that, Hala was destroyed and Supremor with it. And in the same incident, Ronan got cosmic powers from a magic mirror. And here we are.
So, to answer your question…the relationship isn't all it could be.
Marvel.com: Regardless of the past, Hala is a very "hot spot" especially between the Kree and the Boltagons specifically. Why return to what is, essentially, the scene of the crime?
Al Ewing: Hala contains some buried knowledge—a piece of history pertaining to the Kree and the Inhumans both, a lost secret of Terrigen. Bringing it to the surface will let the Royals know if it's possible for them to bring the Inhumans back to their former glory, and whether they can atone for their own crimes in the process.
Meanwhile, for Ronan, Hala is a planet-wide graveyard, a sacred place. He doesn't like visitors at the best of times and especially not these visitors.
Marvel.com: How are dynamics changed by Maximus being present, not Black Bolt?
Al Ewing: If Black Bolt was there, he'd probably be the target of Ronan's wrath. He's responsible. He conquered the Kree, he chose to abandon them, and it was his diktat that tore Ronan and Crystal out of their happy place and [sent] Ronan back to serve a monster.
Maximus doesn't figure so much on [Ronan's] radar. He was the weaponsmith, the court jester, and the occasional traitor, but in Ronan's eyes he's never been the important one. So Ronan will probably leave him on the back burner and concentrate on other targets. Whether Maximus will feel the same, I don't know. Ronan did play a big part in his parents getting killed.
Marvel.com: Ronan's connection with the Inhumans is especially complex. What is his reaction to seeing them again? How does it make Crystal feel to encounter her partner in a failed arranged union?
Al Ewing: Ronan's not in a very good mental state when he sees them again. He's angry, he's sick with grief, he's looking for someone to blame. His immediate reaction is to get hold of them for a little chat, as only a cosmic-powered Accuser of the Kree can do.
As for him and Crystal, they've got a lot to talk about. From Ronan's point of view, he blames her, because it was her decision to effectively annul their marriage—a marriage that had gone from mutually-agreed convenience without any intimacy, to a full-on actual true-love connection—and he's bound that up with a lot of other stuff he's going through.
Crystal's in a different place. She's got responsibilities to the Inhumans, to her child from a previous marriage, to her home planet. There's been just as much running from one crisis to the next for her as for him, but she's managed to move on in a way that he hasn't. What that means when they're in a room together? I don't know. I guess we'll all find out.
Marvel.com: This marks the first full issue with Thony Silas on art. What does he bring to the book?
Al Ewing: Thony's got a good style for these issues—shadowy, a little sinister in places. Plus he does great things with [previous artist Jonboy Meyers'] character designs for the book. I really enjoyed his work on issue #3, and he came up with a layout suggestion for a particular bit in #4 that I'm kicking myself a little for not thinking of [first]. It's going to be nice to see out this first arc with him.
Marvel.com: Why is this a cannot miss capture in the evolving relationship of the Inhumans to the larger Marvel U?
Al Ewing: There's a thing readers should understand with this book: we're not doing business in the normal way. There will be no tie-ins until we get back to Earth. We're self-contained, telling our own story, beholden to nobody, and we're on a trip out to the far reaches of Marvel Space, and we're going to come back changed, and carrying something very special with us.
And then we're going to see what the other two books have been doing, and what they're bringing to the party. And we'll see what happens when we put it all together and shake it around a little.
Maybe it'll turn to gold. Maybe it'll explode. I honestly have no idea, but I do know that it's not the job of the Inhumans to ever be predictable. So…I guess we'll all find out together.
Al Ewing and Thony Silas reunite Ronan with ROYALS in issue #4 on June 21!
The Hype Box
Can't-miss news and updates from across the Marvel Universe!