Comics
Published March 22, 2017
Royals: Watch the Throne
Al Ewing outlines the challenges that will change the Inhumans forever!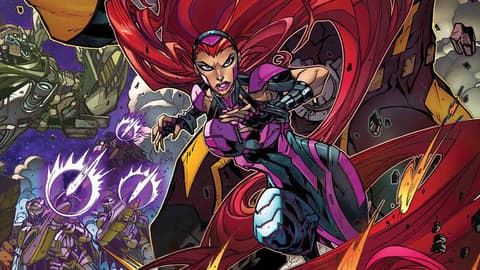 The Royals will be putting the jet planes, the islands, and the tigers behind them this April because they have decided to leave the world and its treats behind for the indifferent vacuum of space. Motivated by a sense of exploration and a need to find their roots, this collection of the Inhuman ruling class—and Marvel Boy—will depart terra firma for parts unknown.
It will, however, not be any easy task. Challenges await them in the cosmos and within their ranks. Difficulties that may derail them long before they even reach their first planet.
Writer Al Ewing took time off from reviewing his star charts to give us some insight on this team as we eagerly await ROYALS #1.
Marvel.com: To start, the first time we spoke about this series launch, artist Jonboy Meyers had just been assigned. Now the book is nearly arriving on shelves and you've worked with Meyers for a bit, how has the collaboration been? What about his work has helped you realize the tone you were seeking for the book?
Al Ewing: I like Jonboy's stuff a lot; he's got a lot of energy to his art that really spills off the page and gives the scenes a lot of extra crackle. He's influenced the book in a lot of ways—for one, during the original design phase he provided a whole bunch of variant outfits for each character, and I think we're going to end up using most of them—at least as starting points.
He keeps doing it, too. I just got some great art back with a couple of Royals in some very spiffy-looking space suits, fighting Chitauri on the hull of a speeding spaceship as it hurtles past Pluto. Also, that's happening, we're doing that.
Marvel.com: What about Marvel Boy's skills or natural talents makes him the right man to act as the navigator for the Royals?
Al Ewing: He's loaded down with natural and unnatural talent. He's got all those cockroach genes, for a start, and his personal weapons system plugs right into the Royals' spaceship in a way I think readers will enjoy. And also, he's the guy who knows where they're going and what they're going for, heading to Hala for a secret only he knows about.
Wait, only he? No, there might be another crew member who has an understanding of it—and it's not who we think it is.
Marvel.com: In this launching of their journey, staying away from spoilers as best as you can/want to, what are some of the immediate obstacles the Royals may encounter?
Al Ewing: Death lays a bony paw on one of the team pretty much immediately. Is this the same team member who won't come back? Who can say? It's all riddles from me at this point.
In terms of something we can be a bit more certain about in an interview context, I mentioned Chitauri earlier. We're not so much tying-in with Secret Empire as glancing off it at an angle—Medusa and company fly face first into the oncoming Chitauri wave as it heads for Earth. How they get out of that one is going to be one of the big Marvel moments people remember—I'm pretty confident about that—and from there, we leap right into a look into Black Bolt's past and the uncomfortable secret he's been keeping. So all kinds of shenanigans.
Marvel.com: Briefly, if you would, please run down each team member and their motivations for going into space and opinion about taking the journey?
Al Ewing: This is going to be super brief, so hold onto your hat.
Black Bolt's got a secret.
Medusa's out of options.
Gorgon needs to fight.
Crystal has her duty.
Flint is looking.
Swain is finding.
And Marvel Boy is doing it all for his oldest friend.
Also: we're going deep into alchemical territory. I'm doing a lot of research on a lot of pretty esoteric stuff, and everything I find makes more connections.
Al Ewing and Jonboy Meyers' ROYALS #1 heads your way on April 5, with issue #2 nipping at its heels on April 19!
The Hype Box
Can't-miss news and updates from across the Marvel Universe!