Comics
Published February 16, 2018
Ryan Coogler and Ta-Nehisi Coates Talk Black Panther
Preview the director and the writer's exclusive conversation!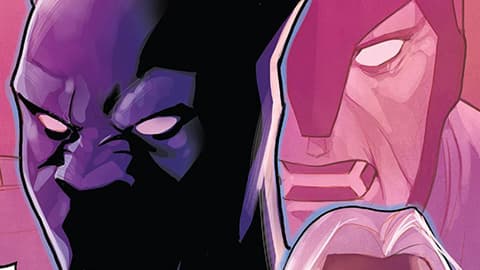 The time has come…Marvel Studios' "Black Panther" is in theaters now!
Travel to Wakanda, meet the King, and explore his world. But when the movie ends, you can continue to journey alongside the Black Panther in writer Ta-Nehisi Coates and artist Leonard Kirk's BLACK PANTHER. The series, which "Black Panther" executive producer Nate Moore has described as one of the "most inspirational" for the movie, sees T'Challa battling Ulysses Klaue, teaming up with Nakia, Shuri, and Ayo, and handling the responsibilities of the throne.
And on February 28, aside from the action and political intrigue of the story, issue #170 will debut an exclusive conversation between series writer, acclaimed novelist Ta-Nehisi Coates and Marvel Studios' "Black Panther" director Ryan Coogler! The two creators explore each other's thoughts on the character, the new film, and the cultural impact of Black Panther.
Here's a quick snippet of their talk:
Ta-Nehisi Coates: So how do you feel now, after the premiere the other night? Is the weight still on your shoulders? Are you feeling like you did something? Are you happy yet? How you feeling?
Ryan Coogler: At premieres, you got a room full of people who want the film to work, you know what I'm saying? Everybody here wants the film to work. They want to watch a good movie. They want to see something that is going to make them proud. It makes you incredibly nervous, man, and you don't know if the response is real or not. But I'll tell you now that that night, the Panther premiere, that experience…Man, that's one I'm going to remember for the rest of my life. I'm still trying to process it now.
Read the full conversation only in BLACK PANTHER #170 on February 28!
The Hype Box
Can't-miss news and updates from across the Marvel Universe!