Comics
Published December 18, 2020
Save Big on Marvel's Latest Comic Stories
From the Avengers to the X-Men, enjoy up to 60% off on instant classics in the Marvel Comics App.
The best of 2019 and 2020 are now on sale in the Marvel Comics app for iOS and Android! Head into the new year with a fresh stack of digital trades and issues starring Loki, Ironheart, Venom, the Fantastic Four, and more! With up to 60% off on select titles, now is the time to stock up and save—choose from over 100+ fan-favorite titles and critics' choices including the following collections:
ABSOLUTE CARNAGE
ABSOLUTE CARNAGE VS. DEADPOOL
ABSOLUTE CARNAGE: IMMORTAL HULK AND OTHER TALES
ABSOLUTE CARNAGE: LETHAL PROTECTORS
ABSOLUTE CARNAGE: MILES MORALES
ABSOLUTE CARNAGE: SCREAM
ACTS OF EVIL
AERO & SWORD MASTER: ORIGINS AND ODYSSEYS
AERO VOL. 1: BEFORE THE STORM
AGE OF CONAN: VALERIA
AGENTS OF ATLAS: PANDEMONIUM
AMAZING MARY JANE VOL. 1: DOWN IN FLAMES, UP IN SMOKE
AMAZING SPIDER-MAN 2099 COMPANION
AMAZING SPIDER-MAN BY NICK SPENCER VOL. 6: ABSOLUTE CARNAGE
AMAZING SPIDER-MAN BY NICK SPENCER VOL. 8: THREATS & MENACES
AMAZING SPIDER-MAN: 2099 (VOL. 7)
AMAZING SPIDER-MAN: FULL CIRCLE
ANNIHILATION: SCOURGE
ANT-MAN: WORLD HIVE
AVENGERS BY JASON AARON VOL. 5: CHALLENGE OF THE GHOST RIDERS
AVENGERS BY JASON AARON VOL. 6: STAR BRAND REBORN
AVENGERS OF THE WASTELANDS
BLACK BOLT
BLACK CAT VOL. 1: GRAND THEFT MARVEL
BLACK CAT VOL. 2: ON THE RUN
BLACK PANTHER AND THE AGENTS OF WAKANDA VOL. 1: EYE OF THE STORM
BLACK PANTHER: VISIONS OF WAKANDA
BLADE BY MARC GUGGENHEIM: THE COMPLETE COLLECTION
CAPTAIN AMERICA BY TA-NEHISI COATES VOL. 3: THE LEGEND OF STEVE
CAPTAIN AMERICA: SAM WILSON - THE COMPLETE COLLECTION VOL. 1
CAPTAIN AMERICA: WINTER SOLDIER MARVEL SELECT
CAPTAIN MARVEL VOL. 2: FALLING STAR
CAPTAIN MARVEL VOL. 3: THE LAST AVENGER
CAPTAIN MARVEL: THE MANY LIVES OF CAROL DANVERS
CONAN THE BARBARIAN VOL. 2: THE LIFE AND DEATH OF CONAN BOOK TWO
CONAN: SERPENT WAR
CONAN: THE BOOK OF THOTH AND OTHER STORIES
CONAN: THE HOUR OF THE DRAGON
CRAZY
DAREDEVIL BY CHIP ZDARSKY VOL. 3: THROUGH HELL
DAREDEVIL BY CHIP ZDARSKY VOL. 4: END OF HELL
DEATH'S HEAD: FREELANCE PEACEKEEPING AGENT
DOCTOR DOOM VOL. 1: POTTERSVILLE
DOCTOR STRANGE BY MARK WAID VOL. 4: THE CHOICE
ETERNALS BY JACK KIRBY: THE COMPLETE COLLECTION
EXCALIBUR BY TINI HOWARD VOL. 1
FALLEN ANGELS BY BRYAN HILL VOL. 1
FANTASTIC FOUR VOL. 4: THING VS. IMMORTAL HULK
FANTASTIC FOUR VOL. 5: POINT OF ORIGIN
FANTASTIC FOUR: GRAND DESIGN
FRIENDLY NEIGHBORHOOD SPIDER-MAN VOL. 2: HOSTILE TAKEOVERS
FUTURE FIGHT FIRSTS
FUTURE FOUNDATION
GHOST RIDER VOL. 1: THE KING OF HELL 
GHOST RIDER VOL. 2: HEARTS OF DARKNESS II
GHOST-SPIDER VOL. 1: DOG DAYS ARE OVER
GUARDIANS OF THE GALAXY VOL. 2: FAITHLESS
GUARDIANS OF THE GALAXY: SOMEBODY'S GOT TO DO IT MARVEL SELECT
GWENPOOL STRIKES BACK
HISTORY OF THE MARVEL UNIVERSE
IMMORTAL HULK VOL. 6: WE BELIEVE IN BRUCE BANNER
IMMORTAL HULK VOL. 7: HULK IS HULK
INVADERS VOL. 2: DEAD IN THE WATER
INVISIBLE WOMAN
IRONHEART VOL. 2: TEN RINGS
KING THOR
LOKI: THE GOD WHO FELL TO EARTH
MARAUDERS BY GERRY DUGGAN VOL. 1
MARVEL COMICS 1000 COLLECTION
MARVELS 25TH ANNIVERSARY
MARVEL'S AVENGERS: ROAD TO A-DAY
MARVEL'S BLACK WIDOW PRELUDE
MARVEL'S SPIDER-MAN: THE BLACK CAT STRIKES
MARVEL'S SPIDER-MAN: VELOCITY
MILES MORALES VOL. 2: BRING ON THE BAD GUYS
MILES MORALES VOL. 3: FAMILY BUSINESS
MORBIUS VOL. 1
MS. MARVEL BY SALADIN AHMED VOL. 2: STORMRANGER
NEW AVENGERS: BREAKOUT MARVEL SELECT
NEW MUTANTS BY JONATHAN HICKMAN VOL. 1
OLD MAN QUILL VOL. 2: GO YOUR OWN WAY
OLD MAN HAWKEYE: THE COMPLETE COLLECTION
REVENGE OF THE COSMIC GHOST RIDER
RUINS OF RAVENCROFT
RUNAWAYS BY RAINBOW ROWELL VOL. 5: CANNON FODDER
SAVAGE AVENGERS VOL. 2: TO DINE WITH DOOM
SAVAGE SWORD OF CONAN: CONAN THE GAMBLER
SCREAM: CURSE OF CARNAGE VOL. 1
SPIDER-HAM: APORKALYPSE NOW
SPIDER-MAN & VENOM: DOUBLE TROUBLE
SPIDER-VERSE: SPIDER-ZERO
STAR WARS VOL. 13: ROGUES AND REBELS
STAR WARS: AGE OF REBELLION
STAR WARS: AGE OF REPUBLIC
STAR WARS: AGE OF RESISTANCE
STAR WARS: DARTH VADER – DARK LORD OF THE SITH VOL. 2
STAR WARS: DOCTOR APHRA VOL. 7 - A ROGUE'S END
STAR WARS: JEDI FALLEN ORDER - DARK TEMPLE
STAR WARS: TARGET VADER
STAR WARS: THE RISE OF KYLO REN
STRIKEFORCE VOL. 1
SWORD MASTER VOL. 1: WAR OF THE ANCIENTS
SYMBIOTE SPIDER-MAN: ALIEN REALITY
TALES THROUGH THE MARVEL UNIVERSE
TAROT: AVENGERS/DEFENDERS
THE END
THE LIFE OF CAPTAIN MARVEL MARVEL SELECT
THE UNBEATABLE SQUIRREL GIRL VOL. 12
THE WEB OF BLACK WIDOW
VALKYRIE: JANE FOSTER VOL. 2 - AT THE END OF ALL THINGS
VALKYRIE: JANE FOSTER: VOL. 1 - THE SACRED AND THE PROFANE
VENOM BY DONNY CATES VOL. 3: ABSOLUTE CARNAGE
VENOM BY DONNY CATES VOL. 4: VENOM ISLAND
VENOM: REX MARVEL SELECT
WOLVERINE: THE DAUGHTER OF WOLVERINE
X-FORCE BY BENJAMIN PERCY VOL. 1
X-MEN BY JONATHAN HICKMAN VOL. 1
X-MEN/FANTASTIC FOUR: 4X
YONDU
Enjoy Marvel's recent hits in the cutting-edge digital reader of the Marvel Comics App, available on iPhone®, iPad® and select Android™ devices. Once purchased, all of your stories are accessible through your personal library, and can be read anytime, anywhere.
Sale ends January 3, so act now!
Read up on a few of our top picks here:
The X-Men face a whole new world of possibility! Mastermind Jonathan Hickman and superstar artist Leinil Francis Yu kick off this uncanny new era with a celebration of family as Cyclops, Marvel Girl and their extended clan make a Summer House for themselves—on the moon! But when an island full of unspeakable horrors appears on the horizon, the X-Men have their work cut out for them keeping their new homeland of Krakoa safe! As Earth comes to terms with the X-Men's new world order, the mutant nation's leaders attend an economic forum to show the humans what real power looks like. Plus: A trip to the Savage Land, an old nemesis returns, and Mystique goes to extraordinary lengths to get what she wants!
Collects X-MEN (2019) #1-6.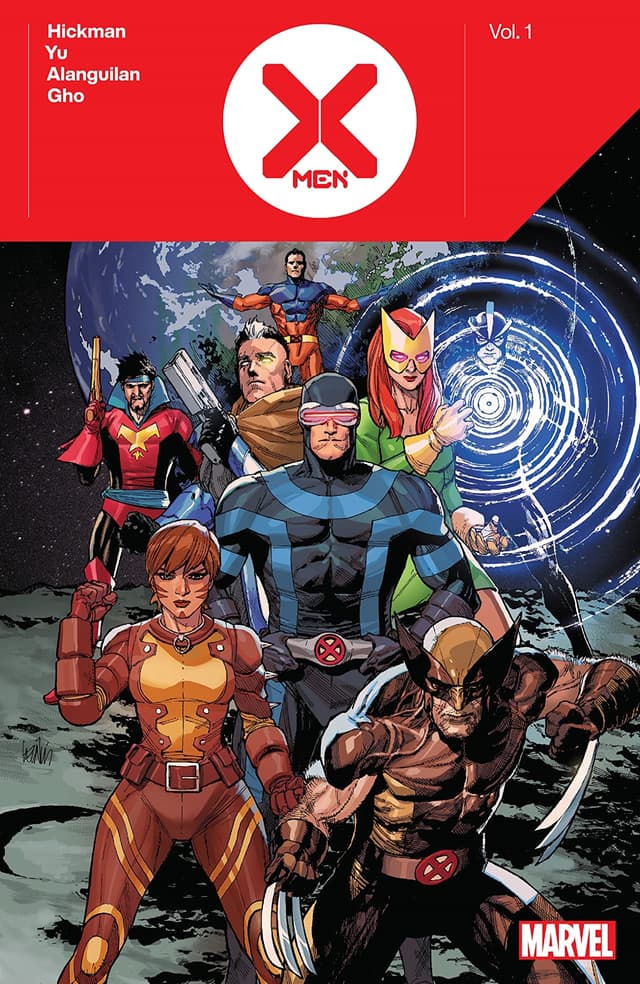 Our first line of defense in a world under siege from all sides! From the pages of Jason Aaron's AVENGERS come the Agents of Wakanda—assembled by the Black Panther to fight the foes that Earth's Mightiest can't! Vampires. Aliens. Angry fish kings. T'Challa's handpicked Agents can handle it all. But as Wakanda makes waves on the world's map, not everyone is a fan. Now, General Okoye and T'Challa will take Gorilla-Man, Ka-Zar and the Wasp on a global fight for survival! But when a source of dark energy emanates from a small Oklahoma town, is it a Super Villain—or a savior? What if the greatest threat to Earth—is the moon? And can the squad keep a S.H.I.E.L.D. cache of experimental technology out of Deadpool's hands?
Collects BLACK PANTHER AND THE AGENTS OF WAKANDA (2019) #1-5.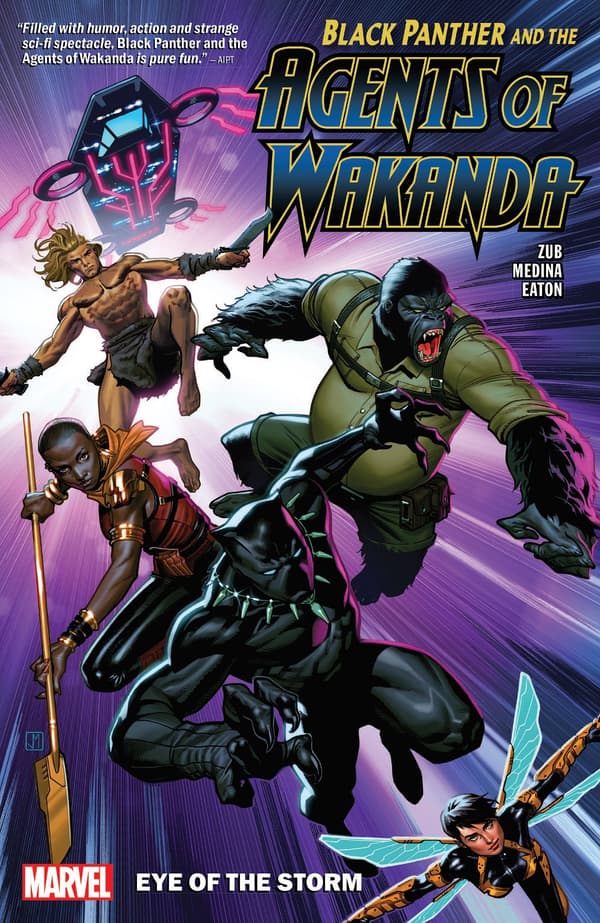 Marvel medics assemble! Jane Foster has been many things in her life, including the heroic hammer-wielder known as Thor! Recently, Jane became the Valkyrie, guardian and protector of the Norse dead. But now she must return to the role she knows best—that of a medical doctor—when a supernatural medical emergency rears its head! Jane teams with Doctor Strange, Sorcerer (and Surgeon) Supreme; the tough-as-nails Night Nurse; Excalibur-wielding Dr. Faiza Hussain; and more to crack a case that will give readers heart palpitations! But is the patient one heroes of medicine will want to save? Plus: When a threat even older than the gods breaks free, Valkyrie reunites at last with Thor Odinson, All-Father of Asgard! Can these two mighty warriors prevent the end of all life at the hands of the Røkkva?
Collects VALKYRIE: JANE FOSTER (2019) #6-10.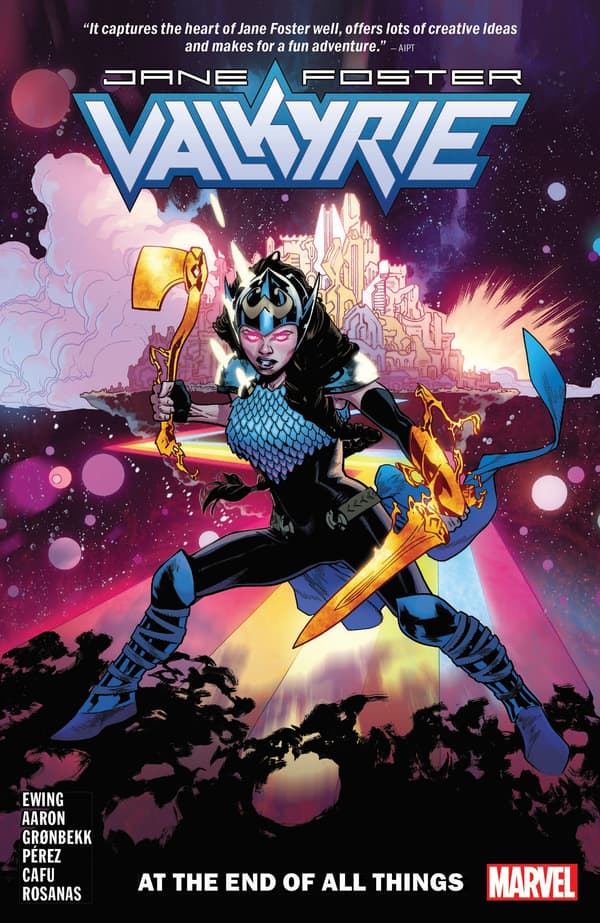 Kamala Khan really needs a break—but things don't work like that for Ms. Marvel! Kamala's road trip with Zoe and Nakia gets derailed by literal corporate zombies! The villainous Monopoly has set his sights on our magnificent hero—and his new recruits Discord and Lockdown are more than happy to deliver Ms. Marvel on a silver platter! And when disaster strikes Kamala's family, she and Bruno are drawn closer together than ever before. Are these two best friends about to become something more? Or will Kamala's duties as Ms. Marvel come between them? Plus: Doctor Strange's skills are needed while Kamala tries to stop Mister Hyde's rampage through Jersey City. With her new suit, she may just have the power needed—but does it come with a terrible cost?
Collects MAGNIFICENT MS. MARVEL (2019) #7-12.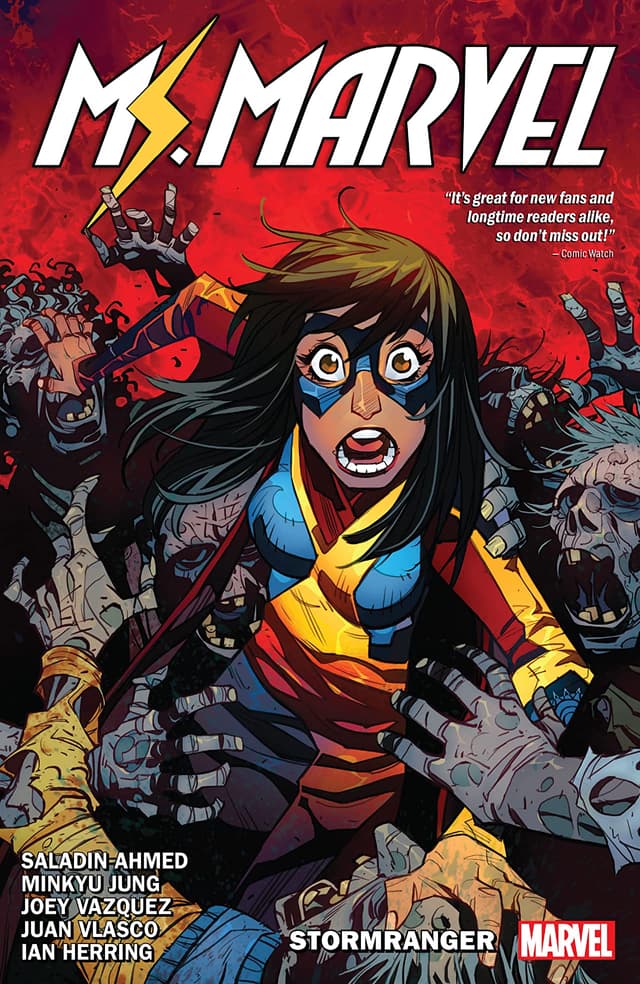 Loki is… Earth's Mightiest Hero?! After dying a grisly death in WAR OF THE REALMS, the reborn Trickster learned a valuable lesson in warmongering: Don't get caught. But now Loki has a whole new set of responsibilities—and his brother Thor isn't about to let him walk away from them. Restless with his new duties, Loki seeks out the advice of the closest thing Midgard has to a king—Tony Stark, the invincible Iron Man! Close enough, right? But it turns out that Shellhead isn't too happy to see Loki on account of all that stuff he did in the past. Now the God of Mischief/Stories/Evil/Chaos has to outsmart the cleverest man on Earth—or die (again) trying. Meanwhile, could Thor be hatching a mischievous plot of his own?
Collects LOKI (2019) #1-5.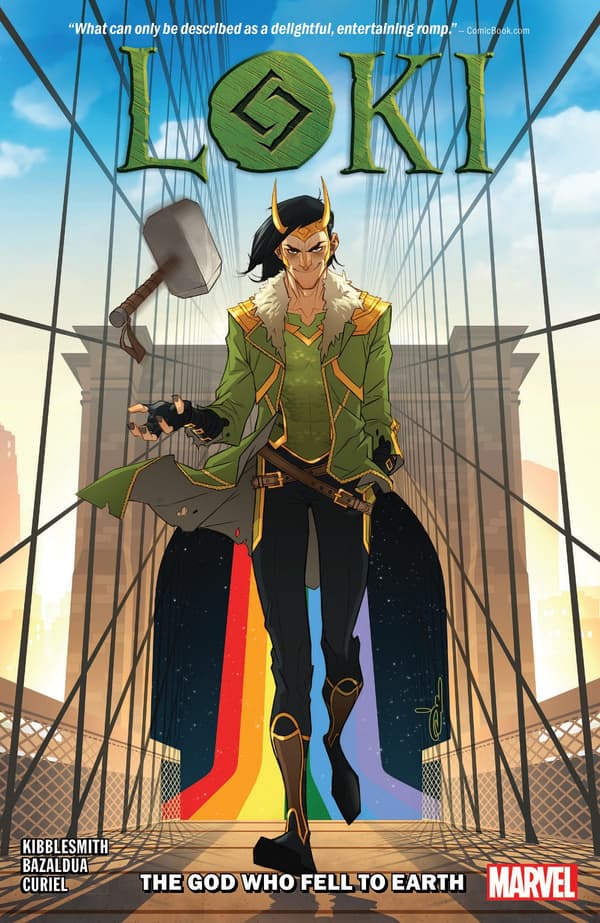 The spy tale of the century! Natasha Romanoff is the deadliest spy in the Marvel Universe and the beating heart of the Avengers. But when a mysterious figure starts exploiting her murky past, the Widow must go underground and off the grid! Who can she trust in this web of deceit? And more importantly, can her friends trust her anymore? Natasha must run down all the names from her past—starting with Tony Stark and Bucky Barnes! The Widow and the Winter Soldier have quite a history—but when they reunite, they may wind up without a future. Fellow Black Widow Yelena Belova comes calling, but can she help Natasha rise above her past? And when the Widow targets Hawkeye, she might find herself shot through the heart!
Collects THE WEB OF BLACK WIDOW (2019) #1-5.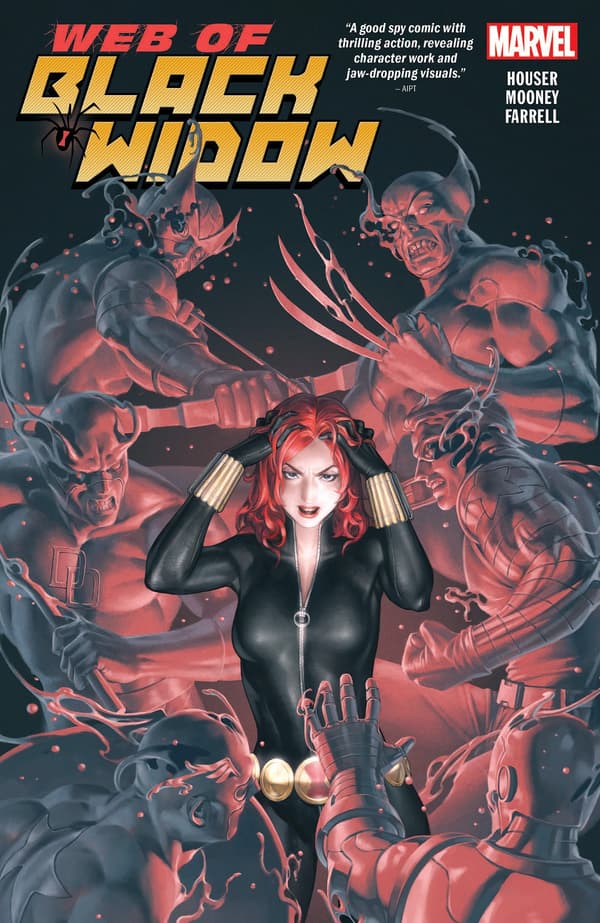 Donny Cates' symbiotic saga continues in grand fashion! In the aftermath of ABSOLUTE CARNAGE, Eddie Brock finds himself on the ominous Island of Bones. But this is no relaxing vacation: Cletus Kasady may be gone, but the evil of his symbiote remains. And it has infected not only Venom but every living thing on the island! Now Eddie finds himself tested like never before, hunted by everything around him with no escape in sight. To survive, he may have no choice but to burn the island to the ground—but everything he holds dear might just go up in smoke with it!
Collects VENOM (2018) #21-25.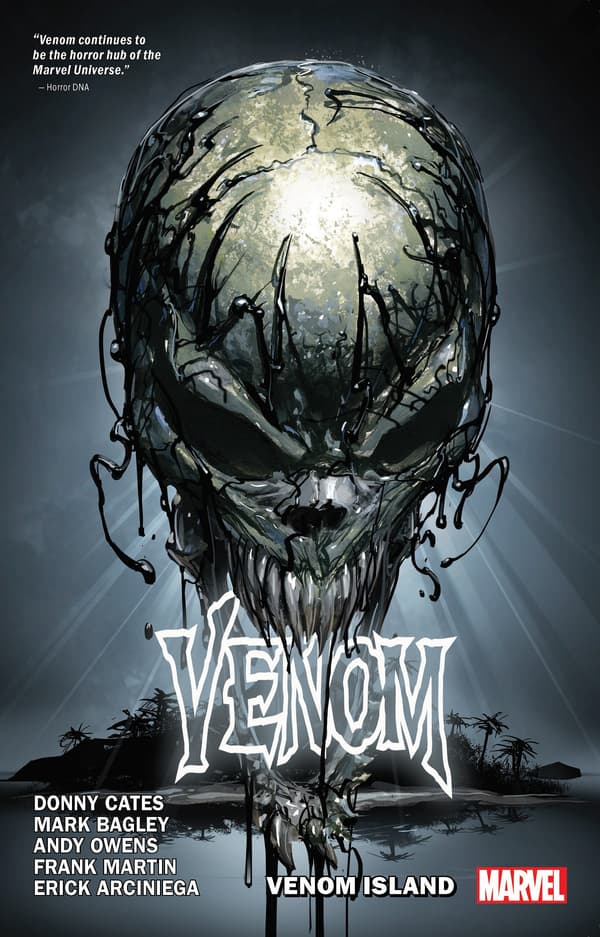 Head over to the Marvel Comics App to see what other classics and recent releases are offered on sale now!
Read these sensational stories now by heading to the Marvel Comics App and enjoy the amazing adventure that is the Marvel Universe.
All purchases in the Marvel Comics App are added to your personal library, and can be read on iPhone®, iPad® and select Android™ devices! Our smart-paneling feature provides an intuitive reader experience, ideal for all types of mobile device and tablet users!
The Hype Box
Can't-miss news and updates from across the Marvel Universe!