Comics
Published June 30, 2021
The Comics History of Scarlet Witch and Magneto
Explore their tumultuous history that led to the shocking events of 'X-Factor' #10, out in comic shops now!
Have you tried Marvel Unlimited yet? It's your all-access pass to over 28,000 Marvel comics, available at your fingertips. Sign up now to get 50% off your first month.
WARNING! THIS ABSORBING ARTICLE CONTAINS SPOILERS FOR X-FACTOR #10—SO READ ON AT YOUR OWN RISK, O FRANTIC ONES!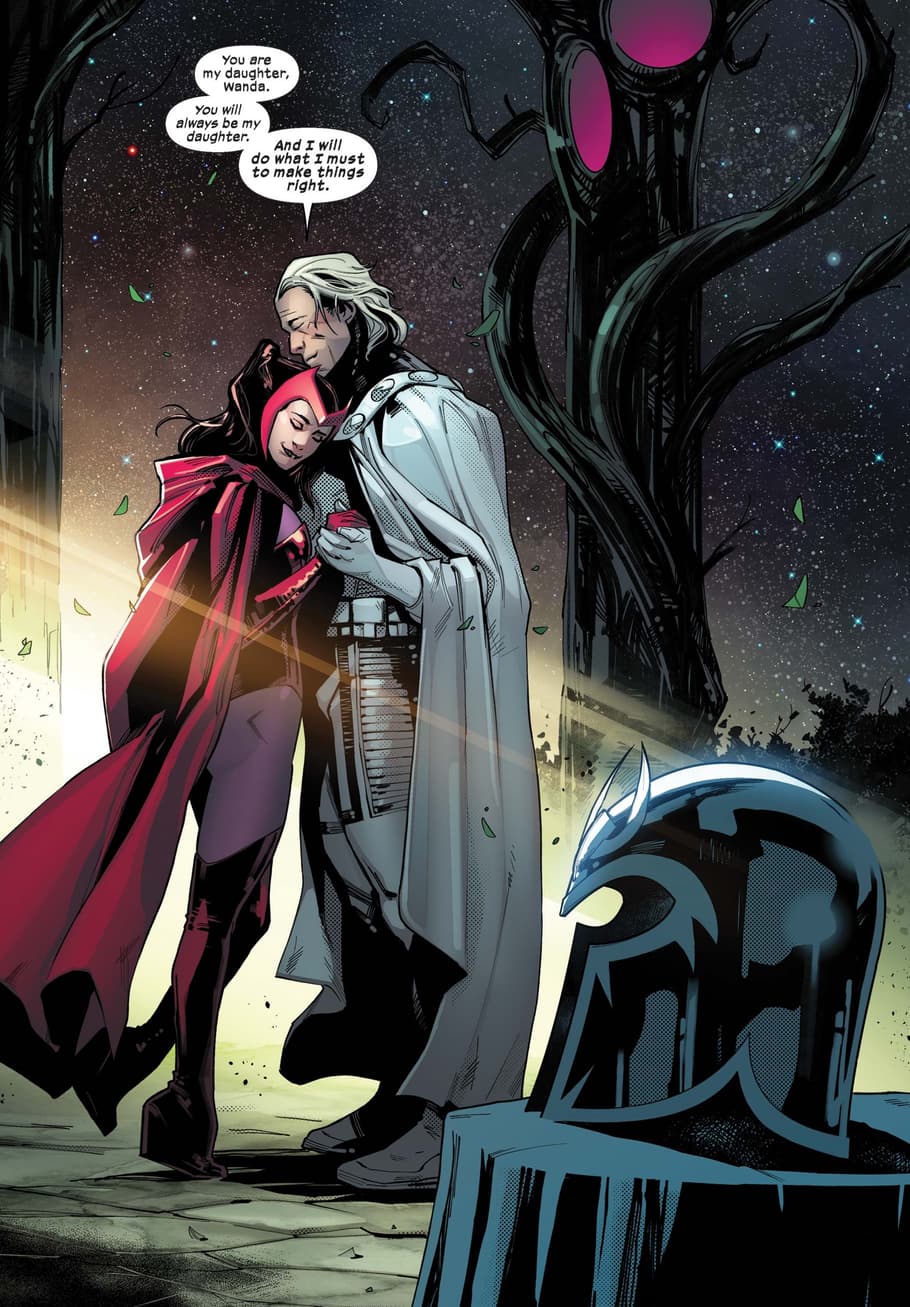 A new dawn for Krakoa's mutants. A promise of diplomacy and global power. An unparalleled celebration. And a murder, committed in cold blood.
In today's X-FACTOR (2020) #10, the world's mutants coupled their takeover of Mars with a night of epic partying at the inaugural Hellfire Gala. That is, until the absolute worst came to pass. Just as one murder was solved by the X-Factor team, another cropped up on the scene when Young Avenger Tommy discovered his mother, the Scarlet Witch, dead in the grass. This turn of events comes on the heels of Wanda Maximoff's reunion with her "father," Magneto, in S.W.O.R.D. (2020) #6, the last known person she was with. As the X-Men reel from this sinister scenario, we try to piece together just what happened (and what went wrong) by reflecting on Wanda and Magneto's turbulent history. Read their pivotal moments on Marvel Unlimited now!
THE BROTHERHOOD OF MUTANTS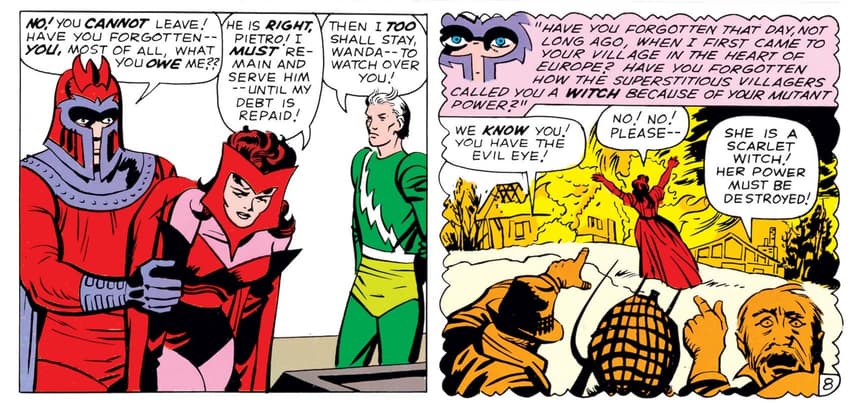 Scarlet Witch first met Magneto when he saved her and her twin brother Pietro, AKA the super-speedster Quicksilver, from a mob of superstitious villagers who believed that Wanda a witch. From this time onward, Magneto often guilted both Wanda and Pietro into repaying him by serving in his Brotherhood of Evil Mutants—a group determined to fulfill Magneto's desire to conquer humanity with their superior mutant abilities. But at the time of their membership, neither Wanda nor Pietro were aware of their full ties to Magneto... That reveal came much later, in one of the twins' earliest origins arcs, before Magneto's official declaration of paternity in VISION AND THE SCARLET WITCH (1982) #4.
LEAVING THE BROTHERHOOD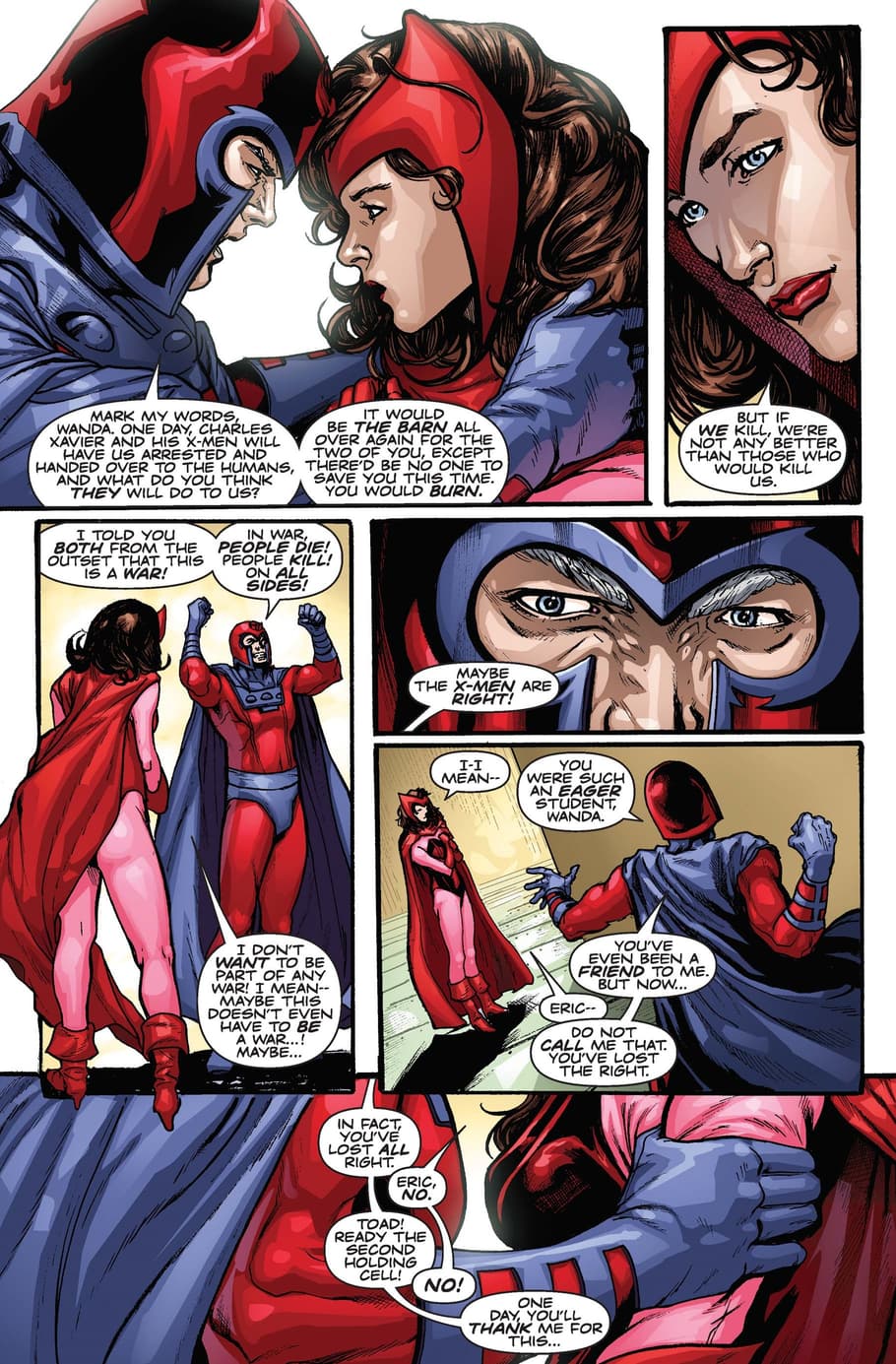 After Magneto locked Quicksilver up for refusing to kill, he used fear tactics to scare Wanda into helping him fight his war against humanity. Wanda doubted him and thought the X-Men may be on to something, that there didn't need to be a war at all. Magneto attempted to jail her too for this disagreement, but she fought back in fine mystic form and escaped with Pietro, off to join the Avengers, who more closely aligned with their values as seen in AVENGERS (1963) #16.
[Related: Scarlet Witch & Quicksilver Character Close Up]
NOT REALLY FATHER OF THE YEAR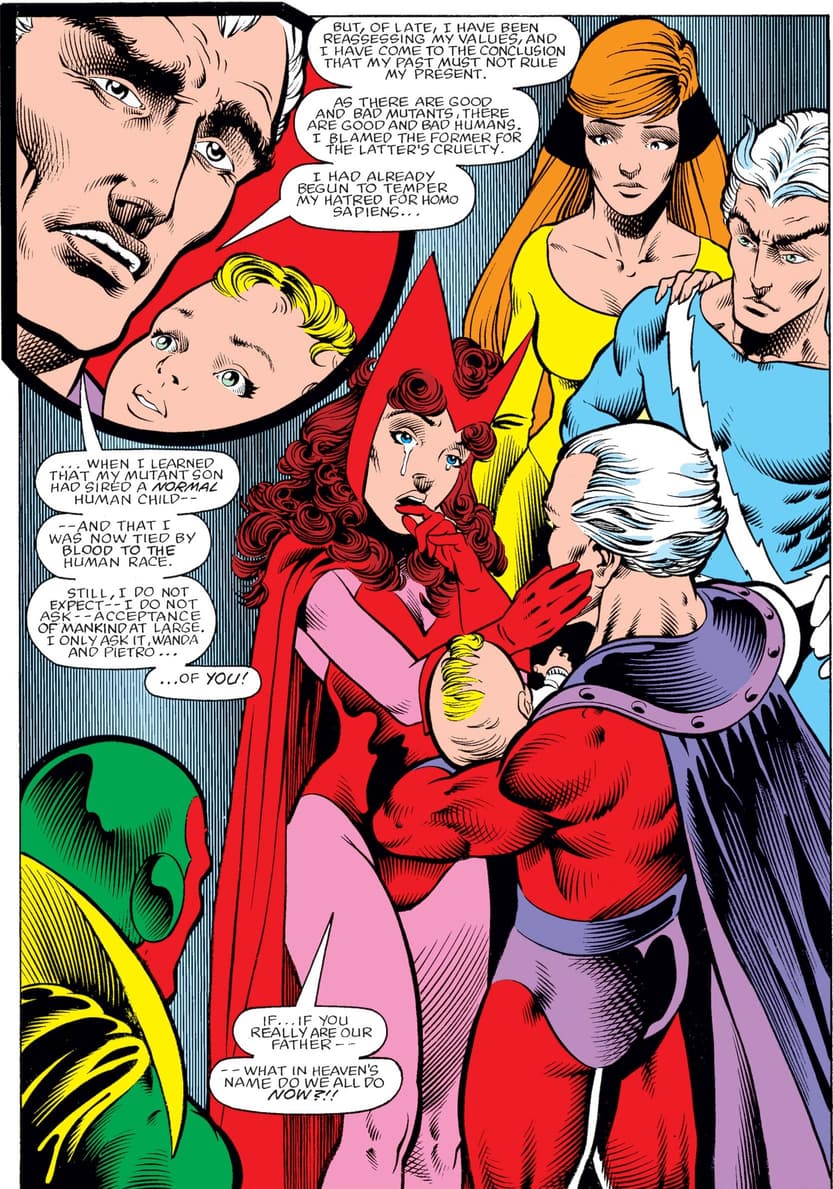 For Wanda and her brother, leaving the Brotherhood created a sworn enemy out of the Master of Magnetism. When Magneto came for them in the Inhuman city of Attilan, Wanda and Pietro fought back without a second thought. Wanda had just become an aunt to Pietro and Crystal's human daughter Luna, and while Wanda protected the baby from the brawl, Magneto revealed that he would never hurt his granddaughter, shocking Wanda and Pietro with such a claim. See how he explains why he was an absentee father in VISION AND THE SCARLET WITCH (1982) #4, and how he is their dad in the first place!
[Related: Quicksilver Fast Facts]
THANKSGIVING FAMILY DRAMA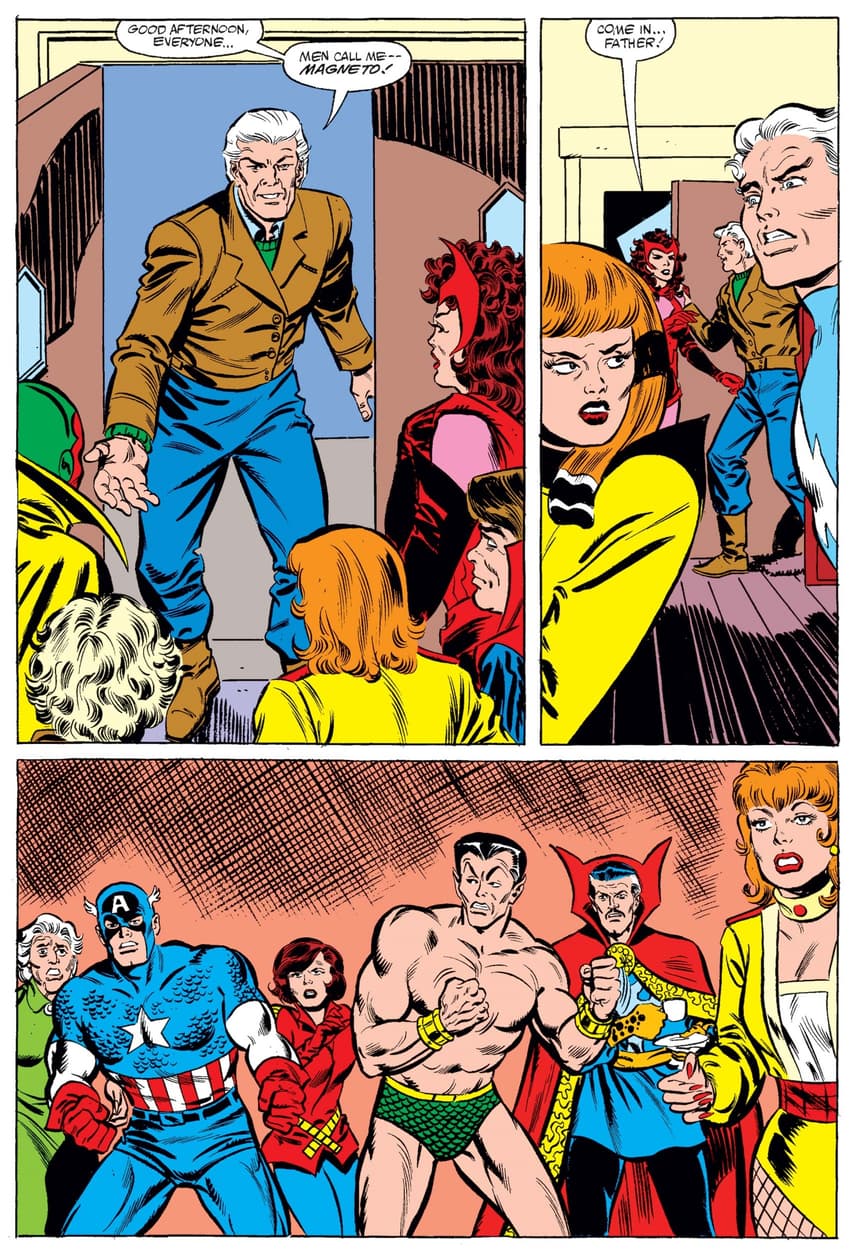 Now that Magneto was Wanda's father, she felt obligated to invite him to her and Vision's very first Thanksgiving dinner with the Avengers. And the family drama was the second course. After Magneto's arrival, everyone was on edge, especially Quicksilver who still hadn't forgiven him for enslaving them in the Brotherhood. When Magneto demanded an audience with Wanda alone, he admitted he had been a bad father but still asked for her acceptance. Wanda recalled how he treated her and Pietro and refused to accept him until he earned their trust. See how he responds and the vow he makes in VISION AND THE SCARLET WITCH (1985) #6!
M-DAY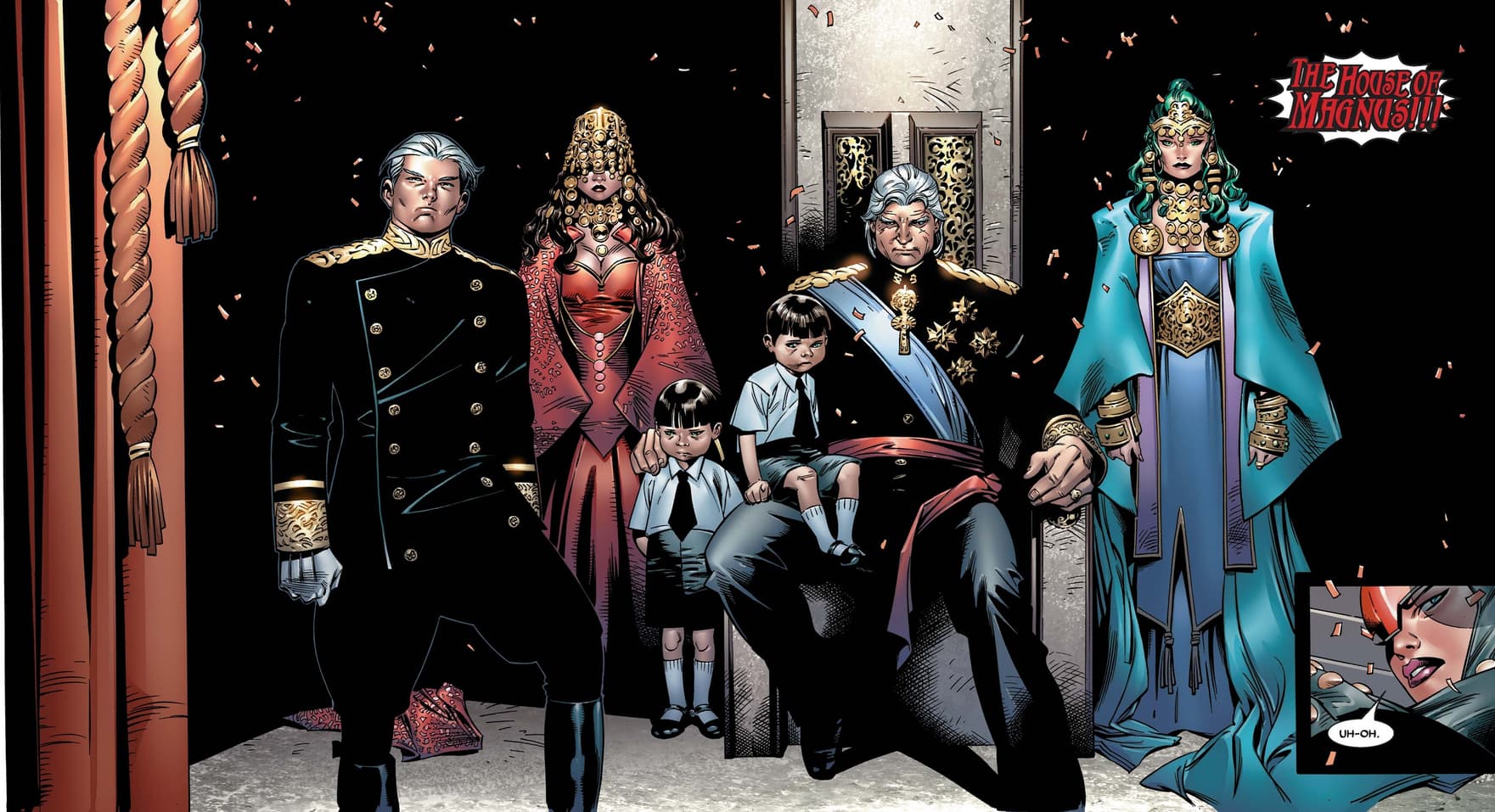 When Wanda suffered a nervous breakdown and lost control of her reality-warping powers, the ensuing chaos killed several Avengers. In the aftermath, she reshaped the world where Magneto ruled and humans were the oppressed minority, a kingdom under the House of Magnus. When Magneto discovered Quicksilver was responsible for encouraging Wanda to alter reality, he killed his own son. In her grief and anger towards her father, Wanda reverted the world to the way it was, except she de-powered almost all of the mutant population in a now-fateful event known as "M-Day." See Wanda and Magneto's new world order and how complicated family matters can be in HOUSE OF M (2005) #1-8.
SUPPORTIVE FATHER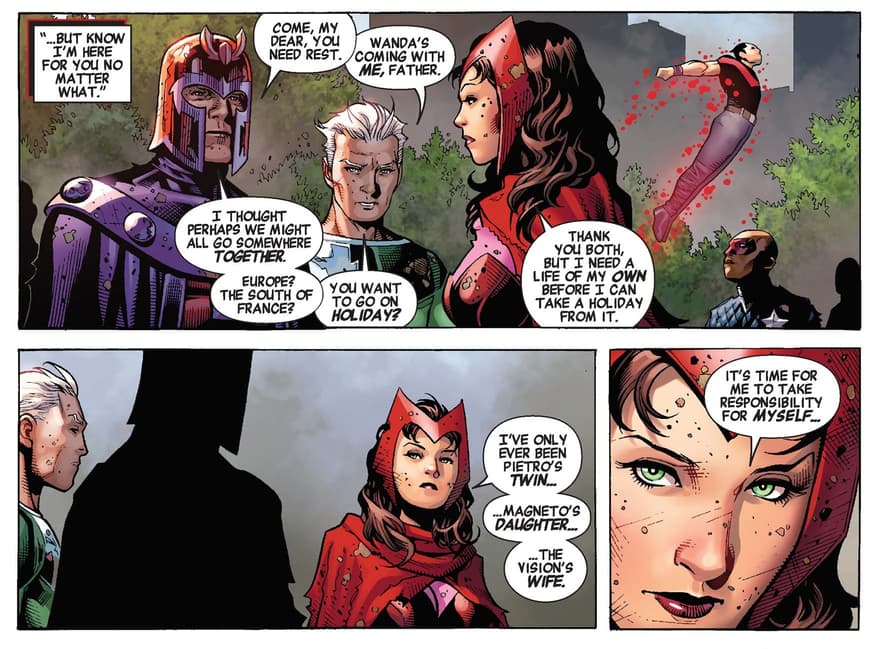 After M-Day's fallout, Wanda disappeared and lost her memories. She wasn't found again until her reincarnated children Tommy Shepherd, AKA Speed, and Billy Kaplan, AKA Wiccan, found her in Latveria engaged to Doctor Doom! Though Doom had stolen her powers, she regained herself thanks to her children, Magneto, and Quicksilver, the latter two who desired to be with her in her time of need. Although, she resolved to remain alone and take responsibility for herself. See the search for Wanda and the reunion with her family in AVENGERS: THE CHILDREN'S CRUSADE (2010) #1-9!
PATERNITY RESULTS REVEALED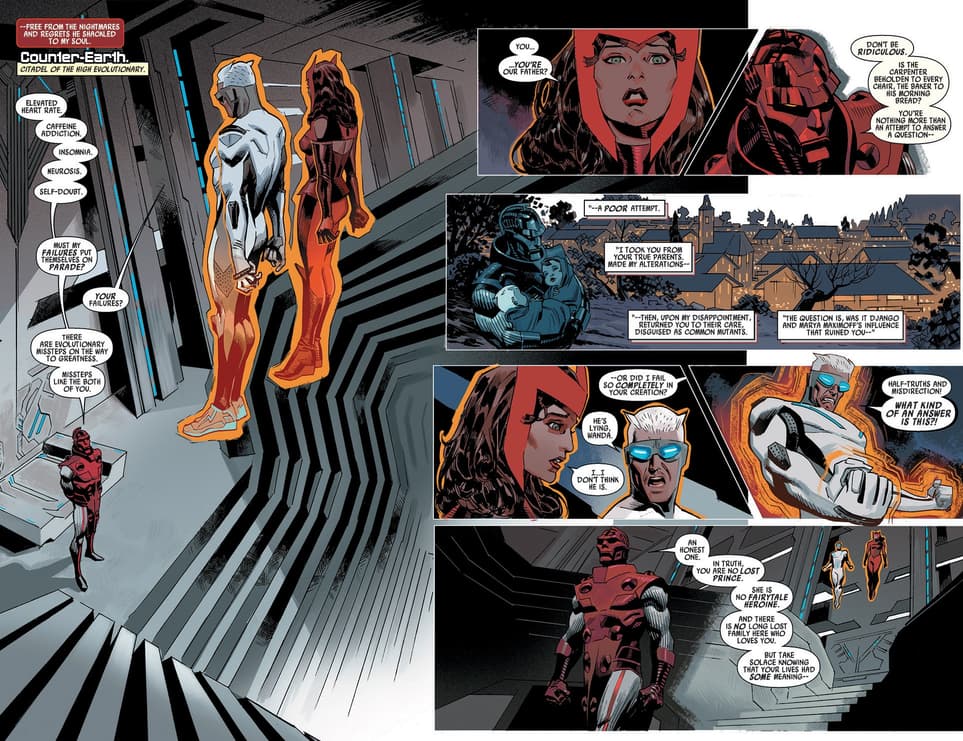 But it wasn't long before Wanda and her brother discovered the true secret origin of their powers, and that Magneto was never actually their father! While Pietro was made a speedster, Wanda was an experimental mage empowered by the High Evolutionary, born to Romani parents and altered shortly after their birth. See Wanda's true parentage revealed in UNCANNY AVENGERS (2015) #4!
A FATHER-DAUGHTER REUNION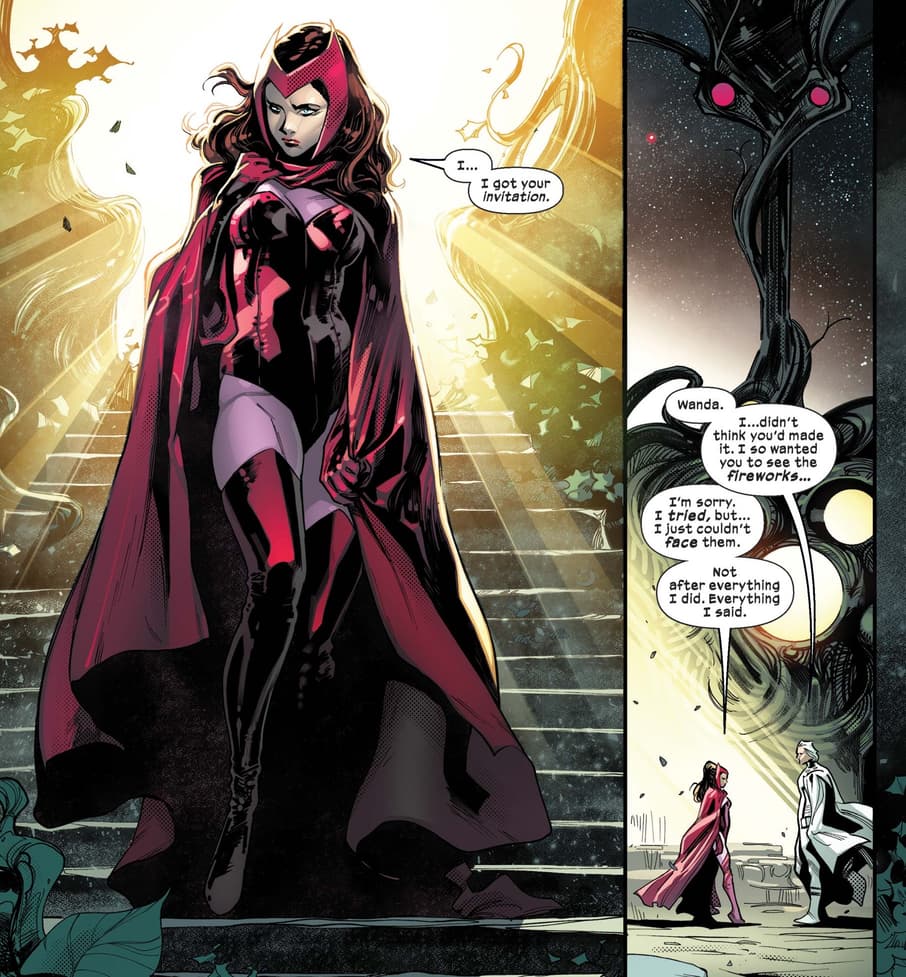 Despite learning the truth, and after all that they had been through, Magneto did not accept this new reality and still viewed Wanda as his daughter. He told Wanda as much when she arrived to the island of Mykines after the Hellfire Gala's fireworks (and Mars' terraforming) show by the mutants. See how their heartfelt reunion plays out in S.W.O.R.D. (2020) #6, followed by immediate tragedy...
With such a glorious chapter in mutant history, the Hellfire Gala in full swing, and an amiable reunion on the books, how could Scarlet Witch possibly end up dead? And where is her father-not-father now? Find out in X-MEN: THE TRIAL OF MAGNETO #1, hitting print and digital shelves this August!
Don't forget to read all of Scarlet Witch and Magneto's momentous moments on Marvel Unlimited!
Follow Marvel Unlimited on Twitter and Facebook to stay tuned in to weekly announcements, articles, and more, all at @MarvelUnlimited. Follow us today to join the conversation with thousands of fellow fans, and let us know what you're reading!
The Hype Box
Can't-miss news and updates from across the Marvel Universe!