Comics
Published July 6, 2017
Schooling Spider-Man: Spider-Gwen
Earth 65's Spider-Woman Gwen Stacy balances her hero career with family and band relationships!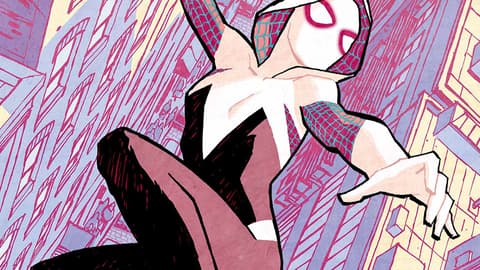 Celebrate the Wall Crawler's return to the big screen in "Spider-Man: Homecoming" by heading back to school with these adventures available on Marvel Unlimited!
On Earth 65, instead of a radioactive spider biting Peter Parker, the arachnid chomped down on his classmate Gwen Stacy. Granted the proportionate strength of a spider, plus enhanced reflexes and Spider Sense, she patrolled New York City as Spider-Woman!
Dubbed Spider-Gwen, she first appeared in EDGE OF SPIDER-VERSE #2 by Jason Latour and Robbi Rodriguez and helped save existence which launched into her own series by the same crew!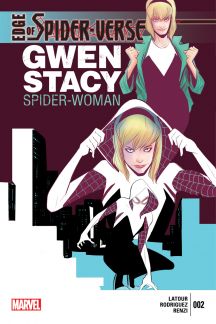 Instead of worrying about balancing her schoolwork with super heroics, Gwen couldn't seem to find the balance between her band The Mary Janes and the masked life. Crazier yet, when she came face to face with her father, Captain George Stacy, she unmasked and revealed her true identity to him!
Things got all the more complicated as super villains started trying to kill Captain Stacy and people began asking more questions. They even brought in Lt. Frank Castle to help take down Spider-Woman and figure the whole thing out.
Like her 616 counterpart, Gwen faced off against the likes of The Kingpin – though not in person at first – as well as The Vulture, The Rhino and even Matt Murdock, who's an evil mob lawyer in her reality!
However, two of the most heart-wrenching foes Spider-Gwen faced came in the form of the Lizard and Green Goblin. See, after she got her powers, her pal Peter Parker became obsessed with Spider-Woman. Wanting to be special himself, he injected himself with a serum that turned him into the Lizard during prom. Gwen jumped in to stop him, but wound up seemingly killing the young man.
Meanwhile, another longtime friend, Harry Osborn, disappeared after Peter's death. When he returned, he fully blamed Spider-Woman for Peter's death. To get his own revenge, he created the Green Goblin suit for himself and orange-themed robots to kill her. She finally stopped his rampage – which was aided by some of Peter's own formula – and revealed her identity to him.
Spider-Woman's adventures continue in the pages of SPIDER-GWEN as she contines to deal with problems in her own reality as well as a few that connect to the 616.
A Tangled Web
As mentioned above, Spider-Gwen debuted during the Spider-Verse event. Ms. Stacy worked with Peter Parker and Spider-Woman from the 616 among many other spider-folks to stop Morlun and the Inheritors from destroying the web of life by killing all of the spider-folks in all realities. From there she joined up with a group in the pages of WEB WARRIORS featuring Spider-Ham, Spider-Man India, Spider-UK, Spider-Man Noir and Anya Corazon. Though she's still based on Earth 65, Gwen has crossed over with SPIDER-WOMAN and SILK in the Spider-Women story and also started up a relationship with Miles Morales!
Next week we shine the spotlight on Miles Morales and his post-Secret Wars adventures on Earth 616!
The Hype Box
Can't-miss news and updates from across the Marvel Universe!