Comics
Published July 28, 2023
SDCC 2023: Inside the Comics Industry with the 'Marvel Fanfare' Panel
Marvel Comics Editor-in-Chief C.B. Cebulski was joined by Marvel legends Joe Quesada and John Romita Jr. at this year's San Diego Comic-Con.
Past and present Marvel Editors-in-Chief reunited at this year's San Diego Comic-Con. Presented by Marvel Comics Editor-in-Chief C.B. Cebulski, Marvel Fanfare featured conversations about the legacy and future of the House of Ideas with guest panelists Joe Quesada and John Romita Jr.! Never before has so much comic-making mastery been crammed into one panel, but we'll do our best to recap!
Cebulski opened by greeting the crowd: "This panel is always a very special one for me. I was a fan going to conventions since I was a kid, and I would sit [in the audience] and go to all these panels. And one year I went to a show, and [former Marvel Editor-in-Chief] Joe Quesada had a panel called Cup o' Joe. And he said he created that panel specifically because he did the same thing, and he wanted fans to be able to ask questions and interact with the people who actually make the comics. I took that format and we created Marvel Fanfare, a similar kind of experience."
Cebulski also shared that attending fans would receive an exclusive giveaway comic at the end—revealed to be a Marvel Fanfare panel-exclusive CAPTAIN AMERICA #750 variant by Joe Quesada!
"I wanted to start on [more of a] somber note, but a somber note that we want to turn into a celebration," said Cebulski after fellow panelists Quesada and Romita Jr. were introduced. "As many of you may know, the amazing, the esteemed John Romita Sr. recently passed. John, I think I speak for everyone in the room, for everyone in the comics community, when we do sincerely offer our condolences for your loss."
"Everybody loved him," reflected his son, John Romita Jr. "The greatest man I ever met."
"You know, they say 'gone but never forgotten,'" continued Cebulski. "The legacy, the body of work, the contributions that your dad made to comics—not just in the characters he created but in the generations of artists that he inspired… The comics industry will forever owe a debt of gratitude to the Romita family."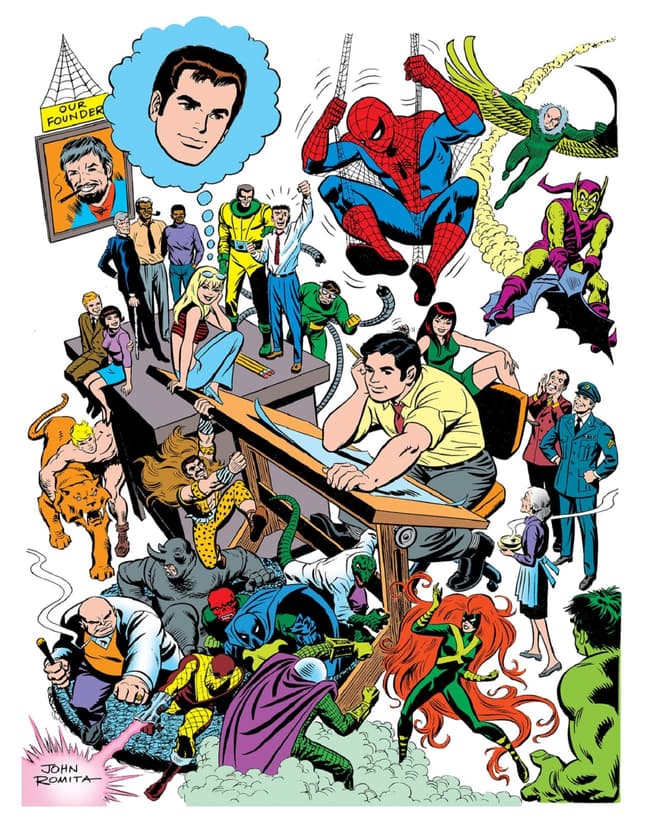 JOE QUESADA'S RISE TO EDITOR-IN-CHIEF
After sharing key works from his days as a Marvel artist, Cebulski asked Quesada about his transition as a creator into Marvel editorial: "When I was reading my first Marvel comic as a nine-year-old, I never once thought that I could be seated in the same seat as Stan Lee," Quesada recalled. "I'd never had aspirations to become Editor-in-Chief, but when ['Marvel Knights' co-creator Jimmy Palmiotti] and I negotiated our 'Marvel Knights' deal, we were going to have a dinner with then-President of Marvel Joe Calamari, and Joe was looking to see what it was that we could do. So, Jimmy and I were at my apartment [before the dinner] and we were just comparing our notes: 'OK, we're gonna ask for DAREDEVIL, BLACK PANTHER, INHUMANS, and PUNISHER.' And then I said, 'yes, but we're going to ask for everything. We're just gonna tell Joe [Calamari] that we should be co-Editors-in-Chief.' And Jimmy just starts laughing. So, we go to dinner, and I said, 'Joe, let's cut to the chase. Make us co-Editors-in-Chief and we will save this place.' And Joe just starts bawling, laughing. He's like: 'How about if I give you four books?'"
Only two and a half years after launching "Marvel Knights," Quesada was offered the position of Editor-in-Chief. "I said I needed the weekend to think about it," he remembers. "I was going over the math in my head, not because of what the job entailed, but because Marvel was in Chapter 11 [bankruptcy]. I remember having this discussion with my wife and saying, 'Look, I could've just been handed the best seat on the Titanic. I could go down as the guy who was in that chair when Marvel went belly up.' And [my wife] said the thing that changed my life: 'Well, if you say no do you know who's going to take that job? Maybe better the devil you know.' And that was it. I went back on Monday and told Bill [Jemas], 'Alright, let's do it. I'll take the job.'"
"Working on SPIDER-MAN again was like coming home; it's as simple as that," said Romita Jr. about his ongoing Spidey run with writer Zeb Wells. "And it's a great conversation piece: 'What do you do for a living?' 'Oh, I draw Spider-Man!'"
Also announced at San Diego Comic-Con, GANG WAR, the next major Marvel crossover event, will spin out of Wells and Romita Jr.'s AMAZING SPIDER-MAN run. Don't miss its opening chapters this November!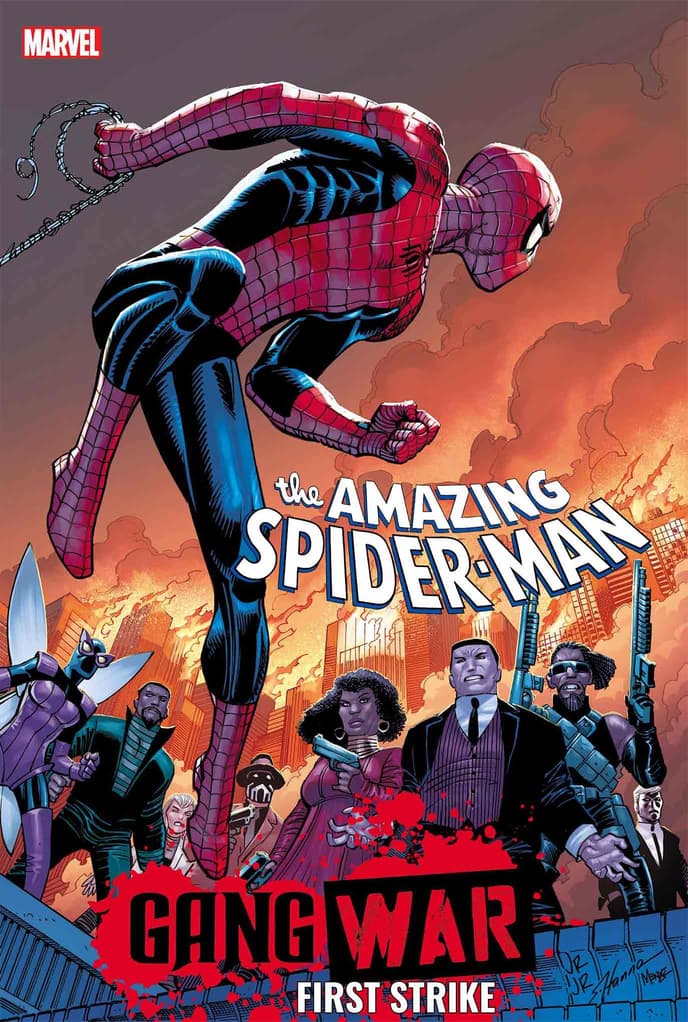 HOWARD THE DUCK RETURNS IN A NEW ANNIVERSARY SPECIAL
In honor of 50 quacktastic years, Cebulski announced the return of HOWARD THE DUCK for an all-new special hitting comic shops November 2023. Returning Howard creators Chip Zdarsky and Joe Quinones will be at the issue's helm, joined by an all-star team of creators that will homage the logic-defying legacy of the maladaptive mallard.
Audience members were treated to a sneak peek at its cover by Ed McGuinness, but for more details stay tuned to Marvel.com!
Also teased at Marvel Fanfare, new artworks were unveiled for two unannounced Rob Liefeld comic series that will debut next year!
Preview them both here: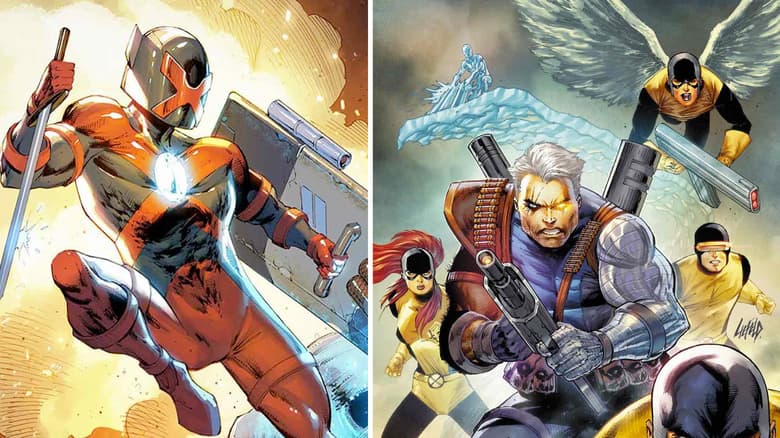 The Hype Box
Can't-miss news and updates from across the Marvel Universe!