Comics
Published April 27, 2017
Secret Empire Exposed: Sharon Carter
The long hard road to betrayal for Steve Rogers' closest confidante!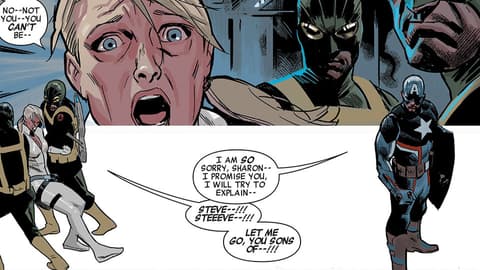 Each week, we use our super sleuth skills to dig into the histories of the characters fighting on both sides of Secret Empire!
To say that Sharon Carter and Steve Rogers have had a complicated relationship is tantamount to the Marvel Universe being miffed that Captain America now serves Hydra. Created by Stan Lee and Jack Kirby in 1966's TALES OF SUSPENSE #75, Sharon gobsmacked Cap because of how much she looked like her great-aunt Peggy Carter, his World War II-era love.
The two had their ups and downs over the years until Carter, an Agent of S.H.I.E.L.D., seemingly died in CAPTAIN AMERICA #233 from 1979 in a battle between white supremacists, Harlem gangs, and the National Guard. She returned many years later in CAPTAIN AMERICA #444, helping The Red Skull save the Star-Spangled Avenger so they could team up to take out a Hitler-powered Cosmic Cube. Sharon revealed in issue #446 that S.H.I.E.L.D. used her apparent death as cover to send her into increasingly dangerous situations. The woman known as Agent 13 eventually lost contact with her handler and did whatever mercenary or wetwork jobs came her way to survive.
Sharon became a huge part of writer Ed Brubaker's run on CAPTAIN AMERICA which launched in 2004. In addition to her relationship with Steve, Sharon also exhibited the spy skills that made her such an asset to S.H.I.E.L.D. Along the way, she found herself brainwashed by Dr. Faustus—who also controlled her just before her apparent death years before—into shooting Captain America after the events of Civil War.
With Cap out of the picture and Bucky taking over the shield, Sharon left S.H.I.E.L.D., but continued to fight the good fight alongside the new Captain America, Falcon, and Black Widow. The trauma did not end there, though, as Sharon also lost her baby while fighting with Sin for her very life. After helping bring Steve back from being displaced in time as seen in CAPTAIN AMERICA REBORN, the pair continued to work together.
By the time writer Rick Remender launched his CAPTAIN AMERICA volume in 2012, Sharon and Steve still continued both their professional and romantic relationships, though both hit a snag when she sacrificed herself to keep Arnim Zola's massive warship in Dimension Z as seen in issue #10. She reappeared in #23 as an older warrior, having spent years fighting Zola and raising her and Cap's adopted son. Just before that, Steve had been transformed to his actual physical age, so the two took on more administrative roles in the super hero community.
That's where they stood when Kobik de-aged Steve during the Standoff! event which lead directly into CAPTAIN AMERICA: STEVE ROGERS and Secret Empire. The former series even saw Sharon work as a liaison between S.H.I.E.L.D. and the U.S. Security council to help push for new laws that would make it easier for the former organization to wage war on Hydra. Steve even suggested her for the job as head of S.H.I.E.L.D. when Maria Hill got ousted, but everyone agreed that he should get the gig. In other words, everyone played directly into his plans.
Sharon's even one of the first people to realize that Steve now leads Hydra as seen in the pages of SECRET EMPIRE #0. She's understandably bewildered when the green-suited minions stop and listen to the man they called Supreme Leader. The last we saw of Sharon in the issue, Steve ordered her to be placed on a transport and demanded her safety. He repeatedly said that he loved her, but that probably won't stop one of the world's most accomplished secret agents from trying to stop the man she loved and one of history's greatest heroes.
The Empire Strikes Back
Secret Empire might be the latest story pitting Agent Carter against a huge secret organization like Hydra, but it's far from the first. She's encountered the evil group many times, including as part of Steve's Secret Avengers squad. Set during the time after REBORN when Rogers returned, but Bucky Barnes still ran around as Captain America, the series found Carter and the former Cap working with the likes of Black Widow, Valkyrie, War Machine, Moon Knight, Beast, and Ant-Man. During that period, the team came into direct conflict with the Shadow Council, a subversive set-up that also had ties to Secret Empire as revealed in SECRET AVENGERS #21!
Sharon Carter might be stuck on a Hydra-controlled ship at this moment, but don't expect her to stay there for long!
The Hype Box
Can't-miss news and updates from across the Marvel Universe!