Comics
Published June 21, 2017
Secret Empire Exposed: The Underground
Find out how former Avengers feel about Captain America's heel turn!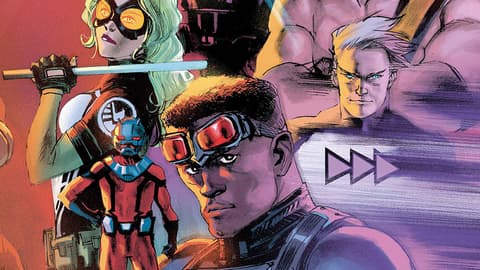 Each week, we use our super sleuth skills to dig into the histories of the characters fighting on both sides of Secret Empire!
An A.I. version of a genius, a demigod, a speedy mutant, a shrinking thief, a scientist-spy, and a former Captain America might not seem like the most obvious team in the world, but they've joined forces to save Steve Rogers' soul in the pages of SECRET EMPIRE: UNDERGROUND. Iron Man, Hercules, Quicksilver, Ant-Man, Mockingbird, and Sam Wilson plan on gathering up all of the Cosmic Cube pieces to restore their friend and teammate's  personality.
The group formed in the pages of SECRET EMPIRE #2 after A.I. Tony Stark realized that, if they gathered up the Cube fragments, they might be able to return Steve Rogers to his true self. They immediately set out to get help from Sam Wilson, who we now know gave up the shield in favor of ferrying people out of the Hydra-controlled United States as seen in CAPTAIN AMERICA: SAM WILSON issues of late.
Though reluctant to help, Sam agreed to get the squad out, but didn't realize they'd all be heading right for Alaska and Hank Pym-Ultron as unfolded in SECRET EMPIRE #4. That issue ended with the good guys getting away with the fragment. Later, while watching TV they saw Namor not only give Captain America the piece he had, but also bow in fealty to the Hydra leader! The former head of the Avengers also revealed that he also had a mole on the inside, leading to plenty of motives being questioned during UNDERGROUND.
The one-shot, which came out today, found the team traveling to the Savage Land to get another Cube piece from Sauron, but they soon discovered that the energy-sucking dinosaur man had been unseated by Whiteout, Vertigo, and Lupa. After a brutal fight, the group flew away with the fragment, but also some heavy injuries that prompted them to head back to their base.
Expect this squad to play a huge role in SECRET EMPIRE moving forward, not only because one of their number works for Captain America, but because they're the main group trying to save Steve Rogers instead of simply defeating—and possibly ending—him like Black Widow's recruits.
The Empire Strikes Back
Each member of this team owes Captain America their life in one way or another. At various times they have all served as Avengers under his leadership, which surely brought them out of more than a few potentially deadly battles. For Quicksilver and Ant-Man, he also helped get their lives turned around as one of the people who backed them in their shift from their previous lives of crime. Of course, we must also keep in mind that Pietro's concerned about his sister who currently serves Hydra thanks to a demon inhabiting her body. We'd bet that comes into play down the line as well.
The Hype Box
Can't-miss news and updates from across the Marvel Universe!