Comics
Published September 23, 2020
See How All Roads Lead to War in 'X of Swords: Creation' #1
Spoiler alert! The X-Men come face-to-face with their greatest threat since the Dawn of X!
IN THE NAME OF HONEST IRVING FORBUSH, BEWARE! THIS ARTICLE CONTAINS SPOILERS FOR TODAY'S X OF SWORDS: CREATION #1, SO READ ON AT YOUR OWN RISK, FRANTIC ONES!
Today, writers Jonathan Hickman and Tini Howard join artist Pepe Larraz to kick off Marvel's next big X-Men crossover event... X OF SWORDS: CREATION #1 sets the stage for a conflict that's been brewing since the early days of the Dawn of X. And now, for the first time, the alliance between Krakoa and the assembled mutants appears to be on shaky ground just as a dangerous new enemy has made their presence known.
Hickman teased the backstory of this war in POWERS OF X #4, when Krakoa told Douglas Ramsey and Charles Xavier that it was once an even greater island called Okkara. Ages ago, Apocalypse and his First Horsemen faced an otherworldly invasion on Okkara. To save this world, Apocalypse had to split Okkara into two while trapping his Horsemen in another dimension. Krakoa remained on Earth, while the newly formed Arakko was lost with the Horsemen.
A piece of Arakko reunited with Krakoa in last year's X-MEN #2, which also introduced Apocalypse's grandson, Summoner. More recently, X-MEN #12 revealed that Apocalypse's wife, Genesis, was also trapped on Arakko with their children. And for ages, Genesis and the Horsemen waged war against an implacable enemy.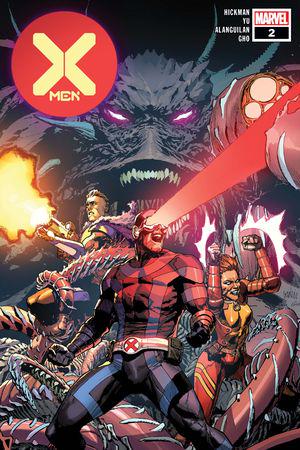 X-Men (2019) #2
published

added to marvel unlimited

inker (cover)

penciler

penciler (cover)

inker

editor

letterer

colorist

colorist (cover)

writer
What is Marvel Unlimited?
In EXCALIBUR #12, Apocalypse created the External Gateway to Arakko by using the bodies and souls of a few previously immortal Externals. X OF SWORDS: CREATION #1 finally exposed the scope of Apocalypse's activities to the Quiet Council. Needless to say, Xavier, Magneto, and the rest of the Council were less than pleased. Especially since Summoner brought a gravely injured Banshee back through the portal and warned of an imminent invasion.
Although closing the portal seems like the most prudent idea, Krakoa expressly forbade the mutants from doing so. Until now, Krakoa has largely let the mutants do as they please. But the island has put its desire to reunite with Arakko above its new alliance.
Meanwhile, in Otherworld, Saturnyne was alarmed by the continued advance of the First Horsemen, so she conducted a Tarot reading that included the Ten of Swords. That particular card hinted at which mutants will be key in the fight to save Krakoa. But we'll get back to that. In the meantime, The Hanged Man card correctly predicted the ambush to come. Once on the other side of the portal, Apocalypse displayed true emotion as he reunited with his family. However, they revealed nothing but contempt for Apocalypse when they nearly killed him. Summoner also betrayed his "friends," and sided with his Arakko family.
Note that in X-MEN #12, Summoner played an Arakko game with Rockslide and other young mutants that exposed their weaknesses. Summoner used that knowledge to kill Rockslide in this issue. But sharp-eyed readers may recall that Rockslide saw Summoner's weakness as well, and said it aloud during the game. Summoner is invulnerable everywhere except his eyes. That info may prove to be very useful later.
Monet St. Croix attempted to get Saturnyne to intervene in the fight, and she did...in the most self-serving way possible. Saturnyne offered to let the Horseman march through her kingdom to wipe out the mutants of Krakoa if they could defeat ten of Krakoa's champions in three days at the appointed place in Otherworld. She also named the ten blades to be used by the enemy: the Twilight Blade, Mercy, Vermilion, the Red Sword of War, Colony, the Black Bone of Amduat, Seducer, Pogg Ur-Pogg, Purity, Alluvium, and Muramasa.
Surprisingly, Muramasa was also listed as a blade for the X-Men. In ALL-NEW WOLVERINE (2015) #28, the Muramasa blade once wielded by Logan was melted down into bullets. But the immortal madman, Muramasa, has made more than one sword in his long life. The other swords named for Krakoa were the Sword of Might, the Starkiller Sword, Grasscutter, Godkiller, Warlock, the Soul Sword, the Scarab, the Light of Galador, and Skybreaker.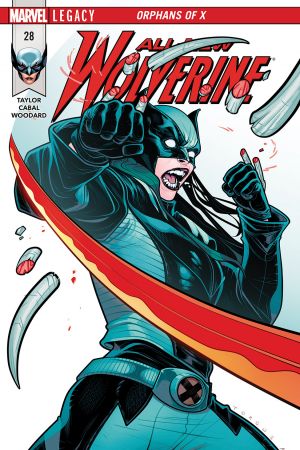 All-New Wolverine (2015) #28
published

added to marvel unlimited

writer

editor

inker (cover)

penciler (cover)

letterer

colorist

colorist (cover)

inker

penciler
What is Marvel Unlimited?
This brings us back to the Ten of Swords card from earlier in the issue. It clearly showed Cable (who has the Light of Galador from CABLE #1), Apocalypse, Wolverine (possibly with the Muramasa blade), Magik (with her Soul Sword), and Captain Britain (AKA Betsy Braddock) with the Sword of Might. Additionally, Warlock is not a sword, but he is joined with Douglas Ramsey. That makes them likely choices to be among Krakoa's defenders. The remaining defenders of Krakoa were hidden in shadow.
Meanwhile on Krakoa, Cable and Rachel Summers probed Banshee's mind to learn what he saw before he was rendered unconscious. They discovered that the Horsemen kept Unus the Untouchable alive for a currently unknown reason. Saturnyne also intervened in the mental probe to show Cable and Rachel an object that could be the key to victory, and it may be the biggest sword of them all.
With the guidance of Jean Grey and Cyclops, young Cable traveled to the Peak, the S.W.O.R.D. Orbital Station that's been out of commission for some time. Cable was also able to use the Light of Galador to repower the Peak, which may give the X-Men an edge as X OF SWORDS officially gets underway.
Read this ish—plus all the X OF SWORDS stories to come—for yourself at your local comic shop!
The Hype Box
Can't-miss news and updates from across the Marvel Universe!