Comics
Published April 2, 2019
Seven of the Best All-Woman Teams in the Marvel Universe
If you need a dose of girl power, get inspired by these super teams!
The Marvel Universe boasts a bevy of complex and powerful female Super Heroes – Captain Marvel, Valkyrie, Storm, Kamala Khan, Kitty Pryde, and America Chavez, to name a few. As She-Hulk joins Captain Marvel and her squad on Roosevelt Island in CAPTAIN MARVEL #3 and Domino assembles her posse in DOMINO HOTSHOTS, let's take a look at the some of the best all-female teams in the Marvel Universe.
Lady Liberators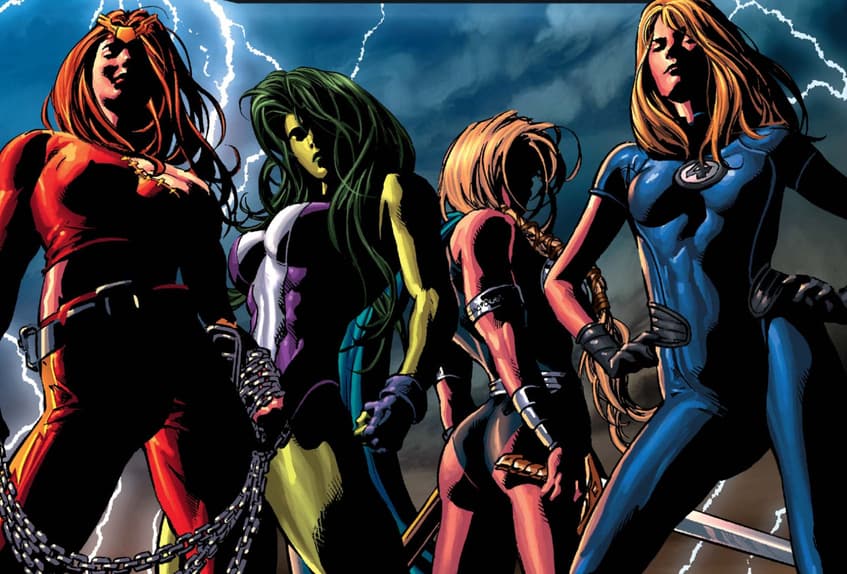 First Appearance: THE AVENGERS (1970) #83
The team was comprised of the female members of the Avengers and were led by Valkyrie. There was a small problem: their leader wasn't Valkyrie, but Enchantress disguised as Valkyrie, who mind-controlled the heroes to do her bidding, which was getting rid of the male members of the Avengers. Enchantress would be defeated, and Scarlet Witch and the Wasp promised the Lady Liberators would return. It might have taken 38 years, but the Lady Liberators would return, this time as a team led by She-Hulk to discover Red Hulk's true identity.
Daughters of the Dragon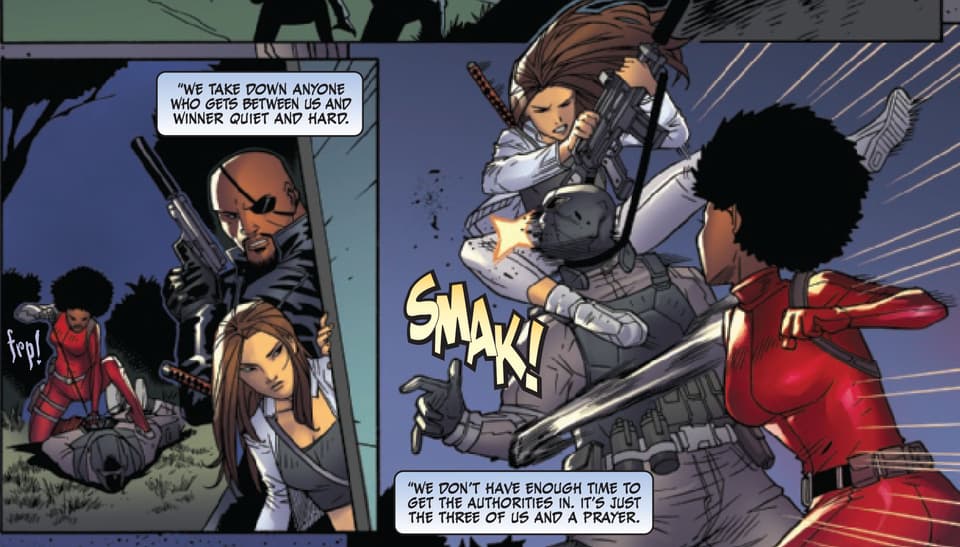 First Appearance: DEADLY HANDS OF KUNG FU (1974) #32
Misty Knight and Colleen Wing received their name from Davos, the Silver Serpent, who sarcastically called them by the moniker while they chased him in MARVEL TEAM-UP (1972) #64. He actually gave them a cool name! The Daughters of the Dragon would create a detective agency called Knightwing Restorations Inc. and would fight crime, sometimes teaming up with Luke Cage and Iron Fist.
Dora Milaje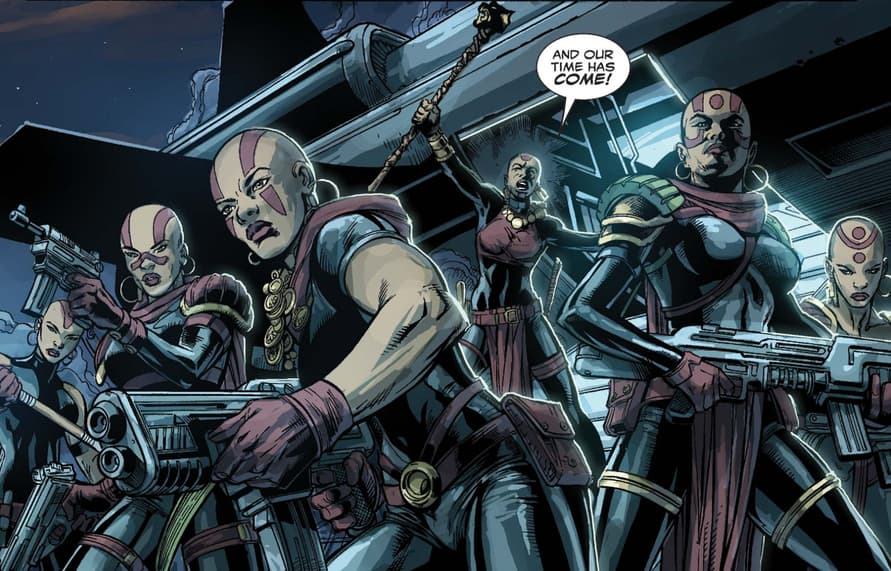 First Appearance: BLACK PANTHER (1998) #1
The Dora Milaje originally had two functions: serve the king as a special forces group and as potential queens for an unnamed Wakanda king. T'Challa, the Black Panther, rejected the second function, seeing the group as daughters rather than lovers. The Dora Milaje was composed of women recruited from various tribes in Wakanda who were trained in weaponry, martial arts, and hand-to-hand combat, making them very skilled warriors. Twenty years after their debut, they would star in their own series, WAKANDA FOREVER.
Fearless Defenders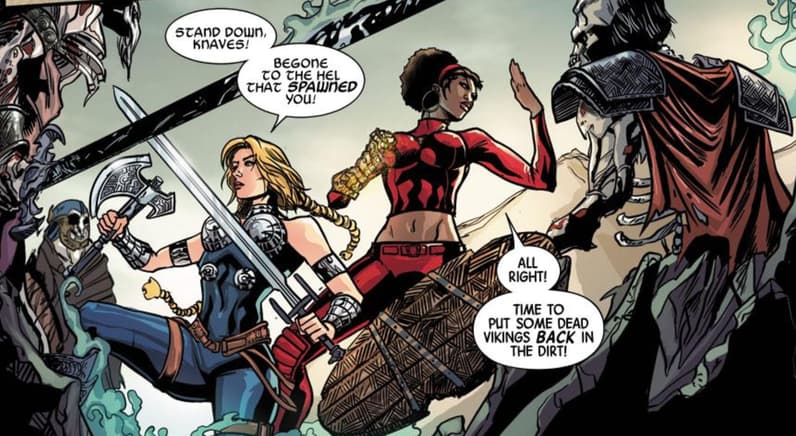 First Appearance: FEARLESS DEFENDERS (2013) #1
Valkyrie became the only woman left in the Valkyrior after the other Valkyries were corrupted and became Doom Maidens. So, she made a new Valkyrior, co-led with Misty Knight, with women from Earth instead of Asgard to fight evildoers.
X-Men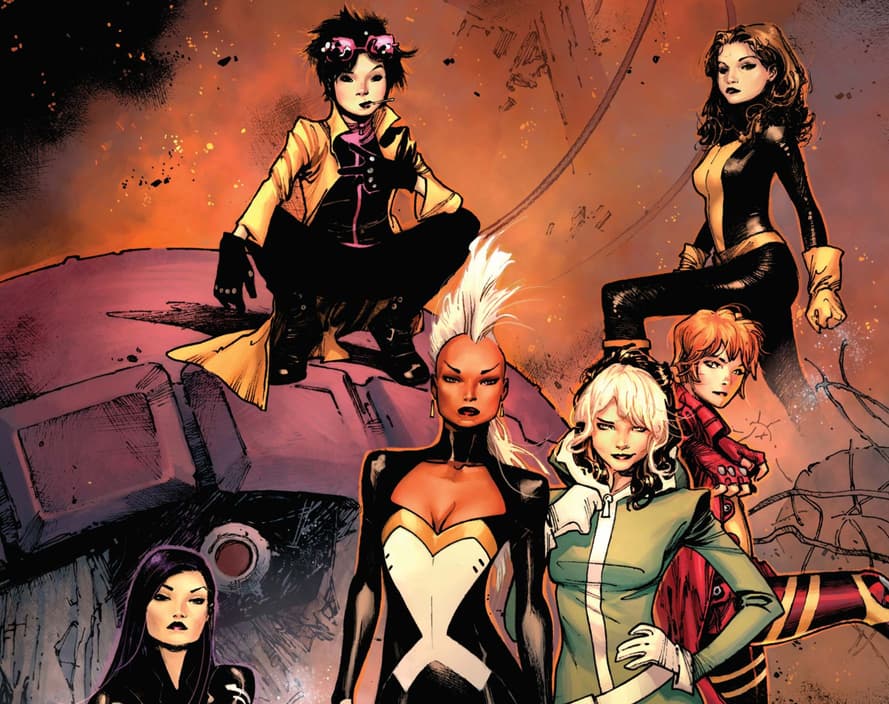 First Appearance: X-MEN (2013) #1
"But the X-Men has men and women!" is what you're probably thinking, but in 2013, one new lineup was comprised of all women. Storm was the leader, and the first issue marked Jubilee's return to the team. They protected an orphaned baby—that may or may not cause the destruction of mankind—while defending Earth from an ancient evil. The all-women X-Men returned in HUNT FOR WOLVERINE: MYSTERY IN MADRIPOOR (2018), with the addition of Domino, to find Wolverine's body.
A-Force
First Appearance: A-FORCE (2015) #1
The first all-female Avengers team debuted as an alternate universe during SECRET WARS and reemerged as part of Earth-616. She-Hulk led the team, which featured Nico Minoru, Medusa, Dazzler, and Singularity, a sentient pocket universe, but had a larger roster. They fought the Antimatter and an Inhuman named Alice (who inadvertently turned citizens into bugs) before later disbanding.
Spider-Women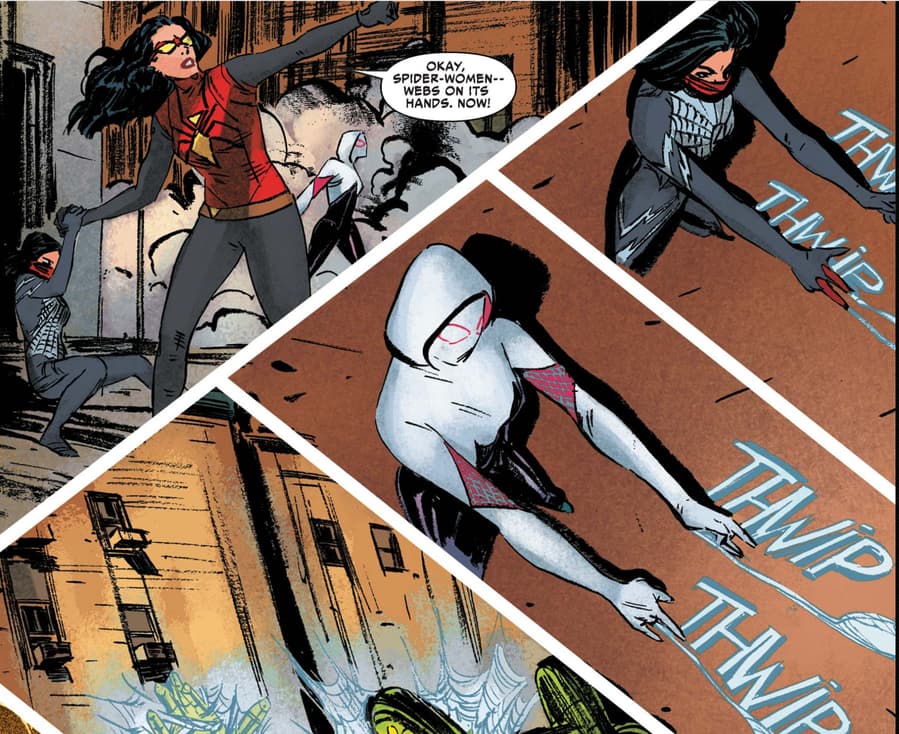 A visit to Spider-Gwen's universe for brunch turned into a disaster after Silk (Cindy Moon) and Spider-Woman (Jessica Drew) realized they were trapped on Earth-65! S.I.L.K., an evil spy organization led by Earth-65's Cindy Moon, wanted to use the interdimensional Spider-Women for their own gains. Silk and Spider-Woman just wanted to enjoy a meal then go home. The Spider-Women would come to blows with S.I.L.K. in a final battle.
And now, both Captain Marvel and Domino are leading their own teams of Super Heroes!
CAPTAIN MARVEL #4, written by Kelly Thompson with art by Carmen Carnero, goes on sale Wednesday, April 10. You can pre-order your copy today online or at your local comic shop. CAPTAIN MARVEL #3 is available now!
DOMINO HOTSHOTS #2, written by Gail Simone with art by David Baldeon, goes on sale Wednesday, April 3. Pre-order your copy today!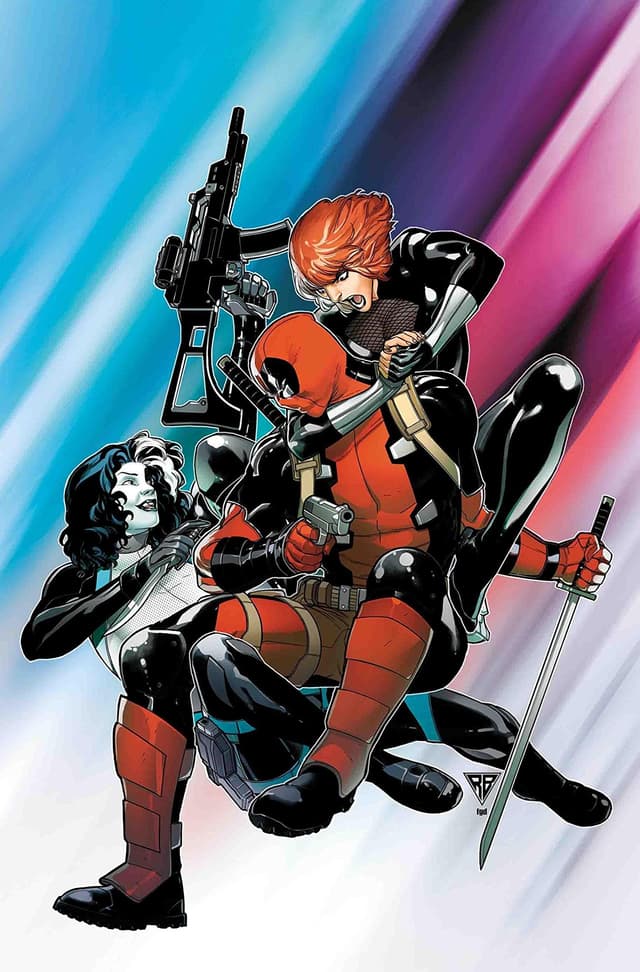 The Hype Box
Can't-miss news and updates from across the Marvel Universe!