Comics
Published June 21, 2017
Sketchbook of a Mad Titan
Thanos artist Germán Peralta reveals the God Quarry in exclusive pages!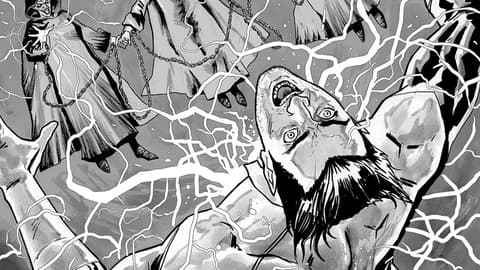 They say that no one's ever returned from the God Quarry. Then again, no one like the Mad Titan has descended into the pit before!
To see exactly how this plays out, you'll have to pick up THANOS #9 on July 26. The story, by writer Jeff Lemire and artist Germán Peralta, marks the duo's third issue together on the title, but they seem to be hitting it off quite well as they continue to chronicle their protagonist's solo adventures in space.
We talked with Peralta about capturing the complexity of his title character, working with Lemire, and building the God Quarry!
Marvel.com: Given Thanos' status as a cosmic level villain, do you approach him any differently than you might a more straight-forward hero?
Germán Peralta: Thanos is one of my favorite characters in the Marvel Universe. I drew a lot of fan art about him. I like his aesthetic as much as his personality. When I found out I was going to draw him, I started to imagine how to put my "touch" on him without leaving aside the great work Mike Deodato did in the previous issues.
The approach I use to draw a villain of these characteristics is very different from a super hero. I can play a lot with his expressions without the fear of making him look funny or grotesque, either with his face or his body language. In fact, I've always been more interested in the villains. I believe they're the ones who make a hero, heroic. In this case, Jeff Lemire did excellent work with Thanos' personality, giving him a different twist to his character, but never losing sight of who he really is. Having the chance to be a part of this character's story is a real pleasure.
Marvel.com: Thanos is such a complicated figure. From a physicality perspective, what are the key elements that really define him?
Germán Peralta: I think that the thing that makes the Mad Titan interesting is the dichotomy between his hunger for power and the emptiness inside him. It's like he always wanted to fill that emptiness with power but it's never enough. It's interesting how inside him coexists the madness and the calmness, the furious strength with the absolute intelligence. He could have everything but he always wants more and he never gets it00but he'll destroy everything in its way to get it.
Marvel.com: This issue finds Thanos heading into the God Quarry, what can you tell us about that very intriguing location?
Germán Peralta: I really enjoyed that conclusion when I read the script. This is a place of desolation, where it doesn't matter how powerful you are, you have absolutely no chance against the power who reigns there. It doesn't matter your size, your strength, how important you are in the history of the universe, you're going to feel like a scared puppy in there, surrounded by those colossi who couldn't do anything to save themselves from being trapped between those walls and from that pit.
Marvel.com: What was the design process like for the God Quarry?
Germán Peralta: I knew this was going to be an important place in the next issues but I also imagined this was an important place for Jeff too, since he created it in his mind and I didn't want to ruin that. I consider it really important to work alongside the writer because every page is created by both of us. And the fact of knowing what Jeff had in his mind when he imagined this scenario was as important to me as what I had at the moment of doing the sketches.
Luckily, we both had a similar image in our minds; I based my design on a mine pit but without the necessary levels to go back up. It's a hole with unknown depth because the only thing you can see are more and more petrified bodies. It was very important for me to emphasize the lack of hope against this power; that the ones who fell there, even Thanos, think, "What do I have that they didn't to not finish as they finished?" There are some references to see the magnitude of the beings who are, or rather who were, really powerful.
Marvel.com: How has it been working with Jeff on this series so far? Since he's an artist as well, does that change how you two might discuss a scene?
Germán Peralta: I can't complain about the writers I [have] worked with. Jeff is a great writer and also a great artist. Saying that, he's someone who could say something in the creative process or about the designs every time, however he gives me a lot freedom when I draw. Everything is clear in his scripts, it's all there, but even then, he is open if I make some changes. I believe that mutual trust between the writer and the artist is essential to make a better project.
Enter the God Quarry along with the Mad Titan, Jeff Lemire, and Germán Peralta on July 26 when THANOS #9 debuts!
The Hype Box
Can't-miss news and updates from across the Marvel Universe!